Today, looking good on the golf course is just as important to golfers as having the latest clubs on the market. There is something to be said about standing on that first tee and looking like you know how to golf, even if the result is a duffed three wood when you tell your buddies you're going to lay up.  The golf apparel market is large, which can lead to many difficult decisions. In reality, you need not to look very far. Travis Mathew is a leader in everything golf apparel. Their designs are first class and the comfort is nothing shy of that as well. Travis Mathew can make even the worst golfer look like a true professional. I was lucky enough to have an entire golf outfit sent to me for review.
Travis Mathew was founded in Southern California and is an established and progressive golf apparel brand producing its own line of lifestyle wear and accessories. The companies' first collection, "A World in Black and White," was launched in 2008. The unique theme was long overdue in the golf-apparel market. The Travis Mathew line attracted attention immediately on the PGA Tour and since then has evolved into more than an apparel brand. It is now a popular lifestyle and culture that continues to grow with the game of golf.
Upon receiving the package from Travis Mathew, I was instantly impressed by the feel and style of the apparel and accessories. The attention to detail goes all the way from the hat to the technology incorporated into the shorts.  I will discuss each product I received in detail, as well as give you my opinion on each item I received. If you go to www.travismathew.com you will see that as a company they are all about being awesome and having some fun. That's how I want this review to be, so let's have some fun.
Rick Time- Black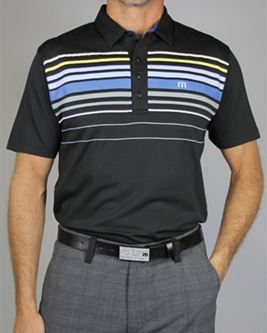 The Rick Time polo screams Travis Mathew. Any fan of their apparel will love the design behind this shirt.  The color pallet allows you to wear this polo with a variety of colors. This is a great feature in a golf shirt. The last thing you want to do is only be able to wear a shirt with one pair of shorts. The Rick Time gives you the ability to pair it with black, grey, blue, yellow, or white shorts, assuming you want to stay as stylish as possible. This would be a great assumption considering you made the effort to purchase Travis Mathew polo in the first place. They use the 4 button placket, which is a feature I love. I hate when a golf shirt doesn't button high enough, leaving it wide open at the neck and making you look like a sloppy golfer.
The feel of the shirt was the first thing that really left me impressed. The fabric is a mesh drytech that will leave you feeling cool in the summer, as well as hold its shape throughout your round. The collar is also very important to me when it comes to golf polo. I like a "structured" collar that will stay standing around my neck as well as not curl up as the day progresses. These are all things that come in handy while enjoying a drink on the 19th hole, as you will still be styling while bragging to your friends about your round.
I received a size large for my review. I am 6'2" and 185 lbs. This is one aspect of Travis Mathew's site that I find very useful when deciding what size will best fit. They throw a model up there to show you how the shirt will fit. Under the description of the product they give you the sizing information of the model. This gives you a great idea of how the sleeves fall, how the shirt looks tucked into your trousers, and the fit of the shoulders.
I have worn this shirt for two rounds and have walked away from both rounds extremely impressed. The sleeves are not constrictive in any way.  This gives you the ability to swing freely without your apparel affecting you. I had zero issues with the shirt coming un-tucked during my round, which is actually something I deal with wearing other polo's. It was a warm spring day and I stayed nice and cool throughout my round. When I say cool, I am speaking about temperature, although you do feel "cool" in this shirt as well.  And by "cool", I mean awesome. It says something about a design when you feel like you look good when wearing a polo and you certainly feel that way in this shirt. I received many compliments and would recommend this shirt to anyone looking for a golf polo that looks great and feels great. I have washed and dried this shirt 4 times and have had zero issues with it shrinking or getting that "used" look. There is nothing worse than spending good money on a golf polo and wanting to retire it after a few wash cycles.
MSRP $84.95
http://shop.travismathew.com/product-p/410204-001.htm
Turner Shorts- Black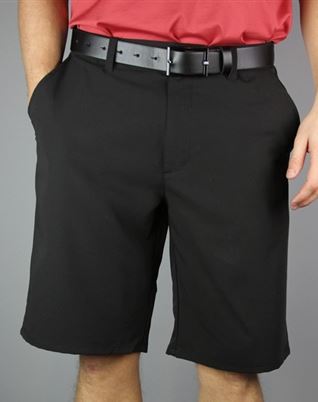 I received a 36 in these shorts. I chose a 36 for two reasons. One, I always had the assumption that Travis Mathew was more of a European cut and at the time I was in a 36. Well, I was wrong on both of my assumptions. Due to some dieting and weight loss I have sized down to a 34 in all of my bottoms. So, I was off to a golf store to exchange these. While there, I wanted to check out how well Travis Mathew's quality control has become since inception. In years past, I had had some issues with sizes fitting differently. I was on a mission to see if things had changed, so while at the store I decided to get every style of short they had and to get three different size 34's of each style. Yes, I walked into the dressing room on a mission, as well as with a heap of shorts. Of all of the shorts I tried on, every one of them fit the same. This was very impressive and it instantly told me that Travis Mathew is very proud of their name and wants to produce nothing but great product. So, after quite a bit of time, I exchanged my 36" for a 34".
The shorts are comprised of a Poly/Rayon/Elastane blend and this is a short you wouldn't mind sleeping in. They feel so incredible you may find yourself rubbing your legs as you golf. The hang on the shorts is pretty much perfect. One aspect of a pair of golf shorts that should never be overlooked is where they fall on your knees. To me, an ideal pair of shorts should stop just above your knee. This will allow you to swing freely without your knee catching the shorts. I also really like the cut of the shorts. I am not one for baggy or saggy shorts. I like them to have the European look, meaning they make you look like your wearing shorts. Baggy is not a fan of mine.  These shorts also include a TM signature music/cell pocket on the back. I think this is a genius idea for those golfers who enjoy listening to music while on the range. I personally do not listen to music while on the range, but I wanted to throw my iPod in the pocket and listen to some tunes. This feature worked awesome. For one, it keeps the cords behind your head and doesn't interfere with your swing at all. Second, you can't even tell that your iPod is back there. So, if you love tunes while you hit, then you need these shorts.
When it comes to a pair of golf shorts you will not be let down with this pair. They offer everything you look for and more. Plus, if for some reason you find someone looking at your crotch while your shorts are un-zipped, they will be welcomed with the TM custom "sorry for being awesome" tag appliqué.
$84.95
http://shop.travismathew.com/turner-black-pant-p/120183-001.htm
Missed the Cut- Black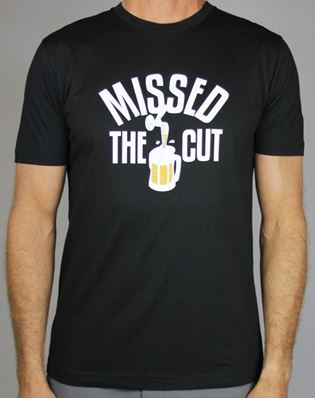 If you're anything like me, when you finish your round in 100 degree weather, the last thing you want is to walk around in a sweaty golf shirt. Well, there is a cure for that. A Travis Mathew t-shirt is the best remedy for that post round smell and sweat. Not only is the "Missed the Cut" shirt a fun way to show your love for golf, but you will be very happy you decided to put this extremely comfortable shirt on.  Made from 50% Cotton and 50% polyester, this shirt will be one of the most comfortable you own. The cut and length of the shirt is spot on to how you feel a large should fit. It's a fun conversation starter on the 19th hole or just out and about. I was walking through my home town the other day wearing this t-shirt, and an older lady looked at me and said, "Oh, well that's not good". I kindly asked her what she was talking about and she was referring to the fact I had missed the cut. We both had a good laugh and went our separate ways.
The only thing that might keep someone from getting this shirt is the $37 price tag that comes with it. It's a very comfortable and stylish shirt and anyone who is going to purchase it will see the lifestyle that comes with it.
$36.95
http://shop.travismathew.com/product-p/460861-001.htm
Bruno Belt- Grey
Over the past 3 years I have grown to love a good golf belt. Before, I would just grab any belt that would match and head out to the course. I have since learned that a good belt can really make the rest of your outfit "pop". I also have been getting the straps so I could easily mix and match the buckles for my many outfits. I was very excited when I received the grey Bruno, because it is a wonderful matte grey that will go with multiple outfits.
 At first, I was a little bummed that the buckle doesn't come off and on, but I quickly realized that didn't matter. This belt has become my favorite "Go To" belt for everything golf and not golf. I have worn this belt to work on days that my outfit called for a neutral belt. Also, there is a ton of give in this belt. That alone is a reason to buy it. How many times have you been in between holes on your belt? If you go to this hole then your pants fall off and if you cinch it really tight you cause your stomach to hurt. These are all things that we must think about when buying something as simple as a belt. If you go through what I mentioned then you need a Bruno belt. When I golf, I am able to tighten the belt, holding my shorts up as well as keeping my shirt tucked in. If I am casually wearing it, then I go to a looser loop and it still keeps my pants up. The Bruno comes in 6 different colors and I have full intentions of owning at least 4 of them.
$64.95
http://shop.travismathew.com/belts-s/1838.htm
Doyers- Grey/Yellow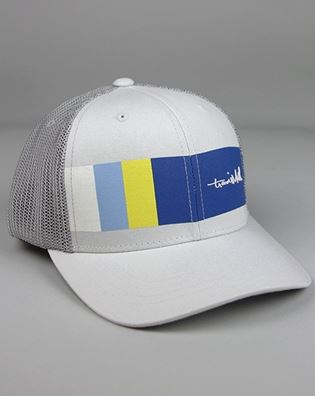 The Doyers hat is a very simply designed hat that has a lot of versatility. You can match it with multiple colors and still look like you have some fashion sense. It is a structured hat, which is a great when you want to look your best. The structure gives it a clean look, unlike most un-structured hats that sometimes look wrinkled or ratty. The mesh back will allow your head to stay cool on those hot days and the snap back can fit most heads. One thing I have always noticed with the structured hat is they tend to sit high on my head. That's not the case with the Doyers.  It seems to me that it is shallower than most structured hats. This allows someone with the smaller head to be able to easily pull this look off. The hat is very comfortable and looks great with most outfits. 
$34.95
http://shop.travismathew.com/product-p/480351-400.htm
Final Thoughts
I am more than impressed by the current line fromTravis Mathew. As stated, I was a bit leery of the quality control just based on some previous experience. Well, after doing quite a bit of research I have determined that the quality control issues are a thing of the past for TM. Actually, I was more than impressed with the consistency in sizing. I know that if I go online and purchase my size that it will fit just like any of the other styles I have.
Travis Mathew offers many different designs and options for the unique personality in all of us. There isn't a golfer out there that wouldn't look good and feel good in anything TM has to offer. I love that TM isn't just a golf apparel company, but they are a lifestyle. I strongly recommend this brand to anyone in the market for some stylish clothing. I also recommend that you spend some time on their website. You will see that TM as a company likes to have a lot of fun…and who doesn't want to have some fun?!?
Travis Mathew is a company I will gladly send my business to in the near future. I will be adding more polo's and shorts to my golf style. I will also go as far as add some apparel I can wear out and about. TM sells the idea of an AWESOME brand and they are nothing short of that.