There are laser devices and GPS devices and both are designed to get you the distances you need on the golf course. There are even a few hybrid devices that combine the best of both worlds into one handheld unit. If this were a pyramid shaped chart, at the very top of the feature pyramid would be the Voice Caddie SL1, which combines the laser and GPS, as well as adding Pin Assist and Green Undulation to the unit.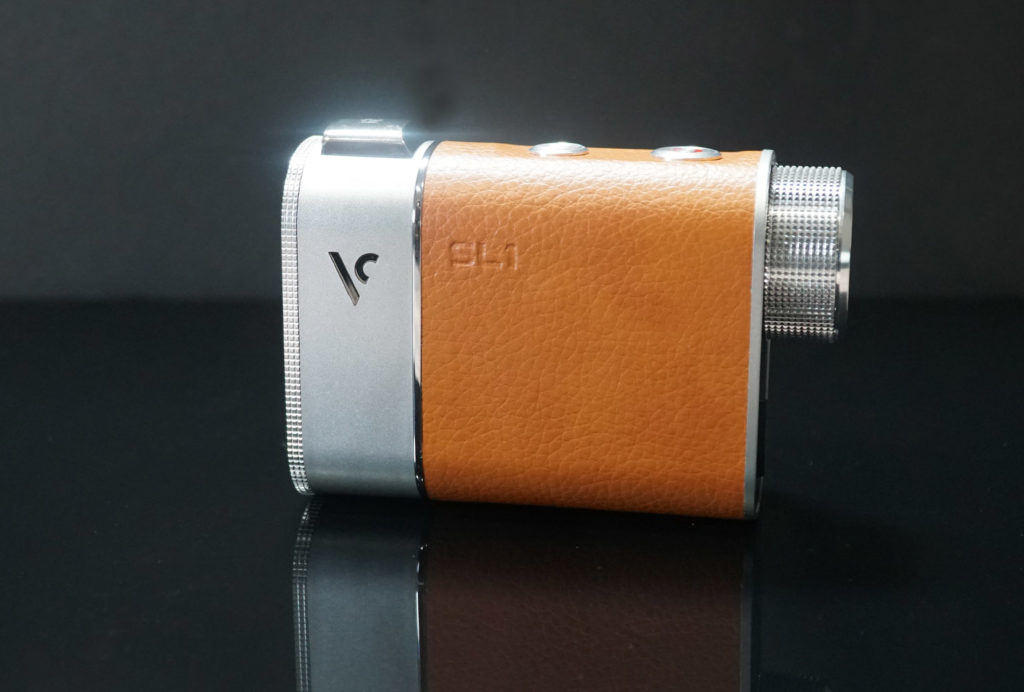 Before getting into each of the features and what makes this unit unique, we want to touch on the look and feel of the device. It is unlike just about every other device in the category and has this elegant throwback design to it. The chrome, silver and leather wrapped accents show off a design that is incredibly well done. As you can see from the images we took throughout this article, you get a sense that Voice Caddie wanted to create something different…something special. In terms of look, they nailed it.
Lightweight in the hand, the buttons fall naturally to where the fingers sit when you pick up the Voice Caddie SL1 unit. The top features buttons for both on/off and mode (more on that later). The viewfinder ring has your typical turn to adjust clarity and it works quite well like many in the class and overall picking the unit up and checking distances right away were what we have come to expect in a laser. Quick, intuitive and very fast.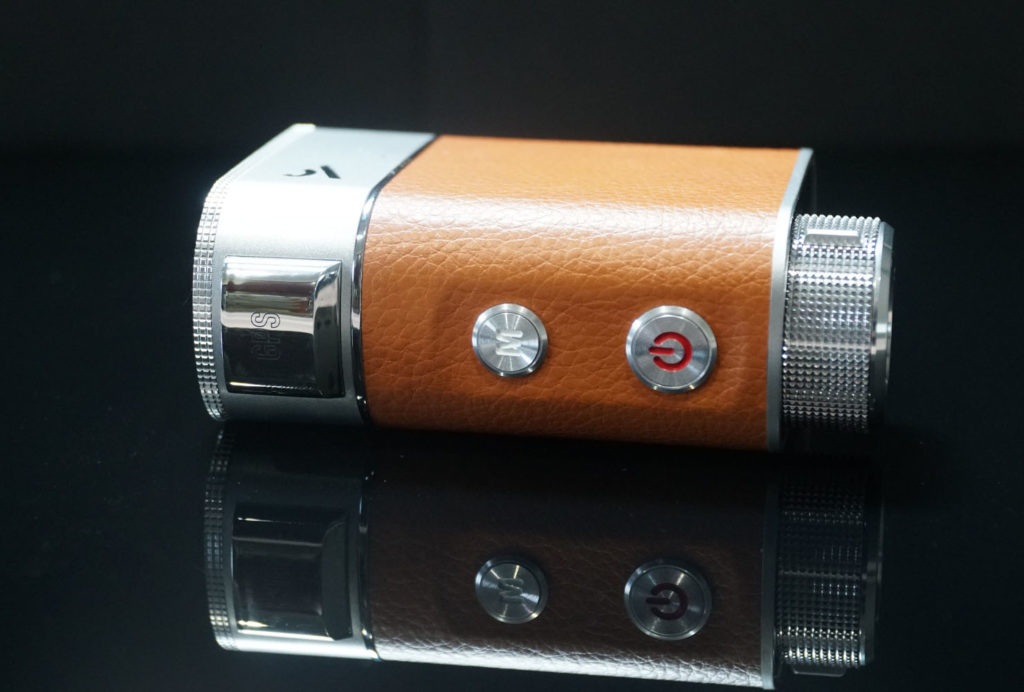 Powering the on button is where things get rather interesting. To start with, the color LCD below the viewfinder springs into action which is where your GPS measurements will be located throughout the round. A quick glance throughout the front nine gave off precise distances that mirrored the lengths shown on the cart GPS. We then confirmed those distances with the laser, which adds a nice tough of a blink as well as a vibration to insure you have locked onto the pin.
Voice Caddie has used a premium lens that offers low light support, which has plagued some laser devices for years and continues to on some units. Playing early in the morning on a cloudy day offered no resistance and the 6X optical lens dialed in everything well. Auto Slope with continuous scan picked everything up and as mentioned previously the speed is well…speedy.
This is where things got pretty interesting. Most courses are already mapped for GPS, so very few concerns there and thankfully Voice Caddie lists their full course library on their website here. The course we were playing also had the Green Undulation active and that is one very cool feature. Not a ton of courses have this feature active yet, but it is continuously being expanded and they list on the website which courses are covered.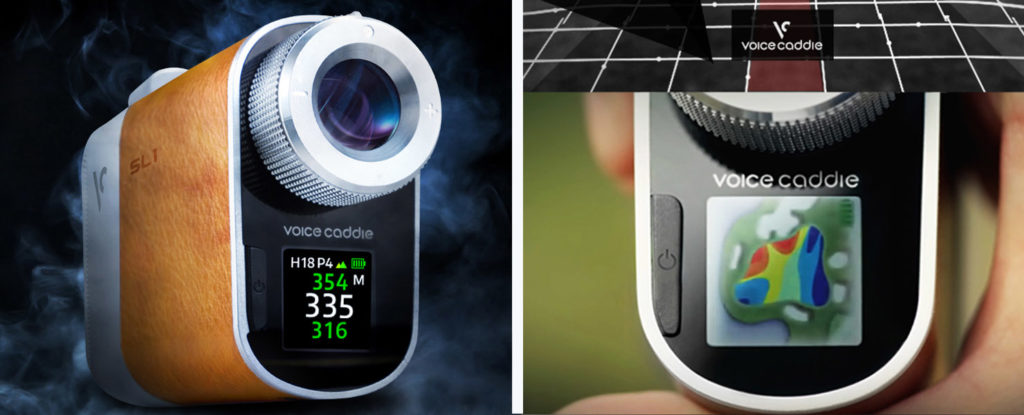 The color LCD springs into life and shows off a green map with slope, height and hazards around the green such as bunkers. It is quite intuitive and only takes a second to glance and know that you might want to aim closer to the low point than the high point of certain greens or that area A might be trouble, but B is safe. It's extremely well done, fast and with the growing list of courses weekly, something we think golfers will really enjoy in the Voice Caddie SL1 hybrid device.
The GPS itself is pre-loaded with 40,000 courses and with or without green reading as of yet, the SL1 is fantastic. It comes with a USB cable that will connect the unit to a computer for updates as well as charge the device. No battery replacements to mess with, a simple recharge and you will get a full month of laser and 3-4 rounds of GPS. We tested that through 2 rounds and still had charge left over, but probably recommend charging after a few. If your course has carts with USB chargers built in or you carry around a backup battery, the SL1 can be plugged in for those that forget to charge and in just a few minutes have enough to get you through 9 holes.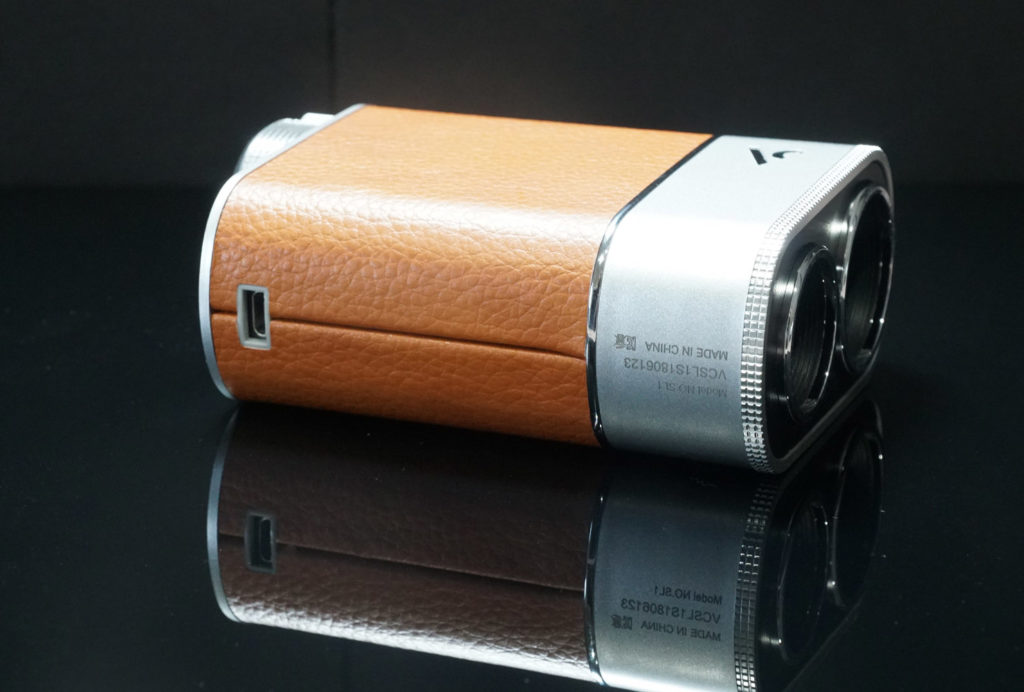 Also in the package is a case which is black with gold accents and features both zipper and magnetic enclosure. The inside is soft lined and holds the device in place really well.
There are times when a device just works for you. There are times when a device has a look that (while subjective) separates it from the class. Then there are times when a device has both of the above, along with features not found anywhere else. The Voice Caddie SL1 falls into the latter category and continues to impress as more courses are added to the library of green reading.
For more information on the features or to order a device, check out their website here.
The Details
Available Now
Cost: $499