Earlier this year, we had a feature story on the Voice Caddie SL1 device, which was a hybrid GPS and Laser. It became an instant classic, with it's throwback aesthetics combined with some features not found anywhere else such as green undulation and more. Today the Voice Caddie SL2 Hybrid GPS and Laser Rangefinder is launching and fresh off the PGA Championship where nearly two dozen of them were in the bags of the best in the world.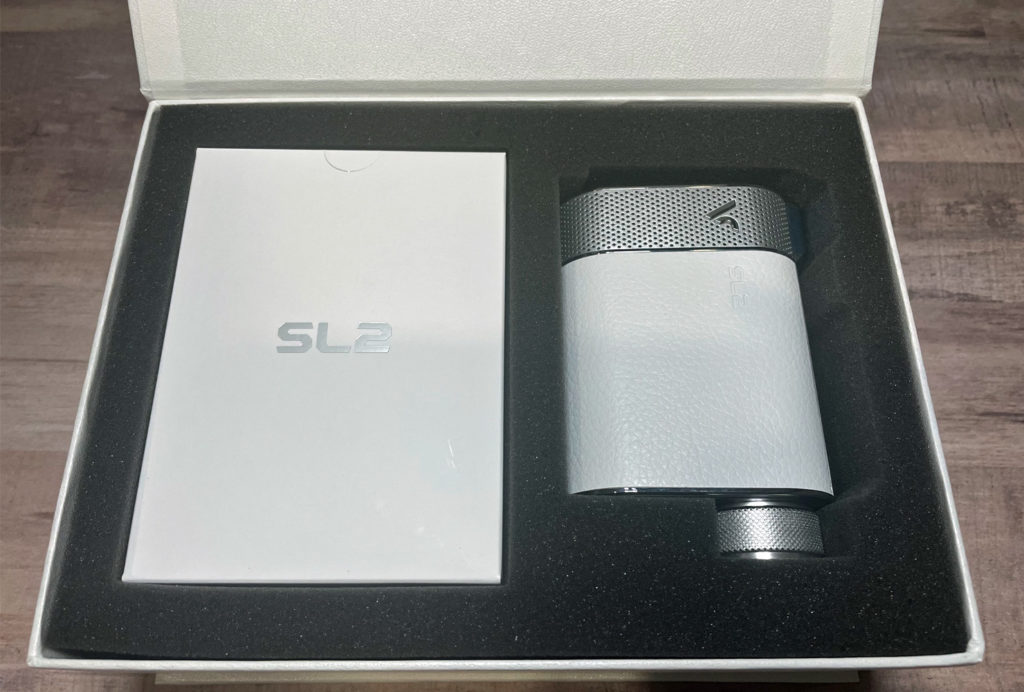 Kicking it off with the aesthetics, the SL2 is a pretty big departure from the SL1, without losing any of it's "coolness". Rather than the light brown faux leather wrap around the sides, it is stark white. While this could of course lead to getting a bit dirty, we did a simple wipe off test after using it a bit and it cleaned up really well. The silver has a different take as well with perforated front end, while the eye cap features the same texture. The front end was black previously and now has a really nice wood look to it. Honestly we were concerned with the looks upon hearing about a sequel, only because they nailed the SL1, but Voice Caddie didn't stray too far and the improvements are really well done.
The shining light of the Voice Caddie SL2 is of course its function and they took a stellar unit and made it even better. Starting with the laser side of this hybrid GPS device, the optics are both brighter and clearer. The 6x optical magnification works at over 1000 yards for you long hitters and it has the usual suspects such as continuous scan mode and vibration lock on pin. An interesting note to the laser is the view adjusts based on the clarity of the day. Playing in bright, normal conditions and a full color clear display exists. Playing in foggy or darker conditions, as a dew sweeper perhaps? The Voice Caddie SL2 creates a different view thanks to its two color OLED viewer. This was tested out and worked extremely well, which honestly surprised us. Rounding out the laser side of the feature list, is their Slope function, which compared nicely to other models we tested in giving what seems to be a very accurate number based on elevation changes.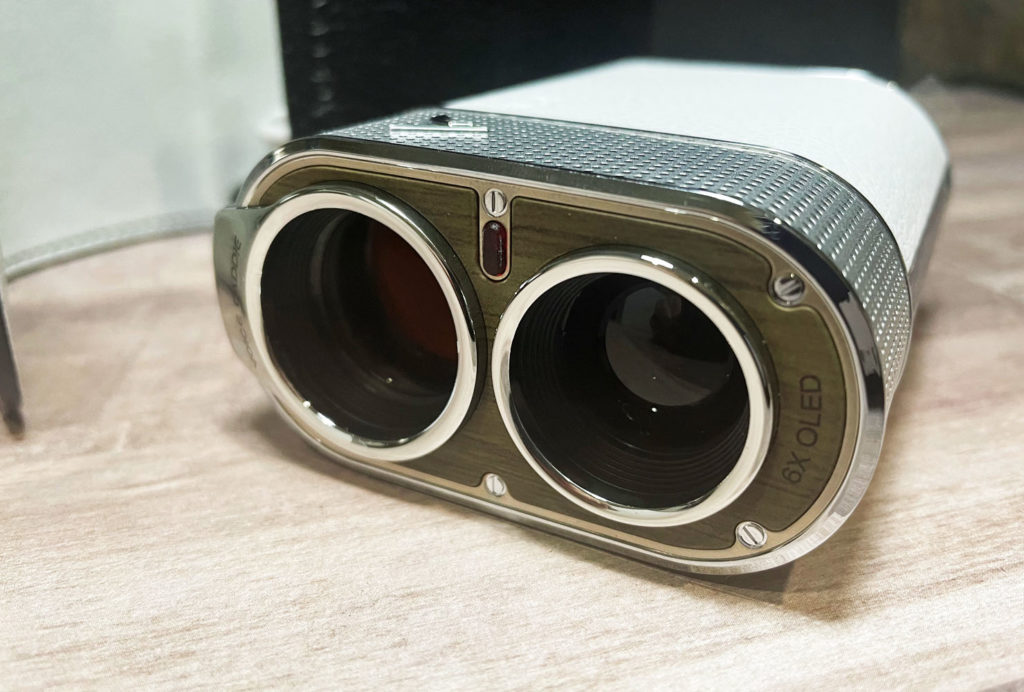 The previous SL1 took the hybrid GPS market and turned it on its head with the green undulation feature. The Voice Caddie SL2 changes the game even further. Like the previous model, directly below the viewfinder on the device is a small screen. Previously that had your simple GPS distance numbers as well as the incredibly cool green undulation feature. The SL2 ups the ante and adds a full featured GPS.
We will kick off the description with what Voice Caddie calls Smart Course View. As you can see by the image below, this is all about learning and understanding the course better. Full previews of the hole, distances to the hazards or bunkers. Selecting a point on the screen for a distance as well as a pretty nifty Auto View which gives you useful information such as driving landing area as well as hazards in the same screen. Basically taking a full featured GPS watch and dropping it into your rangefinder in a way that is unprecedented. What took us back even further is that in testing, the software is pretty zippy too. We didn't have sluggish software where you tap and wait a few seconds, it was all happening in near real time.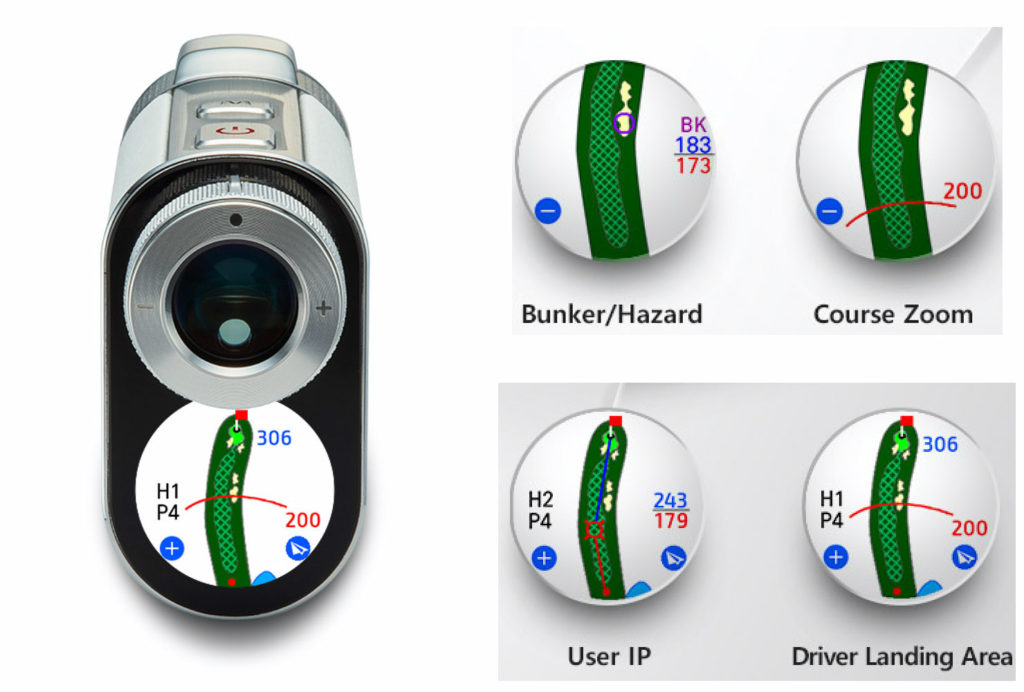 Jumping from Smart Course View to Active Green View, we get a little of what we had previously, but in a presentation that is significantly better. Active Green View shows off green undulation and the entire look is intuitive and more realistic. You can move the pin around various areas of the green if for some reason it is not accurate, although in our testing it was spot on each time we used it. The best part of the new Active Green View is just that, it's active. So the green will rotate on the screen based on where you are (shown below).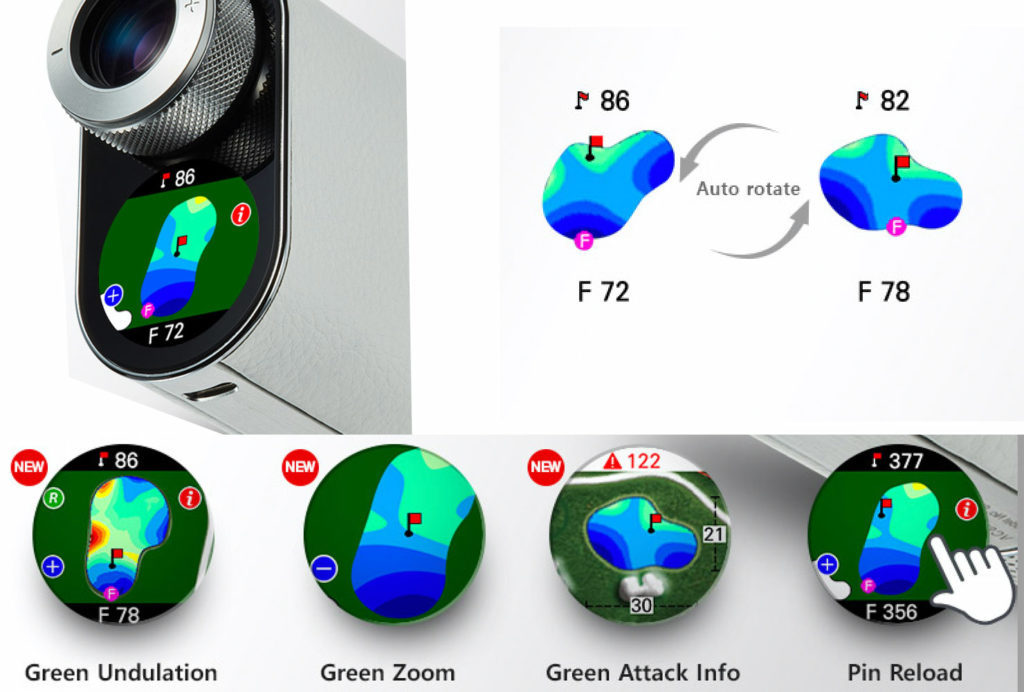 When we thought "this is the pinnacle", as the SL1 was rolled out, Voice Caddie says hold my beer and they launch a hybrid device that is unlike anything we have seen before it as a followup.
All of these features are great, but the million dollar question is did it work? Yes. Accuracy of the laser was to be expected and spot on in comparison to other devices. The GPS functions were surprisingly incredibly accurate and just as important zippy to use. Nobody wants to spend 60-90 seconds fiddling with a device over a shot. Or better described, the golfers playing behind you don't want that. This was intuitive, quick and all it took was a glance in most cases to have a ton of pertinent information.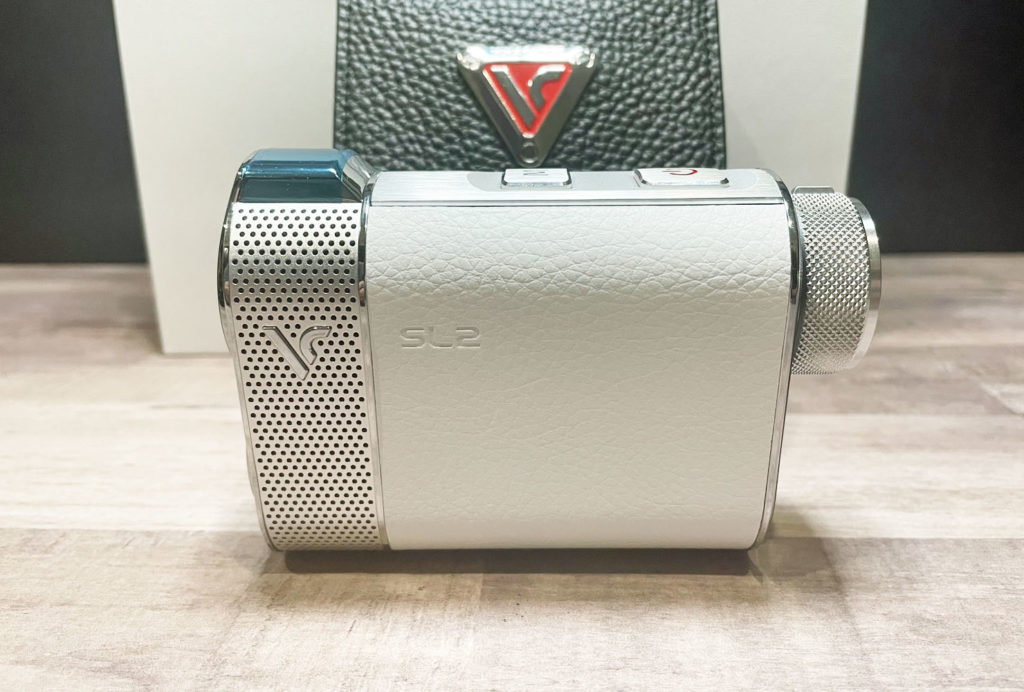 Currently the course layout and green undulation is available for over 13,000 courses in the US and 15,000 worldwide, but that is going up weekly as the company updates the data library. We were fortunate in that both courses this was tested at had both Active Green and Smart Course working and functional. A full list of courses is available and broken down by the features on their website.
The Voice Caddie SL2 is a marvel in technology features and should be available beginning this week with a price tag of $599. More information can be found on their website at www.voicecaddie.com.