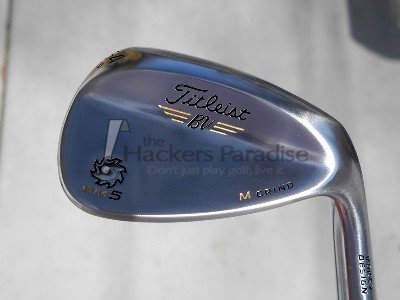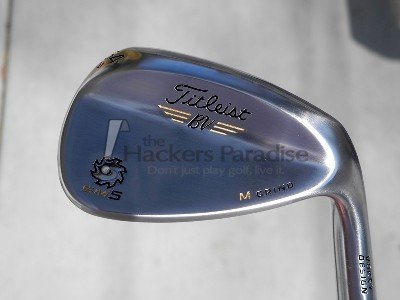 With 40 years of experience building golf clubs, Bob Vokey is an icon of the industry. Since joining Titleist in the 1990's, his name has become synonymous with high-performance wedge and wedge customization. The all-new Vokey SM5 wedges from Titleist have created a great deal of buzz since their release and appear to offer what may be the highest level of both performance and personalization ever seen from the company.
Information from Titleist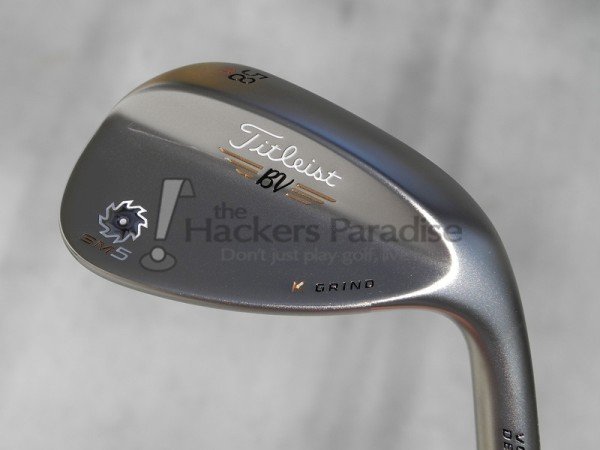 Vokey Design Spin Milled 5 (SM5) wedges deliver more spin and more types of shots, providing golfers with more ways to hit it close and shoot lower scores.
Precisely designed and manufactured using proprietary Spin Milled technology, Vokey SM5 wedges provide a distinct performance advantage through new, deeper TX3 grooves, tour-driven shapes and the industry's most extensive range of bounce and grind options. Vokey Spin Milled 5 (SM5) wedges are the best performing wedges in the game, and since 2004, Vokey Design wedges have been the #1 wedge on the PGA Tour and the most played wedge at every level of competitive golf.
Vokey SM5 wedges feature a more compact and balanced profile with three new finish options ­– Tour Chrome, Gold Nickel and Raw Black. Each wedge has new, clean graphics with an expanded selection of personalization and custom options also available.
Specifications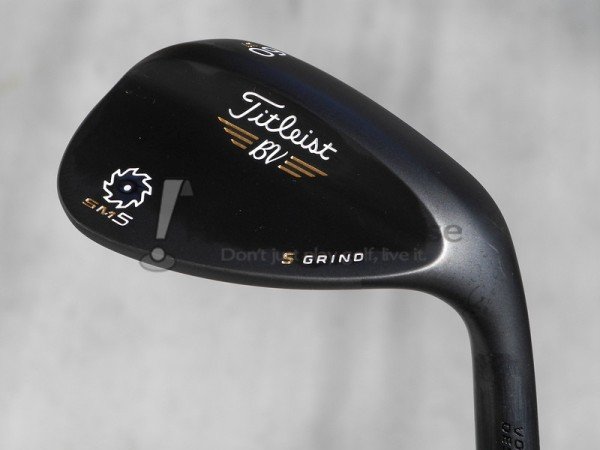 The SM5's come in an expansive variety of lofts, bounces, and grinds. The graphic below shows all the available options, with loft, effective bounce, and grind indicated under each bounce heading.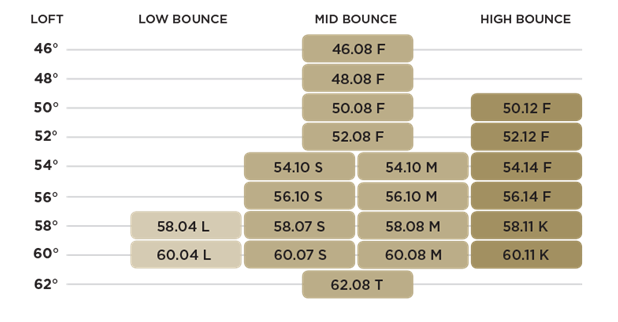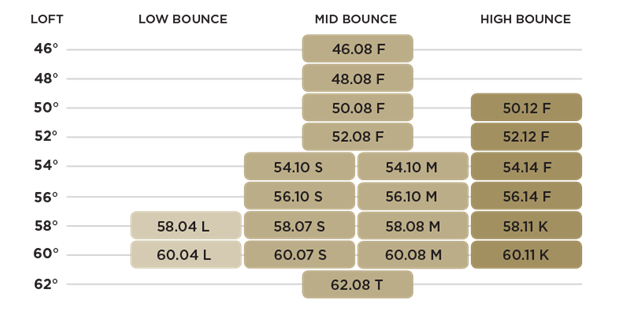 Stock Shaft – True Temper DG S200 (numerous custom options available)

Other custom Options include, stamping and paint fill, laser etching, shaft bands, ferrules, and weight porting.

Six custom grind options.

Cast 8620 Carbon Steel

Three finish options – Tour Chrome, Gold Nickel, Raw Black

MSRP $145
Key Features
Spin Milled Technology and TX3 Grooves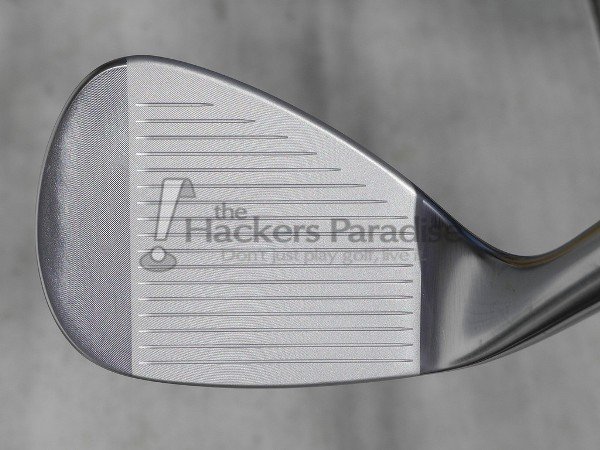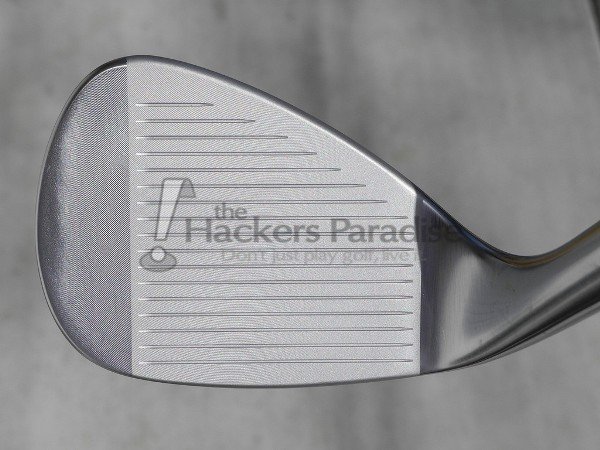 Spin Milled technology with deeper TX3 grooves produce maximum spin with distance and trajectory control. TX3 grooves channel away grass and sand for improved contact between the ball and groove edge. Every Spin Milled 5 wedge face is milled to the tightest tolerance and 100% inspected.
Close inspection shows the fine milling on the face of the SM5's, which lends a distinguishing look to the wedges.
Tour Proven Sole Grinds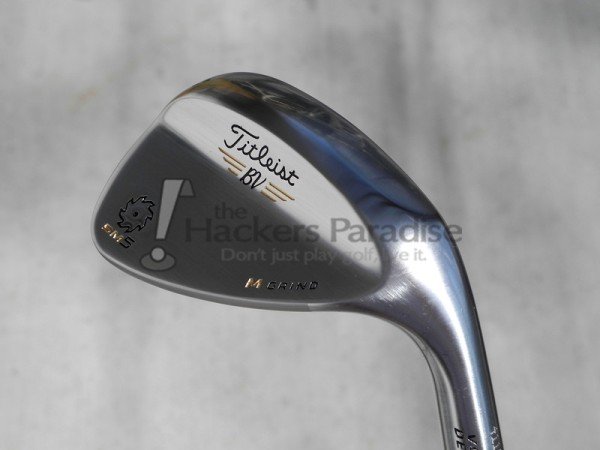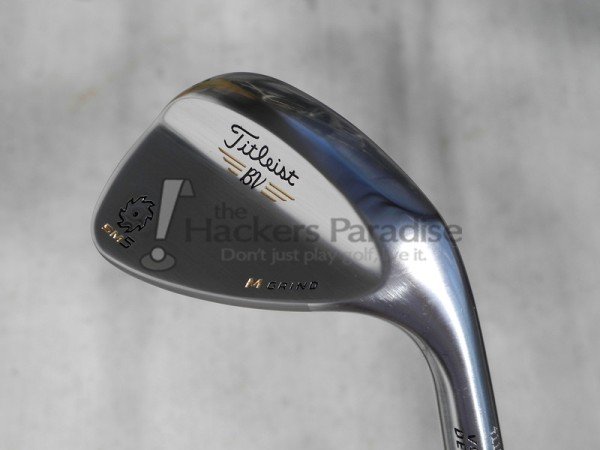 Spin Milled 5 wedges provide the widest selection of bounce and grind options to fit your swing type, shot technique and course conditions, with more sole grinds taken directly from Bob Vokey's work with the world's best players.
To provide more information on the grinds offered, and who they may work for, www.vokey.com has a webpage devoted to helping consumers educate themselves.
Aesthetics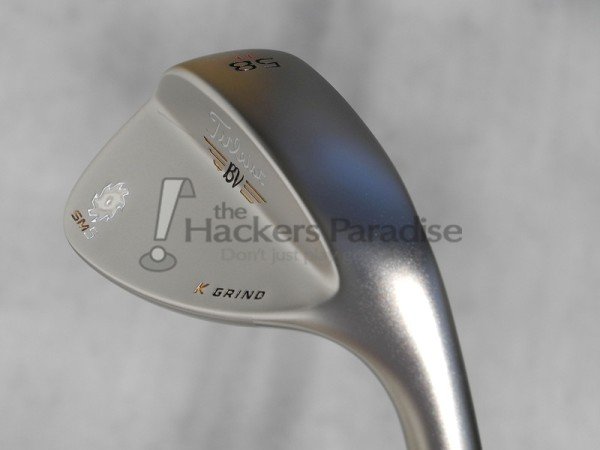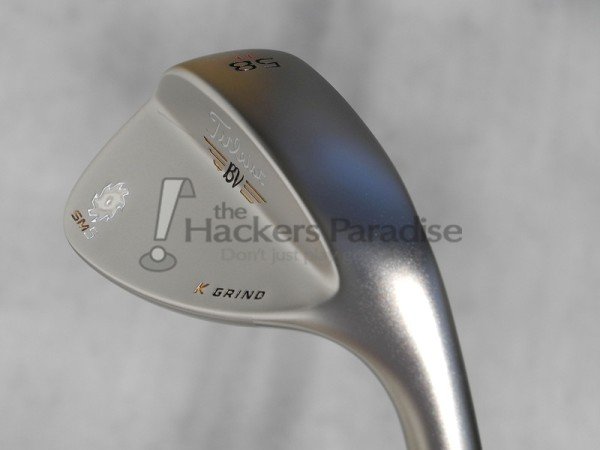 With three distinct finish options, the SM5's offer a good variety of looks that should match many personal tastes. The Tour Chrome is lightly brushed, but still quite vibrant. The Gold Nickel is more subdued than anticipated, with only a slight hint of coloring. The Raw Black is a matte finish that eliminates all glare, but it should be noted that this finish will wear (and eventually rust) over time. Some minor glare issues were observed in direct sunlight with both the Chrome and Gold Nickel finishes, but nothing unusual.
The smaller head shape and very slight rounding to the leading edge gives the SM5's a shape that will be both familiar and agreeable with most people and the redesigned graphic area is a little cleaner than in the past (conveniently setting aside more space for personalization).
The SM5's further serve to dispel the myth that a wedge must be forged to offer good feel. Cast from 8620 Carbon Steel, they provide a solid and soft sound at impact.
A Word on Fitting
Wedge selection, like all golf equipment, can be a very personal proposition. With the number of bounce and grind options available with the SM5's, guidance in the way of a skilled fitter is highly recommended. Depending on the swing, how one uses their wedges, and local conditions, individual needs can vary greatly. Fortunately, Titleist has a rather robust network of fitters, and their website makes finding one quite easy.
Performance – Grinds in Action
Vokey SM5 testing took place during multiple rounds of golf, as well as at a number of short game facilities. The wedges tested were all shafted with the stock DG S200.
The following wedges were sent for review:
54.10 – M Grind

58.11 – K Grind

60.07 – S Grind
54.10 M Grind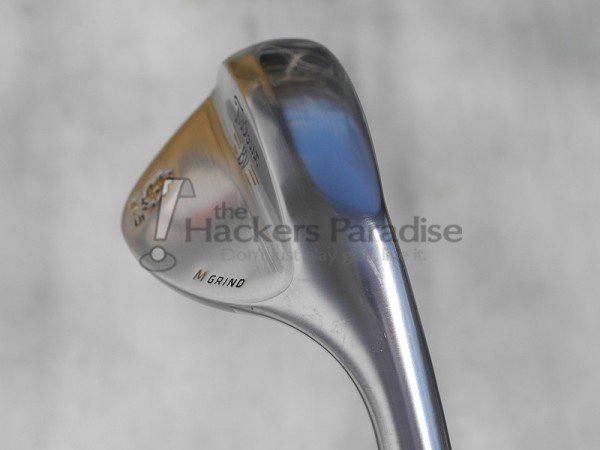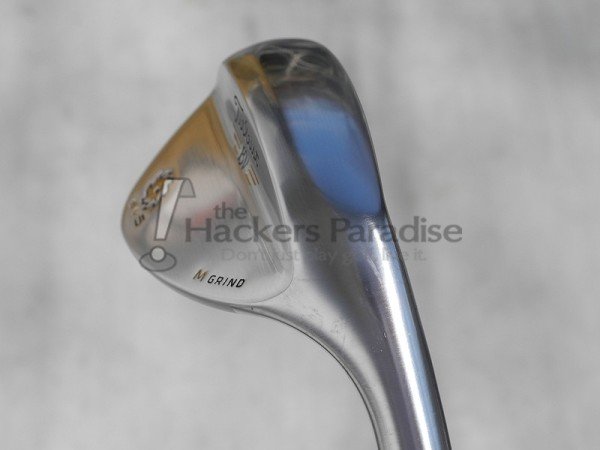 Described by Vokey as a, "crescent sole with narrow forward bounce surface and moderate camber," the M Grind is recommended for shallow/neutral swingers that plays in firm/moderate conditions.
The M grind is quite popular both on Tour and in the marketplace, and for good reason, as it proved to be very versatile around the golf course. The leading edge sat low to the ground for easy-to-execute pitch shots off tight lies, while the material removed from the trailing edge of the sole made it easy to open up as needed.
Stressing again the importance of fitting, as a player that needs some assistance in digging into the sand, the M Grind actually proved to be an extremely useful club for long bunker shots for the reviewer, as it allowed the club to glide into (rather than bounce off) the sand. However, those players with steeper angles of attack may want to look elsewhere for a true sand club.
At its core, the M Grind offers a very convenient way to open the face (even on tighter lies), which should prove valuable to a number of players.
58.11 K Grind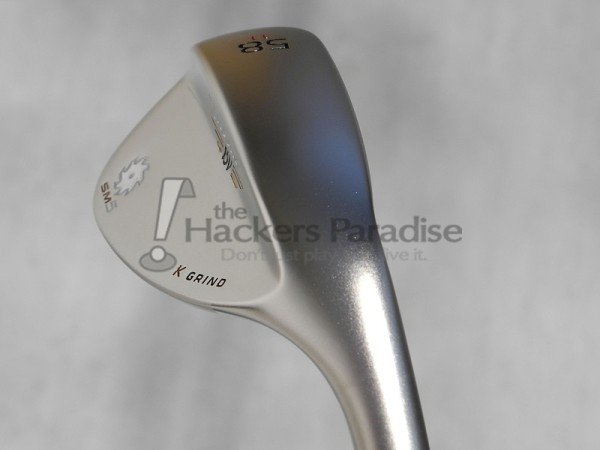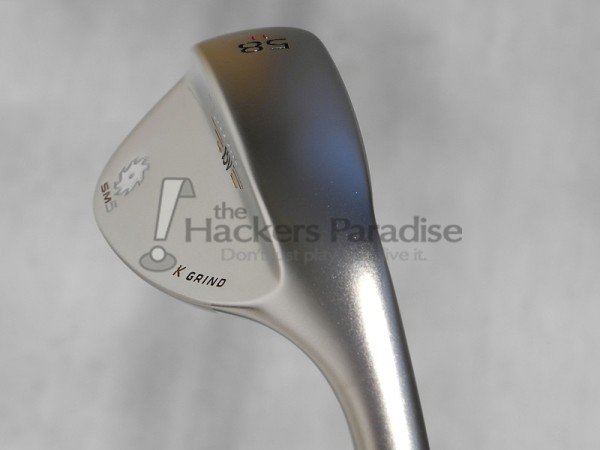 A classic wide-sole wedge, the K Grind is a high-bounce option recommended for neutral to steep swings playing in soft to moderate conditions.
Though the vogue approach to wedge selection with amateurs often seems to gravitate towards low bounce, the very bouncy K Grind could offer assistance to many players. It's designed to be a true sand club, with a sole that wants to glide, which should be especially useful for those with a steeper swing. For the reviewer, it worked better than expected from bunker lies (considering his swing), with shots producing the classic "thump" at impact and a very smooth entry and exit from the sand, though trajectory was a little lower than optimal for high lips.
The wider sole didn't have the anticipated negative effect on versatility, with square-faced shots from fairway lies remaining relatively easy to execute. In addition to working well in sand, the wide sole promoted a soft, high trajectory on touch shots, which was useful when short-sided, and it made getting a ball up and out of the rough rather simple.
60.07 S Grind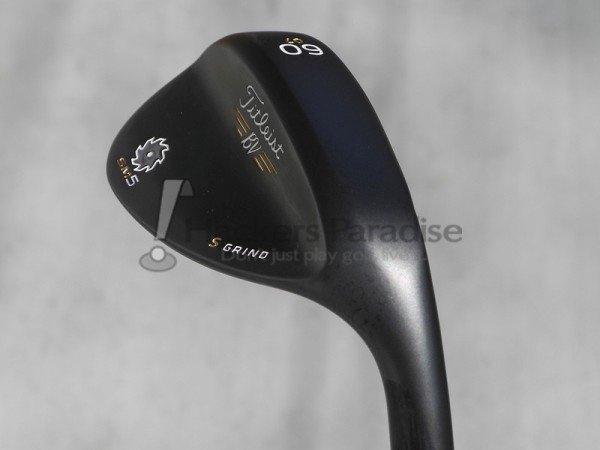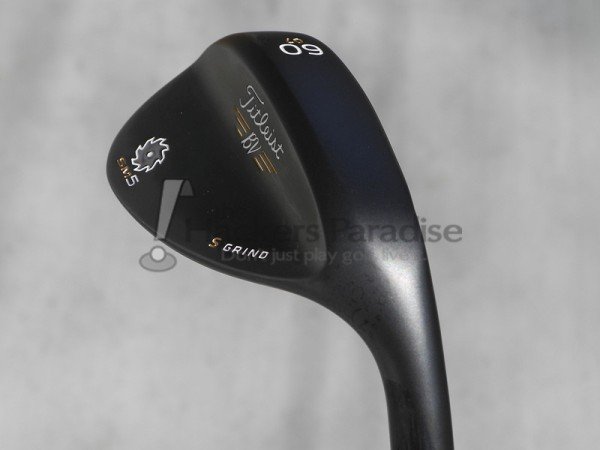 The S Grind was designed with Steve Stricker in mind, giving him, "the versatility to hit many different shots around the green, even with his neutral style." It features a small amount of both trailing edge and heel relief, both of which contribute to its ability to work on almost any ground condition.
A surprising favorite of the three wedges tested, the S grind proved to be a fantastic wedge for bunker shots for the reviewer's shallower swing. High, spinny shots were easy to accomplish and the grind and moderate bounce helped the club dig just enough to slide underneath the ball.
In addition, the S grind was well adept at high/soft pitch shots that stopped dead in their tracks. Though spin hasn't been mentioned in this review to much extent (testing has shown most modern wedges provide similar spin rates), it should be noted that the SM5's provided great ability to stop a golf ball with the right lie and technique.
With material removed from both the heel and trailing edge, the S Grind maintains a lower leading edge on both square and open face shots, making it a great option to use both around the green and from farther out in the fairway.
Final Thoughts
With a virtual plethora of options available, the Vokey SM5's appear to present viable options in both fitting and aesthetics for almost any player. The classic look and feel, coupled with Tour proven grind options give consumers the ability to truly fine-tune one of the most intricate parts of the game. More information on the SM5's, including notes on grinds not reviewed in this article, can be found at www.titleist.com.