Several years ago, I had an opportunity to visit the Titleist Performance Institute (TPI) in Oceanside, California, the mecca of Titleist's fitting facilities. During that visit, Brett Porath, Titleist's Senior Director of Club Fitting, gave me an in-depth tour of everything TPI offers golfers worldwide. Throughout my stay, one area stood out more than others: the short game practice and fitting area, which provided different lies, grasses, and bunkers that could lead to hours of fun. I couldn't think of a more perfect location to go through a wedge fitting.
Understandably, the percentage of golfers participating in a wedge fitting at TPI is small, and while doing a wedge fitting outside, on the grass and sand, is preferable, it doesn't have to be the only way to get a good, viable fitting. With plenty of indoor fitting locations around the country, Titleist focused on the way to improve and give a proper assessment because, after all, the Vokey wedge lineup has plenty of options, and choosing the best wedge for your game is not always so simple.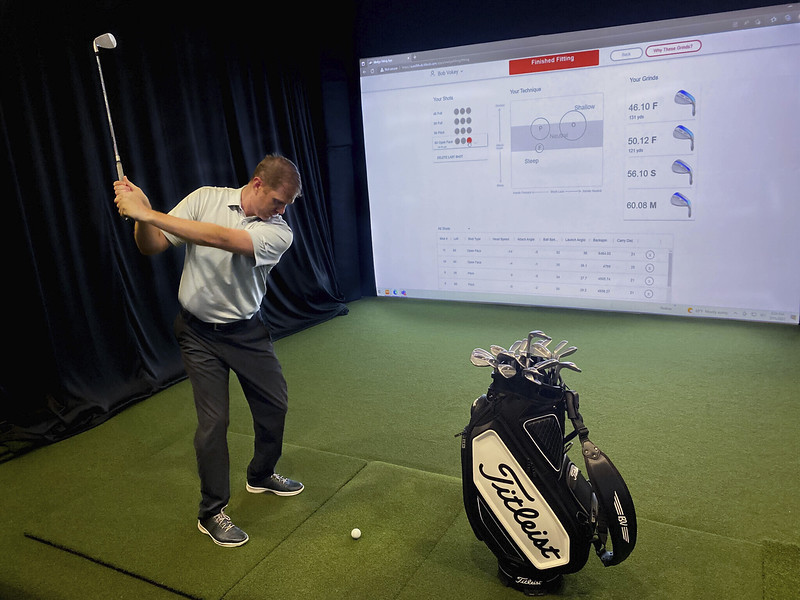 Corey Gerard, the Marketing Director for Vokey Wedges, understands the importance of finding the best Vokey wedge loft and grind options. "Selecting the correct wedges, particularly the right grinds, leads to more confidence and lower scores. With the depth of options Vokey offers, getting custom fit is truly the best way to unlock the best short game tools for your game."
An indoor wedge fitting has typically had its downsides, as it's difficult to simulate the lies and shots one comes across on the course. I'm pretty sure we've all experienced some hitting mats that take those shots with poor contact and yield a much more acceptable result than we would experience outside. It's just the nature of the beast. However, Titleist and Vokey engineers have collaborated with Titleist club fitting experts to create a new Vokey Wedge Fitting App that explicitly targets indoor fitting sessions.
Several factors go into using this fitting app alongside an expert Vokey wedge fitter. Consider the first part of the process an interview, where golfers will answer questions about their game. Here, the fitter finds out information about your technique, normal playing conditions, and how you would typically play certain wedge shots throughout a round. After completing this Q&A session, it's time to take some swings to see what kind of lofts, bounce, and grinds will serve as the best option for your game.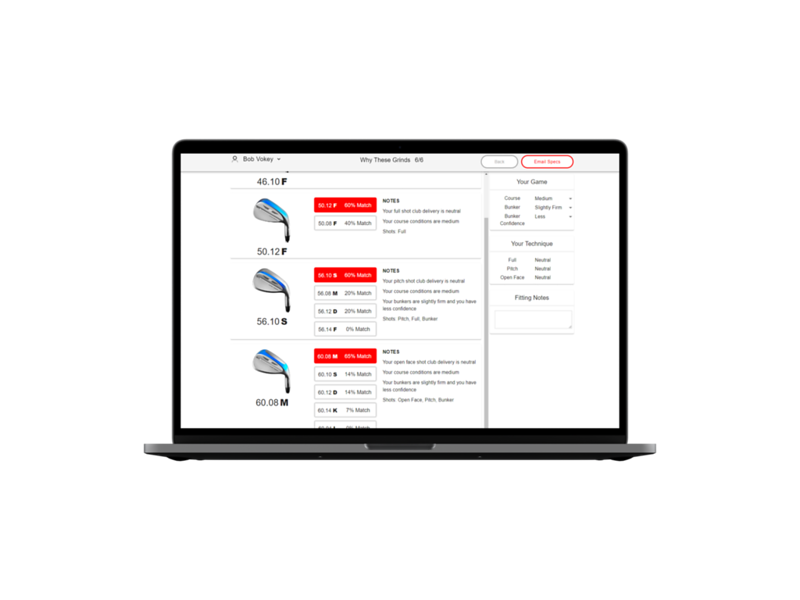 Since the Vokey Wedge Fitting App uses launch monitor data, it's vital that golfers approach each swing as if it is a specific shot on the course, be it a full swing, pitch shot, and even open-faced greenside shots. After collecting the necessary data, this app will determine your angle of attack and shaft lean at impact and produce the Vokey wedges best suited for your swing. Currently, there are 27 options for a combination of loft, bounce, and grinds within the SM9 lineup; partaking in this 10–15-minute fitting process will unquestionably remove confusion when it boils down to which Vokey wedge is going to help lower your scores.
"We encourage all golfers to get fit for their wedges because we know it will help improve short game performance. This process raises the bar on wedge fitting by making high-quality experiences easier to access than ever before." – Brett Porath, Senior Director of Titleist Club Fitting.
We can't all make the trip to Oceanside, California for a fitting at the Titleist Performance Institute. With the creation of this Vokey Wedge Fitting App, we don't necessarily need to, as we can take advantage of all the localized indoor fitting facilities and now enjoy an improved experience with an expert Vokey wedge fitter. Perhaps take that money saved from booking a flight to the golden state and order your recommended wedges through the Vokey Wedge Works program. This way, not only will your new wedges be fit for you but also designed by you.
The new Vokey Wedge Fitting App will be available through authorized Titleist Trade partners starting this month.