Many might already know this but I have a small fashion obsession. I can think of few things that bring joy to my life the way a new outfit does, or even better, the discovery of a new clothing line. So naturally, when I found out about a ladies golf apparel company called Wear To Win, I had to know more. One of my favorite online retailers for all things ladies golf is Golf4Her, and that is where I first learned about Wear To Win.
About the Company:
Our aim? To make the game of golf more enjoyable (and stylish) for every lady golfer. As a mother-and-daughter team who have spent countless hours on the course, we know what's out there…and what's lacking. Our designs are meant to be fun, able to withstand the rigors of tournament golf and stylish enough to be worn off the course.
Beyond that, we want to empower you by encouraging self-confidence and a positive self-image. We're more than just clothes and golf. We want to inspire and encourage you to become great leaders and extraordinary women.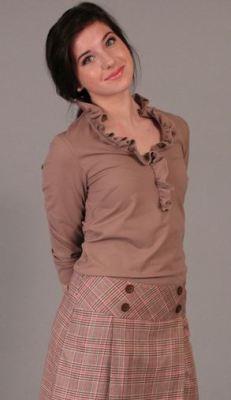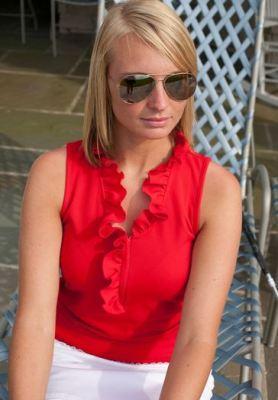 If I had to use just one word to describe the look of this brand I would say feminine. All the pieces have a very 'lady like' quality to them that I just adore. You won't find fifty different options for tops, or bottoms for that matter, but what you do find are figure flattering, yet still form fitting, golf apparel. Even though there aren't a ton of different styles, they do offer quite a few color choices.
What I quickly liked about this brand is that the tops could easily be used as an everyday blouse worn to the office. Take the Ruffled Shirt (both ¾ length and sleeveless) for example, this could easily be worn to work with a pair of slacks or skirt and/or paired with a suite jacket. The ruffle design is the epitome of feminine. The fabric is very soft and feels great on the body. There is no tugging or pulling and sits quite nicely on the curves. I had the opportunity to try one the sleeveless ruffled tops and I found it to run pretty true to size. If you like your golf wear to be very form fitting then you might want to go one size down. The ¾ Length Ruffled Shirt retails for $78 USD and the sleeveless Ruffled Shirt retails for $72 USD. Both are available in sizes XS-XL.
The other style top offered by Wear To Win is their slimming Ruched shirt available in short sleeved or sleeveless. Just like the Ruffled top this can easily be worn to work or with a pair of jeans around town. I am a big believer in getting multiple uses out of my golf apparel so Wear To Win scored big points for me there. The Slimming Ruched shirt does exactly what the name says and provides a very slimming effect due to the ruched sides. So even on those 'sweat pants and baggy top' feeling kind of days, this top is a great choice to wear. Besides the slimming effect, and overall pleasing look and design of this top, I loved the V-neck. It's a thing with me, I just love V-necks, I find them far more comfortable than any other neckline. The fabric on here, just like on the top above, is very soft and feels great to wear. It moves with you and has nice tech materials to allow for a sweat free round. Similar to the Ruffled Shirt above, this top runs quite true to size, but if you are looking for something super form fitting then you might want to consider choosing one size down. The Short-Sleeved Slimming Ruched Shirt retails for $65 USD and the sleeveless Slimming Ruched Top retails for $55 USD. The short-sleeved is available in XS-XL and the sleeveless in XS-XXL.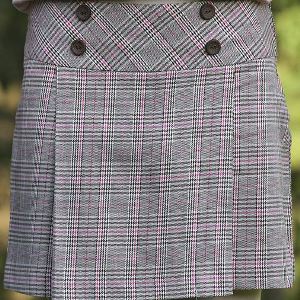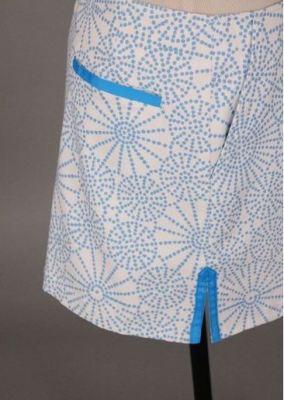 Every great top needs a bottom and Wear To Win has a beautiful array of choices. They offer something I have not seen from other golf apparel companies before; Girls & Petite sizing. As a short woman I really appreciate the Petite sizes. I also really appreciate the addition of Girl's (Kids/Teen) sizes. I will admit, until I was about 20 years old I used to wear kids sizes because I was too short for women's clothes and too lazy to get my clothes hemmed. I am older, wiser and far less lazy now, but I still think this is a genius move by Wear To Win. Plus, moms and daughters can now wearing matching skorts if they want. There are several different designs to chose from, as well as color choices for each design, and during my time with the skorts I found them all to run very true to size. To be honest, they fit my body like I had them specially made just for me. It sat just right on my waist, just long enough above my knee and hugged my hips in all the right ways to give me shape without making me look extra curvy. I also loved the fabric of the skorts, the quality seems exceptional, but I should note that I did not have the chance to put them through the wash to see how they would hold up. The girl's skorts retail for $72 USD and are available in sizes 10-16. The Women's & Petite skorts retail for $115-$120 USD and are available in sizes 0-16.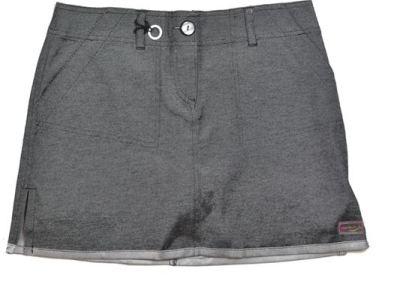 Overall, I was extremely pleased with the sampling I saw from Wear To Win and I very much look forward to seeing what else they put out in the future. I really enjoyed the feminine feel and appearance of this brand and I was beyond impressed with how flattering the pieces are to the female form. Plus, clothing that can be worn on the course, to the office, out for cocktails or even to run errands around town earns serious points with me. In additional to the tops and skorts, Wear To Win also offers jackets and belts. For more information on the brand you can visit their website at www.weartowin.com and you can purchase their apparel at online retailers such as Golf4Her.
Your Fashion Guru,
GolferGal