With golf season in full swing some of the most popular threads started on the THP forum have to do with fitness and how that might help us perform better on the golf course. So it couldn't have come at a better time that I was introduced to a new book called Weight Training for Women's Golf, a book by Kai Fsuser, trainer to one of the greatest female golfers of all time, Annika Sorenstam.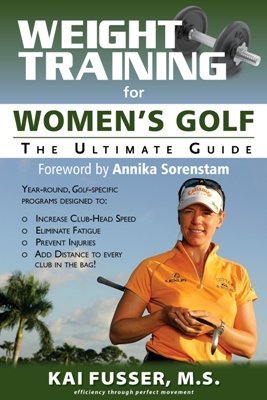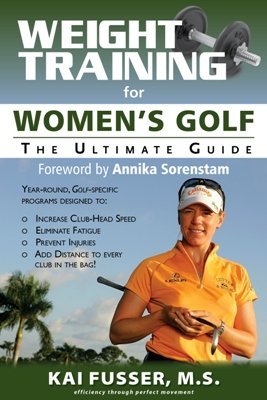 The title of the book might have the word Women in it, but the principles and practices that are discussed are just as effective for men. I am by no means a fitness expert but I have been working out, admittedly on and off, for the last ten years and everything I have learned over that time, and every question I have ever had about health, weight training, nutrition, and much more, is clearly and concisely covered in this book. If you are new to fitness then this is a great guide to teach you the science behind why certain exercises do and don't work and as a bonus for golfers it explains how they relate to your golf game.
In the early chapters Kai debunks the myths about weight training and how it could hinder your golf game. There is an incredibly interesting section discussing what type of workouts are best to help build the right type of muscle for the golf swing. One of the biggest concerns that women have when working out is bulking up. We still want to look like women, not men, so it can be scary to start a new workout routine but Kai quickly eases those concerns. A big part of the workout regimen is about focusing on your core and always maintaining proper form. Another key component that he speaks about is the importance of rhythm. Think about the golf swing, everyone always talks about tempo, and by teaching us how to have rhythm in our workouts we will have proper tempo in our golf swings.
Whether you are a professional athlete or amateur golfer, Kai takes the time to discuss how his workouts can benefit your golf swing and game as well as your overall physical health. He has a chapter dedicated to mental health, which is often overlooked by recreational golfers, but plays such a significant role in the golf game. He also discusses nutrition and supplements. I can see how some people might be a bit overwhelmed at first by all the numbers being discussed in the nutrition section, but he goes back and sums everything up nicely at the end. I think this makes for a great reference tool and educational guide. I so often read on the THP forums about people not knowing what is the best snack, or drink to consume before, during, or after their round, and I felt this section answered those questions well.
If there is one part of a workout that I absolutely despise, and I mean down right hate, it would be cardio. I hate that my workouts are at least a half hour to 45 minutes longer than I would like just so I can run or bike in place. Just thinking about it makes my face red, I would rather lift weights for two hours then do thirty minutes on the treadmill. I recently started doing HIIT (high intensity interval training) and this is heavily discussed in the book as well. It's a great way to get the most out of cardio in the least amount of time. He discusses some really interesting options that I used at the gym and very much enjoyed. It's super challenging and keeps your attention so much more than the boring elliptical, treadmill or stationary bike. Adding variety to any workout is a great way to stay committed and get excited about going to the gym.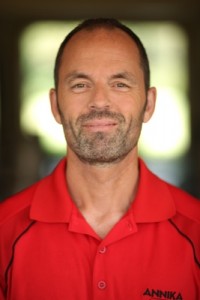 At the end of the book Kai goes over all of his recommended workouts, including picture demonstrations, and gives a schedule of what to do, how to do it, and even to what intensity, which I loved. I found this to be an incredibly well written guide and something that will be great for anyone to take with them to the gym, or on the road if you travel a lot. He explains how each workout pertains to the golf swing and how it helped his athletes, like Annika, Graeme McDowell and Anna Nordqvist gain yards, endurance, and overall improve their golf games.
Overall, I enjoyed this book and I do think that it covers a lot of important bases regarding health, nutrition, physical fitness and the golf swing and performance on the course. I did find some areas of the book to be a bit redundant and I think some of the information could have been tightened up. To nit pick I also found a few typos and editing issues that need to be addressed, but those are all minor complaints. The core of the book is solid and I feel the information provided is not only great for golfers, but really for anyone looking to improve their health and fitness routine. I have not yet completed the program outlined in the book (it takes several weeks), so I cannot comment on the effectiveness just yet, but I will have a follow up on this at a later date. If you have been wondering how fitness and golf can work together to be mutually beneficial, then I highly recommend giving this book a read. It's not terribly long so it won't take more than a couple of days to read. This would also make a great gift for any golfer or even fitness junkie in your life. The book retails for $11.29 on Amazon and you can purchase it here.