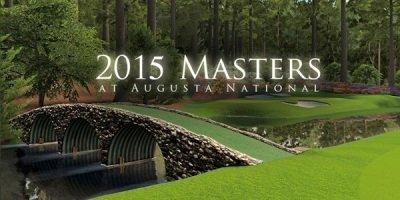 With Tiger Woods on the mend and his probability of playing at Augusta National fading more every day, things might seem a little dismal this year.  Well, it's time to chin up, golf fans.  Even if El Tigre doesn't show up there's still plenty of excitement to be had at the 2015 Masters.  With only a few weeks left to go before Arnie sends the opening tee shot down the first fairway, the clock is ticking for Tour pros to wrap up their final preparations before heading to the Peach state.  Many have already made their presence felt in the 2014-15 season and others have yet to show us anything exciting, but make no mistake- when those who received the golden ticket to Augusta step onto those hallowed grounds they'll bring with them every ounce of willpower and game that they can muster with the hopes of etching their name into history along with so many legends of the game.  With that said, here's our list of green jacket hopefuls to watch this year.
Bubba Watson
How can you not start off the list with this guy?  Augusta fits Bubba's playing style better than most Tour pros.  He just seems to have a menu of shots that other Tour pros lack and it has clearly been a huge benefit to him, as he has won in Augusta two of the last three years.  Bubba is consistently in the upper echelon of longest drivers of the ball on Tour every year and that is a huge asset to have at Augusta, which plays just over 7,400 yards.  This year he ranks third in going for the green, as well as in scrambling.  That means he isn't afraid to take a little risk and is pretty darn good at saving par if he misses the green.  Bubba also holds the top spot when it comes to scoring average this season (69.368 per round).  It also helps that the guys is simply on fire so far.  His worst finish – T14 at the Northern Trust Open a few weeks ago.  Despite that finish he sits atop the Tour earnings list.  The folks in Georgia love Bubba and he certainly looks poised to steamroll the field in his quest for another green jacket.
Jordan Spieth
               Spieth stepped on to the first tee box at the 2014 Masters tied for the lead with Bubba Watson and after nine holes it appeared nothing was going to stop him from slipping on the green jacket in his debut at Augusta.  Unfortunately, Spieth fizzled out on the back nine and finished in second place behind 2-time champ Watson.  Since then, Spieth has made solid strides in his game and recorded a couple of confidence-boosting wins at the Australian Open and at the Hero World Challenge.  So far this season he's made 6-of-7 cuts, recording four top-10 and five top-25 finishes.  He also notched his second win on tour this past weekend at the Valspar Championship where he finished in decisive fashion over a charging Patrick Reed.  Spieth is making a big charge and has a ton of confidence going into this year's Masters.  That confidence coupled with his momentum as of late may be exactly what he needs to claim his first Masters victory of his young career.
Patrick Reed
               Unless you've forgotten, Patrick proclaimed last year that he was a top five player in the world.  That was relatively early in his PGA career and resulted in a lot of skepticism from fellow players and industry analysts.  Well, he's backed up that statement with extreme prejudice, particularly over the past few months.  Lately it's hard not to find his name inside the top 25 on the leader board each week.  At this past week's Valspar Championship he took Jordan Spieth to a playoff, but lost after Spieth drained a long birdie putt to claim the victory.  Despite that, Reed has gone 9-for-9 in cuts made this season, recording one win at the Hyundai Tournament of Champions, as well as three other top-10 finishes.  Reed missed the cut in last year's Masters but appears to be an unstoppable force on Tour this season.  Although we likely won't see Tiger in his traditional Sunday red this year we could see Reed carrying on that tradition.
Henrik Stenson
               After winning the FedEx Cup in 2013 it almost appeared that Stenson took a year off in 2014, as he just didn't look to be in the same form.  It looks like the wheels are once again turning though, as Stenson has returned to the solid form we saw two years ago.  This season he recorded a 2nd place finish at the Hero World Challenge, as well as two 4th place finishes.  Heck, his worst performance this season is a top-25 finish at the WGC-HSBC Champions tournament.  On the European Tour he won the DP World Tour Championship in Dubai and has three top-15 finishes in five starts.  Stenson is a big, athletic guy who can hit the ball a mile, but he also possess plenty of touch around the greens and is a solid putter.  All the parts are there, but Stenson will have to piece them all together in Augusta if he wants to become the first European since Jose Maria Olazabal to slip on the green jacket.
Dustin Johnson
               Coming back from a six-month "hiatus" from the Tour, Johnson seems like a completely rejuvenated person.  In five events this season he has made the cut three times, each resulting in a T-4, 2nd place and 1st place finish.  His win at the WGC-Cadillac Championship seemed inevitable given his solid and consistent play in the weeks since his return.  Johnson's best finish was in 2013 when he came in tied for 13th after Sunday.  No one should question his physical abilities, but his revived mental perspective seems to be equally as strong following his return.  Johnson and fiancée Paulina Gretzky welcomed their first child into the world during his leave from Tour and it appears that has helped Johnson mature in a big way.  If DJ can walk away with a green jacket in April it would be one of the most prolific comebacks in PGA history.
Rory McIlroy
               After making 17-of-17 cuts in 2014 and claiming The Open and PGA Championship victories, Rory has stumbled a bit out of the gate in 2015.  He missed the cut at The Honda Classic but bounced back at the WGC-Cadillac Championship with a T-9 finish.  Of course, most fans were more focused on his 3-iron being fished out of the lake at Trump Doral to notice his top-10 finish.  However, after taking a week off to rest his throwing arm, Rory makes his return to the field at Bay Hill in Arnie's tournament.  This should be a solid test for Rory to make a move and build his confidence as we head down the stretch toward Augusta.  2014 was his best ever performance on the hallowed grounds of Georgia, finishing tied for 8th place.  Nevertheless, Rory has every bit the prowess to demolish a field at a major, as we've seen in the past year.  Winning at Augusta would give him the career grand slam at the ripe old age of 25 if he can pull it off.  Despite a few bumps in the road in 2015, momentum seems to be on his side and he should enter as the favorite for the tournament, given his position atop the OWGR ranking.
               April is always an exciting time of year as a golf fan and this year's Masters Tournament should provide plenty of fireworks.  Even if Tiger doesn't make it into the field there will be no shortage of incredible talent across the field.  Who would you like to see don the infamous green jacket in 2015?  Could this be the year that an underdog claims the victory?  Can Bubba join the likes of Sam Snead and Sir Nick Faldo by winning his third green jacket?