As golfers of various skill levels often attempt to combine forgiveness, distance, and accuracy in the perfect iron set, it is always intriguing to review a set of irons that are geared towards controlled distance gains.  Categorized in the "Control" series of their 2014 lineup, the Wilson Staff C100 irons seek to provide a solid combination of distance and feel.  While this iron build has been attempted by numerous companies in the past and present, it is not often that the best of both worlds is adequately achieved.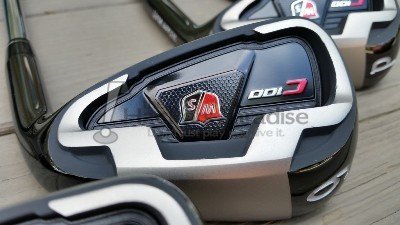 From Wilson Golf
VISIBLE TECHNOLOGY – An optimal size head design with a sleek mirror black PVD finish and contrasting face, sole and Exoskeleton features promote visible technology and confidence at address.
EXOSKELETON WEIGHTING – Exoskeleton weighting accounts for one-third of the total head mass, maximizing the MOI and forgiveness while still maintaining a midsize head shape.
THIN FACE – A stronger, stainless steel material allows for the thinnest-faced Wilson Staff Control (C) iron yet, creating faster ball speeds and longer distances.
| | |
| --- | --- |
| Grip | Wilson Staff Tour Traction |
| Shaft Options | True Temper CL100, Aldila RIP Xi 75 |
| Flex Options | S, R (steel) & S, R, A (graphite) |
| Player Category | Control |
| Hand | RH, LH |
| Set Makeup | 4-PW, GW |
| Player | Adult |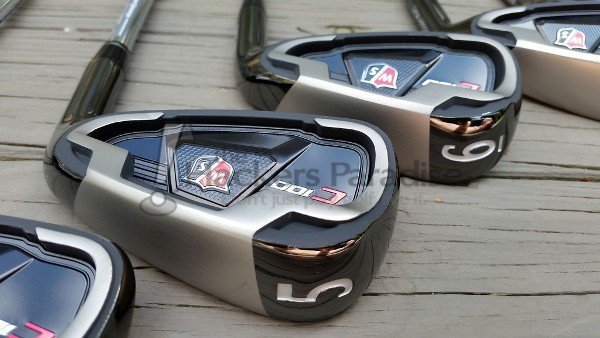 Looks
Instantly standing out from the total package is the stark contrast between the matte grooved face and the surrounding mirror-black PVD finish of the heads.  From eye level looking down to the club at address, the C100 irons look very clean, with a solid yet not oversized top line, providing plenty of optimism for quality contact.  That mirror-black PVD contrast with the face color wraps through the face, across the sole, and into the back of the head, which provides a very unique look while in the bag.
While this look has a visual benefit, it also plays a brilliant role in the overall visual wear of the iron.  Where the mirror black PVD finish would naturally scratch, this finish is actually quite resilient to drag, and despite countless range sessions appears generally unharmed.  This was a nice element of style and function that really stood out when considering the total iron package.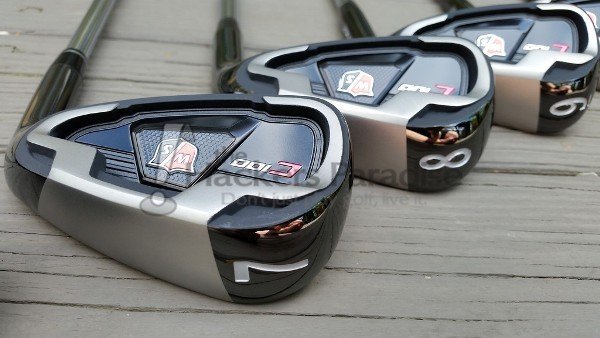 Accuracy
While many distance irons have come and gone with a lack of ability to predict the landing point of a solid strike, the Wilson Staff C100's performed quite well.  The combination of forgiveness on the face and a reasonable sole still provide ample feedback to poor shots, but more importantly, generate predictable flight that more often than not goes toward the intended target.  This level of accuracy pays major dividends when factoring in the set gap wedge, which demands much greater consistency and precision.  In testing, the C100 gap wedge performed at or better than expected, with only a very small percentage of shots coming up short of target of veering right of target without reasonable explanation.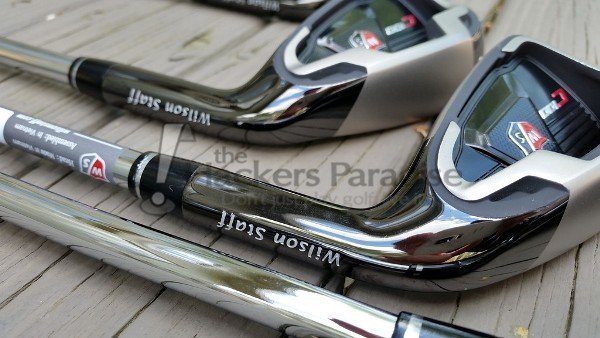 Control
As players step away from the feel/player category and into a more forgiving head, it is unlikely their propensity for attempting to move the ball left/right and low/high will go away overnight.  In this case, it was extremely easy to generate draws, fades, and more penetrating flight by manipulating the head and swing path.  Despite the ease of control with the C100 irons, generating intentional straight flight was equally as easy, offering a confirmation on the overall accuracy of the head.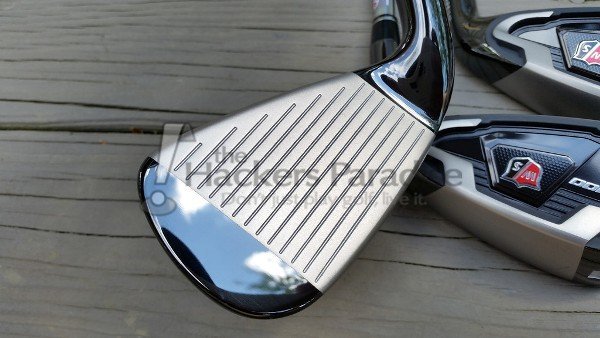 Distance
While the distance generated by the C100 irons was on par or slightly better than pre-conceived gapping, at two degrees or more stronger than typical non-distance irons, this could have been slightly improved.  Despite what is listed for lofts, the flighting, spin, and control generated by the irons met expectations, and any additional distance would feel somewhat unnecessary.  Most testing was completed swinging at a typical speed, however, taking a more aggressive swing into the ball did produce added distance, which most of the time did not come at the cost of other important features like accuracy.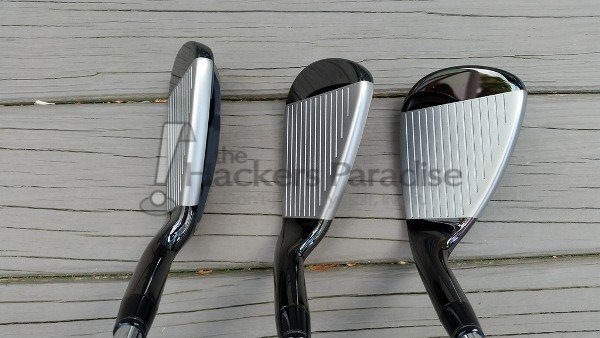 Turf Interaction
One very important feature of an iron is how well it can tolerate various types of turf, be it fairway, rough, sand, etc.  As irons move into the more forgiving category, the sole tends to increase in width, allowing for greater opportunity to slide through the contact zone rather than digging a healthy pelt of dirt out of the ground.  In the case of the C100 iron profile, while the sole has a nice wide base to it, cutting through the turf is exceptionally easy when intended.  With the exception of wet weather, it can even rip through medium rough well enough to get the ball airborne and upwards of 95% of anticipated distance.  This type of diversity in turf interaction should be welcomed by anything dealing with contact inconsistencies.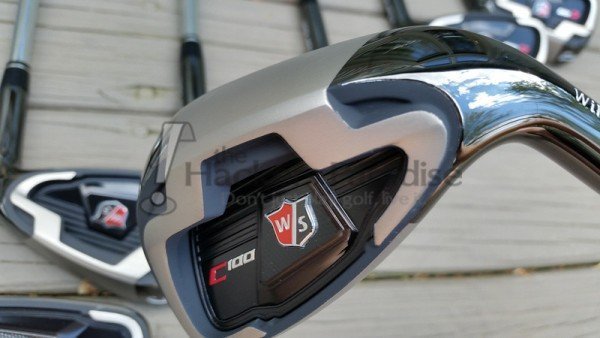 Feel/Feedback
While 'feel' can be a very personal experience, testing generated solid sound and head based feedback on quality contact strikes.  Less than ideal contact, more typically lower on the face and towards the toe, generated a slightly duller sound, but offered a great idea of whether solid contact was made.  Despite the sound generated from a poor struck low on the face, the feedback isn't as harsh as many of the less forgiving irons on the market generate, which was a pleasant surprise.  When struck pure, the C100 irons feel very flush with a small hint of a higher pitched 'tick' that can become very intoxicating to produce.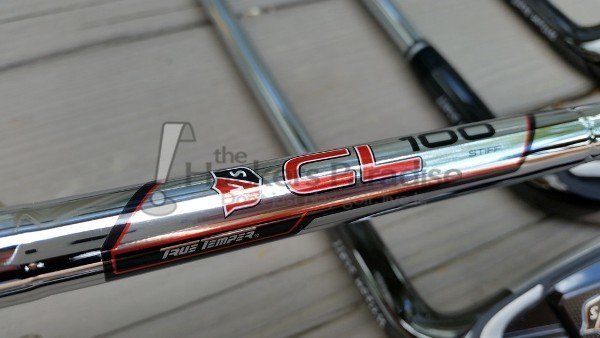 Shafts
Paired with the Wilson Staff C100 irons are the True Temper CL100 shafts.  Weighing in at 100 grams, the mid launch and mid spin profile really offer a nice compliment to the overall control concept.  The lighter, slightly longer shaft should help to promote distance through an increase in club head speed, yet not so much as to detract from the accuracy.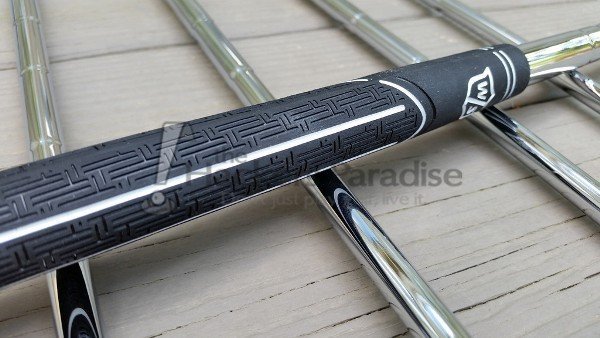 Grips
The stock grip on the C100 irons is the Wilson Staff Tour Traction.  This unique grip design provides visual hand references to promote consistent gripping, and boasts an interesting pattern design.  While the grip got somewhat slick when hands got sweaty, it performed quite well in the rain, limiting any slippage when wearing a glove.
Final Thoughts
There are many important factors to consider when selecting the perfect iron for a player's game, however, Wilson Staff has done an admirable job of blending the incredibly important categories of control, distance, and accuracy into the C100 package.  Functional for a large range of skill levels, and blended extremely well into a players set with the gap wedge, golfers can anticipate predictability and control in a distance package.  For more information on the Wilson Staff C100 irons, visit www.wilson.com.