Two years ago, Wilson Staff introduced the C200 line of irons and they got very positive reviews from THP Forum Members that tested them out. Extremely forgiving, incredible distance and in a package that looked very different than what was currently on the market. Fast forward to today and the company is going to be unveiling a full lineup of clubs building upon that previous release.
What's New
The new C300 lineup is not a small evolution that comes from tweaking a couple of things. The release is bold, fresh and brings something very different to the brand. Power Holes is not a name that has been embraced by a lot of people on the internet, but for what you are looking at, and what they are designed to do, it is telling and featured throughout. The expansion of the C line of clubs is here with metal woods, multiple sets of irons and really something for just about every golfer. There is a lot to cover here, so we will break it down by category.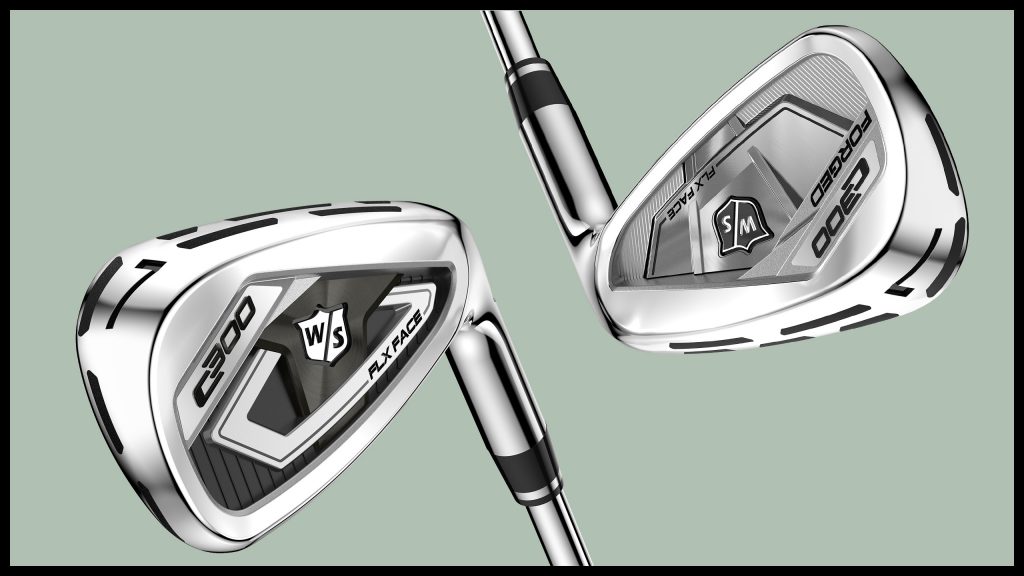 C300 Irons and C300 Forged Irons
The initial story here is the growth. Previously just a single set featuring the distance and control of the C lineup is now two, with the addition of the forged irons. Rather than go over the technology of the C300 line as a whole, let's take a look at each set individually as the story is vast.
The C300 irons feature distance and forgiveness and offer, for the first time, a double row of "Power Holes" from the 3 iron through the gap wedge. Five in total on the sole as well as more on the toe and top line are going to offer maximum deflection of the face for forgiveness. What does this mean? In theory it means more ball speed across the face regardless of impact miss, while the design will continue to take that speed and launch it higher for more distance. Early testing shows it works…And works well.
Paired with the KBS Tour 90 shaft or a Fujikura Speeder Pro 78i in steel and graphite respectively, both are going to promote a high ball ball flight and soft feel through the hands. Rounding out the components are the new Lamkin Crossline 2 grips, that are softer and larger than the original version.
The C300 Forged irons are a new addition and venture for the company. Previously one might say this would have fallen into their F category, this new set is designed for distance without the loss of a certain feel that better golfers look for. The heads are forged from carbon steel with Power Holes along the toe and sole, so at setup, they are not seen to the golfers' eye. In fact what you see when looking down is a very clean looking iron head that is fairly compact and screams "player". On the 3-8 iron, the C300 Forged Irons have five Power Holes, in a double row configuration, across the sole and two on the toe area, providing a large amount of forgiveness, similar to what was discussed in the C300 irons above. It's an iron that says technology in a package that should make even the discerning golfer, do a double take.
Paired with the KBS Tour 105 and the Fujikura Speeder Pro 85i in steel and graphite, both shafts continue that trend of soft feel, while they also feature the new Lamkin Crossline 2 grips.
Want more? THP Forum members were the first golfers in the country to put these clubs to the test and they have two months of action ready to talk about. You can find their reviews right here on the THP Forum.
Wilson Staff C300 Irons Review Thread
Wilson Staff C300 Forged Irons Review Thread
The Details
In Stores: January 2018, but can pre-order 12/4 (today).
Cost: C300 is $799 for steel and $899 for graphite while C300 Forged are $899 for steel and $999 for graphite.
C300 Metal Woods
No matter how many pictures are taken of it, none of them do it justice. It can look good, but the color used has some subtleties to it that a camera cannot bring out. What we have here is a new family of metal woods from driver to hybrid developed for those that like that traditional, tour preferred shape. Power Holes throughout the lineup are designed to offer maximum distance and forgiveness in a package that should please a lot of golfers.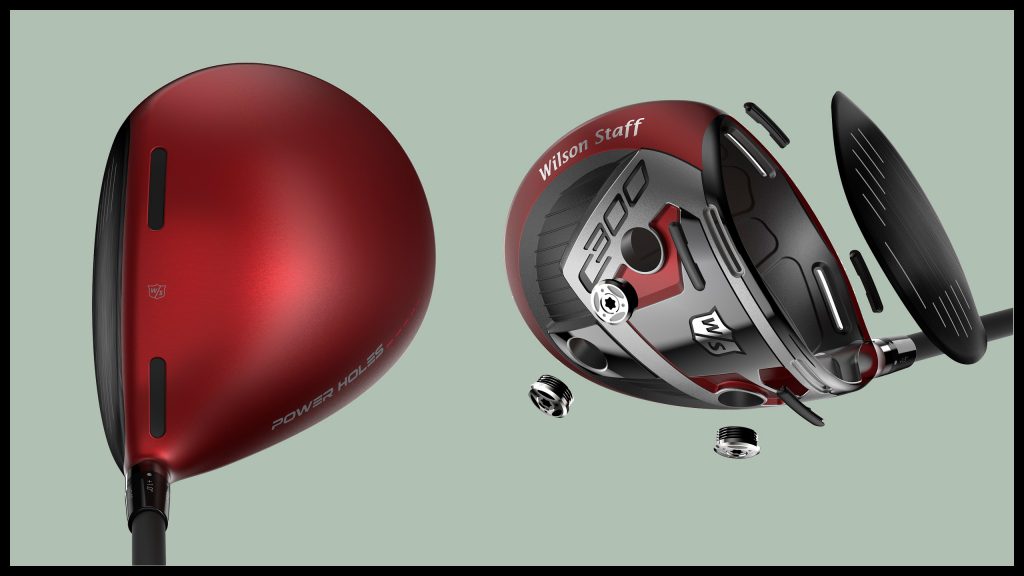 "This is the first execution of our award-winning patented Power Holes iron technology in the metalwoods category, "said Jon Pergande, Global Innovation Manger of Wilson Golf. "This distance technology is based on through holes being positioned around the face of the club to generate explosive distances across the entire face by flexing more at impact."
Starting with the driver, the first thing you will notice is the matte red finish. It's incredibly well done and very hard to explain why that is. The color and package almost appear traditional, despite obviously not being so. Four Power Holes strategically positioned around the entire face are going to provide flex and according to Wilson, an expansion of the sweet spot. This is designed to promote better ball speeds across the entire impact area and early testing shows they might be onto something here.
Combining that face story with some very solid adjustability options including what they are calling Fast Fit Technology 3.0. If you are unaware of their Fast Fit hosels, here is a brief explanation. By now you have probably adjusted the loft/face angle of a modern driver. You unscrew the head, pop it off and then lineup what you want and tighten until click. With the Fast Fit Technology, you do not have to take head all of the way off. Just loosen, spin to correct loft and tighten. It sounds trivial, but it's very well liked. Each loft offered (below) can change from 1 degree down from stated to two up in half degree increments.
To go along with the adjustability in the hosel, the C300 driver has three weights. Two 6 gram weights and a single 2 gram version. These can be moved to different areas of the sole to promote draw, neutral or fade biases to help with your desired ball flight.

During initial testing with the Foresight GC Quad launch monitor, this driver surprised golfers. Falling on the lower spin side of things, with plenty of forgiveness through design, distance was on par with some of the longest that were tested this year.
The standard shaft is a Fujikura Speeder Pro 58 and like the irons above, the club features the new Lamkin Crossline 2 grips.
The Details
In Stores: January 2018, but can pre-order 12/4 (today).
Lofts: 9, 10.5 and 12
Length: 45.5
Cost: $399
The C300 Fairway Woods and Hybrids might get lost in the shuffle a bit on launch day, but deserve some attention. Each item fully adjustable like the driver above with both loft adjustments as well as sole adjustments. The fairway woods feature six Power Holes with four on the sole and two on the crown, which like above, are designed to expand the sweet spot and promote higher ball speeds across the face. The sole of the club also features three weights, but in this case they have a pair coming in at two grams and one coming in at twelve grams. This is going to offer the same options as above with draw, neutral and fade setups.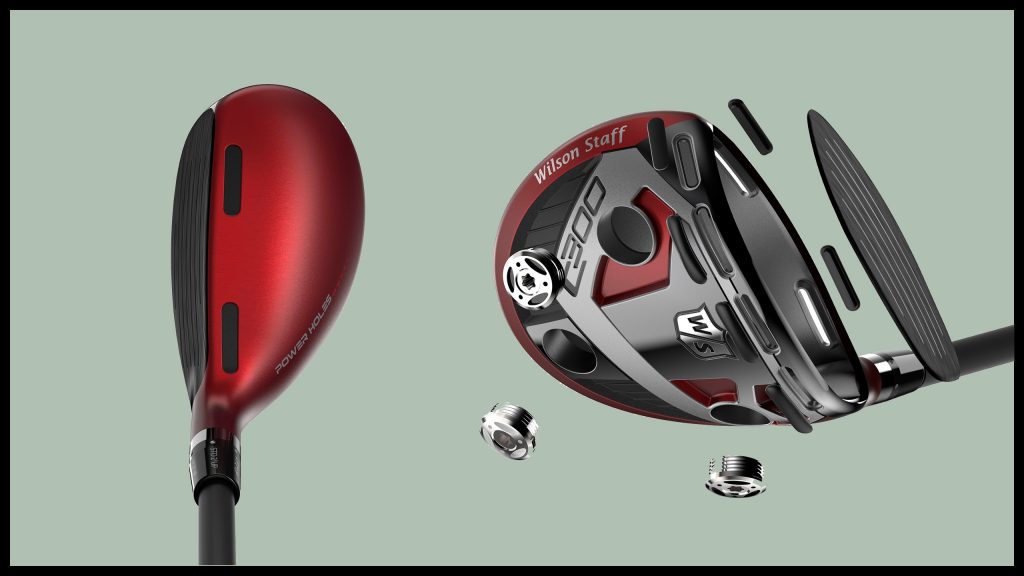 The shaft pairing is the Fujikura Speeder Pro 68 and it works tremendously well with this head for a myriad of different golfers that were able to test it out. Like the driver, the adjustability in the hosel gives you the ability to drop down one degree and increase two in half degree increments. This gives golfers the option to really hone in their distance gaps with multiple loft options available (below).
The Details
In Stores: January 2018, but can pre-order 12/4 (today).
Lofts: 13.5, 15 and 18
Length: From 43.5 to 42.5 dependent on loft
Cost: $219.99
Finally we come to the hybrids and they are not to be slept on. Early testing is showing that in the right hands, this could be a star in the making. Their first hybrid with Power Holes on the sole and crown as well as a huge amount of adjustability in a small package, this hybrid is anything but your typical high launch golf club. Lower spin in nature and sole adjustability offering both neutral and draw setups, this hybrid was promoting some incredible distance. Availability in three different lofts, with each offering adjustability of one down and one up, you should really be able to dial in the gaps to suit your game.
The shaft pairing is the Fujikura Speeder Pro 78H and the grip is the Lamkin Crossline 2.
The Details
In Stores: January 2018, but can pre-order 12/4 (today).
Lofts: 17, 20 and 23
Length: From 41.25 to 39.75 depending on loft
Cost: $209.99
While the new release won't be in stores until January of next year, they are available for pre-order beginning today. Already gaining traction on tour, we expect to see these as the most popular Wilson Staff line of clubs in quite some time. Between the look and the performance seen early on, they appear to have a complete lineup that will appeal to a large variety of golfers.