Further bolstering a line of irons that reaches every potential player, the Wilson Staff D100 ES hybrid iron set claims to be the longest, most forgiving set the company offers. Sharing similarities with last year's D100 iron set, ES adds in both hybrids and the ability to tailor the set to individual needs.
Key Technology and Information from Wilson Staff
Extreme perimeter weighting through Exoskeleton Technology™ drives this integrated hybrid-iron set.  Designed for the ultimate Distance (D) player wanting maximum distance and forgiveness, the D100 ES set utilizes The Right Light Technology allowing players to swing faster with the same effort.
THE RIGHT LIGHT TECHNOLOGY
The Right Light technology achieves the lightest possible weight for a given club while still allowing it to feel solid and balanced. For the D100 hybrid/iron set, The Right Light technology optimizes grip, shaft and head to allow you to swing faster with the same effort. This leads to faster club head speeds and hotter distances.
EXOSKELETON WEIGHTING
Larger, more round hybrid and iron club heads feature Exoskeleton technology to maximize MOI and forgiveness, which can benefit a wide range of players, but is especially geared for slower swing speeds.
DISTANCE GAPPING
Refined length spacing between the hybrids and the irons creates optimal launch and spin and consistent club-to-club distance gapping. 
HYBRID/IRON SET
A set makeup of 4, 5, 6 hybrids and 7-PW, GW irons makes this perfect for the super game improvement Distance (D) player wanting maximum distance and forgiveness.
Specifications
| | |
| --- | --- |
| Grip | Wilson Staff Tour Traction |
| Shaft Options | Matrix OZIK Altus 5.6 – 60g in stiff (hybrids), True Temper SL-85 – 85g & Matrix Studio 6.1 – 60g in stiff (irons) |
| Flex Options | S, R (steel) & S, R, A (graphite) |
| Player Category | Distance |
| Hand | RH, LH |
| Set Makeup | 4, 5, 6 hybrids & 7-PW, GW irons |




3 Hybrid, 5 & 6 irons, and SW available as custom options.

Graphite swing weight – D0. Steel swing weight – D2

MSRP $599/Steel & $699/Graphite
Aesthetics


As a super game-improvement design, the D100 ES irons are oversized, offset, and have a wide sole. That being said, those golfers comfortable or familiar with the shape should find they are typical of their class and easy to look at from address. Though extended, the sole doesn't present itself to the eyes at address in the stock configuration, though it probably would starting around the 5 iron (which as a custom option was not tested).
Though the shiny chrome finish does indicate the potential for glare issues, the brushed finish on the grooved area of the face does carry over the topline, mostly eliminating that problem.
Impact with the iron portion of the ES set proved to be surprisingly pleasant and 'soft', likely due in part to the elaborate badge placed in the cavity. It seemed to provide some dampening effect and many will likely find themselves equally surprised by the feel as the reviewer was.


The hybrid portion of the set has a unique look that wasn't quite as easy to appreciate as the irons, though the size may provide confidence for certain players. The hybrids are quite large and rounded, which actually is a functional property (forgiveness and high launch) more than aesthetic, but those who prefer a more iron-like profile in their hybrids may not find what they are looking for.
In hand, both the irons and hybrids in the D100 ES set feel quite light (in total weight and swing weight), especially the graphite-shafted irons. This should be a positive thing for slower swingers, but may take some time to get used to for average to high swing speeds, or those that prefer more heft in their golf clubs.
Performance
The D100 ES set was tested in the stock configuration (4-6 hybrids and 7-GW irons) with the stock Matrix Studio 6.1 graphite shafts in stiff flex. Tested took place on the golf course, the driving range, and using a Vector X launch monitor.
Distance and Gapping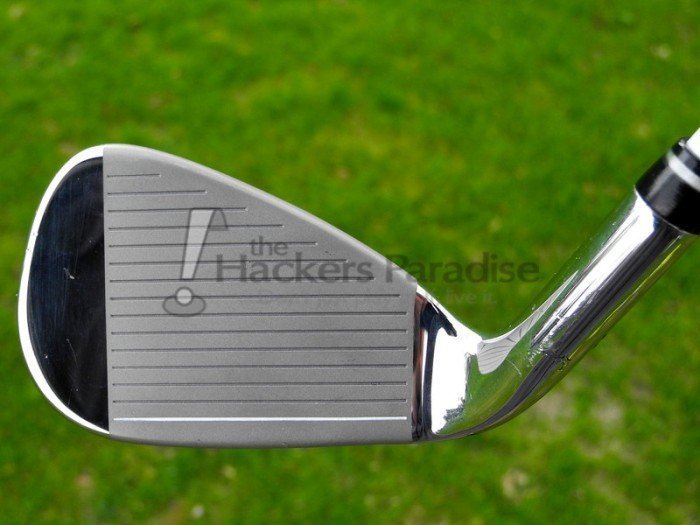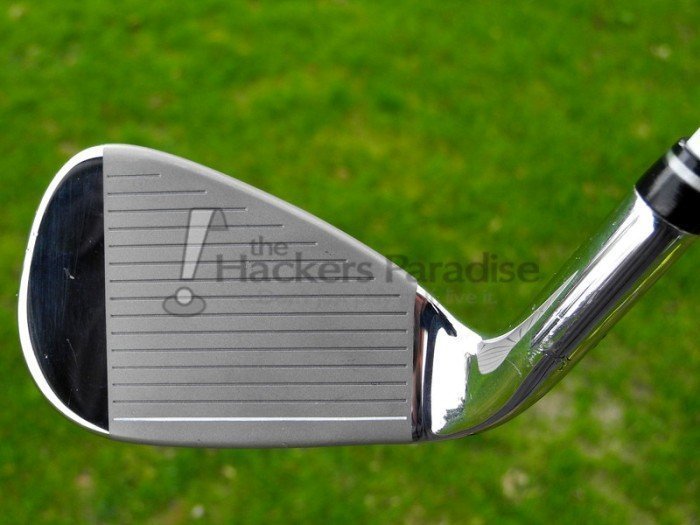 Wilson Staff's simple classification monikers of Feel, Control, and Distance make it rather uncomplicated to make an educated decision when seeking out their products. The D100 ES hybrid irons, a Distance set (as indicated by the D in D100), are designed for maximum length, ball height, and forgiveness. They should appeal especially to those with slower swing speeds or those who struggle with low trajectory.
Range and launch monitor testing showed they performed well in all three of these categories. While there were no startling gains in yardage with the iron portion of the set, a slight increase in ball speed and carry distance was observed by the reviewer compared to a number of other game improvement irons on the market (2mph ball speed increase on average).
This set is somewhat unique in that it includes a 6 hybrid, and testing showed a moderate gap created when moving from it to the 7 iron. The hybrid itself was quite long, likely due to the added mass and weighting of the heads, and averaged out to create a gap in the area of 15 yards at the transition point. It should be noted this was an average (including misses across the face), and the best struck shots actually surpassed that 15 yard mark by a pretty good amount.
In summary, while not standing far above the crowd of 'distance' irons, the D100 ES's certainly held their own and performed slightly better than some others. The hybrids proved to be quite long, which caused some small gapping issues. However, the increased playability of the 6 hybrid (over a 6 iron) may well be worth any possible gaps observed, especially for those with trajectory or distance deficiencies.
Trajectory and Dispersion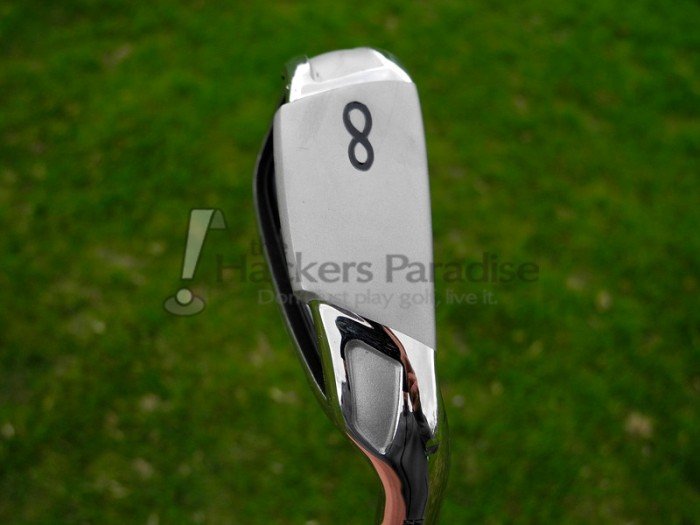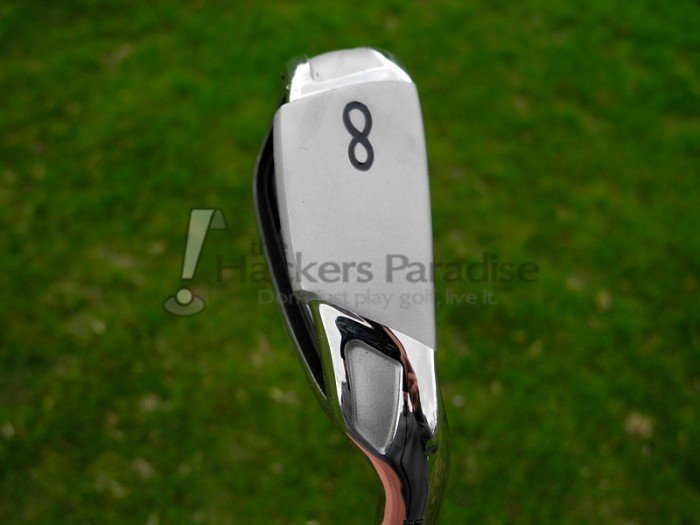 Much like any iron set designed for increased trajectory, the D100 ES set performed as expected here, but again not surpassing other similar setups. Well struck shots off grass surfaces were certainly worthy of the 'towering' label, with a ball flight that seemed to hang in the air for quite some time before dropping steeply to the ground. Trajectory is as much a function of the swing as it is anything, so one should not expect miraculous changes from equipment alone, but it is expected that almost everybody would see the highest ball flight their swing can produce with a set like the D100 ES. The hybrids mirrored the irons in respect to trajectory for the most part, again producing higher flight, though it seemed a bit more penetrating (likely due to lower spin observed comparatively on the launch monitor).
Trajectory control was accomplishable with a shortened swing and the right setup, so those players concerned about performance in windy conditions do have some options there, but full swings generally wanted to go high.
For the reviewer, dispersion showed a tendency to be a bit poorer than normal, with misses to the left (the reviewers typical miss) being both more common and more severe, most notably in the irons rather than the hybrids. It should be noted that this doesn't necessarily reflect the way the irons will perform for others, but instead is just the observation of one person.
Forgiveness and Playability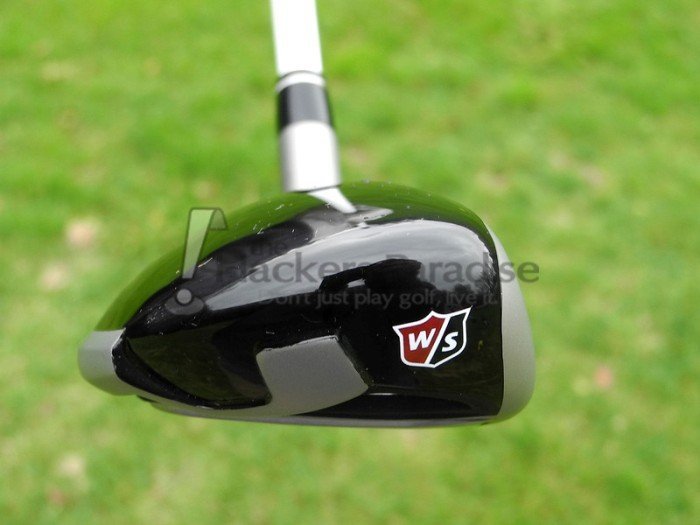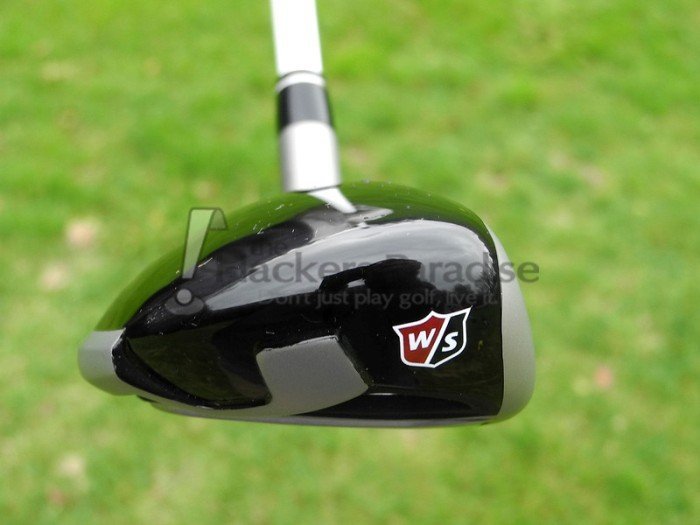 The Exoskeleton weighting and wide sole make the entire D100 ES set both easy to work with and extremely forgiving on a variety of misses. Low-face misses were handled especially well with both ball speed retention and the ability to maintain a reasonable trajectory.
At the core, this is a set that should be extremely easy to work with for most players, but those with slower swing speeds will likely see the greatest benefit. It should be noted that the light weight will appeal to some, but possibly be a turn-off for others. While not a negative property in itself, it did take the reviewer some time to acclimate to both the very light total weight and the D0 swing weight. Individual experiences will vary in that regard and an extended demo session should be enough to determine that for oneself.
Final Thoughts
With a full range of affordable options, Wilson Staff has also clearly designated which of their offerings may be the best match for each type of player. If you're looking for height and distance with the most help on miss-hits, the D100 ES hybrid iron set certainly can provide that. Unlike some other hybrid iron sets, this one allows some customization. With both hybrids and irons available in the 5 and 6 slots, it can be tailored to meet individual needs in both an aesthetic and fitting sense. For more information on the D100 ES hybrid iron set, including ordering instructions and fitting options, you can head to Wilson Staff's website at www.wilson.com.