When creating a checklist of must have characteristics for a new iron set, the list that most consumers put together include an iron that will give the ability to hit the ball high, increase distance, offer a good amount of forgiveness, and carry a tune that is pleasing to the ears. There are companies out there that intend to provide the perfect set of irons to match every spec on that list, and most do a really good job of hitting all of those marks. With the introduction of their latest irons, XXIO works off of that same checklist in an opportunity to not only hit all of those marks, but to exceed the expectations of a golfer who is ready to enjoy the game like never before.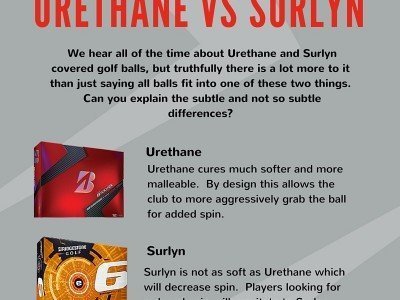 From XXIO
The XXIO9 series Irons feature the newest improvement to Dual Speed Technology, a boost in efficiency for the initial portion of the downswing. Lag is increased by utilizing a heavier hear and a lighter shaft with a higher balance point moving the CG closer to the grip. This improvement to the club brings the club head in tighter to the body of the golfer for a more efficient swing, which generates more centrifugal force (rotational speed) for increased head speed and greater distance.
5-piece head structure (#4-7) for an even lower center of gravity In addition to the nickel weight in the sole, engineers have placed high-density tungsten weights in the toe and heel. The result is a head with the lowest CG in XXIO history and a high heel-to-toe MOI. This 5-piece structure enables the ball to get airborne with ease and further improves the carry distance on miss-hits.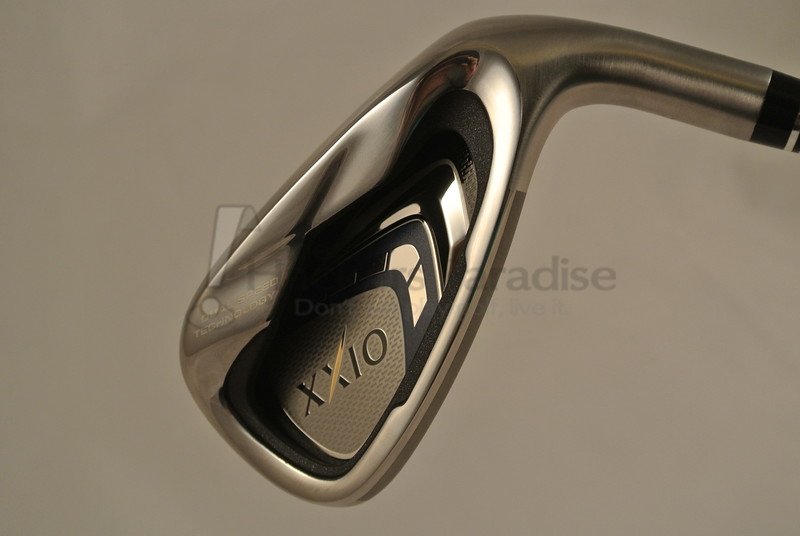 Who is XXIO?
XXIO (pronounced Zeck Sea-Oh) launched in the North American market back in the spring of 2014 after over a decade of prosperity in Japan. Even though the brand might not be widely known here stateside, XXIO has been the number one golf company in Japan for 16 straight years. XXIO stands for excellence in the 21st century and is a brand that is focused on those who want the very best in both technology and premium materials in their equipment. As far as pure performance goes, the focus shifts on making equipment that takes on both distance and forgiveness.
Technology
Similar to what is touted in their 9 series driver (full THP review can be found here), these irons incorporate what XXIO refers to as Dual Speed Technology (DST). What exactly is DST? According to XXIO, Dual Speed Technology is a combination of a heavier club head, with a lighter, higher-balance point shaft. This setup allows for more lag to be created throughout the swing, which will lead to better club acceleration through impact.  Dual Speed Technology is the secret engine that helps the XXIO 9 driver achieve better distance and consistency.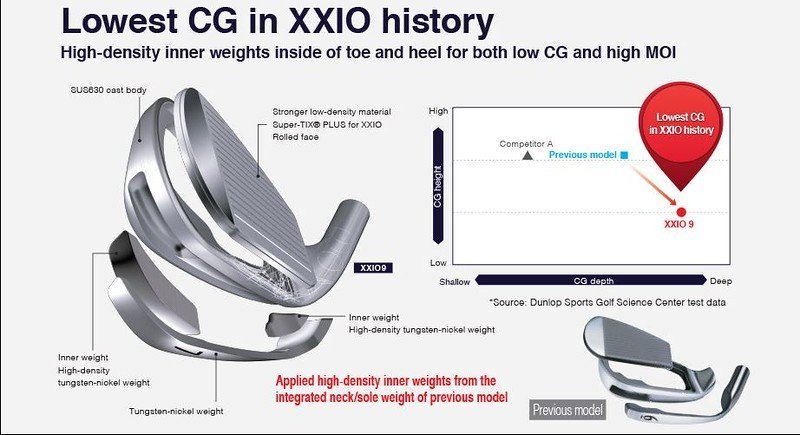 Having a low center of gravity (CG) is something that tends to get talked about more in drivers and fairway woods than it does irons. However, the benefit to having an iron with low CG can be just as important when looking for an iron that is going to assist in launching the ball high, while offering both distance and forgiveness. XXIO has been able to push the center of gravity in these irons lower and further back than any other iron that the company has produced. As part of lowering the CG and raising up the MOI(moment of inertia), XXIO included two high-density tungsten-nickel weights within the heel and toe sections. With that, these irons are constructed in such a way that set them out to be overly forgiving across the face.
With ball speed being an area of golf performance that has been looked at and marketed more heavily in recent years, it's no wonder that XXIO has pushed to increase ball speed on an area of the club face that tends to get a lot of action. XXIO utilizes a titanium face on these irons, and to help increase ball speed off of the lower part of the club head, they have expanded the titanium material more towards the sole of the club. Throughout their studies, XXIO has determined that today's average golfer tends to miss low on the face, and by rolling the titanium material more towards to sole, it will help those players achieve above average performance when those shots take place.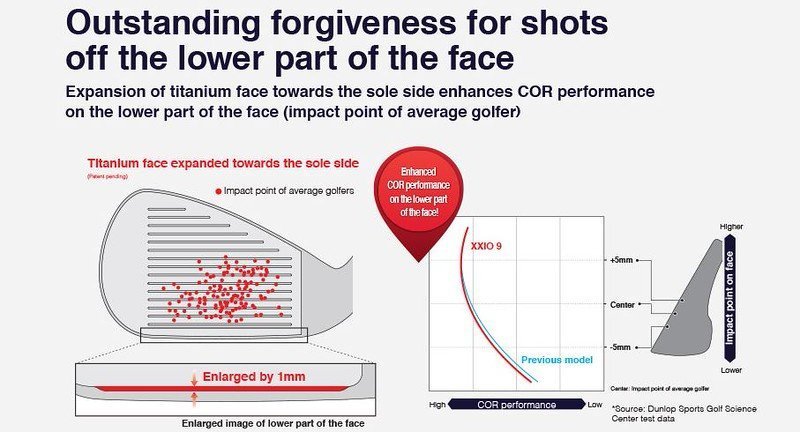 To help facilitate dual speed technology, XXIO needed to find shaft options that would incorporate the necessary characteristics. The two stock offerings for these irons are the in house made MP900 graphite shaft, which was also the stock offering for the XXIO 9 driver, while the steel offering is a version of Nippon N.S. Pro shaft. The N.S. Pro 890 GH is made for XXIO so that it will meet the conditions needed to permit DST, by moving the balance point closer to the grip. The MP900 comes in at a weight range of 54-57 grams depending on flex, with the Nippon offering weighing in 87 and 91 grams.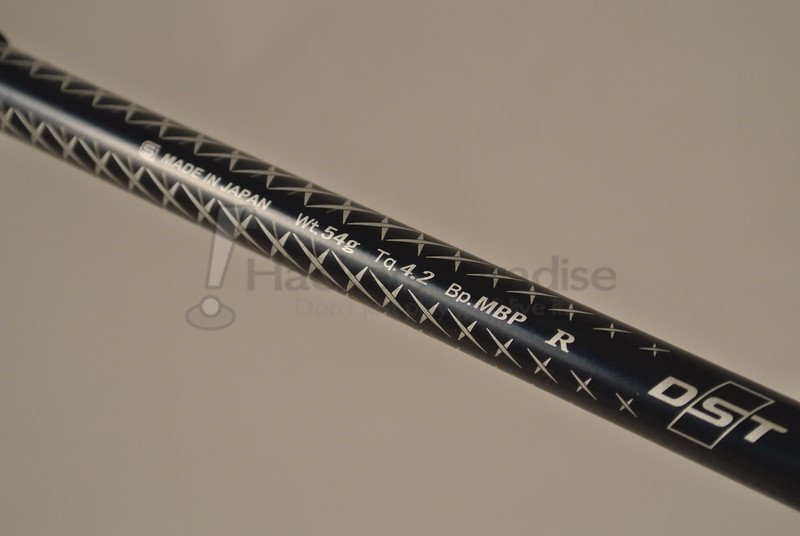 Performance
Having these irons in the bag to hit both on course and the range has been a real treat. Throughout the testing period it became very clear where these irons offered a bit of a performance difference compared to their counterparts. The set make-up that was tested for this review consisted of 6-PW with the stock graphite MP900 shaft in regular flex.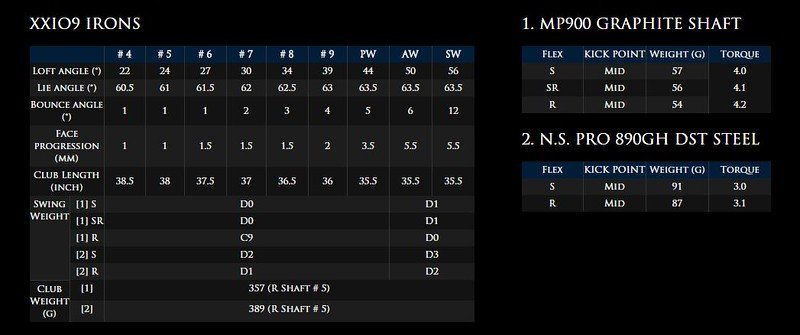 As was highlighted earlier, not only do these irons have the lowest CG of any iron that XXIO has ever produced, but they also have a very high amount of MOI. All of that sounds good, and if one is up with today's golf jargon, then the meaning of those terms is not lost. For consumers who are less about the technical terms and more about the performance, the results with these irons will speak for themselves in terms of both distance and forgiveness.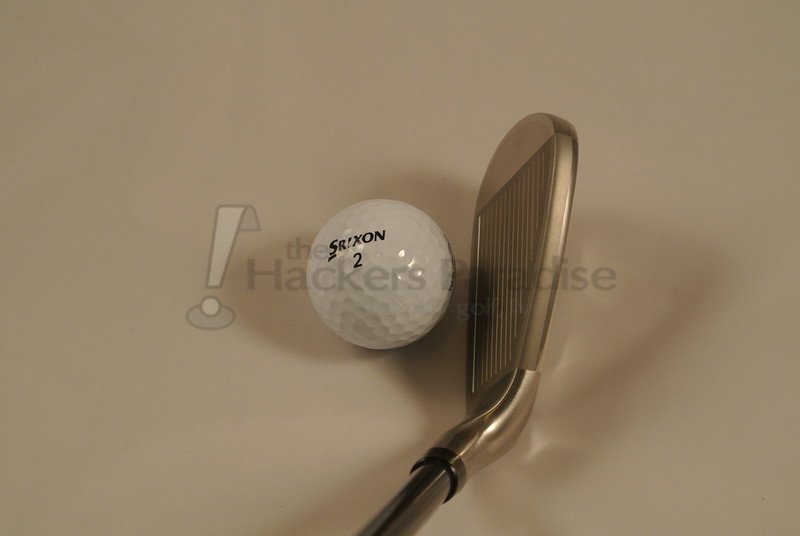 Thanks in part to the lower CG and amount of offset that are employed with these irons, the ball flight that was continuously produced was one that flew higher in comparison to other options on the market. Well struck shots were met with a ball flight that achieved a higher apex then what was have seen with other irons. Not only were these shots high fliers, but they carried a lot of power behind them to produce long shots that landed softly on the green. Distances that were produced with the XXIO 9 irons were consistently longer than other irons that were hit alongside them. At times shots were more than a full club longer, which is pretty impressive, however if averaged out it's safe to say that these clubs produced distances more than half a club longer on a consistent basis.
With a high MOI design, these clubs were built with much more to them than just increased height and distance, they were built to offer a forgiving package as well. The use of internal tungsten weights on the heel and toe do a great job of stabilizing the club when contact is made in these areas. The common low miss on these iron is also less penal thanks to the extension of the titanium face towards the sole of the club. When contact was made in these areas, the club did a wonderful job of maintaining ball speed and produced shots that were extremely playable while keeping distances within a golfer's reasonable expectations.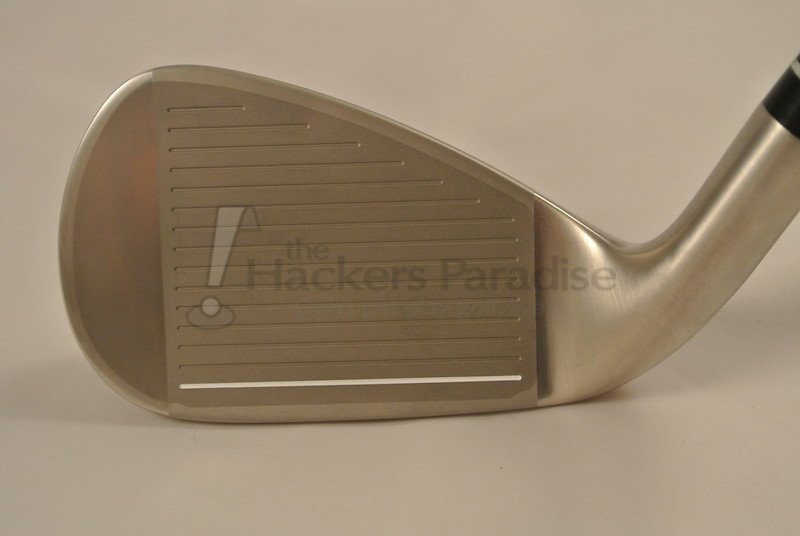 XXIO prides themselves on making clubs that offer, what they refer to as, an exhilarating sound at impact. While that term is one that is hard to throw around because sound is such a personal preference to a golfer, it can be said that the sound of the XXIO 9 iron is extremely pleasing to the ear. With the titanium faces, they produce a rather nicely tuned crack at impact. When hit well, they reward you with that pleasing sound that translates to a great feeling club. Similar to what was found with the XXIO 9 driver, the sound that radiates off of these irons translates to a feeling that the ball is going further than what one might expect. The perfect blend of sound and performance is prevalent with these irons, with the finely tuned sound pairing up with a high ball flight and strong distance.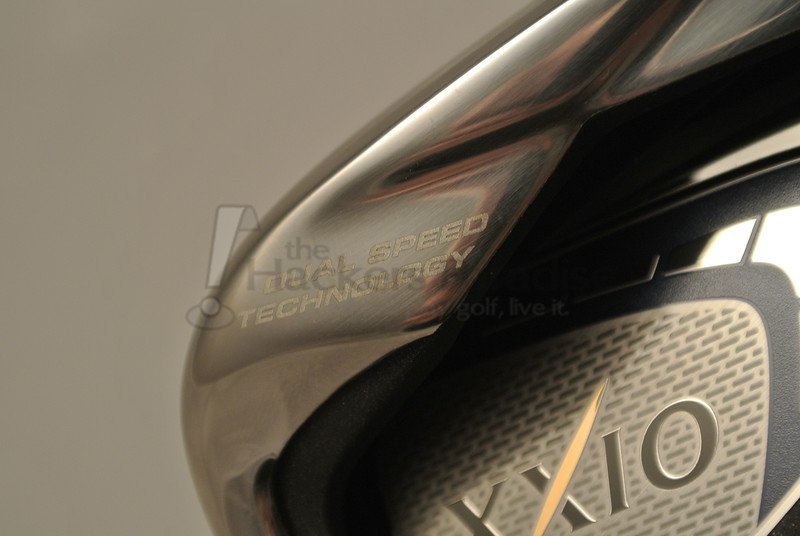 Conclusion
Making the game more enjoyable is something that XXIO aims to accomplish. If a golfer is looking for equipment that has no compromises when it comes to materials or technology, then XXIO is a brand that consumers should give notice too. Creating clubs that are geared to generate distance and forgiveness, while maintaining a premium package does come at, what some might consider, a steep price. The stock configuration for these irons comes in 6-PW and with that a price tag of $849.99(steel) or $1049.99(graphite). For those interested in finding out more information on these irons, or to locate a dealer, head over to www.xxiousa.com.