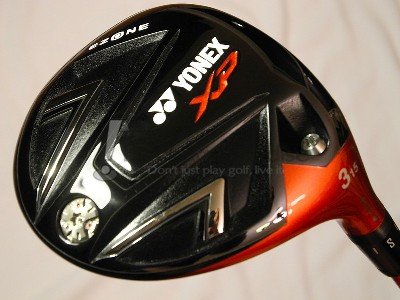 Between tennis, badminton, and golf equipment, Yonex has been a manufacturer of sporting goods for almost 60 years. Among the celebrity athletes to endorse the brand over the years were Ryo Ishikawa, Colin Montgomerie, Phil Mickelson and tennis stars Monica Seles and Caroline Wozniacki.
Setting aside their historical significance in the game, Yonex is still innovating and producing high end golf equipment and the XP line of fairway woods showcases this.
XP Fairway Woods
Revolutionary Dual Tungsten Power [DTP] System delivers ultimate power output.
The EZONE XP range features the YONEX Dual Tungsten Power [DTP] System – an innovative engineering breakthrough that produces maximum power and distance. The newly designed DTP System, featuring Tungsten in both the grip and club head, works in conjunction with the Lightweight Shaft.
The result is a swing that delivers an explosive power breakthrough with the same effort, adding more yards to your game.
Key Technology
Carbon Composite Crown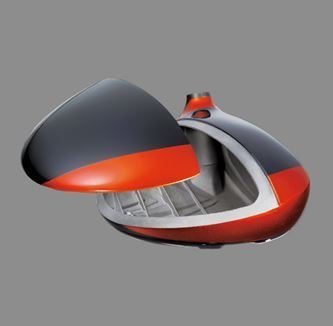 The Carbon Composite Crown is ultra-light to enable both an 8g Tungsten screw and additional 8g weight to be positioned deeper in the club head. The centre of gravity has been suitably altered to promote a high launch trajectory and extra forgiveness for greater driving distance.
Tungsten Grip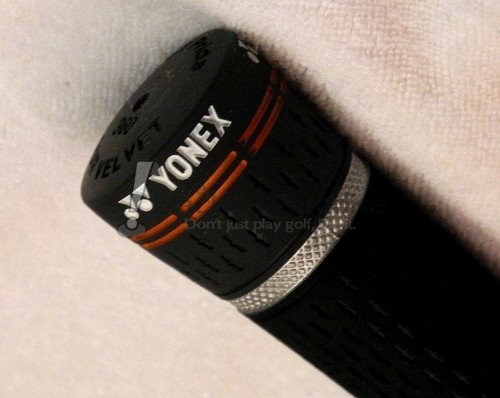 The composite 20g Tungsten Powder at the grip end works in conjunction with the Tungsten screw in the club head to produce an explosive power breakthrough. The Dual Tungsten Power [DTP] System and Lightweight Shaft counterbalances to retain a D2 swing balance, making it just as easy to hit as a conventional driver but with more power.
EX300 Lightweight Shaft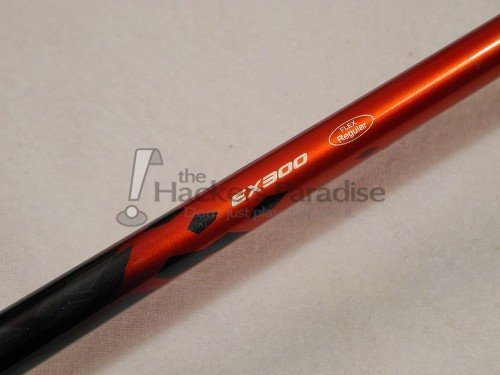 The Lightweight and counterbalanced shaft works in conjunction with the Dual Tungsten Power [DTP] System and has been engineered to generate higher swing speeds for added power off the tee.
Quick Adjust System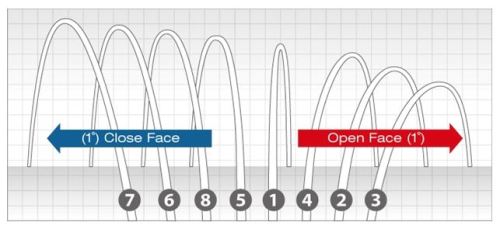 Custom tune your clubs through the YONEX Quick Adjust System. Easy and intuitive to use, the Quick Adjust System allows you to refine launch trajectory and club face angle through 8 settings, allowing you to conquer even the most demanding tee shot.
Specifications
| | | | | | | |
| --- | --- | --- | --- | --- | --- | --- |
| Club | Flex | Loft* | Lie* | Head Weight | Length | Swing Weight |
| #3 | R/S/SL | 15° | 58° | 215.5g | 43″ | D0 |
| #5 | R/S/SL | 18° | 58.5° | 219.5g | 42.5″ | D0 |
*Loft, lie and face angle are independently adjustable.
L/H available in #3 R/S/SL and #5 R/S/SL.
Aesthetics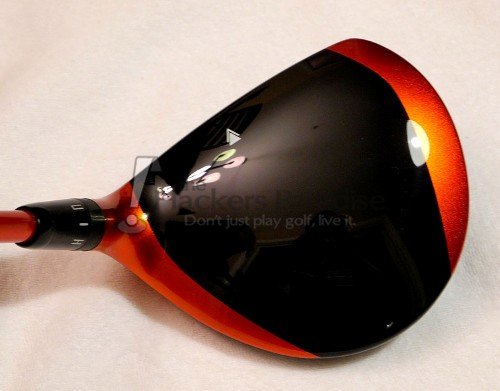 A departure from some of the more subdued Yonex designs from recent years, the XP fairway woods feature an aggressive crown design that immediately draws the eyes in. Two-toned in black and burnt orange, the paint job not only serves to differentiate the line visually, but also offers a convenient and effective alignment aid. Matching the color scheme of the head, the EX300 shaft features a similar color that serves to provide a club that flows perfectly from the top to bottom.
In person, the XP fairway wood's head is quite large from front to back and the faces lies right in the middle between shallow and deep. Though some will find versatility in the profile, it may prove to be almost uncomfortably large for some eyes.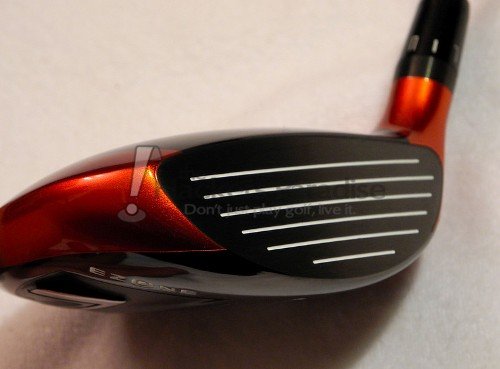 Thought counterbalanced with 20g of Tungsten in the grip, the XP doesn't have the very weighty feeling that other 'heavy' clubs do in-hand. In fact, the club feels nicely balanced and the added weight is quite subtle, though probably still noticeable to some golfers.
Performance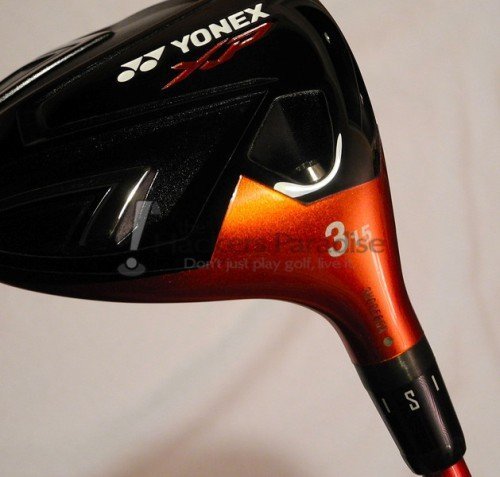 The Yonex XP 3-wood was tested with the EX300 R flex shaft both outdoors and using a Vector X launch monitor.
Playability and Forgiveness
As noted earlier, though the XP is counterbalanced, it is done quite subtly and the club doesn't bear much resemblance to some other clubs that feature a similar technology. In fact, many probably wouldn't notice the added weight if they weren't told about it beforehand.
The size of the head did have the effect of making the club a bit harder to work with than expected from the ground, though players that are comfortable with that shot should have no major issues. Those that prefer a flatter, smaller footprint may want to proceed cautiously though. From the tee, the larger club head gave the confidence typical of a 'mini-driver' that many people will enjoy.
Off center strikes were moderately punished, with ball speeds and spin both dropping, while side spin increased. The end result of those misses was generally a lower flying ball that carried less and moved more laterally. The results here were typical of most modern fairway woods and certainly acceptable.
Distance and Trajectory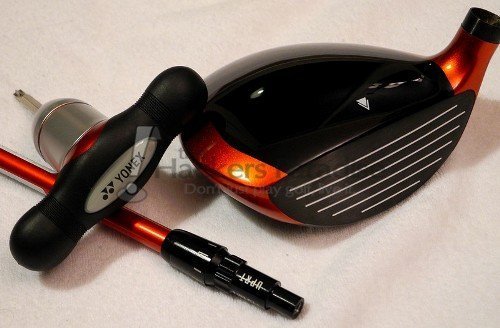 Surprisingly, even with the lighter weight R flex shaft, ball flight with the XP was in the mid to mid-high range at most. It launched moderately high, but maintained fairly low spin rates that produced a flatter trajectory. Ball speeds were mostly comparable to other offerings on the market, but weren't among the top of clubs tested this year.
Those factors combined to produce distances that were acceptable, but not exceptional. Adjusting the club to a higher loft did assist in bringing the ball flight up a bit, but it still remained lower flying than anticipated.
Final Thoughts
The XP fairway wood appears to be a club that will appeal greatly to certain players, but it may fall short for some others. As with all golf clubs, fitting will decide how the product works for each individual. The larger footprint did provide a great deal of confidence with shots off the tee, but at the same time it made shots from the turf somewhat daunting. It proved to be reliably forgiving and capable of producing enough distance to compete with many other companies' offerings. Those players looking to dabble in counterbalanced clubs, but don't want to dramatically change the way their clubs feel in hand, may find what they are looking for in the XP. For more information, head to Yonex's website, www.yonexusa.com.