It seems in today's world that there is a new technology every day to assist athletes of all levels in their daily pursuit of active lifestyles.  One piece of technology that has been around for many years is compression fabric, but recently it seems as if it has taken the golf world by storm. I believe the thinking before was that golf wasn't a taxing sport on the body, but over the years, people have realized that compression can even help golfers with pains, as well as recovery. That's where Zensah comes into play with one of their newest lines, the Argyle Compression Sock.  The sock can be used for athletes of all sports, but the new Argyle design should be a hit for those golfers looking to add a little flair while enjoying the benefits of compression materials.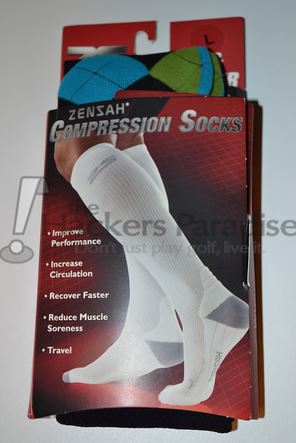 From the Company
Founded in 2004 and located in beautiful Miami, Florida, Zensah was created to help athletes at all levels improve their performance by utilizing innovative sportswear made with cutting edge technology.  Zensah is based on the Italian word "SENZA" meaning to be "without", so too should athletes be "without limits". All of their products are created with the seamless technology, meaning they are made without seams. The seamless design consists of an ultra-breathable, moisture wicking fabric that draws sweat away from the body. This allows the athlete to stay cool, dry, and light.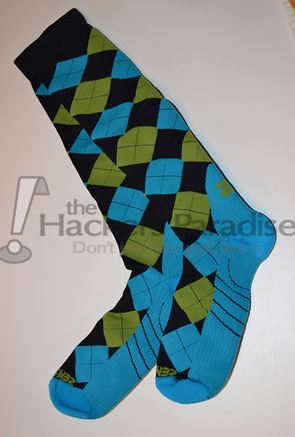 Looks and Feel
Upon receiving these socks, you will notice that each pair is individually wrapped with a very informative and well designed package.  I spent ten minutes just reading the information provided, which is great because it leaves no questions unanswered. The first thing I noticed about the socks was the bright colors and the attention to detail. For this review, Zensah allowed me to choose my color and I went with the Black-Turquoise-Green Apple (pictured above).  With most argyle garments and fabrics, you see the argyle not matching up at seams. As discussed earlier, these are seamless, which makes them look even better and eliminates that problem.  The inside of the sock is very soft and fluffy. When you pull them from the packaging you get the feeling that they are going to be small because they look to be "shrunk", but I can assure you they will fit.
I was very eager to get them on because they looked to be very comfortable. This was no easy task. It may be because I have long feet, but it took me a little while to get my entire foot in the sock. I think this is mostly due to the fact that it is a tall sock, so you have to work your foot into it. Once the sock is on, it feels wonderful!  It gives you the feeling that it's hugging your arches. I have very low arches, so extra arch support is a good thing for me. You definitely get that in these socks.  They have a lot of fun colors for you to choose from, including: Black-Electric Blue-Light Blue, Black-Grey-Light Pink, Black-Grey-Neon Pink, White-Electric Blue-Light Blue, White-Grey-Light Pink, and White-Grey-Neon Pink. For your convenience I have included a size chart.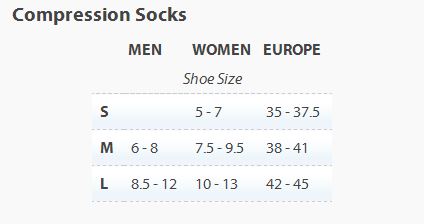 Performance
I was excited to get out and play my next round of golf, and because this is a golf webiste I decided to forego testing them while jogging. That and I don't like jogging. I also made the decision to wear pants with the socks. Although I like fashion and don't fear loud clothing, I couldn't see myself being taken seriously by my weekly playing partners. The socks felt great during my round. I actually had to remind myself I was wearing them. I played 27 holes and didn't notice any fatigue in my legs or feet. It did take me a little while to get used to the band around my calf muscle, as these are the tallest socks I have ever golfed in.  I didn't notice any slippage with my shoes and you don't have to fear creating a blister into your heel from sock slippage. Upon ending my round, there wasn't any noticeable sweat in my socks or shoes. I also felt like I could have played more holes and I didn't feel the need to put my feet up at the end of the day. For me, the socks performed just as advertised.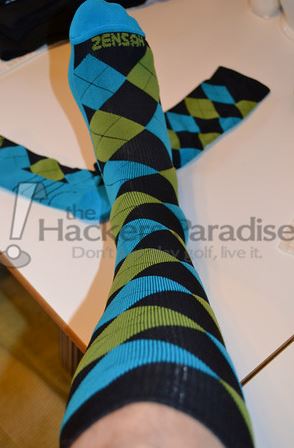 I believe Zensah has a very comfortable and stylish product that performs as they advertise. Although getting them on your feet can be a challenge, it's well worth it in the end. One problem I think they may face is selling a $50 pair of socks to a golfer who is more than likely going to cover it up with some pants. Other than price, I really enjoyed the feel and performance of the socks.
You can find out more from their website www.zensah.com.
MSRP: $49.99