For most of the United States, the temperatures are dropping and the leaves are starting to change colors.  Assuming, of course, that they haven't completely fallen off already.  Inevitably, this means a few things for golfers: less carry distance, a discussion of lower compression and bright colored golf balls, and layering your clothing to adapt to the weather Fall throws at you.   Thankfully, ZeroFit is making its entry into the United States market (and Europe) to help with the latter one after years of success in Japan.  Simply put, ZeroFit will keep you warm without unnecessarily hindering your mobility and swing.
In for review, THP received the ZeroFit Heatrub Ultimate and the ZeroFit Heatrub Move.  Despite the largely common names, the Heatrub Ultimate and Heatrub Move are quite different options so keep reading if you are in the market for a new base layer.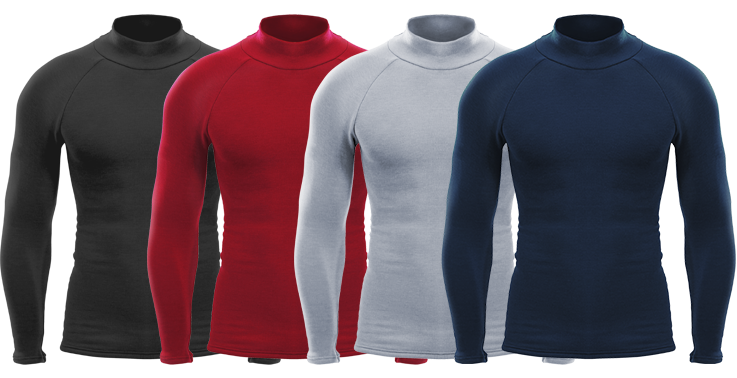 ZeroFit Heatrub Ultimate
As the name would imply, the Heatrub Ultimate is intended to be top-of-the-line model that is the warmer of the pair and is intended to aggressively combat the cold.  Quite unapologetically, the Heatrub Ultimate is advertised as being made from unique fibers that are unlike a standard base layer.  Frankly, they aren't wrong. Comprised of 63% acrylic, 18% nylon, 12% cupra, 5% wool, and 2% polyurethane, the fabric is certainly unlike anything I have seen in a golf base layer and it is really soft and comfortable when you first put it on.  It felt like I just put on something coated in lotion – it was different but well received.
The boldest claim that ZeroFit makes with the Heatrub Ultimate is that its unique fibers will actually rub against your skin to create frictional heat that, in turn, will keep the wearer warmer than with other fabrics.  The question must be asked, however, does it work?  The most honest answer I can give you is I simply don't know yet.  The Heatrub Ultimate is plenty warm on its own and I couldn't really discern any additional heat that could be attributed to the friction of the fibers against my skin.
Functionally, the ZeroFit Ultimate is a super form-fitting base layer that will give you a snug fit without restricting your swing.  The fabric is very flexible and not overly thick or cumbersome while still being very warm.  Best of all, the fabric tends to stay where it is supposed to.  My only recommendation with the Ultimate is don't look in the mirror if you are body conscious – it will truly hug every inch in its mission to keep you warm.
A few design elements struck me that I felt were worth mentioning, although none are necessarily positive or negative.  As shown below, the height of the mock neck is quite high and it could be worn as a turtleneck.  While the height of the neck created some minor discomfort from occasion rubbing (it isn't skin tight so it moves around awkwardly), it could be a very welcome addition in windy conditions.  Like I said, neither positive nor negative.  Further, the sleeve length of the Heatrub Ultimate is shorter than the Heatrub Move, although they stay in place.
In sum, the Heatrub Ultimate will keep you warm but if you have sensitive skin or the idea of fibers intended to rub against your skin to create heat isn't for you, give the Heatrub Move a look.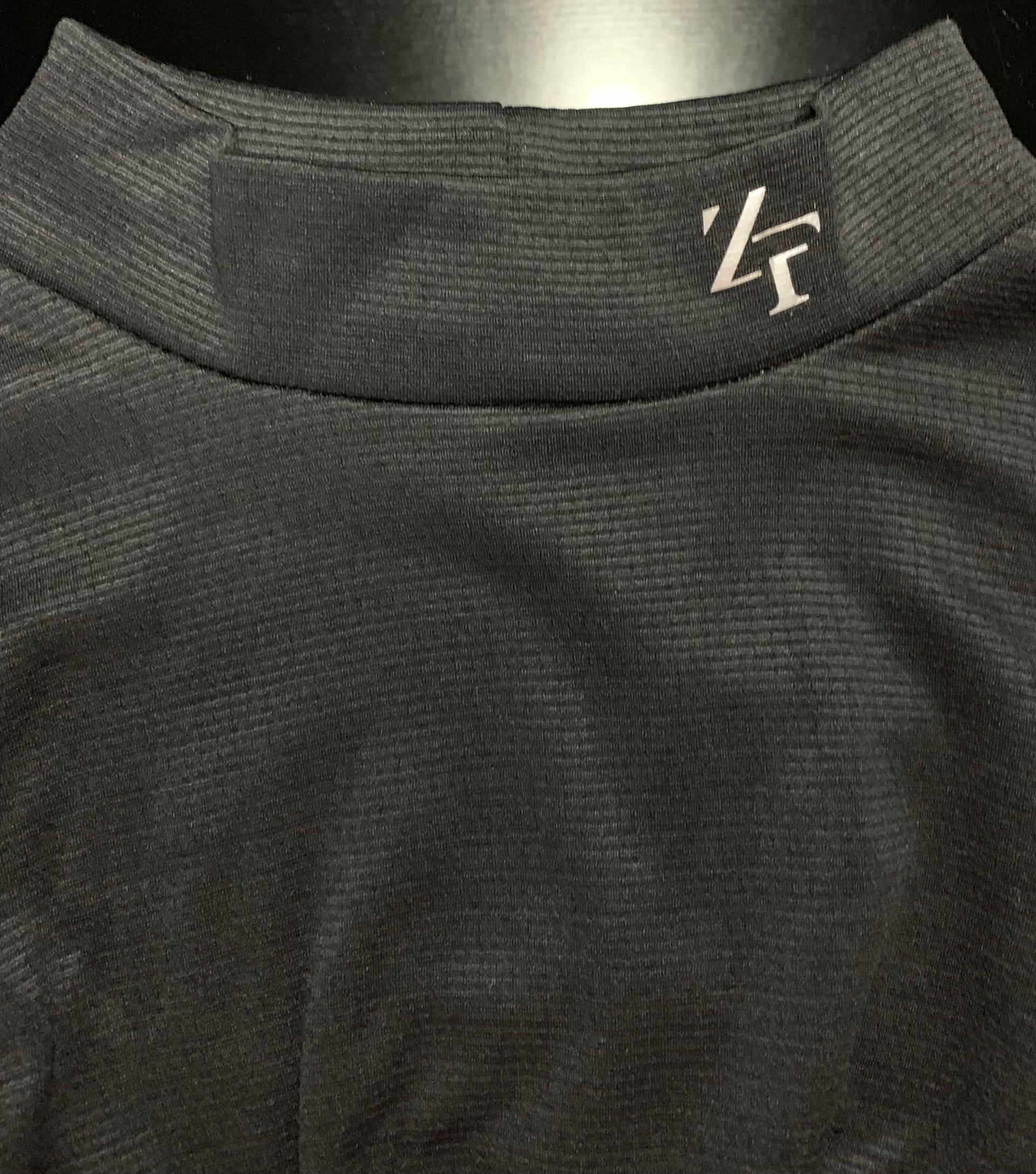 ZeroFit Heatrub Move
In contrast to the Ultimate, the ZeroFit Heatrub Move is a bit more of a conventional design and fabric compared to what you would expect in a base layer.  Made of 49% Polyester, 45% polypropylene, and 6% polyurethane, the fabric is comprised of fibers well known for good cold weather performance.  For example, polypropylene is commonly used in thermal underwear because it is known for being warm, durable, moisture wicking, and fast drying. These properties certainly make a comfortable base layer that is a welcome addition to my closet.
The Heatrub Move is a bit lighter than the Heatrub Ultimate and for that reason it is likely better for a brisk fall day, but might be a bit too light for those colder winter days.  And at present, the Heatrub Move is like that old saying about the Model T in that you can have it in any color that you want as long as its black.  Adorning the mock neck is a carefully placed silver ZF flourish that is fairly eye-catching against the otherwise black fabric but blends well when you add another layer on top.  At bottom, the Heatrub Move is a complement to the Heatrub Ultimate and not necessarily a replacement.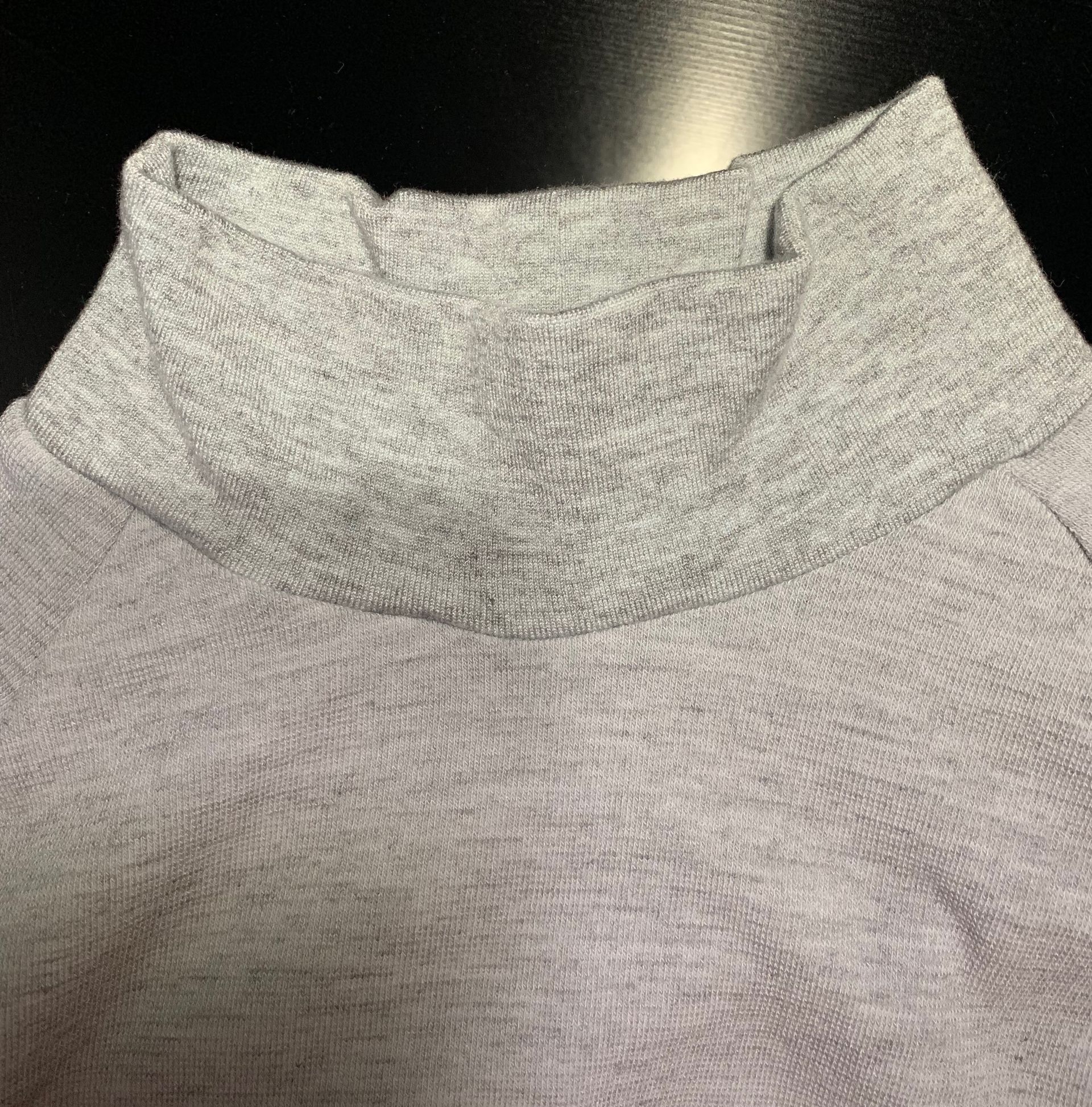 Sizing Issues
I did encounter some sizing issues between the Heatrub Ultimate and the Heatrub Move despite both being a size large.  While the Ultimate has shorter sleeves, I found that they stayed in place much better and didn't recede up my wrist as I moved around.  Similarly, the waist of the Move continually crept up through normal movement and there was no way to keep the Move base layer tucked in. I didn't find these movements to be overly problematic because it wouldn't be worn on the coldest days, but I certainly found it frustrating to manipulate the sleeves throughout the day.
After digging into the issue a bit further, I think the problem is that the size "large" is not consistently applied throughout the brand.  For example, the Heatrub Ultimate size large is intended for a chest of 40 – 44 inches and the Heatrub Move size large is intended for a chest of 38 – 41 inches.  Presumably, the other measurements would be smaller in the Move as well.  The moral of this story is pay attention to the sizing chart – a large in the Ultimate may be closer to an XL in the Move.  While frustrating for me, you can avoid the entire issue if you pay attention to the measurements.
We Aren't Done Yet
Unlike many other reviews I've done, this one simply isn't over.  Based on my time with the ZeroFit base layers I can say they have won an extended tryout as the temperatures drop, but in full disclosure I haven't been able to truly put them through their paces.  The uncommonly warm weather over the past month has prevented a full on-course testing in appropriate temperatures.  However, keep your eyes on the forum thread (coming soon) associated with this review and I will keep you updated on everything about the on-course performance as we finally get to more seasonally appropriate temperatures. And as always, ask me any questions you have – I'll do everything I can to get you the answers.  More information on the ZeroFit brand can be found on their website (USA website coming soon) www.zerofit.co.uk/.