Callaway introduced the MD3 line of wedges back in July of 2015 and they hit stores a few months after that. While there have been a few limited releases since then, the MD3 has been considered the current wedge for Callaway since that time. Over the last few weeks there have been a number of tour players that have been seen with some new prototypes in their bag, including recent signing Sergio Garcia, which left many wanting more information and today is that day everybody can get it.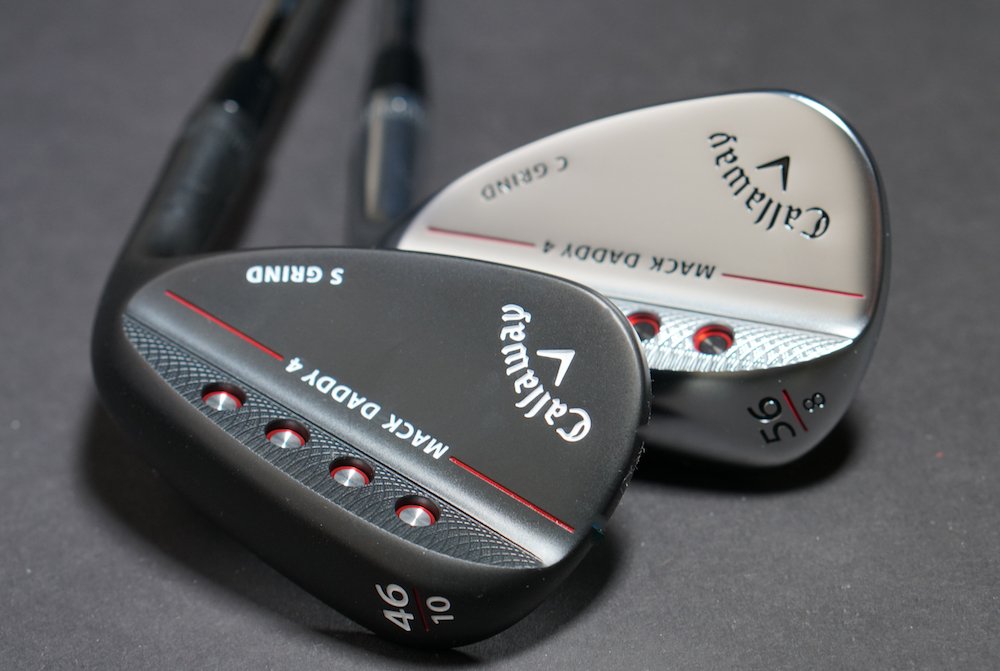 Click on each image to enlarge picture
Callaway is calling the new Mack Daddy 4 wedges, the finest collaboration yet between Roger Cleveland and Callaway R&D. Each change was heavily influenced by their vast array of tour professionals and their goal, as stated to us recently, is to be the new standard in wedge performance.
Diving into the features of wedges in the past has usually been little more than a groove story, but despite what perception may be, the wedge has changed dramatically in the last 5-6 years. From groove technology to rebound from the USGA ruling years ago to grind options that make it possible to fit any type of player and turf, the wedges the top companies are putting out right now are packed with features. We will break down each of them individually here.
There is a new grind option called the X grind, bringing the total up to four different grind options available.
C Grind: Featuring increased relief, espeically at the heel, this grind excels with versatility in opening up the wedge to play certain shots. Ideal for medium to shallow attack angles and firm course conditions and it features 8 degrees of bounce.
S Grind: This is your medium-width sole with a slight camber at the back and moderate heel relief. Designed to keep the leading edge lower through impact, it is work horse grind designed to fit a lot of golfers and features 10 degrees of bounce.
W Grind: The sole is wider at the center and toe and then much narrower at the heel and a large amount of front to back camber. Designed to prevent digging without a huge increase in bounce, while still keeping the leading edge as close to the turf as possible for clean contact. Great for opening the face up and according to Callaway, much more versatile than their previous W Grind model. 12 degrees of bounce.
New X Grind: This new X Grind is great if you are like many golfers with a moderate to steep angle of attack and medium or even soft course conditions. Featuring a narrow, higher bounce sole, with a low point near the front of the wedge and 12 degrees of bounce.
Upping the total options to four with the addition of the X grind is one of the bigger stories, however if you are one that has struggled with your wedge play, the updated version of the W Grind is something to keep an eye on.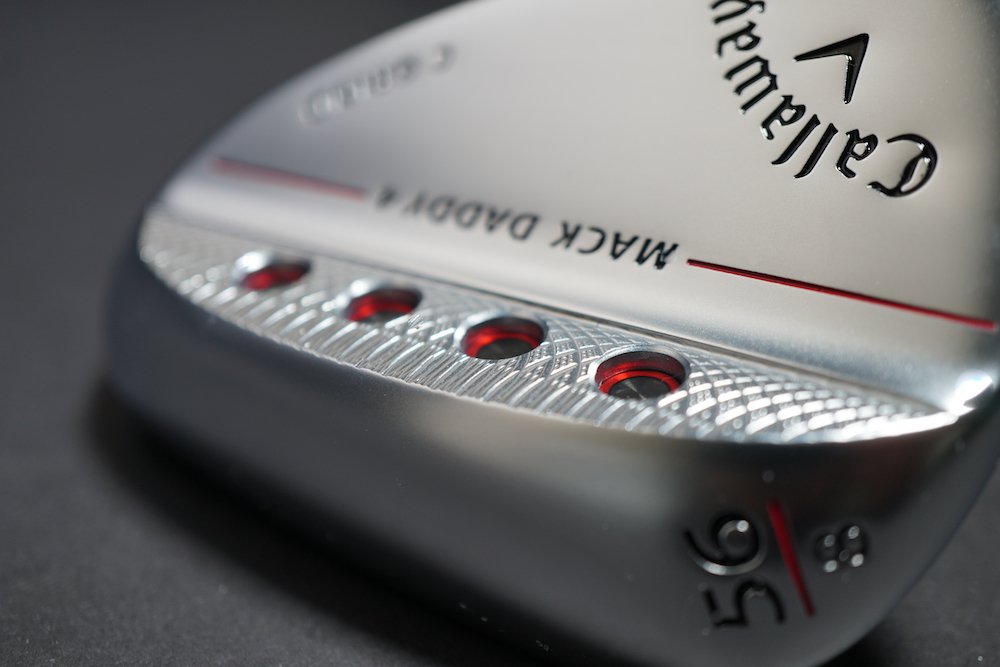 One of the items we talk a lot about here on The Hackers Paradise when discussing metal woods and even irons, is the modern availability of shifting weight or flat out removing weight to reposition a center of gravity. This has been done with modern materials such as composite crowns and more. Callaway has not stopped at the metal woods however for the shifting of weight and while some golfers view the 4 cut outs (circles) as an aesthetic item, they do in fact serve a purpose. By creating these ports and filling them with milled aluminum medallions, the company can position the center of gravity (CG) upward progressively as the lofts increase in the wedges. This will present not only a performance gain as positioning CG to the perfect spot becomes easier, but also one of feel for golfers.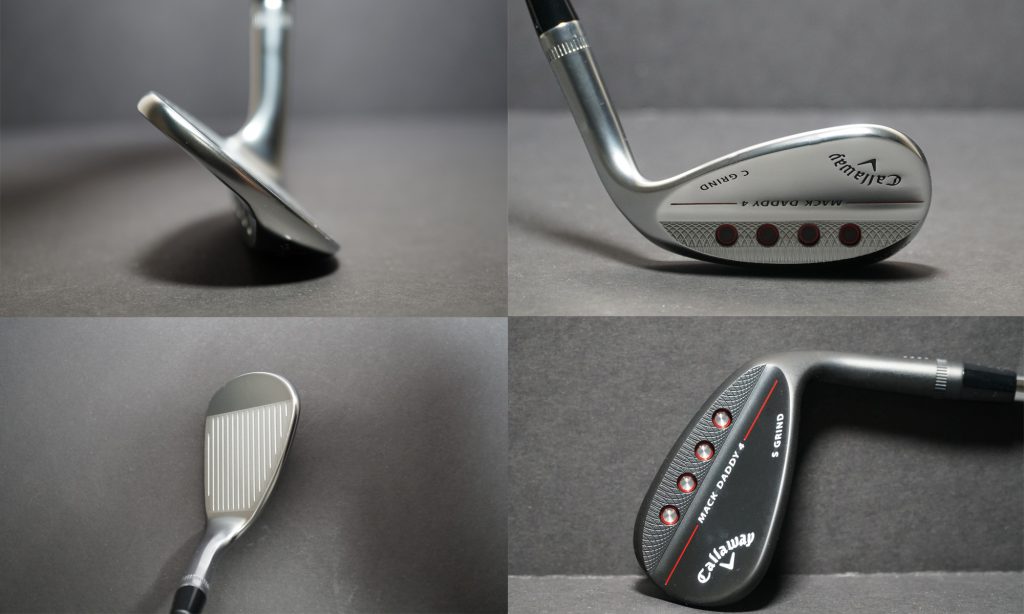 The new Mack Daddy 4 lineup features something Callaway is calling Groove-in-Groove technology, designed to give you more spin anywhere you play from. The main grooves are saw-cut and horizontal milled to proper tolerances, similar to the MD3, but that is about the only similarity here. Lower lofted wedges of 52 degrees and less feature a 20D groove that is designed to be the most consistent spin on full swings. We talk a lot about how certain clubs offer a consistency of exact distances for a player, you can view this as a similar feature. Then moving to the higher lofted wedges, in 54 degrees and above, there is something called the 5D groove. The 5D is an aggressive groove for maximum control out of the rough, around the green and in the bunkers. Each wedge has a 16 groove configuration including their "extra groove" down towards the sole by the leading edge that Callaway calls their "Nip-It" for some added control and spin on short shots.
Looking at the picture below, you will see some big time differences in the surface texture compared to the MD3 line. Micro-Positive surface roughness has been milled into the flat parts of the face (meaning between the grooves) and it has small ridges that extend the surface area for contact. Speaking with Roger Cleveland about this product, he said "There are more contact points to grab the golf ball than we have ever had before" and we are now learning from the brand that the combination of grooves plus the micro-grooves is giving them 84 different contact points and trust me when I say, many golfers like myself, use a lot of areas of the face around the green.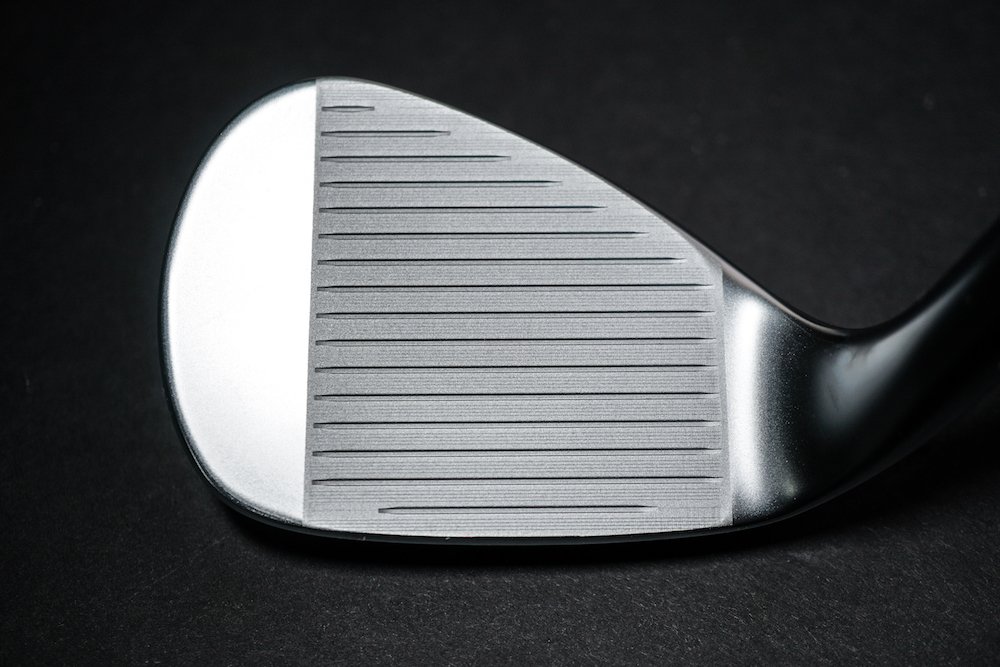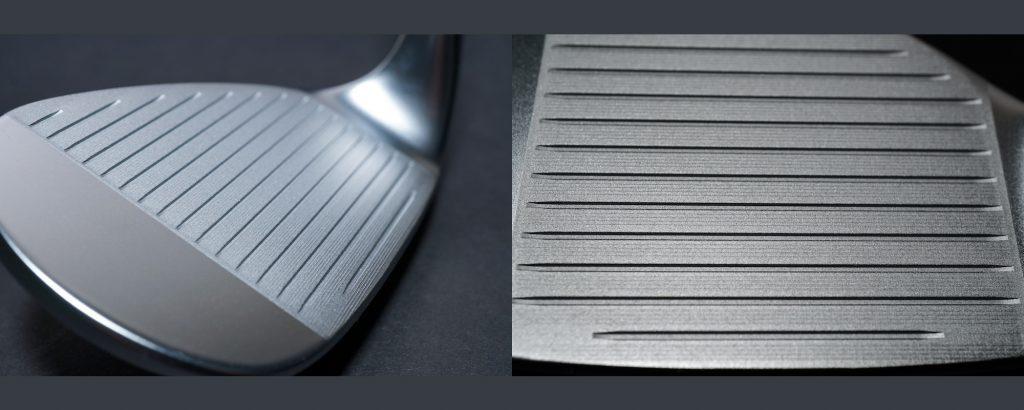 The shape of the MD4 wedge line has been altered after thorough tour testing. The overall style is more compact, with a straighter leading edge compared to the MD3. "Tour Pros like only a subtle amount of leading edge radius" said Roger Cleveland. "In the Mack Daddy 4 we gave them enough to make a performance difference while still pleasing the eye".
The MD4 wedge lineup will come with 21 loft-bounce combinations available including 9 different lofts starting at 46 degrees and continuing in 2 degree increments through 60 degrees, and then also having a 64 degree model. More than their previous lineup and is actually the most ever for a Callaway wedge.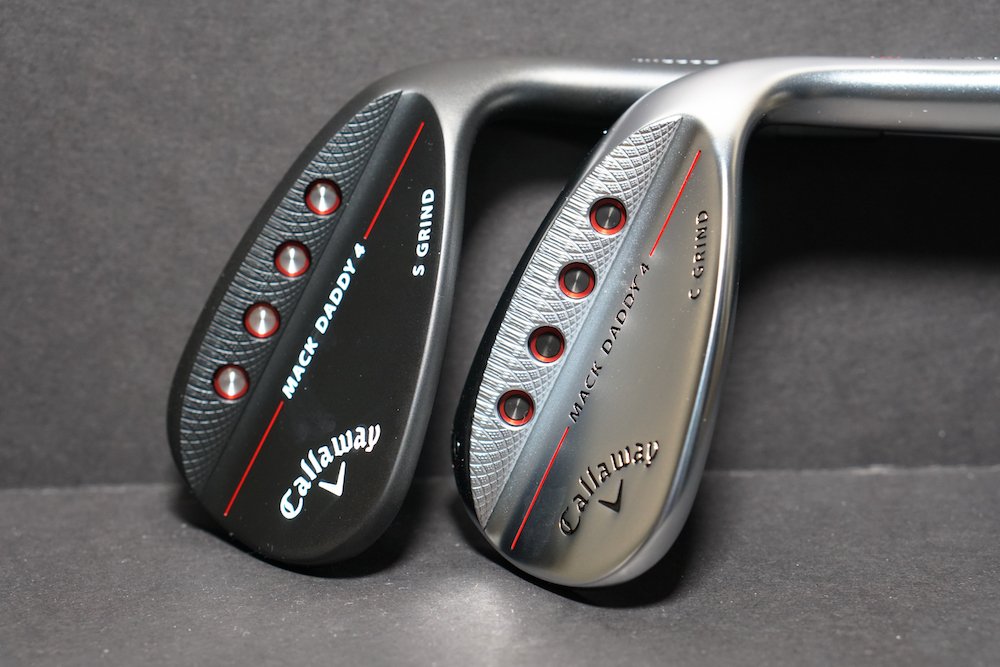 Two finish options round out the choices and as you can see from the images, they look really good in contrast together. Platinum Chrome and what they call Black Matte are both available in each option that is offered.
Want to read reviews from regular golfers that have already had these in their bag for the last month? Click on over to the THP Forum thread on the new Mack Daddy 4 wedges and find out what they have to say as their thoughts begin coming out today.
The Lowdown
Cost: $149.99
Pre-Order: 1/12
In Stores: 1/26
Standard Shaft: True Temper Dynamic Gold S200 Tour Issue 115 gram
Standard Grip: Lamkin UTX