Rarely does a new brand of golf shoes hit the ground running quite like Cuater did late last year. For those unfamiliar, Cuater by Travis Mathew is prepared to bring less complicated, but full premium performance shoes for golfers without any sacrifice in style. The launch came with two styles, each with two color ways. The Legend and The Moneymaker were instant hits and the reviews on the THP Forum have been incredible. If you missed those and want to read what other golfers have had to say, click here.
Today the company is set to launch new styles and officially bring the original Cuater lineup to the masses. Before I continue with this golf shoe preview, I have to mention a lineup of golf gloves that are coming as well. Why? Because they might just be the most comfortable glove you ever put on. Yes, seriously. We won't dive Too deep into them here, but will have a lot more coming up soon including reviews on the THP Forum. You can pick them up right on their website in a myriad of options. I know many THPers will be looking closely at that Between the Lines model.

With two shoes already getting rave reviews, there has been great anticipation for the newest releases. For the sake of this article we will focus on the golf shoes, but keep in mind they have two casual launches as well. Both The Phenom and The Daily are lightweight, breathable and feature a style that should please a lot of people. You can find more on those on their website here.
With a name like The Ringer, the expectation is unknown dominance, and in some ways that is exactly what Cuater is bringing to the table. These are high performance, tour golf shoes that are extremely versatile. Combining lightweight comfort and moisture management has never been the easiest problem to solve for manufacturers, but The Ringer delivers on this promise. The Ringer's fully gusseted is constructed to provide 100% waterproofing.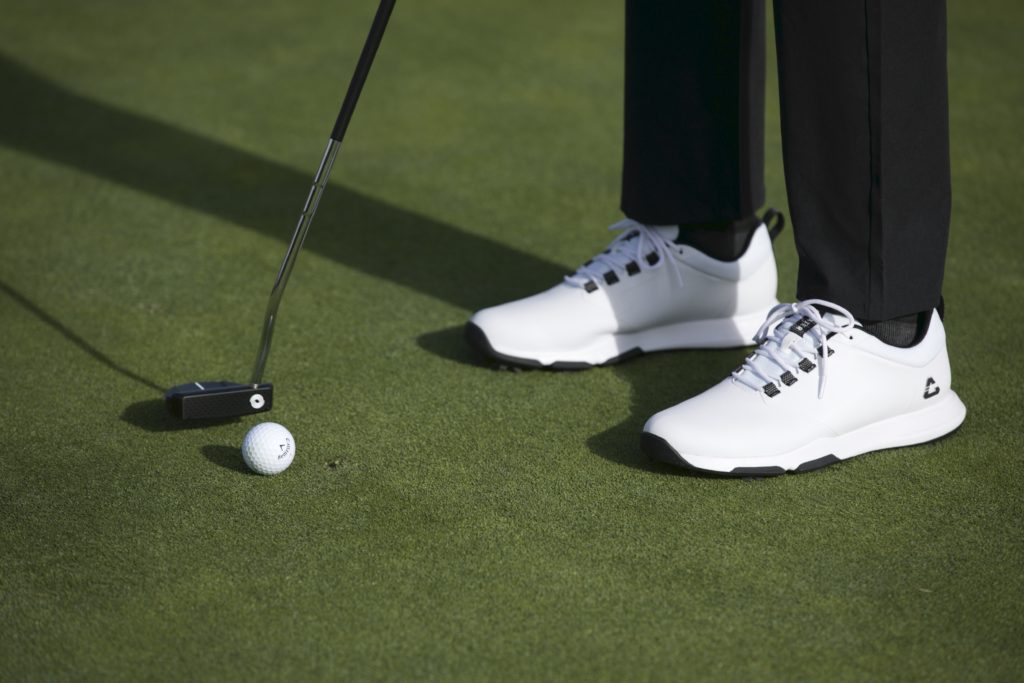 It wouldn't be a new golf shoe release without some fun marketing terms and Cuater has one here called SweetSpot Technology. New performance foam adds a layer of "cushy" feel (cushy is the technical term…not really) and combined with the molded sock liner delivers this tech that is genuinely really comfortable when you put them on.
Keeping the water out, delivering cushy feel, The Ringer also has breathability built into the upper. Waterproofing and allowing ventilation has never been an easy task, but The Ringer line seems to do it fairly well. Utilizing a spacer mesh as a liner, Cuater says you will stay dry and get ventilation to keep internal moisture at bay.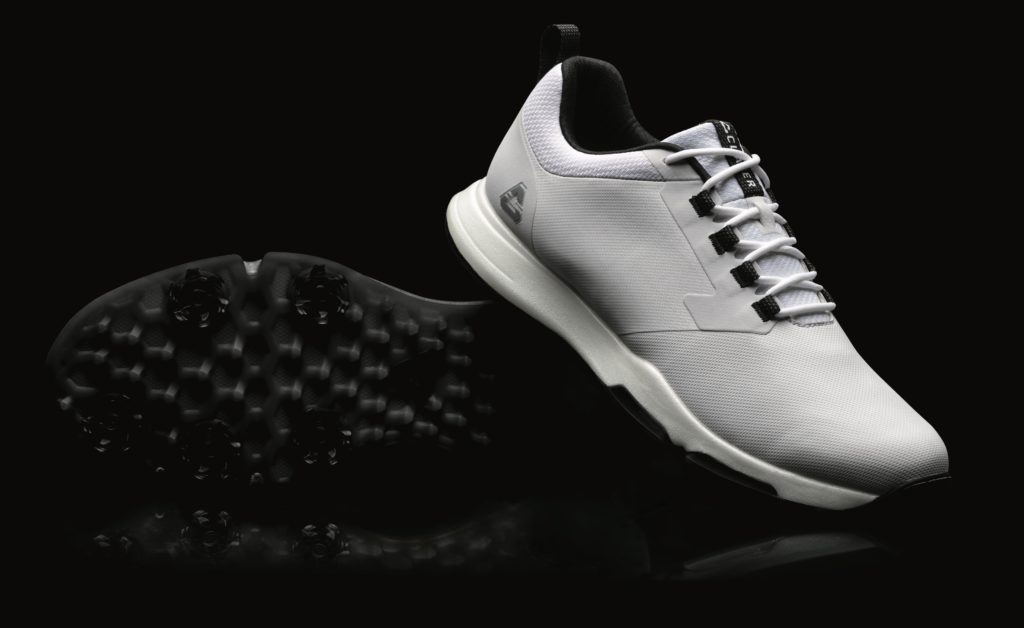 You have read all of that to ask, are they comfortable and how does the sizing work. The comfort is in place. Great arch support, fantastic level of softness in the heel and a toe bed that neither constricts or lets slides happen. I wear an 11.5 in most shoes and the 11.5 fit rather well in The Ringer. We urge people to check out their sizing chart and try on where available to make sure the sizing works as well for you as it did for me.
The Ringer comes in at a price of $200 and is available in both Black and White.
Moving from The Ringer to The Wildcard, you kind of get a drift where the naming convention lies. The Wildcard is just that, a wildcard that will be pretty polarizing. All day comfort with the spikeless design to wear on and off the course. Before jumping into the tech, because there is some here, I wanted to touch on both the price and color options.

Coming in at $130, Cuater is setting the bar rather high for a casual shoe that works from the tee to the 19th hole. At launch it is available in three colors, Black, Grey and Navy and the casual look offers something that is quite different than what we have seen in the spikeless market for a while.
While The Ringer is a full waterproof shoe, The Wildcard as you can expect is more water-resistant. In other words, light dew or mud, cleans up with a breeze. Puddles or raining, take a look at the option above. When you first pick up the shoe, the immediate reaction is light weight. Once on however, you realize there is some tech under the hood. The foam mid-sole and Ortholite insole envelope well with virtually no restriction.

The Wildcard is going to be a popular option for anybody that has casual Fridays and wants to hit the course on the way home or is just looking for something a bit less stuffy, with all of the refinement to play a round of golf.
In addition to the two new models above, Cuater is adding to their early lines as well. The Moneymaker, which was ridiculously popular on the THP Forum, adds to their opening launch from a little while back. With a price of $160, The Moneymaker is a spikeless performance shoe that has both a look and tech package to turn heads. Waterproof construction, which you cannot believe works when you first pick the shoe up, is continued here and I can say based on our testing in both rain and a pour test, works flawlessly. Water beads right off the toe bed and your feet stay completely dry.

The Moneymaker has an ultra-light midsole that works in conjunction with the TPU spikeless bottom for stability and traction. We have not encountered any real slipping at all and these have been on the feet of a large amount of forum members. The heel is well supported and the toe bed has some relief, but still manages to fit true to size for a medium shoe wearer. Those that need extra wide, we are going to recommend trying on first.
Lightweight, waterproof and similar to The Ringer, Cuater has managed to add some breathability to the design by incorporating a knit into the upper. It works. In fact, it works really well. As mentioned above, we have an expansion of choices here and The Moneymaker is now available in Heather Grey Pinstripe, Heather Microchip, Heather Mood Indigo and Black.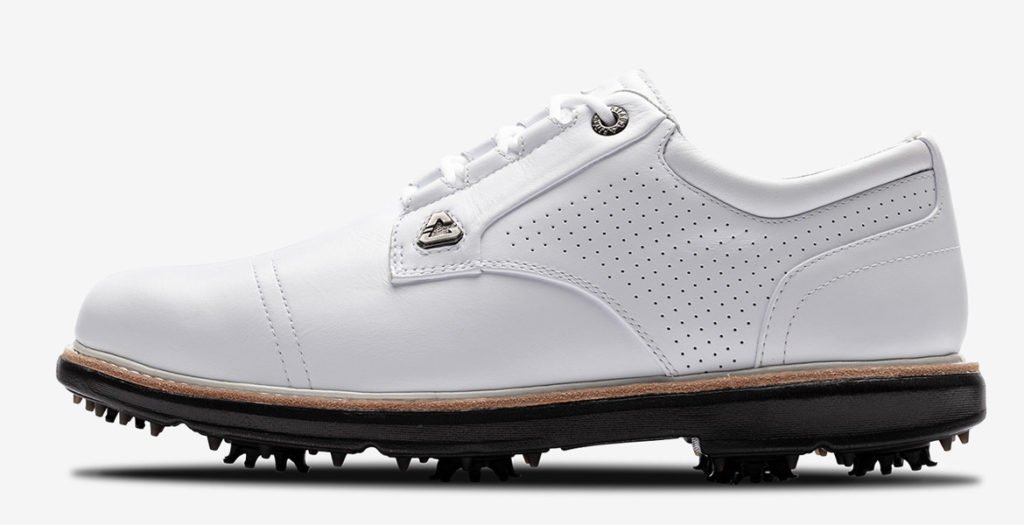 It is impossible to discuss Cuater releases and not talk about The Legend. The shoe that screams elegant and tour, is still in line and available in both Black and White. Coming with a price point of $250, The Legend is crafted of full grain genuine leather with perforations for breathability throughout.
Waterproof construction that we put through the test in a weekend of rain soaked golf stood up remarkably well and the shoe just screams Classic…or LEGEND!
Cuater has put together a lineup in a short period of time that covers the gamut and each release offers something unique. What are your thoughts? Leave us a comment below and let us know which of the four golf options stand out to you?