Earlier this year, Tour Edge updated their Exotics lineup with the EXS 220, and before the world got put on hold, they were receiving plenty of positive reactions. That shouldn't come as a surprise as the Exotics line saw similar success with the previous EXS offerings. If you haven't heard about the EXS 220 line, you can find reviews of both the driver and fairway woods right here at THP. With those products firmly out on the marketplace, Tour Edge is expanding its EXS lineup by bringing an extension that will cater to those who desire a more tour inspired look and lower spin. Today, Tour Edge introduces the latest and greatest from David Glod, the EXS Pro Driver, Fairway, and Hybrid.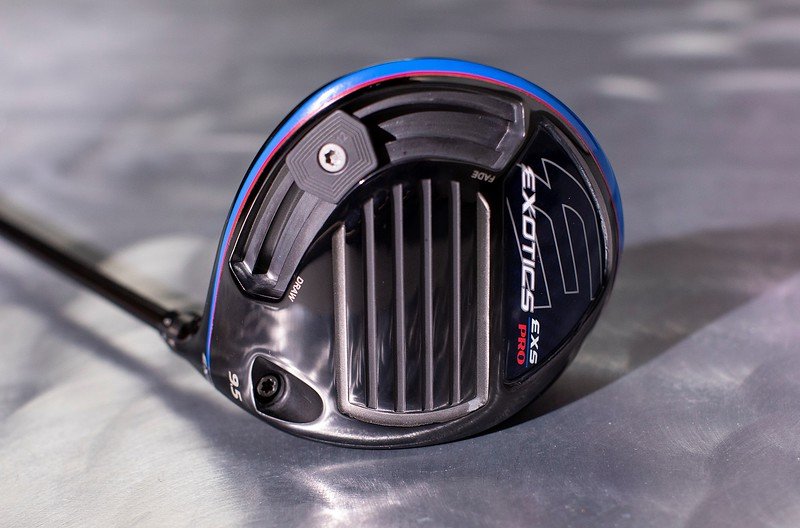 Before diving into each product, the story behind the EXS Pro is one that is worth sharing. Initially, this line was born to be a prototype only club that was strictly intended to be used by the touring professional. "At first, we were just designing prototypes for the pro tours, but along the way, we realized that the market has a need for these tour-inspired designs as a limited-edition series," said Tour Edge President and Master Club Designer David Glod. "With our previous Exotics launch, the EXS 220, we designed our most forgiving and stable clubs we've ever produced. The EXS Pro line is designed to bring the level up with the more traditional player with a faster swing speed who is looking for anti-left clubs with extremely low spin and penetrating ball flights."
Throughout the entire lineup we see many of the same design elements present in the EXS 220 family, which isn't a bad thing, but as you can see from the quote above, this line is going to cater to a different audience. On the technology front, we will still see Tour Edge's Diamond Face that features 33 variable thickness diamond shapes, which aim to produce faster ball speeds on both centered and off-center strikes. For comparison, the EXS 220 diver face features 42 of those thick and thin diamond shapes.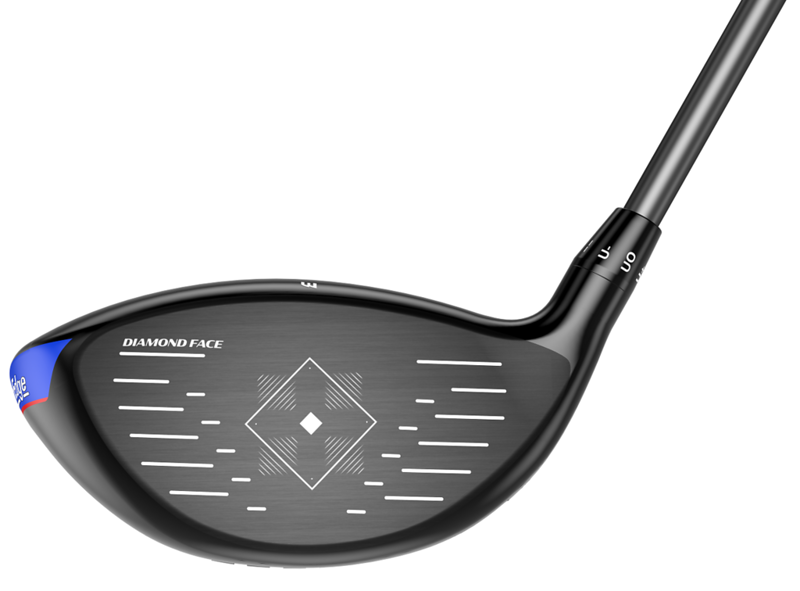 With this driver carrying the "pro" moniker, there has to be some expectation when it comes to shape and sound. Whereas the EXS 220 is a bit shallower and flatter, the EXS Pro is shorter heel to toe, has a deeper face, and is more akin to that classic pear shape. Along with this shaping comes a slope from the middle of the crown to the rear end of the clubhead, which helps Tour Edge align the center of gravity low and forward. Being that the center of gravity is situated low and forward, the EXS Pro driver will help higher swing players reduce their spin, but it will also come in a less forgiving package. Within their internal testing, Tour Edge claims that this driver will produce roughly 400 RPM's less on average than the EXS 220 driver. As for help with sound, a Sound Diffusion Bar is strategically located and paired up with some additional acoustic ribbing to fine-tune the audible feedback that is produced from swing to swing.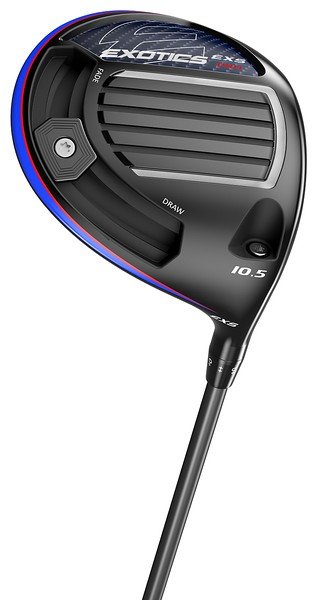 Tour Edge has quite a bit of technology packed into this driver, with a lot of it being under the hood, however, take a look at the sole of the club and its most prevalent piece of visual technology takes center stage. While not anything new to the industry, Tour Edge has incorporated a sliding weight, which they refer to as FlightTrack. FlightTrack houses a 6-gram weight that slides from heel to the toe side of center allowing players to help dial in their preferred ball flight or mitigate misses. With the realization that golfers like to tinker with head weight, Tour Edge is going to make a weight kit available that will include a 3, 9, and 15-gram weight. Those weights can also be purchased individually if you don't require the entire kit. While keeping up with the adjustability, the adjustable hosel allows golfers to alter the loft by 2° in both directions.
Moving into the fairway metals and hybrids, we see a very similar transition from the EXS 220 to the EXS Pro. Both feature a more compact tour-inspired shape with a deeper Beta-Titanium face. For the fairways, the cup face design is engineered to help provide more consistent ball speeds and forgiveness across the face. According to Tour Edge, this Beta-Titanium face presents an upgrade over all of the previous Exotics designs, which is saying something. Also worth noting, the EXS Pro hybrid becomes one of the few hybrids on the market with a titanium face.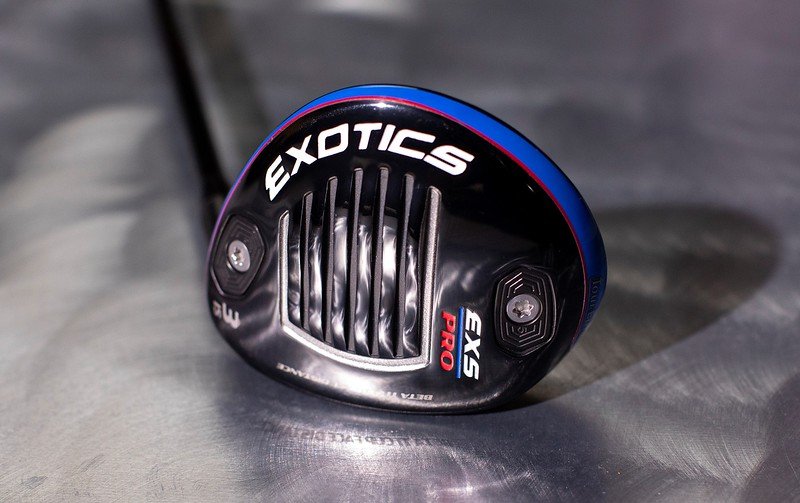 Internally the fairway metal sets up as the smaller sibling of the EXS Pro driver. With its smaller footprint, it is clear that this club is made more for workability than forgiveness. Like the driver, it features that extreme slope from the middle of the crown to the back of the clubhead, which helps push the center of gravity low and forward. The Sound Diffusion Bar also makes an appearance in both the fairway metals and hybrid, making sure their acoustical properties are all in check.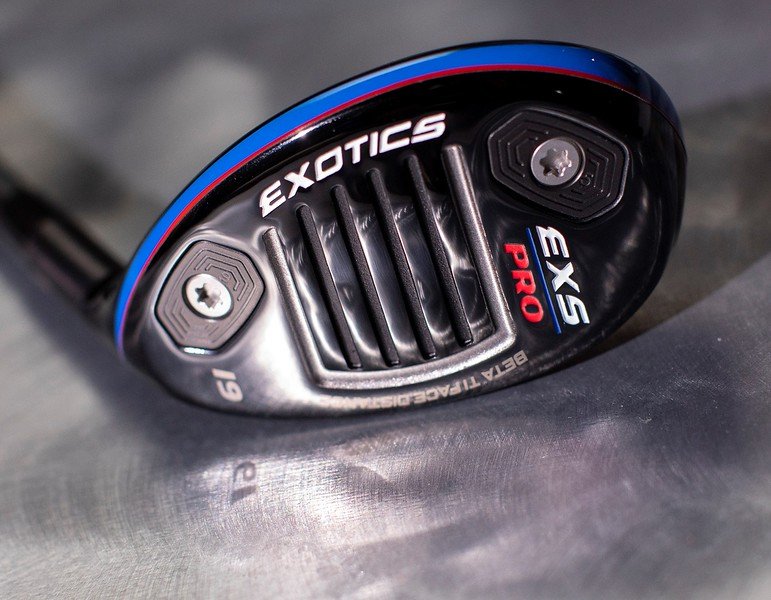 While there are no sliding weights on the fairway metals or hybrid models, there are still two moveable weights that will allow golfers to help discover their optimal shot shape. For the fairway wood, the stock setup is a 10-gram weight in the heel paired with a 5-gram weight in the toe, whereas the hybrid removes the 10-gram weight and replaces it with a 20-gram option. Additional weights can be purchased either in a weight kit or separately, which is good news to those who like to tinker. It is also worth noting that weighs are interchangeable between the fairway metals and hybrids.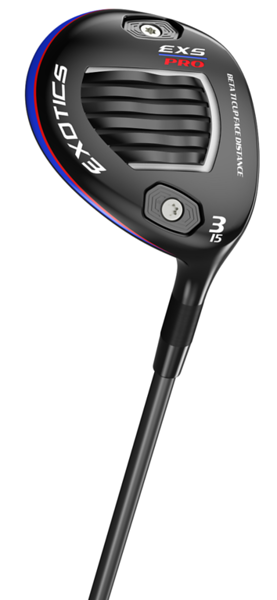 What is becoming a bit of a fixture on the Exotics line is the SlipStream sole. This version features wider SlipStream speed channels and a new curved entry on the leading edge of the sole. All of this makes for not only smoother turf interaction of the deck, but also helps the clubhead maintain its speed through contact by channeling away as much debris as possible.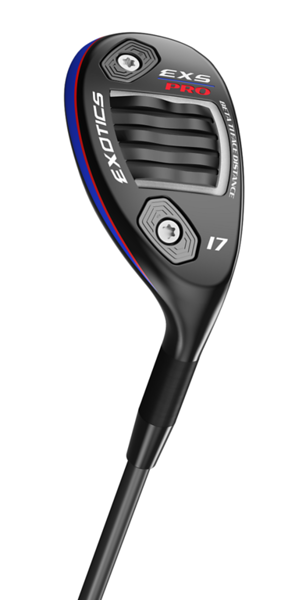 With this release, Tour Edge has reached a whole different demographic of golfers that might not have been best suited for the EXS 220 line. This line will give golfers a much more tour-oriented look with deeper faces and clubheads shorter from heel to toe. Where EXS 220 aims at speed and forgiveness, EXS Pro brings in those looking for spin reduction and workability. The new EXS Pro driver, fairway metals, and hybrids will be available for purchase beginning on June 1st. More information on the entire Exotics lineup can be found at www.touredge.com.
The Details
Driver
Loft Options 9.5°, 10.5°
Stock Shafts Mitsubishi Tensei CK Orange 60g(R,S,X) 70g (S,X)
Project X HZRDUS Smoke Yellow 60g(5.5, 6.0, 6.5)
Grip Golf Pride Tour 360
Dexterity RH Only
Availability June 1, 2020
Price $399.99
Fairway Metals
Loft Options #3(13.5°), #3(15°), #3(16.5°) #5(18°)
Stock Shafts Mitsubishi Tensei CK Orange: 60g (R,S,X) 70 g (S,X)
Project X HZRDUS Smoke Yellow: 60g (5.5, 6.0, 6.5)
Grip Golf Pride Tour 360
Dexterity RH Only
Availability June 1, 2020
Price: $299.99
Hybrid
Loft Options 16°, 17°, 18°, 19°, 20°, 22°
Stock Shafts Mitsubishi Tensei AV Silver Hybrid Shaft: 65g(R), 70g(S), 75g(X)
Project X HZRDUS Smoke Black: 80g (5.5, 6.0, 6.5)
Dexterity RH Only
Grip Golf Pride Tour 360
Availability June 1, 2020
Price $249.99