THP recently had a chance to sit down with the Fujikura Composites Vice President Alex Dee to discuss their current and future product lines, as well as talking about how Fujikura designs their shafts for today's modern equipment.  Alex has been at Fujikura for over 15 years, during which he has served several different positions including Director of Engineering and Development.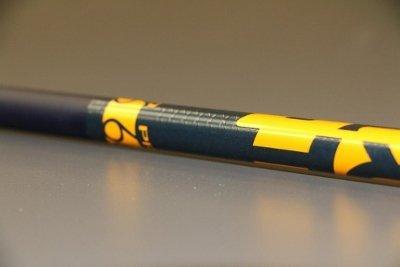 THP: How does the brand decide on what materials go into shafts?
Alex Dee, Fujikura: Performance, structural specifications and feel are primary factors in deciding what materials are used in our shafts.  We have an arsenal of materials which vary in stiffness, weight and thickness.  Materials can be unidirectional, meaning the fibers are in one direction or they can be advanced woven, carbon and non-carbon fabrics where the fibers are oriented in multiple orientations.  Generally speaking, the stiffer and lighter the material, the more exotic and expensive it becomes. To achieve lower launch conditions, we lean on stiffer materials.  Lower torque also requires stiffer materials.  When designing light weight shafts, we are effectively removing material from the shaft, which results in a softer structure.  In light weight shafts, we utilize light and thin materials to obtain the weight properties.  We then use high stiffness carbon fibers to make up for the loss of stiffness.   Regardless of shaft weight, you cannot ignore the shaft's balance point.  We measure significant performance and feel improvement in higher balance point driver shafts that allow today's heavier heads or longer clubs to be assembled at familiar club swing weights without disturbing the head's original mass properties.  To obtain the higher balance point on any shaft, we use materials and design methodologies used in our light weight shafts in the tip and mid sections.
The cost of materials also influences its use significantly.  We employ exotic materials at all our price points, but obviously are less restricted in our Speeder and XLR8 performance upgrade offerings.
THP:  When creating a line, how does a brand like Fujikura put together shafts that best match up to the modern club heads?
Alex Dee, Fujikura: We talked about the importance of driver shaft balance point given today's heavier heads and or longer club lengths.  It wasn't long ago that many of our shafts had significantly lower balance points, but could be assembled to proper club swing weights given the head's mass properties.  We've seen a lot of heads get heavier recently, some adjustable and some not.  We noticed that many club builders with heavier heads and lower balance point driver shafts had to counter balance the club or eliminate the heaviest of adjustable weights when available to target a decent club swing weight.   Our latest offerings address this concern by raising the shaft's balance point significantly compared to traditional shaft offerings.From a club builder's perspective, we want to make it easy and efficient to assemble a club with a Fujikura shaft, and from a player's perspective, we want them to have a familiar swing weight that allows them to accelerate the club faster and have more mass in the head for more power.  
Many modern heads lower spin more effectively than their predecessors.  Before such low spin heads, we focused our designs to lower spin with stiffer tip designs.  When we saw heads reducing spin more, we balanced our offerings to both provide some spin and reduce spin based on the need of the golfer.   
We are fortunate to have access to several OEM heads at our Fit On Studio, and with enso, we can evaluate new heads and their effect on the shaft during the swing.  The data we obtain from enso tests helps us keep our shaft offerings current with the latest club head trends.
THP: Tell our readers how your in-house Enso system helps create your new shaft lines?  
Alex Dee, Fujikura: Enso is a high-speed, high resolution 3D motion capture system we developed with Vicon.  We have a system in our US office, at our R&D facility in Tokyo and at Ping Golf's headquarters.  Enso measures club performance.  While a ball flight monitor tells you what happens after you hit the ball, enso tells you what happens during the swing to generate the ball flight (what we refer to as pre-impact data).  With precise 6 degrees of freedom, we can measure throughout the swing the movement of the handle (the input), how the shaft responds to that input and head properties and the shaft's effect on head orientations and speed.  We are growing a data base of a variety of golf swings using a set of shafts with predetermined profiles.  Using advanced analytics, we are determining how shaft properties affect club head orientation at impact, horizontal and vertical launch, spin, kick and impact location given a swing type.  Recent analytics have pointed to a specific stiffness profile generating maximum kick, which we have introduced in all our XLR8 performance upgrade shafts.  Enso will continue to improve our products as it guides us in design directions to achieve whatever goals we desire.  We also see enso having a significant impact on fitting.
THP: AskChad is something fairly new that Fujikura has been working on, what is it and how can THPers get involved?
Alex Dee, Fujikura: We launched AskChad as a resource for our Charter Dealer network initially so that all club fitters and club builders alike that were fitting with Fujikura shafts could have an easy method of asking us questions they had in relation to our products, services, technology advancements, fitting philosophies, etc…  
AskChad has organically grown into this hugely popular unique way for ALL golfers to ask anything they want in relation to Fujikura products.
It would not be so successful without Chad. Chad Embrey is the most knowledgeable and entertaining individual in the industry! He encourages all questions and he answers every question thoroughly and in a very timely manner. In fact, we get a few emails a week just thanking him for responding at all. It seems they have not had much luck reaching out to other sources offered.
We get about 10-20 questions per day through our AskChad submission and response page on our website.  We try to pick a question every week or two that is either asked repeatedly or that we find important enough to share with others, and we post an AskChad video response to our AskChad page. http://www.fujikuragolf.com/video-home
We encourage your readers to utilize AskChad to get their questions answered whenever they like!
THP: What can you tell THPers about the future of Fujikura products?
Alex Dee, Fujikura: The future of our products could not be brighter.  There are new, exciting materials we will be working with that are 2-3 times stiffer than our current stiffest material, and there are new spread carbon tow, woven fabrics I believe can help us push design boundaries.  Enso will also continue to get smarter, contribute to our knowledge base and have a significant impact as an advanced fitting technology. I'm excited about the products we are about to launch in terms of the variety of product and ability to fit a wide breadth of golfers at all levels and price points.
They'll also have a consistent Fujikura brand identity across all lines, while having distinctive colors and finishes within each line.   
All our designs are "flighted" meaning they're designed to lower launch incrementally with increasing flex, weight and from standard flex to Tour Spec.  So rather than coming out with one profile one year with a specific launch condition and then offer a different launch condition the following year, we are now offering a variety of launch conditions at the onset so fitters can fine tune performance within each line.  
Our new irons at all price points will have a low balance point to allow them to be assembled at steel shaft lengths while achieving the proper club swing weight.  Not having to assemble graphite irons at a half inch over length to hit club swing weight greatly improves consistency and eliminates the need to slop lead tape on your beautiful, new set of irons.  
You'll be hearing a lot from us about our new XLR8 offerings.  XLR8 is like BMW's "M" or Mercedes' "AMG" badge for peak performance.  The XLR8 moniker will show up on our Pro Series, SIX, and Speeder Pro driver shafts in 2016.  XLR8 models won't replace existing, non-XLR8 shaft models, but will complement them by providing options for golfers who prefer a highly responsive shaft that's focused on increasing club head speed above all else.  XLR8 shafts are characterized by an EI profile that promotes a fast shaft kick, a lower torque, lower weight and higher balance point.
We are proud to reintroduce our Vista Pro brand for 2016 to replace our EXS line.  Fitters will find the Vista Pro line friendly and forgiving, providing more launch and spin compared to the Pro Series or Speeder shafts.  Driver swing weights are more inline with today's club heads compared to the EXS line, and some of the latest materials and advanced construction elements found in our Pro and Speeder Pro shafts have migrated to the Vista Pro line.  Vista Pro drivers will be offered at 40g, 50g, 60g, 65g and 70g.  Vista Pro irons will be offered at 40g, 50g, 60g and 70g and hybrids will be offered in 50, 60, and 70g.  
We are expanding our popular Pro Series with additional irons and an XLR8 upgrade version.  65g and 85g irons will round out the existing Pro75 and Pro95 irons.  They're generally stiffer than Vista Pro irons for the golfer with a stronger swing and looking for enhanced control.  The Pro XLR8 drivers will be offered in 51g, 61g, and 71g.
Our 2015 Speeder Pro drivers have been great success with our customers with only two offered weights: 66g and 76g.   We will be adding a 56g driver along with complementary irons and hybrids.  They'll have a similar, single taper and larger handle like the original drivers to promote less grip pressure and faster club release.  Irons will be offered in 56g, 66g, 76g, and 86g. One unique feature of the Speeder Pro irons is that the 66g, 76g, and 86g shafts can be combined within a set to create a near, constant weight iron set.  Hybrids will be offered in 56g, 66g, 76g, and 86g versions.  The Speeder Pro XLR8 drivers will be offered in 53g, 63g, and 73g.  
Fujikura offers a large variety of shafts that can fit any swing as well as any budget. More information about current Fujikura offerings can be found at www.fujikuragolf.com. While you visit their webpage, make sure to take some time to watch all of the AskChad videos.  Perhaps one day you will see Chad answering a question that you submitted.