Both aspects of Tour Edge's 2023 tagline, "The Powerful and the Accurate", are personified in the company's E723 irons. Offering exceptional distance and plenty of assistance keeping the ball on target, they are primarily designed for players that want all the help an advanced iron can give them. They're loaded with technology designed to make the game easier, all at a price point that is insanely attractive.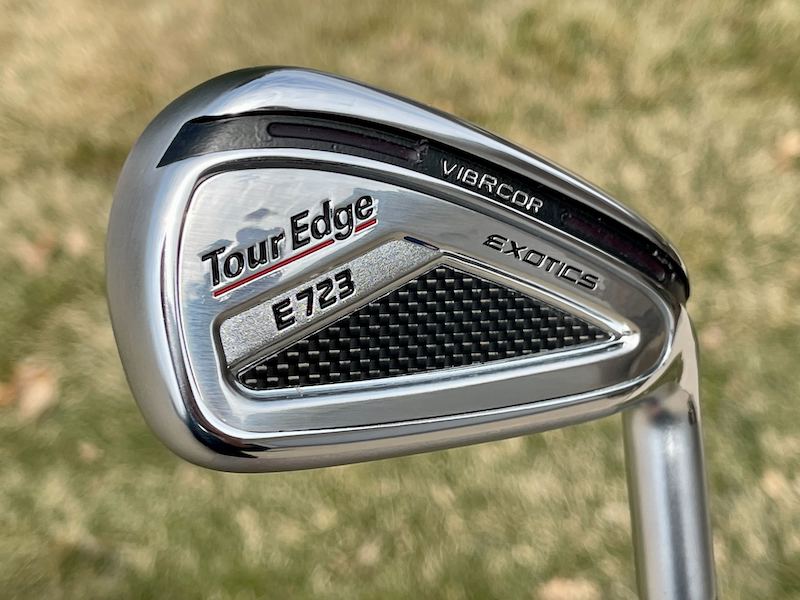 We took a deep dive into the technological features of the entire 723 iron line back in February. As such, we won't rehash that today. If you missed it, it's well worth your time to see exactly how much thought went into each iron's design and which one might be right for you.
Aesthetics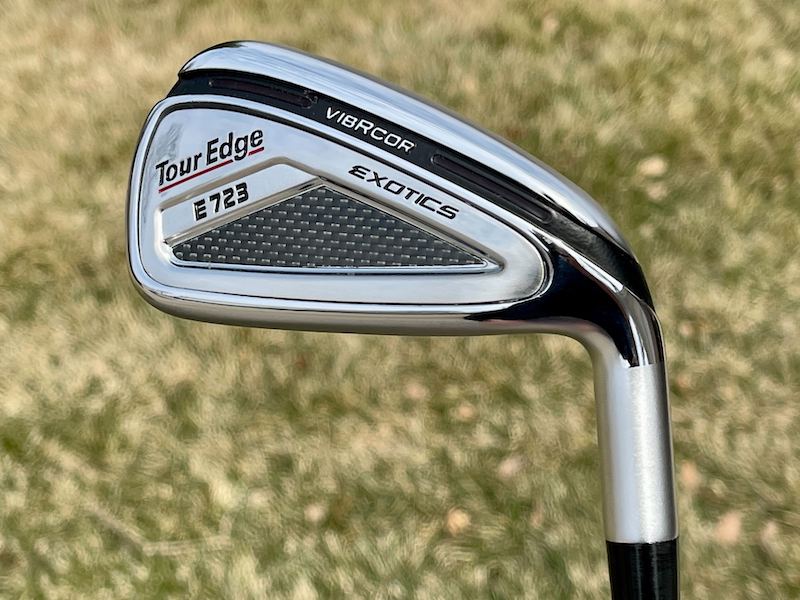 We've seen a general trend of companies attempting to disguise their most forgiving irons in smaller packages. While it's difficult to find fault in this, it does have the effect of blurring the lines between the different types of irons in a company's lineup. Tour Edge's 723 iron line makes it easy to know which club should suit your game best. The E723 irons are unapologetically large. Whether we're talking about blade length, sole width, top line, or offset, bigger is the key word. While some may gravitate more towards Tour Edge's sleeker options in the C series or Pro series, those players looking for an iron that not only provides maximum forgiveness and distance, but also visual confidence, will have no problem finding comfort with the E723.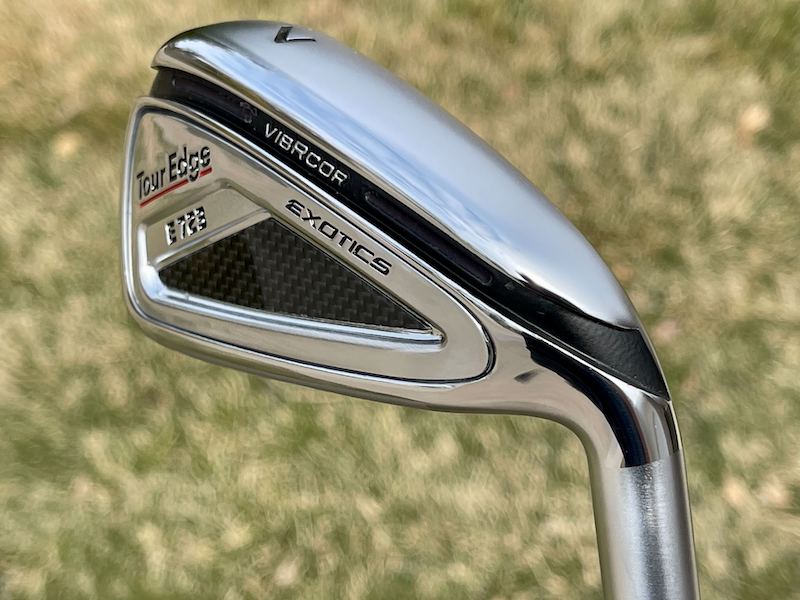 The cavity side of the E723 doesn't look like a cavity at all. In fact, the head appears to be a hollow body design at first glance. The 360? undercut cavity, which stretches from top to bottom behind the face, is neatly hidden by the VIBRCOR strip. The rest of the cavity side displays Tour Edge's classic color scheme and very attractive piece of what appears to be carbon weave, like their metalwoods have. This tie-in between different types of clubs in the 723 line isn't necessarily a technological feature, but it's a great way to bring cohesiveness across the entire line. The rest of the cavity side is finished mostly in shiny chrome.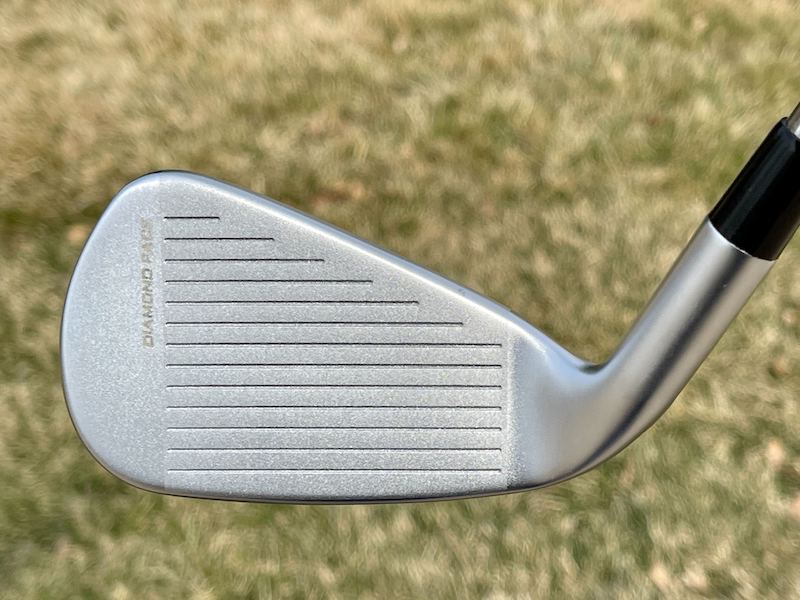 Unlike the chrome on the rear side, the rest of the iron head has a beautiful, brushed finish that rivals some of the best we've seen. In early testing, it appears to be relatively durable, which is a feature that comes in handy while taking the scenic route around the golf course.
As noted above, the top line is quite thick and doesn't incorporate much in way of beveling. It's quite prominent at address, as is the obvious offset. Both features may not appeal to those players looking for the smallest possible iron, but will be great confidence builders for those that want to feel like they have the most help available.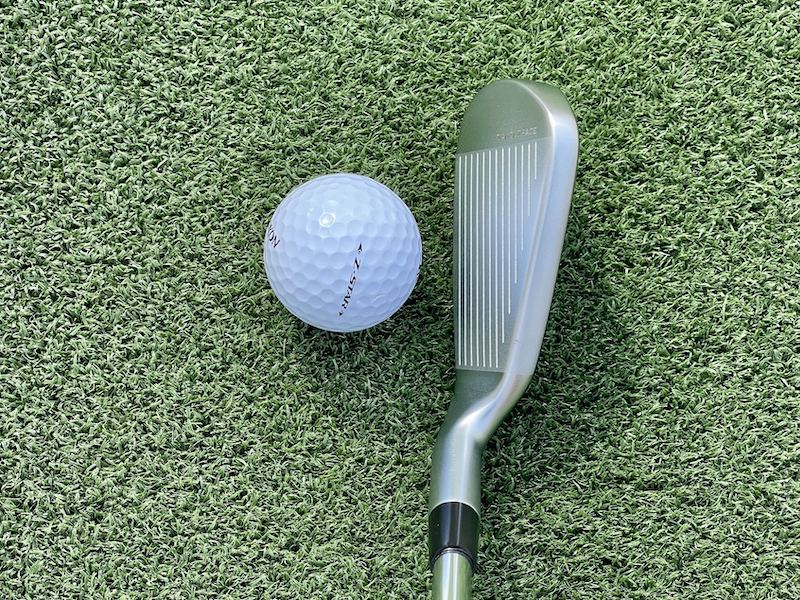 As noted earlier, VIBRCOR technology is injected into the E723's cavity. While it replaces some of the discretionary weight that has been moved elsewhere on the head, it's most noticeable effect is in how it affects the feel and sound of the iron at impact. Tour Edge uses strong statements in saying they think VIBRCOR can even allow an iron like the E723 to feel and sound like a forged head. While we think that's verging on hyperbole, it does have a positive effect, especially on center impacts. Balls hit in the middle of the face sound quite soft, especially for a head with such a large cavity, and the ball feels as if it's springing forward. Impacts more toe-side and low on the face aren't nearly as pleasant, with a noticeable click. This is to be expected of course, though there is quite a difference there.
Performance
The E in E723 stands for "Extreme", and in the case of the E723 irons we are talking about extreme distance and forgiveness.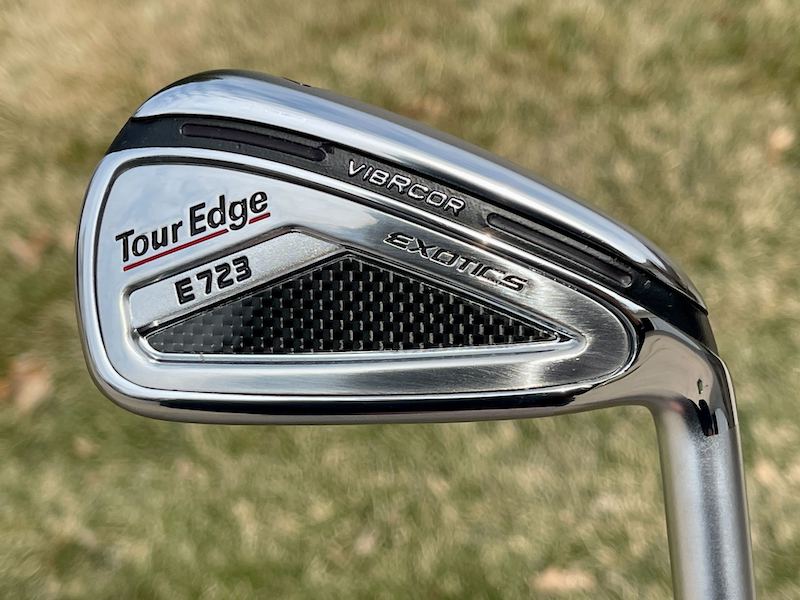 As one should expect from an iron with so much weight distributed low in the head, the E723's are built with an aggressive loft structure (27.5 7 iron) that encourages higher ball speeds. While this alone should encourage more distance, the irons still need to produce the necessary height for maximum carry distances. Thanks to the redistribution of material removed from the 360 cavity and placed deep in the head, well struck shots produced fantastic height that not only maximized carry, but also enabled shots to stop quickly.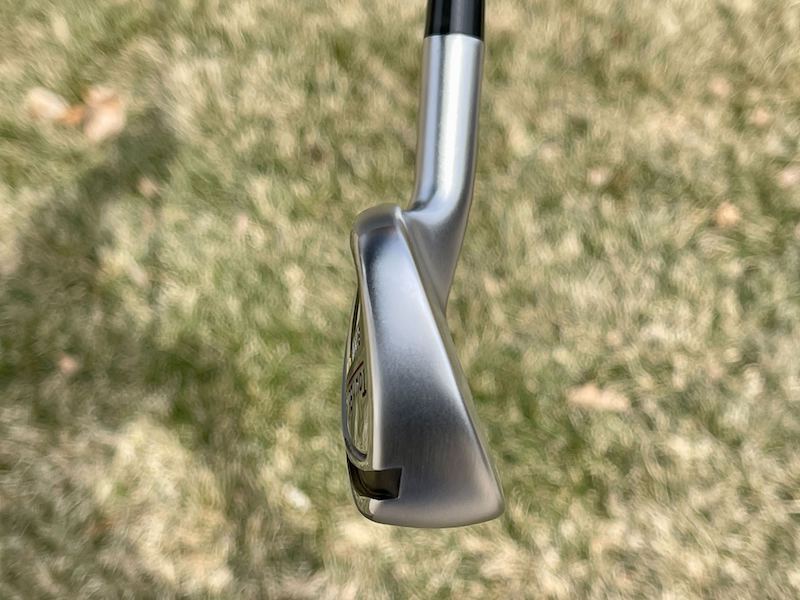 Distances seen were on par with the longest irons we've seen recently, both on center impacts and shots away from the middle of the face. While not nearly as pleasant to the senses, shots on the toe displayed surprisingly strong results. The trajectory from these impacts was noticeably lower, but still somehow managed to reach strikingly similar distances as their well-struck counterparts. This is likely due to a combination of Diamond Face VFT and Extreme Toe Weighting working together. Even more impressive with toe strikes was the lack of curvature seen on the golf ball, a sign that the face maintains impressive stability on less-than-perfect contact. A common theme presented itself many times during the testing process: A mediocre (at best) swing and a sense of impending doom, followed by a surprised look as the ball held its line and ended up in an undeserved, safe location.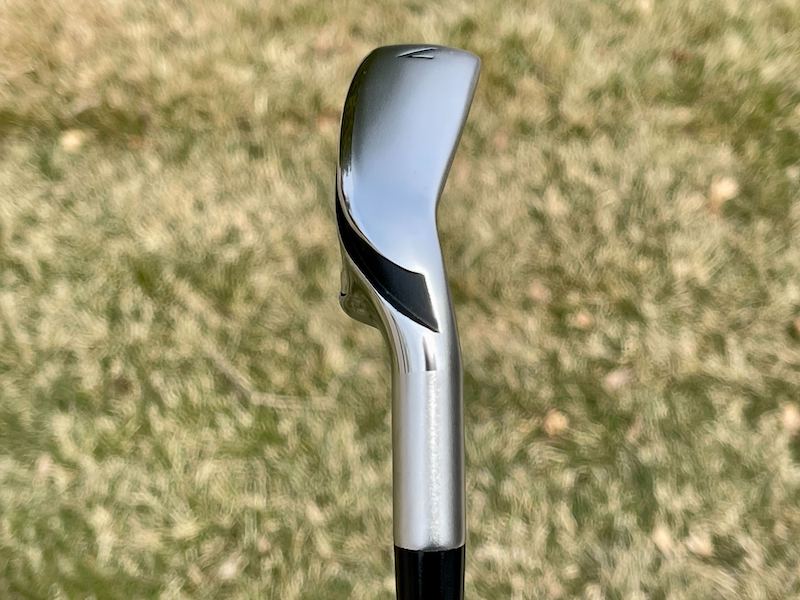 Though the wide sole's curvature and the leading edge's slight camber are designed for forgiveness, we did experience a little clunkiness when it came to turf interaction. At some level, this comes with the territory when playing larger irons, but some slight sole modifications would be a great improvement in future lines. 
In all, the E723 irons lived up to their moniker – they were extremely long and extremely forgiving. It would be challenging to find an iron more adept at providing those two things, especially at the ridiculously low sub-$700 price point.
Details
Available in numerous configurations from 5i to SW.
Stocks shafts – Tensei AV Blue 65, HZRDUS Black Gen 4 80, True Temper Elevate 95, KBS Tour
Lamkin Crossline 360 grip
Custom options available
$689 5-PW steel/$779 5-PW graphite
For more information on this set, check out their website at www.touredge.com.