Every golfer I know at some time throughout their life had a Big Bertha metal wood in their bag. The iconic name that helped propel Callaway Golf to the forefront of the golf business was in virtually every golf bag and then it faded away. In 2014, Callaway Golf says "Bertha's Back" and this new driver is fitting for this legendary line.
Features
From the company
The Callaway Big Bertha is a Total Performance Driver that debuts our Adjustable Perimeter Weighting – an innovative sliding weight that can be moved around the perimeter of the driver head to help individuals produce longer, straighter drives. Much longer. Much straighter.
More than worthy of its legendary name, Big Bertha isn't just long, it's Bertha Long.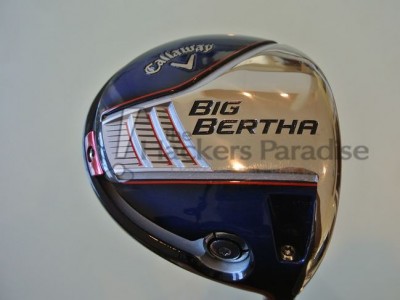 The Big Four Key Features
Adjustable Perimeter Weighting
Allows golfers to precisely locate an 8g sliding weight at any location on an approximately 5-inch track to help optimize shot shape and control dispersion. The placement of the APW along the perimeter of the head is critical in giving Big Bertha its high MOI, which helps retain ball speed and accuracy on off-center impacts, an essential element of a Total Performance Driver.
Hyper Speed Face
Hyper Speed Face technology is predicated on a deep understanding of the probability of where players' impact locations will be across a driver face, and uses a optimization code based on huge amounts of impact data to help determine the thickness profile of the face. The result is an extremely lightweight and robust face that helps deliver more ball speed where players need it most.
Advanced Adjustable Hosel
Big Bertha enables golfers to independently adjust loft and lie angle to help translate the added ball speed into more distance. Golfers can chose from four different lofts (from -1 to +2) to optimize launch angle and backspin and two different lies, denoted by 'D' for Draw and 'N' for Neutral, to optimize the directional bias. Together, these provide eight unique combinations that help golfers optimize their distance and dispersion. Callaway's proprietary hosel technology is also the only adjustable hosel to achieve changes in loft and/or lie without having to rotate the shaft (and graphics) on its axis between settings.
Forged Composite
A critical competitive advantage for Callaway, Big Bertha Alpha's crown is made of this high strength, lightweight composite material. This enable Callaway to offer multiple forms of adjustability while keeping the head weight under 200g and the swing weight at D2, which makes the Big Bertha driver extremely easy to swing.
Tech Specs
Loft offerings: 9-degrees, 10.5-degrees and 13.5HT (see adjustability option above)
Standard shaft offering: Fubuki Z Shaft
Udesign options: Multiple body colors and paint fill options, plus custom laser engravings on the sole.
Launch Date: February 14, 2014
Cost: $399
Click Here To See More In Hand Pictures