Very few products come out that make golfers everywhere stand up and take notice, but in 2014, the Callaway Big Bertha line will do just that. The Alpha is one of the most unique drivers to hit the market in quite some time that offers more adjustable features than just about any before it.
Product Summary
From the company
Where do we begin? Big Bertha Alpha is the first driver to enable independent adjustments of four significant performance characteristics, optimizing trajectory, control and distance for individual golfers. The four independent variables are loft, lie, CG (draw) bias, and most innovatively (and for the first time ever), CG height.
The Big Bertha Alpha represents the most advanced engineering Callaway has ever commercialized in a driver, and the Company's most flexible and comprehensive fitting platform ever.
The goal of driver design at Callaway is to individualize performance optimization for every golfer, giving them the best chance to optimize driving distance. And the innovative Big Bertha Alpha Driver is the ultimate representation of this philosophy.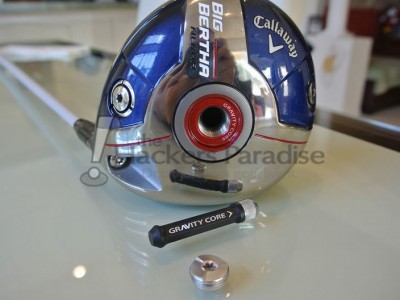 The Key Features
Gravity Control Adjustability
For the first time ever, the Big Bertha Alpha's Gravity Core lets golfers adjust spin independently of launch angle, a natural (and dramatic) extension to loft adjustability in a driver head. This adjustability breaks the fixed relationship between launch angle and backspin for the first time, providing a major asset in the fitting process to find optimal distance for a wide range of players' abilities.
The Gravity Core sits within the club head in a carbon tube that connects the crown and sole. It has a tungsten end, weighing 10.5g, and a glass fiber reinforced body, weighing just 1.5g. The gravity core can be inserted into the club head two different ways, which allows golfers to change the vertical center of gravity and alter the spin rates based on how it is positioned. When the tungsten end is closest to the sole, it will create a lower center of gravity and lower backspin. When the tungsten end is inserted first and therefore closer to the crown, it creates more of a mid-CG position.
Generally, players with above average head speeds or those who are trying to prevent excessive spin will benefit from the lower center of gravity, which a creates a flatter, more penetrating trajectory accompanied by more roll out. For those looking for a more controlled and workable ball flight and less roll out, the mid CG position is recommended. Player testing has shown as much as a 600rpm spin differential between the two Gravity Core settings without a change in loft.
Hyper Speed Face
Hyper Speed Face technology is predicated on a deep understanding of the probability of where players' impact locations will be across a driver face, and uses a optimization code based on huge amounts of impact data to help determine the thickness profile of the face. The result is an extremely lightweight and robust face that helps deliver more ball speed where players need it most.
Advanced Adjustable Hosel
Big Bertha enables golfers to independently adjust loft and lie angle to help translate the added ball speed into more distance. Golfers can chose from four different lofts (from -1 to +2) to optimize launch angle and backspin and two different lies, denoted by 'D' for Draw and 'N' for Neutral, to optimize the directional bias. Together, these provide eight unique combinations that help golfers optimize their distance and dispersion. Callaway's proprietary hosel technology is also the only adjustable hosel to achieve changes in loft and/or lie without having to rotate the shaft (and graphics) on its axis between settings.
CG Bias
Big Bertha Alpha also enables golfers to make adjustments to CG bias, which helps influence the shot shape. Big Bertha Alpha has a screw port in the heel and toe of the body and comes with 4 interchangeable weights: 1g, 3g, 5g, and 7g. This gives golfers a ton of flexibility in controlling both the shot shape and overall head weight. See, we weren't kidding when we told you this was the most comprehensive fitting platform ever.
The 7g and 1g screws are installed as standard.
Swing Weight Adjustment
Big Bertha Alpha's swing weight can be adjusted fro D0 to D5 with the standard installed screws achieving a D3 swingweight.
Forged Composite
A critical competitive advantage for Callaway, Big Bertha Alpha's crown is made of this high strength, lightweight material, which allows Callaway to offer three forms of adjustability while maintaining a very playable D3 swing weight.
Tech Specs
Loft offerings: 9-degrees, 10.5-degrees
Standard shaft offering: Fubuki ZT Shaft
Launch Date: February 14, 2014
Cost: $499
Click Here To See Tons Of In Hand Pictures