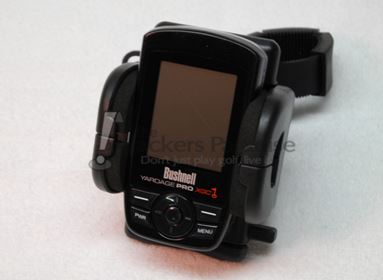 As technology advances, so does the accessory market that support it. GPS has become an integral part of the golfing experience for many, and we are seeing continuous improvements to the technology behind it. Still, sometimes the little things are what make a product truly convenient.
Bracktron, an "industry leader in universal mounting solutions and accessories for many of today's most popular mobile and handheld technologies" has a product that they feel will make your GPS until a little easier to access on the course. It's called the Universal Golf GPS Mount and I've been testing it out over the last month.
From the Company
The Universal Golf GPS Mount for electric golf carts and push carts is designed for handheld golf GPS units. It easily installs on either the handle bars of your push cart or on the vertical upright of most motorized golf carts.
The mount provides a stable, secure and easily accessible mounting solution for your golf GPS. The included Grip-iT's unique design allows its clamping arms to open up to 4.5 inches wide to accomodate golf GPS, iPods, as well as mobile phones.
Fits both square and round tubing on push carts and golf cart

Fully adjustable for easy viewing

Grip-iT adjusts out to 4.5 inches wide

Fits most handheld golf GPS devices and smartphones; compatible with iPhone, Blackberry, Android, Callaway®, SkyCaddie®, GolfBuddy®, Garmin®, Bushnell®, Sonocaddle® and IZZO Swami®

The Universal Golf GPS & Smartphone Mount is available at

www.bracketron.com

for $29.95.

One year warranty.
Description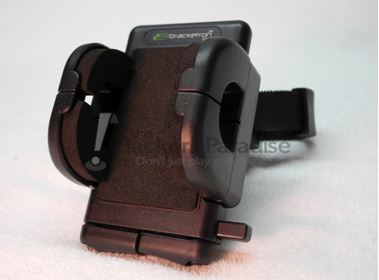 In simplest terms, the Universal Golf GPS Mount (UGGM) is a nondescript, hard plastic mount with a loop of soft plastic that protrudes from its back end. A closer inspection reveals some handy features that could make it a valuable accessory for those people looking for a way to keep almost any type of GPS device in a convenient and accessible location.
The two rigid arms that make up the sides of the UGGM are softened by a springy foam material that allows for a tight grip on the GPS device. The arms can be adjusted by squeezing them down onto the device and the button on the lower right hand side releases them for easy removal. The benefit to that is that a standalone GPS, which may be small in size, fits just as securely as a larger mobile phone. In addition to the adjustable arms, there are two 'feet' at the base of the mount that swing out to provide more support if needed.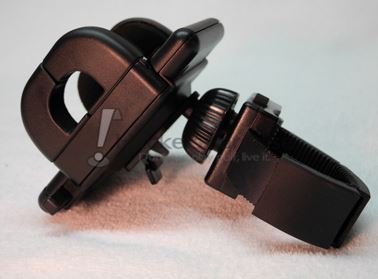 Turning the UGGM around reveals the fitting that attaches the mount to your means of transportation on the course. It's an adjustable strap made of rubber that can be pulled tight by hand. Loosening the strap is done easily via a button. Again, versatility is the key here, as the softness of the strap (and ability to adjust its size) allows the mount to be used on any number of locations. In addition, the strap is attached to a 360° swivel that allows the mount to rotate in any fashion that is necessary. I'll touch a bit more on that later.
Performance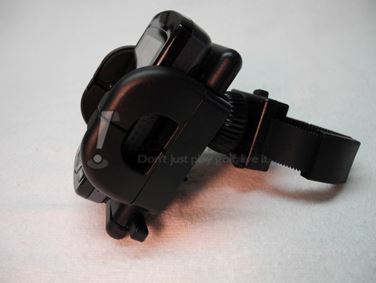 Ironically, I've been looking for something like the UGGM for some time and have actually come close to purchasing similar products. The two things that always held me back were 1) uncertainty that my GPS unit would fit into them and 2) the question of whether they would fit my push cart.
As I mentioned before, the UGGM easily accommodated both my smaller GPS unit, as well as my larger mobile phone. Both devices were secured with minimal effort, and they really couldn't be any different when it comes to width and depth. I think this is a good testament to the versatility of the UGGM.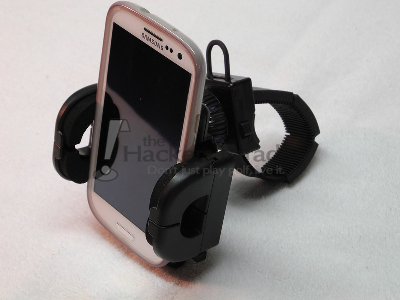 I was a bit nervous about the UGGM's compatibility with my push cart. I use the Alphard Duo Cart, which is a fairly new product with some unique features. The handle is quite thick, yet the UGGM attached to it easily and snugly.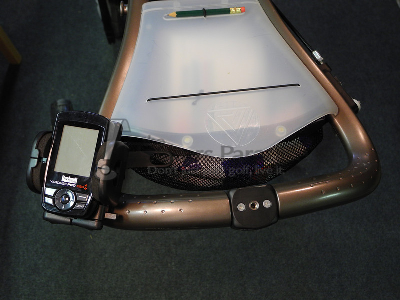 As you may notice from the picture above, I've attached the UGGM to the side of the handle on my cart and utilized the 360° swivel to position it in a fashion that makes it easy to view and out of the way of my hands. Without the ability to swivel the unit, I would have been forced to place it where I normally sit my left hand. The picture below shows how I've manipulated the mount to get the desired positioning.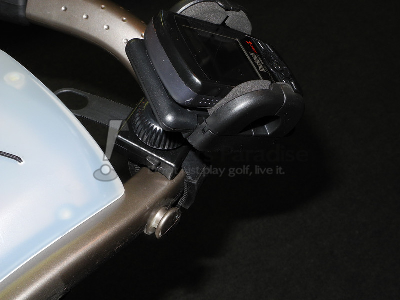 As a walker, I was most interested in the UGGM's performance on a push cart, but I did attach it to a riding cart with the same level of ease.
Final Thoughts
Testing showed that the UGGM did everything it was supposed to. It was incredibly versatile and provided a stable and conveniently located platform for my GPS unit and mobile phone. Durability appeared to be up to par, as none of the unit's components broke during testing. In addition, it's backed by a one year warranty, according to Bracketron. The convenience of not having to strap a GPS to my belt or dig it out of my pocket while playing makes me believe that it would be a worthwhile purchase for many golfers. The Universal Golf GPS Mount from Bracketron is available for purchase on the company's website, www.bracketron.com, for $29.95.