The last year has seen major strides from Callaway Apparel. What was once lacking innovation and style, has become a brand that is paving the way for innovation in golf clothes. The 2019 Fall Collection continues that trend as they expand their color palette to create a perfect blend of traditional and modern.
"To create the Fall 2019 collections, we incorporated a purposeful approach to support the player by utilizing the latest in fabric technology, product construction and materials," said Lupe Benetiez, VP of Design at Callaway Apparel. "The new collections are aesthetically minimalistic on the outside, while intricately functional on the inside, staying true to Callaway's mission of being a technically superior authentic golf brand."
We got a chance to test them out on the course and around the office and came away pretty impressed. The outfit flowed well, but we will break down the different pieces below. The most important thing when choosing golf apparel, outside of how it looks are these factors, so we paid careful attention to each of them.
Sizing: How it compares to others, how the labels match up to the industry.
Cuts: How the apparel covers the body and how it fits.
Quality: Do pulls happen instantantly? Do collars come out of the package misaligned?
Durability: How do they wear after repeated washes and playing golf.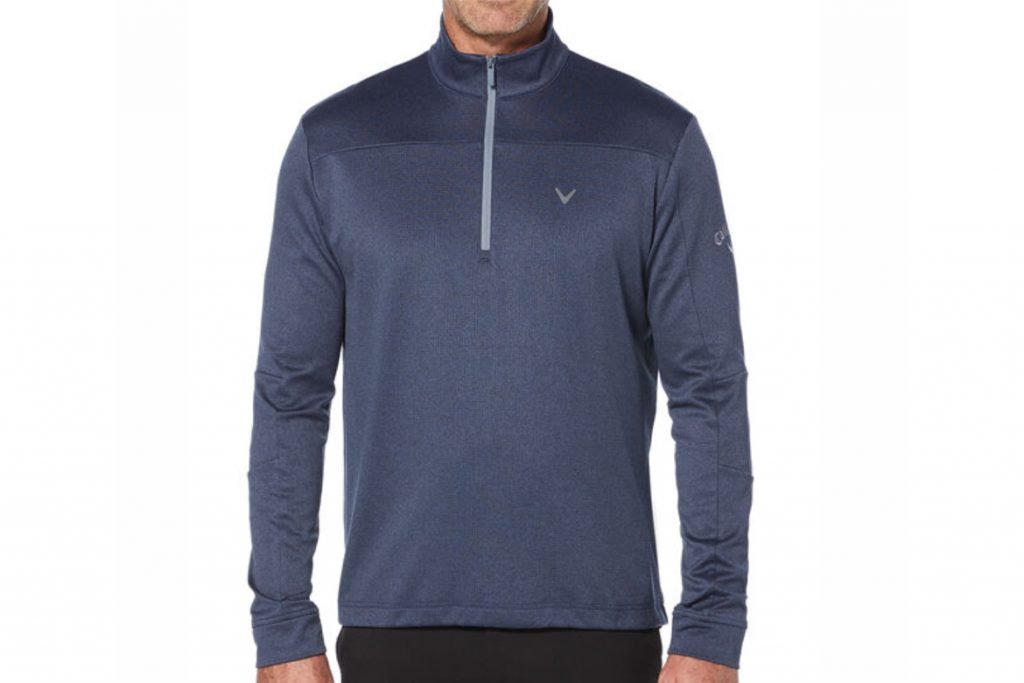 Swing Tech Waffle Fleece
This is new to the lineup and is a pretty neat piece for anybody's closet. Going to sound a bit like golf balls here, but this is a multi layer construction 1/4 zip that feels light to the touch, but will add some warmth to it on fall days. The mid-layer is done with a poly-spandex blend to allow for better motion, and honestly, it works rather well. Taking swings indoors, where I am already tight, offered very little if any restriction. The shoulders are a bit boxy out of the package, but with wear rounded out well. The waffle pattern on the exterior is noticeable, so if you like that look, this will be gravitated towards.
Sizing: True to size. If you wear a large in other brands, this will fit well as an outer layer.
Cut: Sleeves are correct. Length is perfect, not too long, not too short.
Quality: No issues reported. 1/4 zip neck line is very well done as it keeps shape well.
Durability: Worn and washed 6 times, no issues at all and still looks new.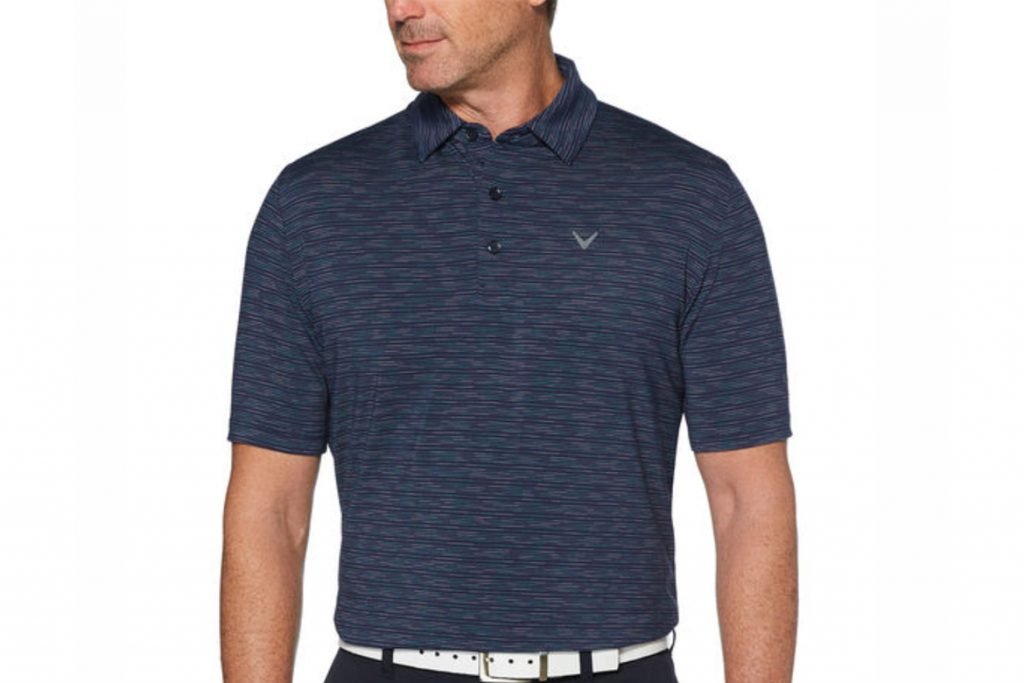 Swing Tech Marled Stripe Polo
This is a popular look currently with a subtle marled texture that adds to the look and feel. Made of poly/spandex blend done with Swing Tech construction, which further enhances range of motion. The name might be a bit cheesy, but honestly it works. The shirt feels great on and offers little to no grab during the golf swing.
Sizing: Gone are the days of swimming in a Callaway shirt. Closer to true to size than we have come across. Still traditional sizing, rather than Euro.
Cut: Less material in the midsection than years gone by. Shoulder cut is a hit. Sleeves are not too short, not too long.
Quality: Buttons are good and placket is well done. Collar is light weight, so no folds, but shaping could be off for some.
Durability: 6-8 washes in and no issues at all.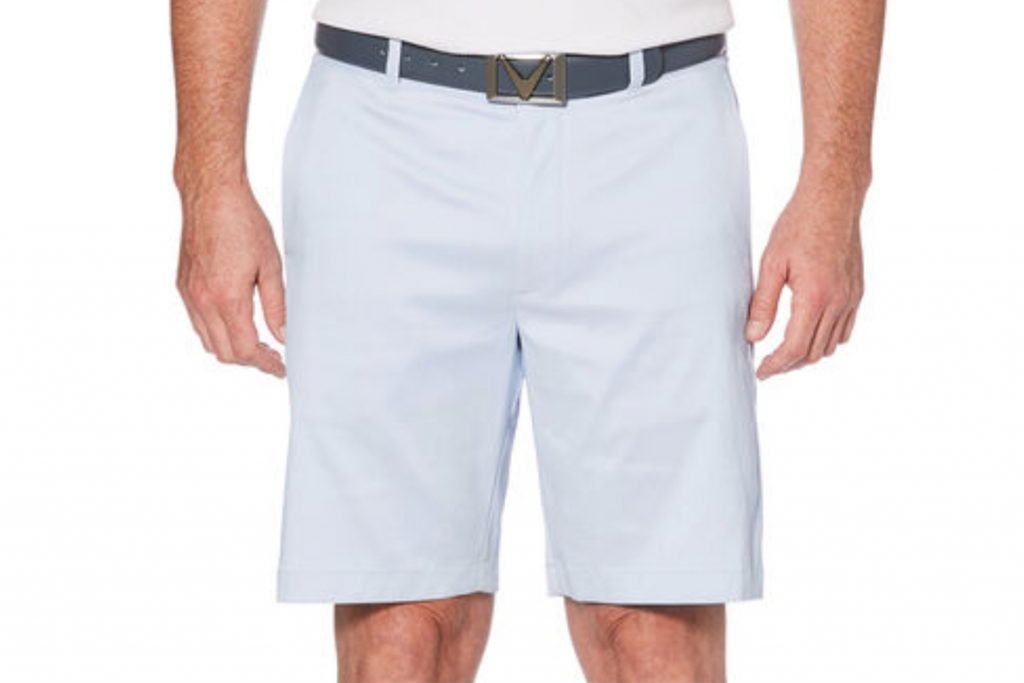 9″ Oxford Shorts
Being transparent, when I heard 9″ inseam, I was concerned. I prefer my shorts to the knee and thought these would look like John Stockton back in the NBA. What surprised me is where these fell, which was right at the top of the knee and never looked or felt too short. For golfers that are a bit shorter, or have shorter legs, this could be a fantastic piece for your closet. The waist band has a bit of stretch to it, which is great for fit.
Sizing: Waist is true to size, and with the stretch fit very well.
Cut: As mentioned above, the inseam is the most important factor and we came away impressed.
Quality: Zippers seem adequate and no pulls present after multiple rounds
Durability: Showing virtually no wear after multiple washes.
Men's Stretch Web Belt
These new belt styles where you cut to fit, bring on incredible anxiety. They remind me of carving the Thanksgiving Turkey where everybody is waiting and if you butcher it, you might as well tell the guests that you are going with a side dish dinner this year. With trepidation, I cut and erring on the side of caution was successful in creating the right belt size for me. The belt has some stretch, which is great, so when you cut, know you have some give there for the right fit. It's a stylish, without being too bold, gray/silver with a brushed silver buckle that matches in size to the belt. Nothing big or obnoxious around your waist, and you certainly won't look like your buckle is a fanny pack. Sleek, stylish and if you like this material, a solid option.
The Details
In Stores: Just hit their website
Cost: Priced from $30 and Up
For more information, check out their website at www.callawayapparel.com.