Over the years Callaway has featured a trickle-down effect in terms of their technologies as they pertain to drivers, fairway woods, and hybrids. Think back to when they introduced some of their driver technology to their fairway wood line when they announced the X Hot Fairway Wood back in 2013. Following that release, the face cup technology made its way over to hybrids in 2014 with the unveiling of the X2 Hot hybrids. It was the first time that their driver technology had made it down to the hybrids, and the success that it had in that line was hard to ignore.  Last season, Callaway introduced Jailbreak Technology in the Epic line of drivers, and once again, they enjoyed a rather strong year based on what those lines did for golfers off the tee. Now in 2018, they have followed a similar path as they release the Rogue line, which brings Jailbreak to not just the driver, but to the fairway woods and hybrids.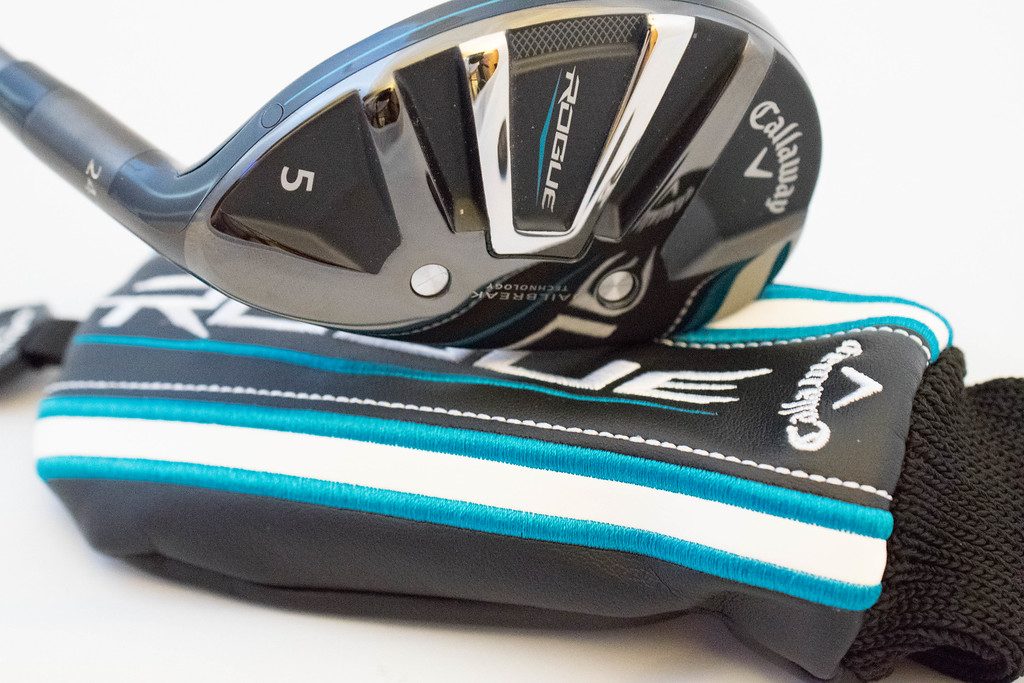 From Callaway
Rogue is the most powerful hybrid that Callaway has ever created. And it's the first time ever that we've engineered our revolutionary Jailbreak Technology from our drivers into a hybrid. The synergy of Jailbreak and our Hyper Speed Face Cup makes Rogue a pioneering achievement. Along with their power, they are also super-easy to launch and versatile for the total performance package.
Specs
| | | | | | |
| --- | --- | --- | --- | --- | --- |
| Club | Loft | Length | Lie | Swing Weight | Availability |
| 2H | 17° | 41" | 57.5° | D2 | RH & LH |
| 3H | 19° | 40.50" | 58° | D2 | RH & LH |
| 4H | 21° | 40" | 58.5° | D2 | RH & LH |
| 5H | 24° | 39.5" | 59° | D2 | RH & LH |
| 6H | 27° | 39" | 59.5° | D2 | RH Only |
Synergy 60 Hybrid Shaft
| | | | | |
| --- | --- | --- | --- | --- |
|   Manufacturer | Flex | Weight | Torque | Kickpoint |
| Aldila | Light | 69 | mid | mid |
| Aldila | Regular | 70 | mid | mid |
| Aldila | Stiff | 75 | mid | mid |
Tech Talk
Let's jump right in and get down to the nitty-gritty of the technology that Callaway has packed into the Rogue hybrids. Anyone who pays attention to golf equipment has heard about Jailbreak Technology and what it did for Callaway's Epic driver lineup in 2017. For those who haven't heard of Jailbreak, here is a quick synopsis of how this effects golf club performance and what one should see when using a club that encompasses such tech. If one was to cut open the Rogue hybrid, which is not recommended, they would see two steel rods that connect the sole to the crown just behind the face. By having these bars connecting the top and bottom of the club, it stiffens the body, which allows the club to harness more of the impact and in turn promotes more ball speed. Where Jailbreak really has proven its worth is the impact it has had on ball speed when contact strays from the center of the face. Coupling the Jailbreak with a Hyper Speed Face Cup allows Callaway to make the face on these hybrids even thinner, which sets the Rogue hybrid as a product that is taking dead aim at speed and forgiveness.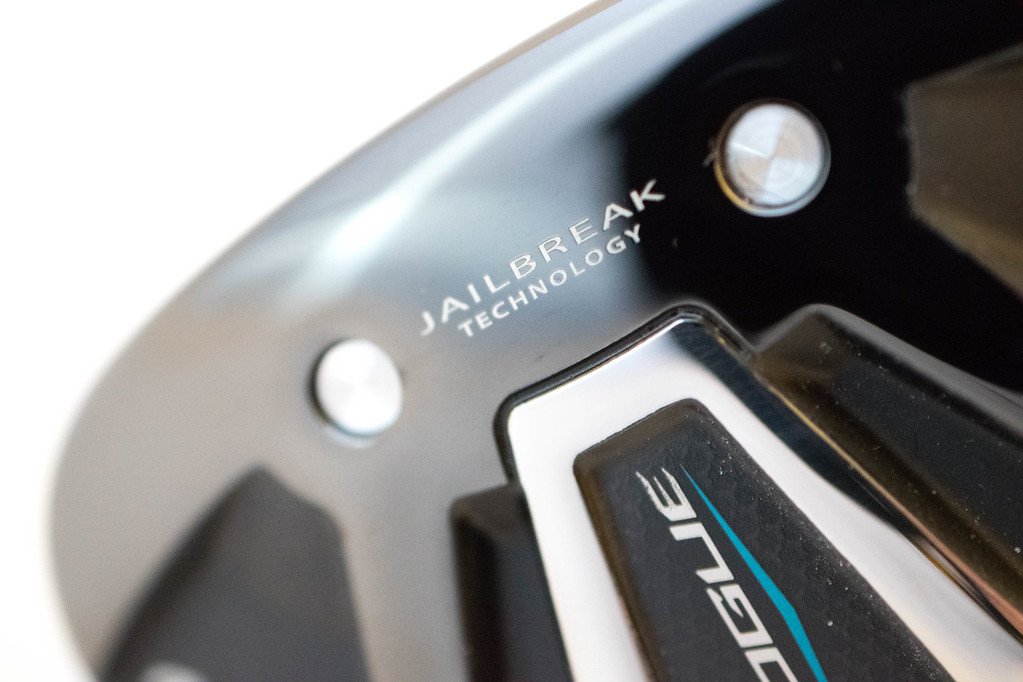 In order to help position the center of gravity in a way that will be beneficial to the majority of golfers, Callaway has incorporated the use of their Internal Standing Wave. Now like Jailbreak, or the use of a Face Cup, this is not anything really new for Callaway as we've seen the use of the standing wave in other metal woods and irons. What this does is help locate the internal weight low without having any adverse effects on the club face. In the Rogue hybrids, the center of gravity has been set low and is in a more forward position which will aide in achieving higher launch conditions, which is something hybrids are generally known for.
While the conversation is on technology that is included in the Rogue hybrid, let's take a quick minute here to talk about something that is not included, and that is Callaway's Optifit adjustable hosel. This isn't a massive departure for Callaway when looking back at their recent hybrid releases. We have seen the adjustable hosel most recently in the Epic hybrids, as well as the Big Bertha OS, yet it was vacant in the Steelhead XR, and Apex. Again, adjustability is what users make of it, some love to tinker and others never bother with it, but without having the ability to allow users to tweak lofts, fitting becomes key in order to help find the perfect gapping for the bag.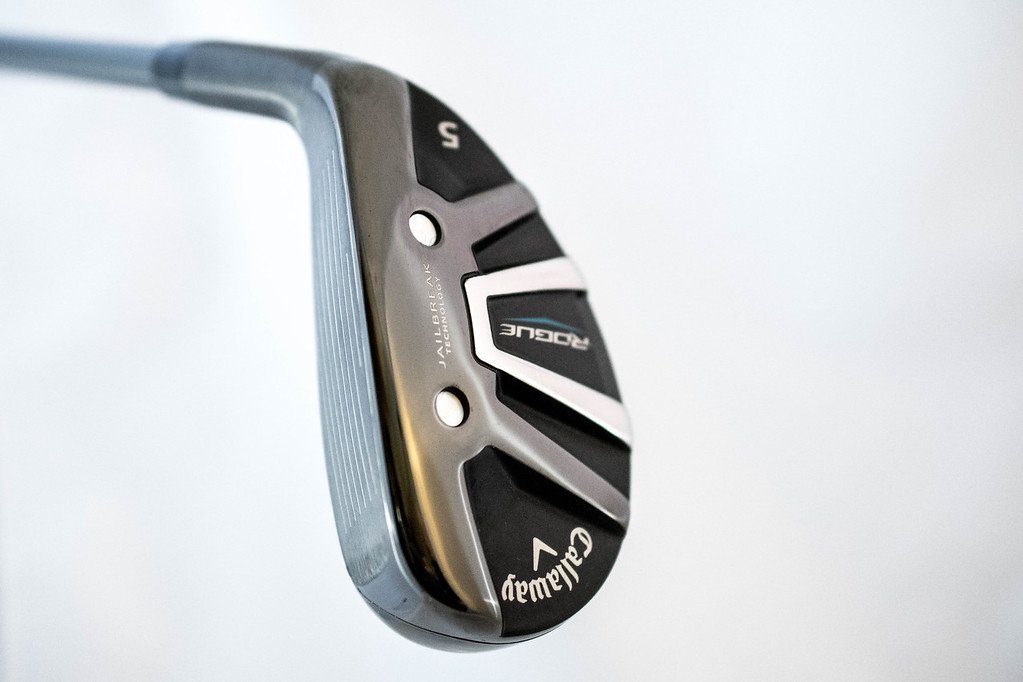 Performance
Down by the ball the Rogue hybrid sets up with a familiar, yet comforting look. Even though the size appears a touch on the bigger side, there is one part of the look that is pleasantly familiar, and that is the squared off high toe. This might seem like a very small detail, but there is something to setting up with hybrids that have this toe design that gives a bit of peace of mind when hitting them. For some reason that squared off toe plays a mental role in believing that this ball is not going to hook after impact, but as always that is just a personal preference in terms of appearance. Also noticeable at address is the newly modified Speed Step, and while its effect on swing speed will be extremely minimal with a hybrid, they certainly do a nice job of helping to frame the golf ball.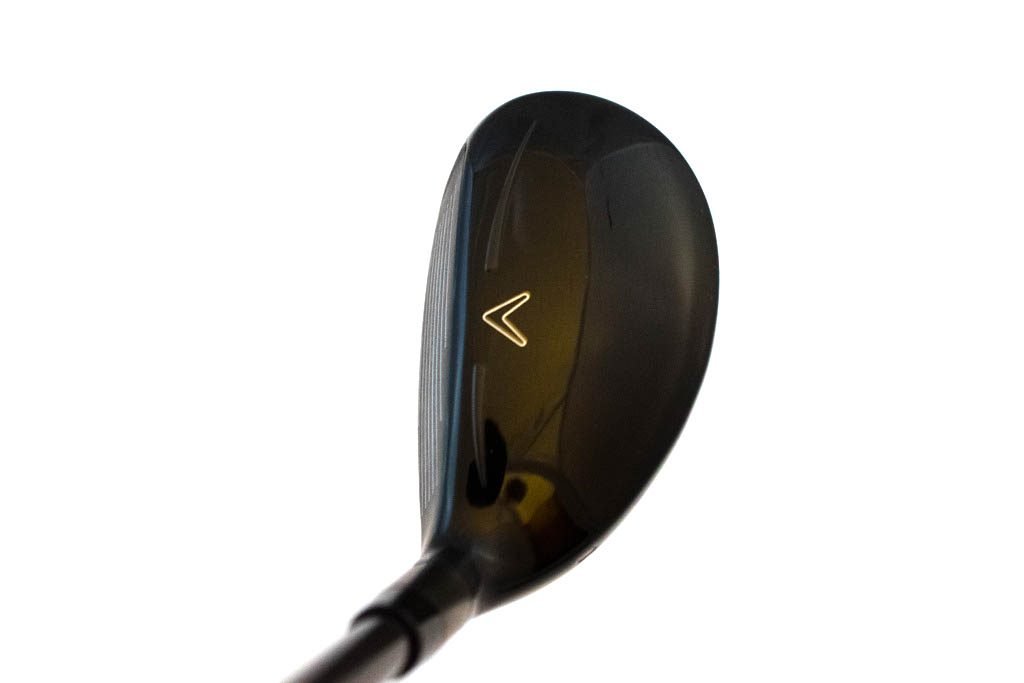 If there is any real doubt about what the focal point of the new Rogue lineup is, the answer is speed, speed, and more speed. Again, thinking back to X2 Hot, a main reason that the face cup technology was included was to get an uptick in speed, distance, and forgiveness. Now in 2018, the way that Callaway has maximized speed on centered and off-center hits is by including Jailbreak. There are many hybrids on the market, and while many blend together, it's not too difficult to figure out what is a distance hybrid, and what is meant to play more like a true iron replacement, and the Rogue is set to be that more classic distance hybrid. It should surprise no one that ball speeds recorded showed an uptick vs some other hybrids in similar loft. It's not just the ball speeds on center contact that was impressive, it was how strong those numbers remained on mishits. Along with stronger ball speeds, came distances that were closer together, making Rogue a pretty consistent hybrid.
Distance and forgiveness are really the bread and butter of the Rogue line, but in the hybrids another aspect that really stood out was how effortless it was to hit the ball high. Having spent time with other Callaway hybrids in the past, including X2 Hot, Steelhead XR, and Apex, it's safe to say that the Rogue line ranks right up there with the ease of elevation. Taking Apex out of the picture, as it is aimed at a slightly different player demographic, this certainly launched higher than the Steelhead XR during our testing. Steelhead XR more often dealt a mid to mid-high ball, while the Rogue would classify much more in that mid-high to high ballpark. When replacing a long iron, hitting the ball high is something that a lot of golfers out there are going to enjoy. Not only did the ball fly high, but there was also very little left turn to it, which anyone who struggles with hybrids, knows is a common miss.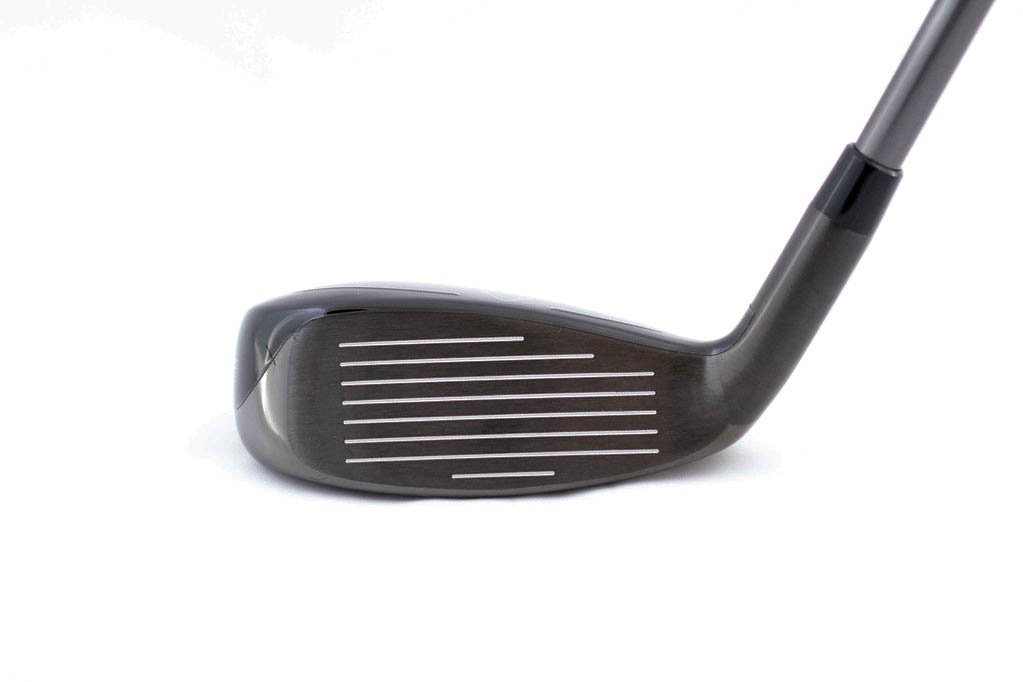 Jailbreak might be best known for how it effects the performance of the club, but looking back to the Epic drivers, there was also a different feel when shots were struck. With the Rogue, the sound is not as high pitched as we get from some other hybrids, but the sound is overall pleasing. Between the acoustics and Jailbreak, there is more of a firmer feel than what has been experienced with past Callaway hybrids. At times, it almost feels dead, but when looking at the results, this club is anything but.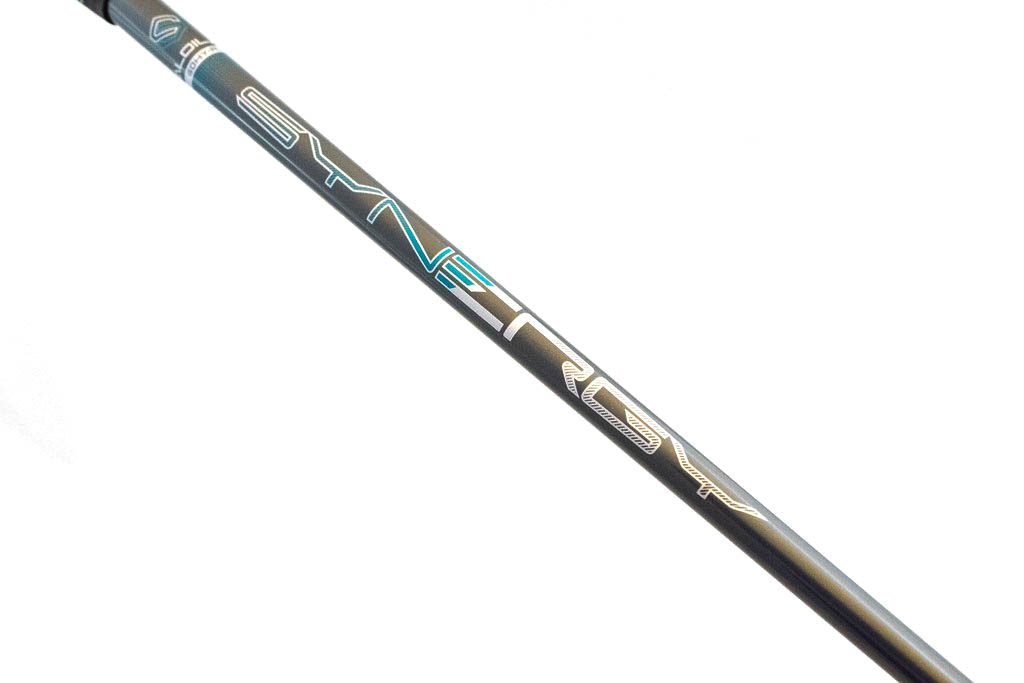 Conclusion
It was only a matter of time until Callaway would try to transfer their Jailbreak Technology over to fairway woods and hybrids, and that time is here. Drivers always seem to draw the majority of the attention from consumers when they are released, however with this line, it could very easily be argued that the fairways and hybrids have made a much bigger leap in technology from previous offerings. As the Rogue line hits store shelves, it will be interesting to see which category of clubs gets more attention from the amateur player. Pricing for the Rogue hybrid comes in at $249, which remains the same as its larger, lighter, and longer partner in crime, the Rogue X. More information on the entire Rogue lineup can be found at www.callawaygolf.com.