Picking up his 5th win on the PGA Tour, Carl Pettersson won the RBC and did so with a rather unique bag full of clubs. THP had a chance to chat with Pettersson after his win about his equipment and get a look at why he has what's in his bag.
THP – Carl, you use a driver that is 11.5 degrees and measures in at almost 47 inches. Can you tell us why that is the case?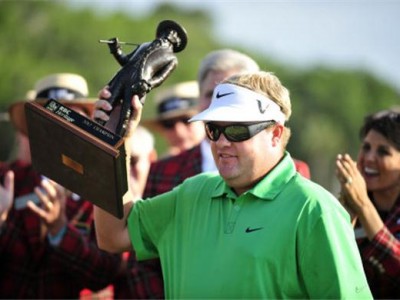 CP – It was all about fitting for me. I am a low spin player and to keep up and get the ball out there, I needed to get my spin up and carry farther. The longer shaft got me exactly what I needed and the loft keeps it going. Overall, I am really liking what I am seeing out of this new Nike driver.
THP – You are playing the Nike 20XI S golf ball and going back to the driver, are hitting the ball extremely well. What made you make the switch and what are you seeing out of the ball?
CP – It was pretty easy for me. I saw just over 10 yards of more distance. It plays well around the green, and with that distance gain, I was hooked.
THP – Like your driver, your putter is rather long. You are using the Nike Method and obviously it is working well. What are your thoughts on Method technology?
CP – I tested it out and really liked the feel and the ball comes off the face end over end quicker than I saw before. The proof for me was making more putts, which I did.
THP – Thanks for taking the time to chat today after your win. We appreciate the insight into your interesting choices and wish you continued success.
Here is a look at what is in Carl Pettersson's golf bag.
Carl Pettersson
Driver: Nike VR Pro STR8-FIT (11.5 degree; Mitsubishi Fubuki Alpha 50x shaft)
Fairway Wood: TaylorMade Burner 3-wood (14.5 degree; Mitsubishi Fubuki Alpha 70x shaft)
Hybrid: Nike VR Pro (21 degree; UST Mamiya Attas 85 hybrid shaft)
Iron (4): Nike VR S Forged (True Temper Dynamic Gold Tour Issue shaft)
Irons (5-PW): Nike VR Pro Combo (True Temper Dynamic Gold Tour Issue shafts)
Wedges: Nike VR Pro (49, 55 and 60 degree; True Temper Dynamic Gold Tour Issue shafts)
Putter: Nike Method prototype belly
Ball: Nike 20XI S