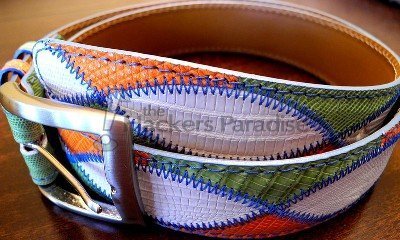 A leather belt can do a number of things for an outfit. It can be fun, classy, luxurious, or just a way to tie everything together for a finished look. Different companies are producing a wide range options, ranging from those that cost very little, to those that are hand made from the finest raw materials. Jacob Hill Leathers, a company THP was recently introduced to, falls into the latter category and they are producing some items that are positively striking.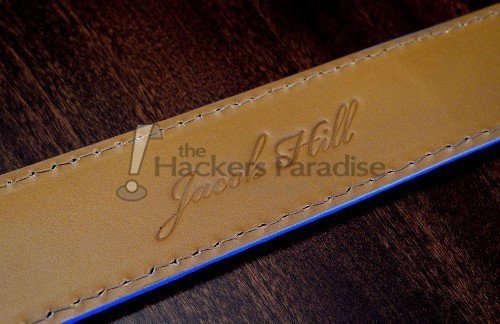 A quick look at their website shows a variety of products available, all made in the USA, including belts crafted from an assortment of exotic leathers, wallets, yardage book covers, and custom milled buckles. These are definitely luxury products, and priced as such, but there is a good range of different prices to choose from. As mentioned earlier, Jacob Hill does offer custom milled belt buckles that customers can put their own stamp on, as well as some belt customization on certain offerings; specifically, width and color combinations.
The Hacker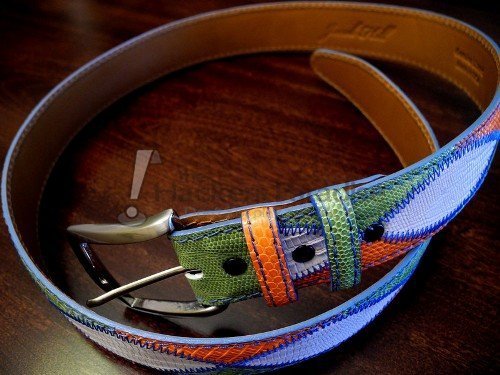 Cleverly (if not ironically) named, THP got a look at The Hacker, a unique genuine lizard belt. This belt made a somewhat shocking first impression, with its three contrasting colors (Mint, Sunset, and Ghost White), blue contrasting stitching, and playful pattern. The colored side of the belt is constructed of the aforementioned lizard and just pops in person. While this color combination may not appeal to all of our readers, Jacob Hill does offer full customization on this belt, including width, stitching, lizard color, and custom edging. In all, there are fifteen different stitching and edging color options, and a whopping nineteen different lizard colors to choose from. Colors range from the wild colors shown here to traditional brown and black.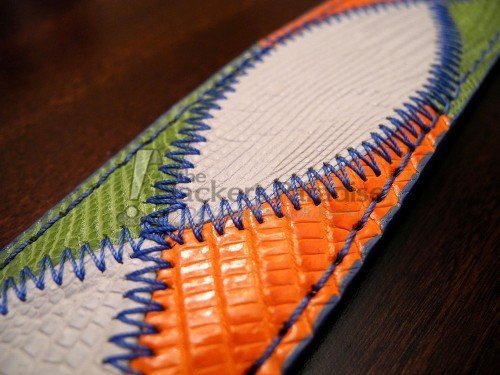 The quality of the craftsmanship is certainly evident upon inspection, and depending on how one customizes it, this is a belt that can make one stand out in the crowd, or just offer distinctive class that will be difficult to find elsewhere. The Hacker, as seen in this article, retails for $179.99 on the Jacob Hill website.
Other Offerings
If the wild design of The Hacker isn't your thing, Jacob Hill Leathers offers dozens of different belts, many of which are quite traditional in appearance. Leathers available include Lizard, Alligator, Crocodile, Ostrich, Snake, Stingray, and Bison. The company advises that all belts are custom orders and made to the customer's specifications, so it can take two to three weeks for an item to be made and shipped. Depending on the actual item and material it's made of, prices range from $139.00 into the $400 range. For more information, including ordering instructions and directions for custom buckle design, be sure to check out their website at www.jacobhillleather.com. You can also see the latest offerings from the company by following them on Facebook and Twitter.