Predominantly known for their innovations in irons, Mizuno does not seem to get the same notoriety for their driver releases.  Heading in to 2017, they would like to change that. Shortly after photos first surfaced of the JPX 900 driver, there was a lot of intrigue based on the sole design and all those settings. Those who have not paid much attention to Mizuno drivers in recent years, should probably do so with this release.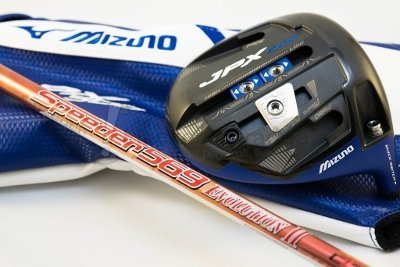 From Mizuno The new JPX 900 uses our best design ideas to send the ball a really, really long way. It's built on high ball speeds that don't drop off on miss-hits and the shallower profile looks easy to hit – sending all the right messages to your brain. The JPX 900 is also out most adaptable drivers ever, so you can create the spin rate and launch angle best suited to your ball speed (even if it's a bit faster than you're used to). Specs
| | |
| --- | --- |
| Loft | 9.5 |
| Lie | 58.5 |
| Length | 45" |
| Swing Weight | D4 |
| Availability | RH & LH |
Adjustability Chart
Adapter Setting
Standard
7.5°
8.5°
9.5°
10.5°
11.5°

Upright Lie

NA

8.5 °U

9.5°U

10.5°U

NA

Face Angle Setting

Open

Open 4.5°

Open 3.25°

Open 2.0°

Open 0.75°

Close 0.5°

Neutral

Open 2.5°

Open 1.25°

Square

Close 1.25°

Close 2.5°

Closed

Open 0.5°

Open 0.75°

Close 2.0°

Close 3.25°

Close 4.5°
 Looks and Technology Given that Mizuno made the sole of the JPX 900 driver so busy with technology, it makes it easier to approach the appearance and tech as a partnership.  However, before taking a look at the sole there is a characteristic that this offering has that really stands out from the crowd, and that is the color. Mizuno is not new to the color crown game as they released a glossy-blue crown with the JPX 850 and a matte-grey finish on last year's EZ model. Perhaps taking a little bit of both designs, they have gone with a matte-blue finish that looks absolutely gorgeous. As always, beauty is in the eye of the beholder, but the royal blue that covers the crown is pretty close to perfection as far as this reviewer is concerned. For the alignment aid, we see the traditional Mizuno Runbird logo in white, which really pops in contrast to the base coat.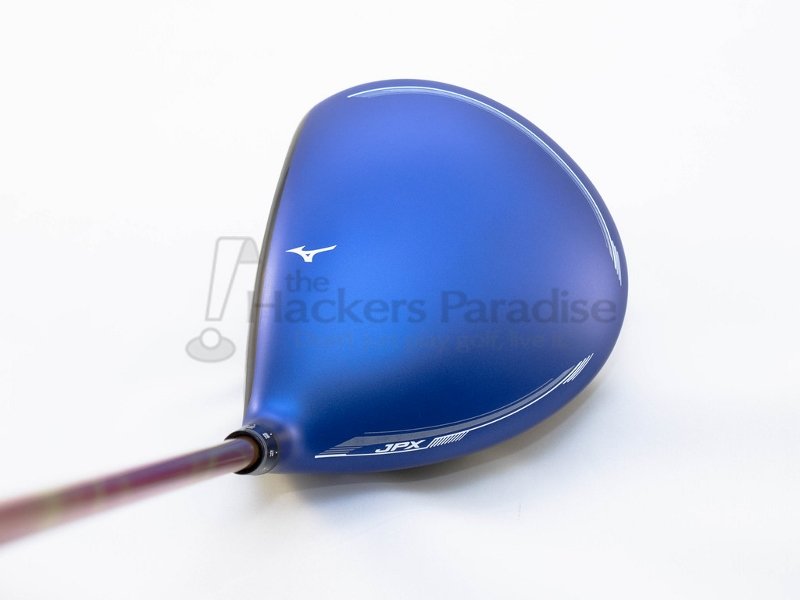 Upon flipping the club head over, it's as if the club technology smacks you in the face. Drawing attention to the middle of the sole is where Mizuno houses its Infinite Fast Track, a refresh of what was seen on the JPX 850. On this version, instead of the three slots that users were limited to, the track is stretched out even closer to the face. More importantly, even though there are numbers listed next to the track, those weights can be tightened down anywhere within its boundaries, so users are not limited to just those outlined areas. For golfers who do not want to place the two eight-gram weights on the Infinite Fast Track, they have the option of using the Toe and Heel Fast Track, which will allow for one weight to be placed in each the heel and toe port. In order to help players maintain a proper fit and look that is pleasing to the eye, Mizuno has kept the Quick Switch Adapter, which grants the ability to adjust the club's loft +/- two degrees. Along with the Quick Switch Adapter, the other new piece of technology is the Visual Face Angle Adjustor. This adjustor will help consumers achieve a preferred look at address, as well as help with finding the right face angle for optimal performance.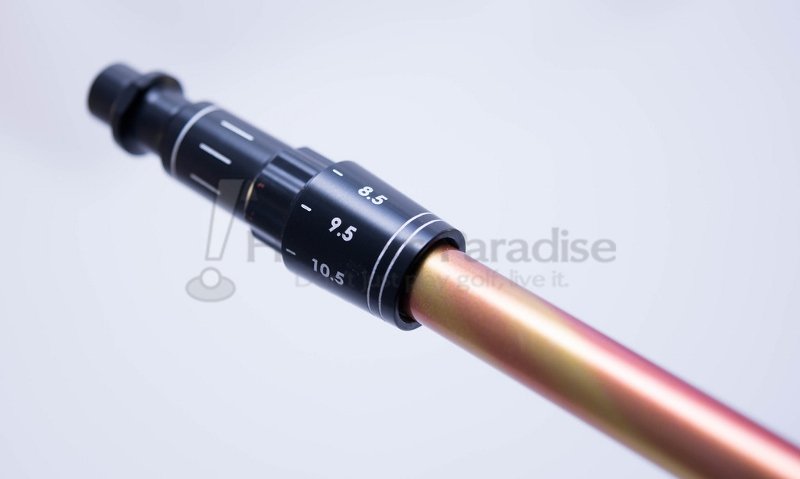 One piece of technology that is not completely visible is the new CORTECH Face. By redesigning the face insert, Mizuno was able to save five grams of weight, which has been positioned elsewhere in the head. Thanks in part to these weight savings and newer structure, users can expect to see not only a jump in ball speed from the JPX 850, but also a face that provides high ball speeds even on miss hits.  More discussions about ball speed and the forgiveness of this driver later. For a club head that has all of this fun tech, there ought to be a fun looking shaft to go with it. Up to the challenge is the Fujikura Speeder Evolution II 569, which features a cotton candy look to it of alternating shades of orange, yellow, and red. As far as a match in terms of appearance, it's far from it, however performance wise it meshes rather nicely. The profile of the 569 Evo II provides mid spin and launch, which will lower as the shaft gets stiffer, all of this coming in a counter balanced design.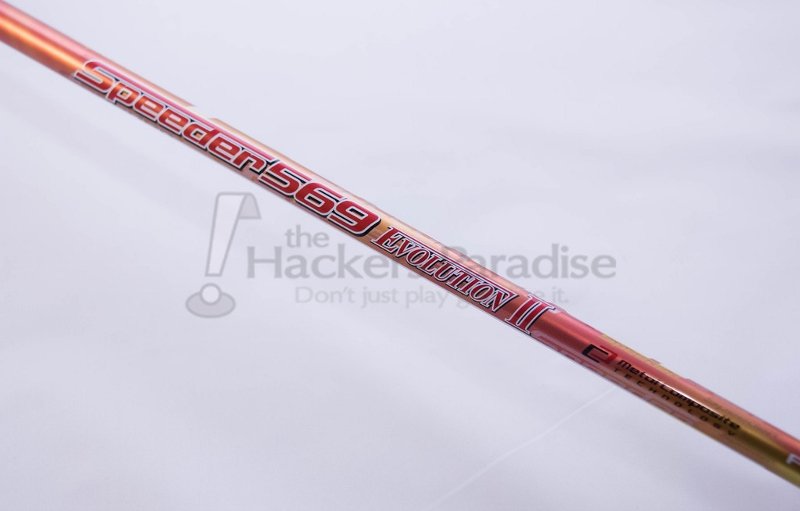 Performance When it comes to choosing a driver, stunning good looks can only take it so far. At the end of the day golfers want a driver that is going to perform up to a satisfactory level. To get an up close look as to how this club reacts on the course, Mizuno sent the JPX 900 with the stock Fujikura Speeder 569 Evolution II, in stiff flex.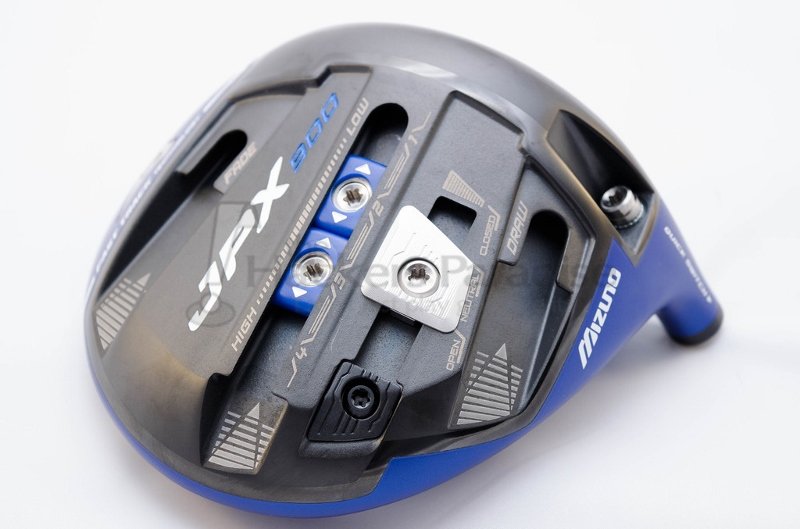 As with any driver on the market that offers a significant amount of adjustability, the number one item to cross off the checklist is to find a setting that will work best. Obviously, a professional fitting will be beneficial to all who pick up the JPX 900, though it's fair to say that not everyone will go that route. While there are certainly a lot of options and changes that can be made to this club head, making the needed adjustments are easy. When taking this driver out of the box, the stock loft configuration is 9.5°, with the two eight-gram weights sitting in the middle of the weight track, while the face angle is set as neutral. Figuring that loft will affect both the launch angle and spin, that would be the recommended first adjustment needed. For players who need to lower their ball flight, they can drop all the way down to 7.5° while those looking to raise it can jump up to 11.5°. By looking at the chart provided above, it is good to note that any change in loft also brings a change in face angle. Mizuno affords a way to counter the significance of that change, by giving another sliding option that will set the face in a more open, closed, or neutral setting. While this does its job to the eye, it can be a bit misleading in the lower lofts where there are some settings that, even when they are listed as closed, are technically still a bit open at address. There are a couple of things to note about this adjustor plate. For starters, it will only work for players who sole the club at address. Those who tend to hover the club head will not see the benefits of an adjusted face angle. A minor annoyance of this feature is it does tend to pick up some grass and dirt because it juts out more than any other part of the sole. That part alone might drive some golfers batty, especially when playing on some softer turf.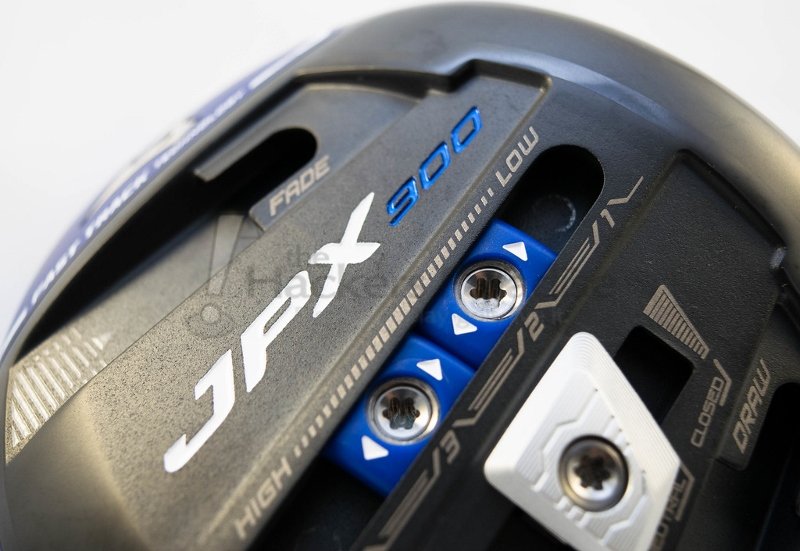 Now that the loft and face angle have been set, it becomes time to really fine tune the JPX 900. Between the Infinite Fast Track and the two Fast Track ports on the heel and toe, the ability to maneuver the Center of Gravity (CG) and weight placement should help players achieve a more consistent shot shape off the tee. Here is where playing with the weights and the urge to get the wrench becomes almost uncontrollable, because with all of the different settings, finding a weight configuration could become tiresome. On the plus side, the weight changes did seem to offer a moderate amount of change in numbers. With both weights pushed back on the center track, there was an uptick in spin, and in the instance that they were pushed forward or in the opposing spots on the heel and toe, spin was generally reduced. Even though there is an exorbitant amount of adjustability, remember that changes will often not lead to a night and day difference, but instead offer tweaks that will balance out over time.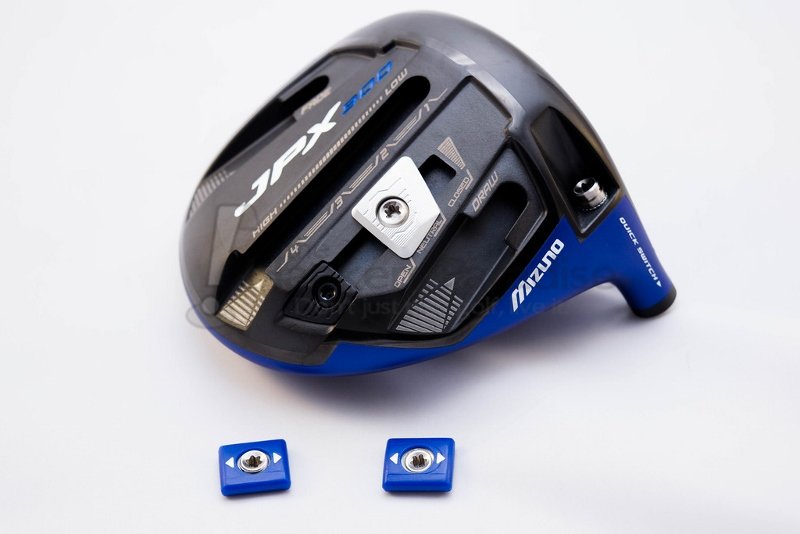 With all of the time that can be spent dialing in such a driver, the ultimate goal is that it will be one that will go long, straight, and inspire confidence. Nowadays, one of the key elements that gets discussed with drivers is ball speed, and this offering does well in that department. Even though there were no earthshattering jumps coming from last year's model, the ball speed numbers still represent a fairly fast face, which helps translate to some comfortable distances. Clearly with a driver as adjustable as this, players will get the chance to see if all the fine tuning can help find those extra yards. Perhaps due to the more conventional shaping, the JPX 900 does not look like it would be an overly forgiving driver. While it is indeed pretty to look at while addressing the ball, it does not scream forgiveness. As with many things in life, looks can be deceiving. With a shallower face, the lateral misses were not nearly as penal as has been seen from other drivers, even more so with the weights placed in the heel and toe ports. Is it one that players can miss all over the face and still get amazing shots? Perhaps not, but at the end of the day there is enough to satisfy both the low and higher handicap golfer.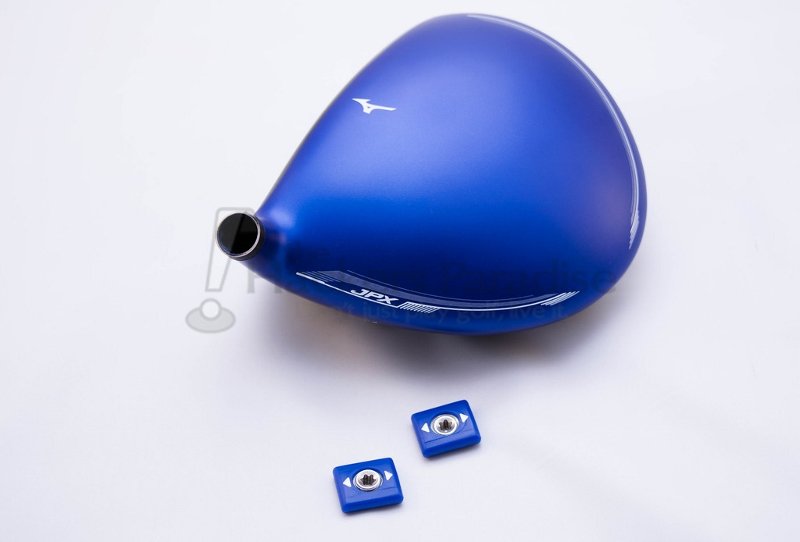 Thanks in part to the marketing of low spin drivers, spin rate gets discussed more than it used to.  Is the JPX 900 a low spin driver head? Yes, but not one that is crazy low that it will only suit a certain number of golfers. Throughout testing, this head provided spin rates constantly in the 2200rpm-2600rpm range, which are a bit lower than what was seen with the JPX EZ driver last year. Between utilizing the moveable weights and multiple shaft options, there is little doubt that this head could perform well for large portion of golfers. Coming from a company that spends a lot time perfecting and emphasizing the feel of their irons, it's no wonder that Mizuno spent some time trying to dial in the sound of the JPX 900. In order to provide a driver that was going to both sound and feel good, Mizuno applied what they call Harmonic Impact Technology, which translated to a bit of a louder sound that had a hint of a composite crack to it. It was not off-putting by any means.  In fact, it was quite enjoyable. Golfers who prefer a lot of audible feedback might struggle with this release, as the difference in sound from center contact to off-center contact was only slightly distinguishable.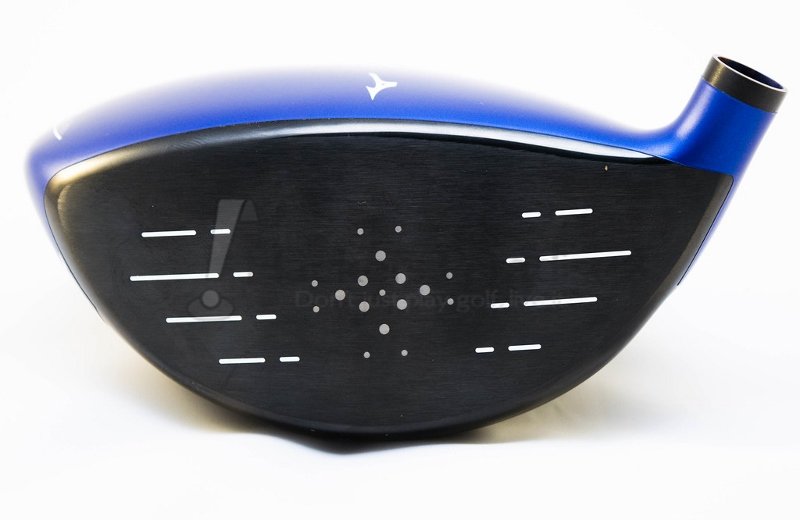 Keep that wrench handy!   Understandably, there is a lot of talk here about setting the club up properly for one's game and preference. Is the inclusion of all these bells and whistles overkill? Perhaps it is, but that's exactly what Mizuno wanted to accomplish, with a goal of creating their most adjustable driver yet. For the golfer who considers themselves the ultimate tinkerer, they might have just met the one club that will entertain them for years to come. On the flip side, getting professionally fit for this driver, can leave one walking away with the feeling like they just stepped off the tour van. With all of the different combinations that can come from this driver, perhaps that is the better way to go about things. Currently the JPX 900 driver can be purchased for $499. More information can be found at www.mizunousa.com.