The wedge market is a crowded one, and while the majority of golfers flock to the bigger names out there, Mizuno has built their own reputation for releasing some well-rounded traditionally shaped wedges. This year they are introducing the newest version, the MP-T5, and sent in a White Satin 56.10 for THP to spend time with.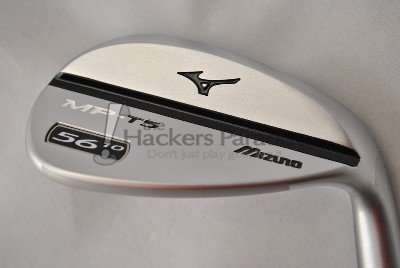 Design Details from Mizuno:

TOTAL PACKAGE OF FEEL, SPIN, AND CONTROL.
The MP-T5 wedges deliver the feel and precision of Mizuno's renowned Grain Flow Forging process where it benefits the player the most – around the greens. A refined teardrop profile – based on the tour grind of short game magician Luke Donald, allows mastery of the ball from a variety of set ups and positions. In addition, there are now unbelievable 25 combinations of loft and bounce, with 5 sole grinds, to suit the needs of even the most discerning wedge player.
Mizuno's Grain Flow Forged heads combine the softest feel with spin control only possible through the use of loft specific Quad Cut Grooves. Mizuno's Quad Cut Groove concept utilizes a wider, shallower groove from 54-62 lofts (to grab softer, partial strikes) and a narrower, deeper configuration from 49-53 degrees (for fuller shots). When it comes to wedge performance, the new MP-T5 is the total package.
Key Technology:
Grain Flow Forged: From a single 1025E Pure Select mild carbon steel billet for soft, solid, consistent feel

QUAD CUT Grooves and Milled Face: CNC milled grooves and increased surface roughness for ball stopping spin

White Satin and Black Ion Finishes

25 Loft/Bounce Options: All with Tour Inspired sole grinds

Every loft from 49 to 61-degrees

Progressive sole grinds throughout the set

Paired with True Temper DG Wedge shaft
Aesthetics
Mizuno has always managed to put out a traditionally shaped wedge that is aesthetically pleasing to a good margin of players. With the MP TP-5, that continues with a teardrop shape and duo of incredibly clean White Satin and Black Ion finishes (the satin is one of the best looking out there). The overall shape is very balanced with a gently curved leading edge that sits right between the two extremes we customarily see, which means it should fit a lot of eyes at address.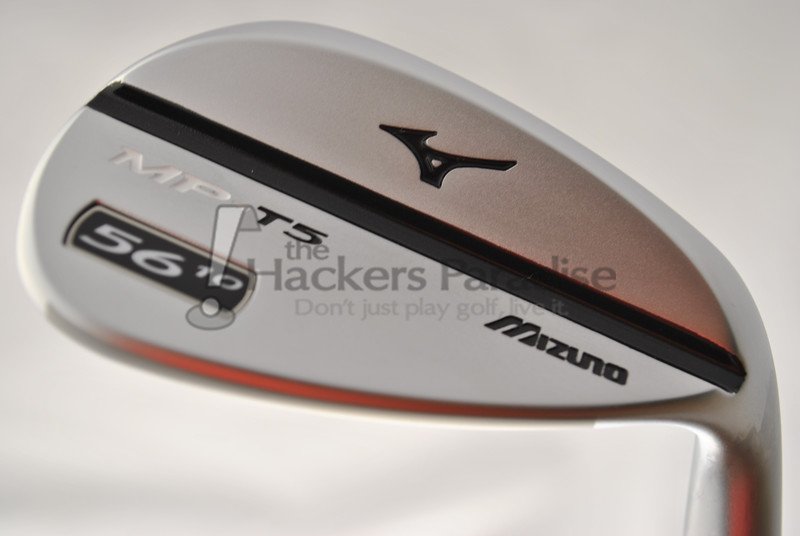 The flange is going to be hit and miss with people as far as the groove that runs the entire width as well as the loft/bounce tab that is situated there. However, even though there is a bit going on back there, it's balanced and doesn't take away from anything about the club. It's simply going to be one of those personal preference things. As it pertains to that groove on the rear of the club, testing showed depending on the lie/situation it can gather debris, but it is easily cleanable. Additionally, the durability was solid as far as bag chatter considering it is a forged wedge. There was no abnormal wear and after a lot of bag time it still looks in great shape.
Versatility and Options
The thing that most necessitates mention when talking about the versatility of the MP T-5 wedges is that with the 25 different loft/bounce options the grinds on the sole are progressive throughout the set. Depending on the loft/bounce, Mizuno has selected one of five different grinds that they feel will be most versatile for users in an attempt to remedy overthinking when selecting a wedge.  The concept itself is a good one, but the lack of any hard information out there on just how the grinds physically change for users who like to know can certainly be seen as a shortcoming on the companies end.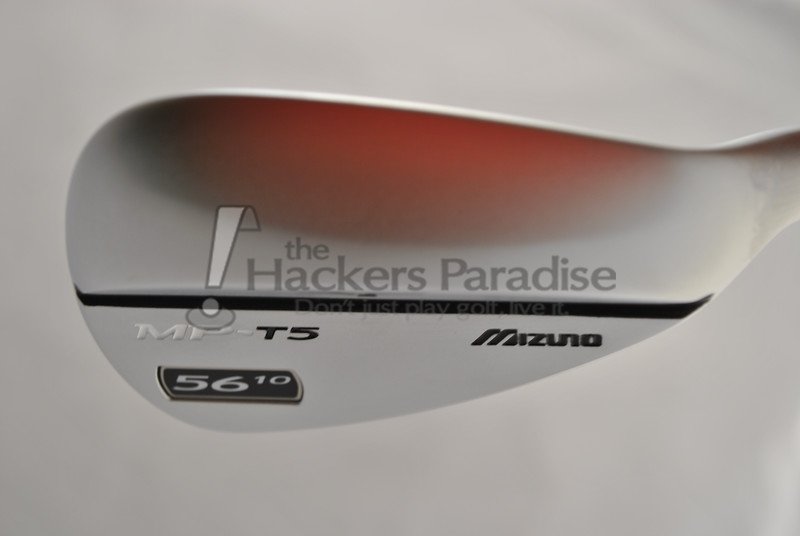 Despite this, the performance is there. THP spent time with the 56.10 and it showed good versatility from all lies. Full swings performed admirably and digging was not an issue with the slightly rounded leading edge. On partial swings and pitches/chips the interaction was very crisp and allowed a variety of options as far as just how down on the ball the user wanted/needed to be. Out of the sand the bounce served its purpose well and it was no issue manipulating the height. The grind itself on the 56.10 also had a decent amount of heel/toe relief that allowed an expectable amount of face versatility for the variety of touch shots most golfers like to use.
Sound/Feel
The MP-T5 is definitely not simply the T4 rebranded. In hand it becomes evident having spent time with its predecessor that there have been some true changes. Most notably, it is much more balanced when it comes to weight through the swing. For this reviewer the MP-T5 was not as head heavy of an option, but the head was still not lost in the swing.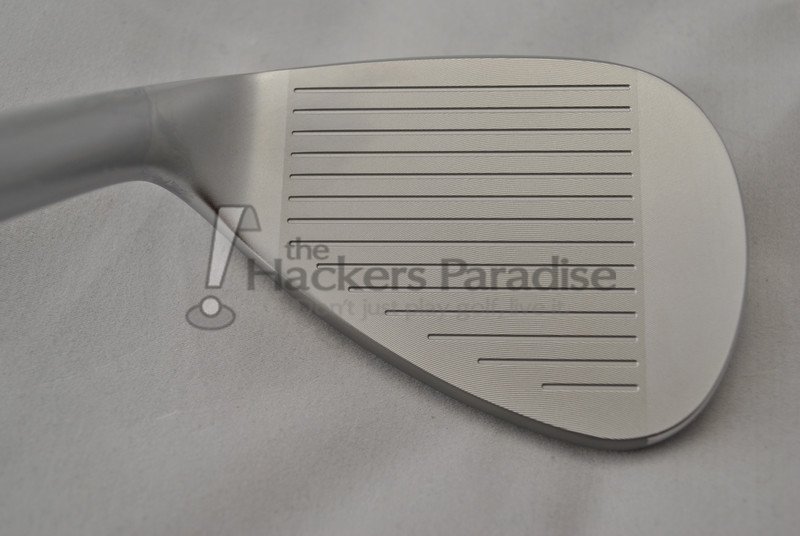 At impact the MP-T5 is going to be considered a very "soft feeling" wedge for most that use it, and considering the pride that Mizuno takes in their "Grain Flow Forging" it should be expected. The sound at contact is muted/dense with enough feedback in sound and vibration to sense where impact is being made, but without the higher pitched "click" we get off of many wedges. The MP-T5 falls much more into a "thump" that works really well in the overall feel of the wedge and should please a wide range of users.
Spin
As we all know, spin in golf comes back to technique first and foremost, and with wedges the fact is all of those on the market can and do spin the golf ball. The MP-T5 wedge showed good spin from all lies it was tested in, no more or less, just what one would expect and hope for. Worth noting here though is Mizuno's use of their "Quad Cut" grooves that vary throughout the set, being more shallow/wide in the higher lofts and more narrow/deeper in the lower lofts. The 56.10 falls into the first category (54-62) that is intended to impart better spin on touch shots, and as mentioned it was certainly an effective wedge here. Conversely, the deeper/narrow grooves in the lower lofts (49-53) should help channel away more debris that gets between the ball and face. All in all the Mizuno isn't the only company doing these things with wedges, but they are utilizing it in a very well rounded manner.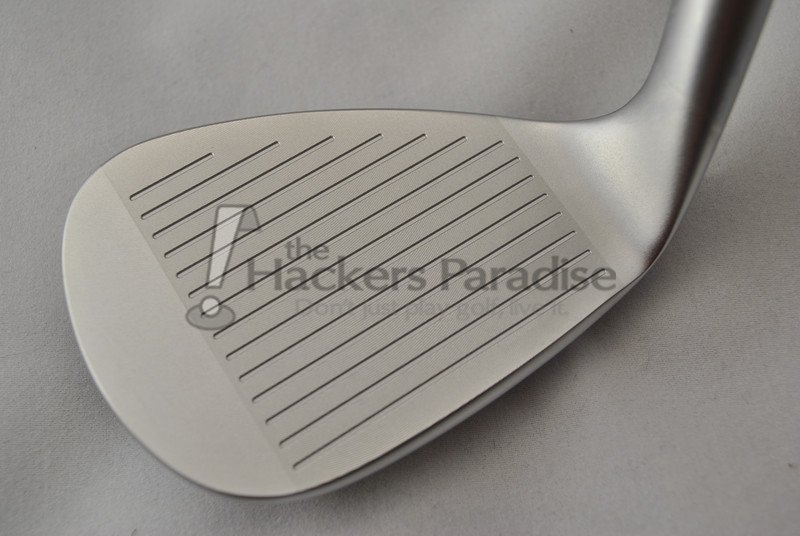 Final Thoughts
Mizuno has never been the first name many think of when it comes to wedges, but they have always released a very solid product that does garner a lot of praise from those familiar with the brand. The MP-T5 will continue that trend and the bottom line is that it is very well rounded in performance as well as feel. Obviously, the wedge market is a crowded one that possesses some fierce loyalties for specific names among golfers, but fortunately there are many really well done options out there for us to find something that fits our personal preference and there is little doubt that the MP-T5's will do just that for some.
The MP-T5 wedges are priced at $129.99 and more information can be located at www.MizunoUSA.com/golf.