It's finally US Open week. The PGA Tour is once again at fabled Winged Foot Golf Club in Mamaroneck, New York, challenging players with fast greens, heavy rough and tight fairways just outside New York City.
The last time the US Open was visited at this iconic course was in 2006, and it was Phil Mickelson who came to 18, needing par on Father's Day to pull off a victory at the one major that had eluded him. Then a wayward drive off the hospitality tent on 18, compounded by awful lies and equally awful shots, led to Aussie Geoff Ogilvy's victory. "Geoff Ogilvy survives Winged Foot," said NBC's Dan Hicks.
You might remember Colin Montgomerie sinking a 50-foot putt on 17 and sitting in the center of the fairway on 18, leaving his approach short and right in the gnarly Winged Foot West Course rough. Despite his European Tour dominance, Monty finished 2nd at a US Open for the third time.
Now, the US Open is back at Winged Foot. And after this arguably cupcake setup of the PGA Tour restart, it's time to see The Massacre, Part 2. The US Open will be the survival of the fittest, with narrow fairways, punishing rough and sloping greens. The "Grow the Grass" movement should love it. It's your tournament. Bring. It. On.
With that, we asked THP Staffers to put together their picks for the second Covid-Era major.  Much like Phil, gamble at your own risk.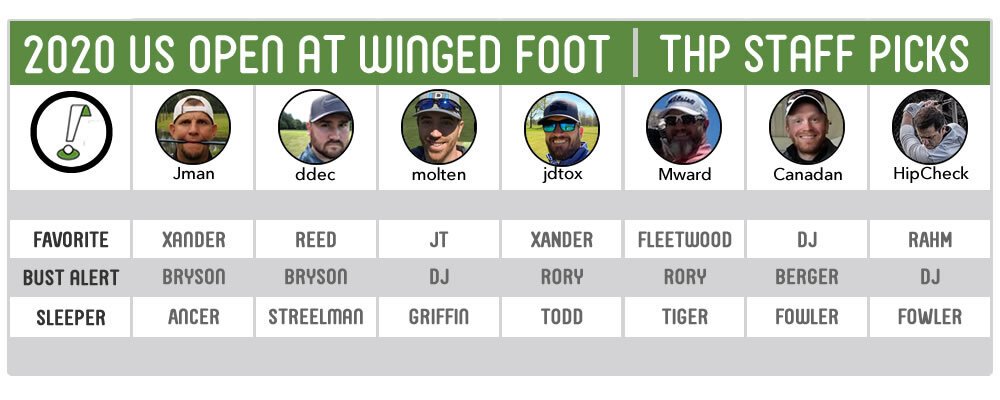 FAVORITES
While no one can agree on their favorite, Xander, Rahm and Fleetwood picks indicate a premium will be put on ball striking. Fleetwood has never won on American soil, so it'd be quite the victory.
Surprisingly, FedEx Cup champion and 10/1 favorite Dustin Johnson is the hottest golfer on the planet, but he garnered only one vote to win at Winged Foot.
We can assume the Patrick Reed pick from ddec is purely to agitate others.
BUSTS
Bryson leads this category and perhaps rightly so. After coming out of the gates on fire with the PGA Tour restart, he's stone cold. Based on score alone, no one performed worse at The Tour Championship than Dechambeau.
While always a threat, Rory hasn't won a major since 2014. Jimmy Walker won a major more recently than McIlroy. Let that sink in.
Surprisingly, DJ returns to tie for the lead in this category.
DARK HORSES
Our first and only Tiger Woods pick! Mward is choosing the three-time US Open champ at 50/1 to recapture his form at Winged Foot.
Overall, the leader in this category is….Rickieeeee Fowler! (Shooter McGavin voice). Both Canadan and HipCheck chose him at 40/1 odds (probably guaranteeing a Fowler missed cut).
Sadly, while he's a crowd favorite on the wrong side of history at the US Open, no one chose Phil Mickelson in any category.
Regardless of the winner, the 120th US Open from Winged Foot should be an over-par survival of the fittest. Enjoy.