The newest wedge release from PING is the "Glide" lineup. It's an interesting name for an equally interesting reinvention of wedges for the company. In what might be their most aesthetically simple design for a wedge ever, there is a lot of focus placed on the tech portions of the design itself. The emphasis here is falling on selecting the right sole for the right swing, and if there is one thing we have learned, fitting of any type is a major factor in the development of any PING club.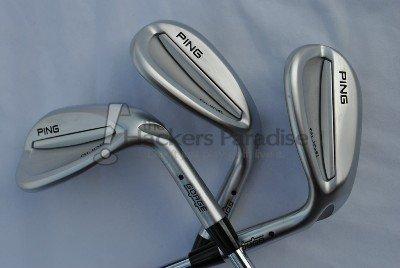 THP was able to spend time working with the 58° version of the Glide wedge in all three sole options (TS, SS, WS) to get a solid feel for what they are bringing to the table in terms of performance and versatility.
PING on the Glide Wedges:
Glide wedges are engineered from the hands down (grip to sole) to ensure short-game performance by increasing spin and consistency from any distance. The Dyla-wedge grip (longer for gripping down for trajectory control), CFS Wedge shaft (weight, flex and balance optimized) and head design (moisture-repelling 431 stainless steel, 3 sole options, added bounce, loft-optimized Gorge grooves) combine to deliver our most versatile and consistent wedge line to date.
| | | | | | | | |
| --- | --- | --- | --- | --- | --- | --- | --- |
| CLUB | LOFT | LENGTH | OFFSET | LIE | BOUNCE WIDTH | SWING WEIGHT | DEXTERITY |
| 47/SS | 47.00° | 35.50″ | 0.05″ | 64.00° | 0.67″ | D2 | RH/LH |
| 50/SS | 50.00° | 35.50″ | 0.04″ | 64.00° | 0.67″ | D2 | RH/LH |
| 52/SS | 52.00° | 35.50″ | 0.04″ | 64.00° | 0.67″ | D2 | RH/LH |
| 54/SS | 54.00° | 35.25″ | 0.04″ | 64.25° | 0.66″ | D3 | RH/LH |
| 54/WS | 54.00° | 35.25″ | 0.04″ | 64.25° | 0.74″ | D3 | RH/LH |
| 56/SS | 56.00° | 35.25″ | 0.04″ | 64.25° | 0.66″ | D3 | RH/LH |
| 56/WS | 56.00° | 35.25″ | 0.04″ | 64.25° | 0.74″ | D3 | RH/LH |
| 58/SS | 58.00° | 35.00″ | 0.03″ | 64.50° | 0.68″ | D4 | RH/LH |
| 58/TS | 58.00° | 35.00″ | 0.03″ | 64.50° | 0.46″ | D4 | RH/LH |
| 58/WS | 58.00° | 35.00″ | 0.04″ | 64.50° | 0.74″ | D4 | RH/LH |
| 60/SS | 60.00° | 35.00″ | 0.03″ | 64.50° | 0.68″ | D4 | RH/LH |
| 60/TS | 60.00° | 35.00″ | 0.03″ | 64.50° | 0.47″ | D4 | RH/LH |
| 60/WS | 60.00° | 35.00″ | 0.04″ | 64.50° | 0.75″ | D4 | RH/LH |
Technology Spotlight:
While changes and advances in golf clubs come at varying degrees (particularly in wedges), it is always nice to hone in on some of the more "significant" examples from each release and break them down individually. For the PING Glide Wedges, the "Loft Optimized Grooves" as well as the use of a new "Dyla-Wedge" grip deserve a little more focus.
Loft Optimized Gorge Grooves:
With the Glide wedges PING has taken a different mindset when it comes to the application of their Gorge grooves that have become a staple in their lines of late. Essentially, they have realized that most golfers need more spin in the higher lofted wedges that will be used for touch shots, as compared to the lower lofted full-swing wedges where spin needs to be controlled for optimum flight and trajectory. In a more specific breakdown, the 47°-54° wedges have a larger groove radius and a 16° sidewall that place the spin in what PING considers to be a more optimal range for full swings, while also more effectively funneling away debris/grass. The 56°-60° wedges have a smaller groove radius with a steeper sidewall to produce as much short game spin as they can. Because only the 58° models were reviewed, spin comparisons into the lower lofted wedges cannot be made at this time, but the breakdown of the concept itself is certainly merited as a nice technological application into this release.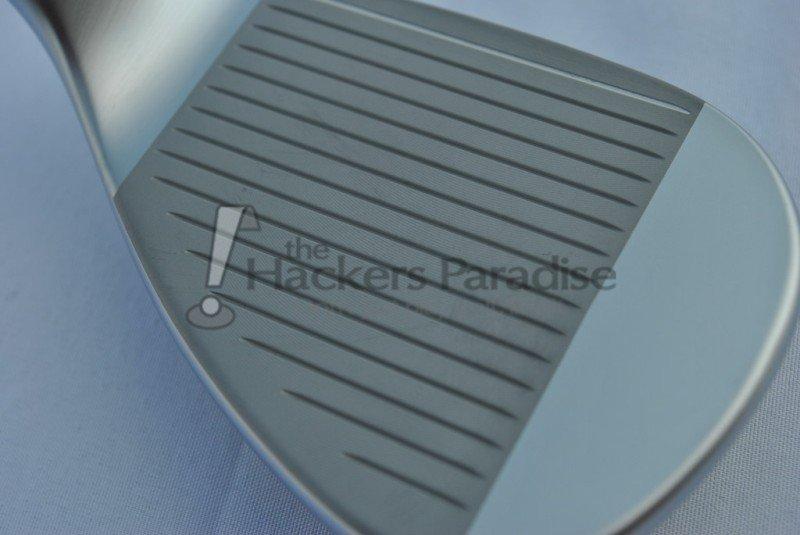 While not a flashy as groove or material changes, possibly the cleverest addition to the Glide wedges is the grip. PING has installed their "Dyla-Wedge" grip as the stock option to provide more visible and tactile feedback to users in applying their wedges to partial/choke-down shots as well as full swings. The idea itself is not a new one and we have seen it applied by some other brands, but it's an easily overlooked thing that can be pretty effective based on how the user wants to utilize their wedges. The grip is of typical PING stock-grip material and is ¾" longer while also having markings that give a visual aid to hand placement on choke down shots. A nice feature is the reduced taper that aids in choking down more comfortably, though the fact is this will not be for everyone and undoubtedly some will still move to their personally preferred grip. Even then, it's a solid concept and nice to see PING applying things a bit outside of the normal "box".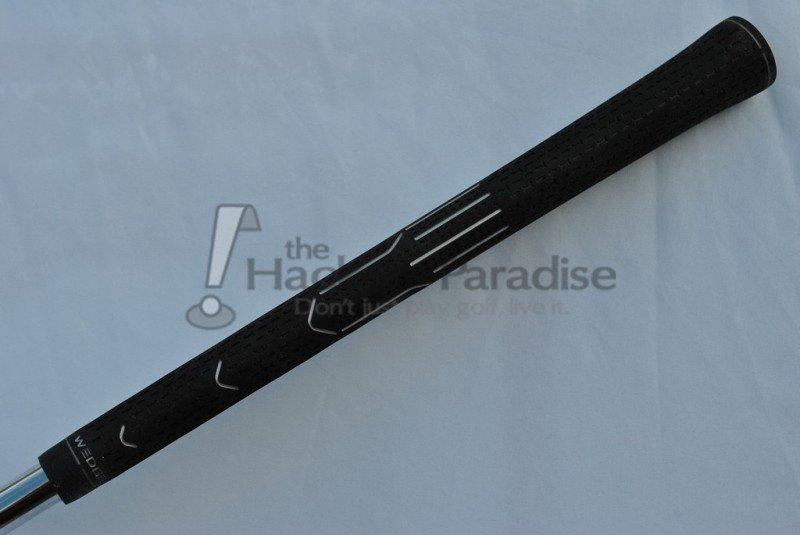 Aesthetics:
As mentioned in the beginning of the review, the Glides are easily the largest aesthetic departure we have ever seen for PING when it comes to wedges. There will without a doubt be a mixed reaction to them. Those traditional PING wedge users will think they look a bit plain, while those who have always steered away from PING because of busy lines and cavities will now see something they feel is nice and subtle. In fact, where the cavity of the wedge is concerned this is easily the cleanest application of their CTP. It seamlessly blends with the overall design and is not at all a distraction to the eyes. In all, they are a solid shape featuring what is still considered by this reviewer to be the best satin finish in the industry. The leading edge is a good blend that will appeal to both sides of the spectrum (not too flat or rounded) and at address they are clean and square the ball well. It's not a stretch to call them understated in their cleanliness and simplicity.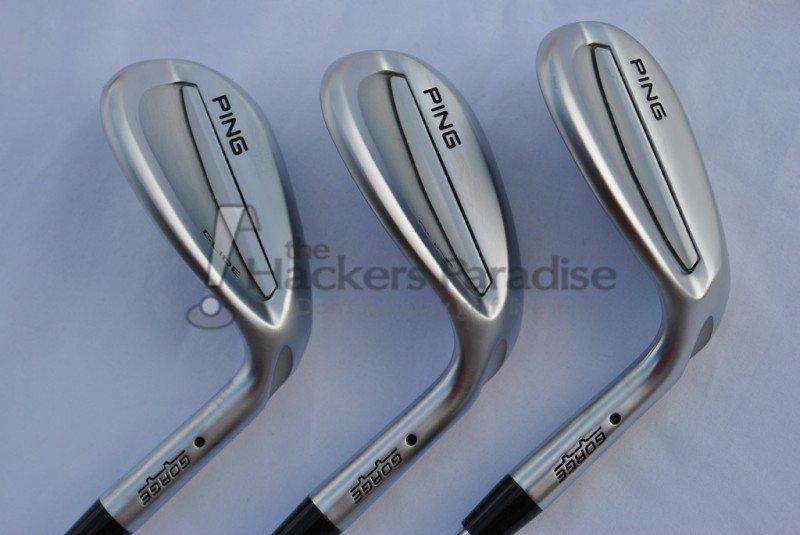 Sound/Feel:
Though a personal aspect of any club, the PING Glide wedges are what most will consider to be "typical PING". Essentially, the CTP (custom tuning port) does wonders for the ability to create, in this case, a wedge with more muted sound at impact that is absent of any type of harsh click. Although they are not a forged wedge, just like the i-Series and S-Series irons they have a lot of traits that most golfers associate with that "forged feel". Feedback however is pretty balanced across the head with a blurred sensation across the face. Misses are felt, but the sounds don't alter drastically. Thanks to all of these traits, the Glide wedges will appeal to a broad range of golfers that get them into their hands and onto the course for some swings.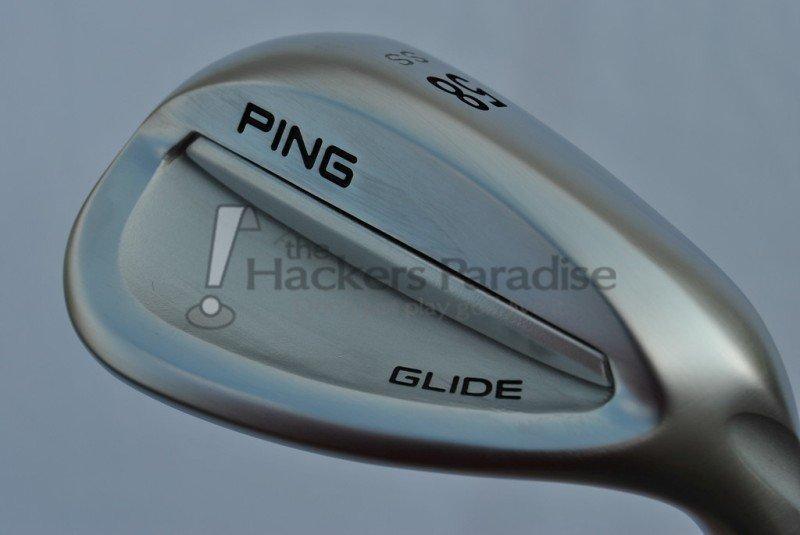 Spin:
As is necessary to mention in all wedge reviews, one thing is certain, all wedges will spin. Yes, some will vary a few hundred RPM, but the effect of this can be very much debated on the overall scheme of things. Much more important is the technique to generate spin from the user, as well as having a sole/design that fits the swing most effectively in order to optimize the spin. With that said, the Glide wedges provided solid spin from all lies and they were very nice out of the rough and sand, which could be credited in part to the Gorge Grooves funneling grass/debris away at the point of impact. Full swings with the 58° wedges held with no issues and shortened pitches and chips showed plenty of versatility for the user to apply whatever type of check/run they were looking for into and around the greens. It is necessary to mention the water repellant trait that PING is advertising with the material/finish on these wedges, but testing showed little discernable difference to the average amateur in spin retention there.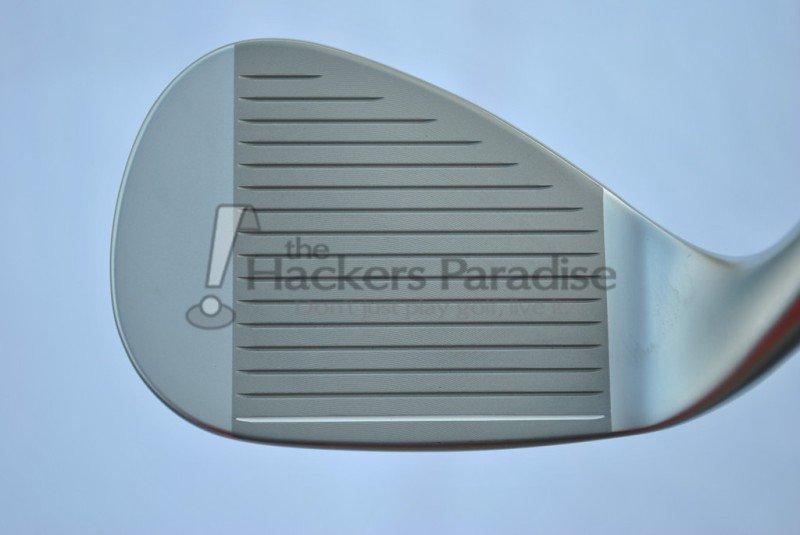 Wedge Sole Performance Rundown:
Since PING sent all three sole-types within the Glide wedge lineup it only makes sense to provide a detailed portion of the review on the performance seen when alternating between the Thin Sole (TS), Standard Sole (SS), and Wide Sole (WS). PING is adamant in using the different soles as an additional fitting point to match the most effective grind with the type of swing the user has (WS more for steep, TS for shallow, etc.), but there is still definite importance in seeing how the interaction and performance changes with the same swing type.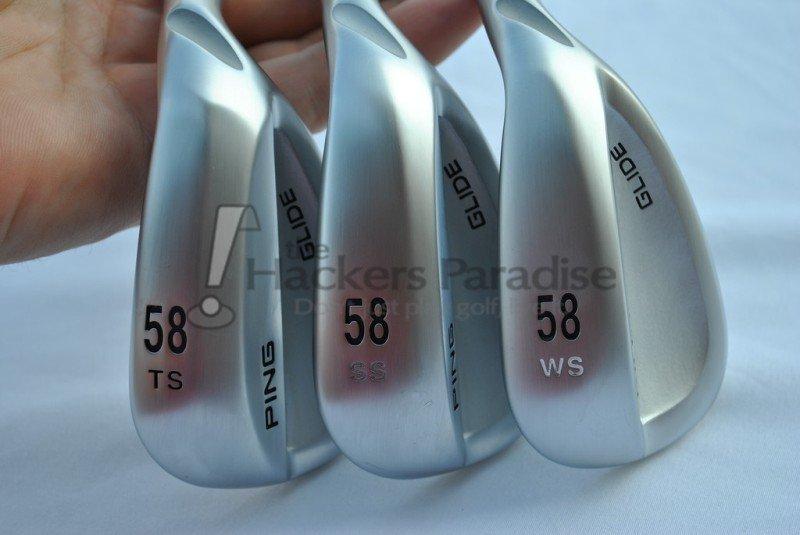 The Thin Sole (TS) proved to be the most dynamic of the three offerings where total versatility, particularly on "touch" shots, is concerned. Because of the larger heel/toe relief on the sole this one allows for maximum manipulation of the face while still keeping the leading edge close to the surface, allowing it to excel on the finesse chips, pitches, and flops that may be attempted by the user. As you move further from the surface however, the propensity of the thinner sole and relief on the club to dig on half to full swings will make technique all the more important. Additionally, from thicker and sandier lies it was easy to get too far underneath the ball. In the end, better players will likely see no issues with making the TS perform for them from further out, but testing certainly validated PING's claims that the sole  is fitted for a more shallow angle of attack, as getting steep with it can pose some hiccups.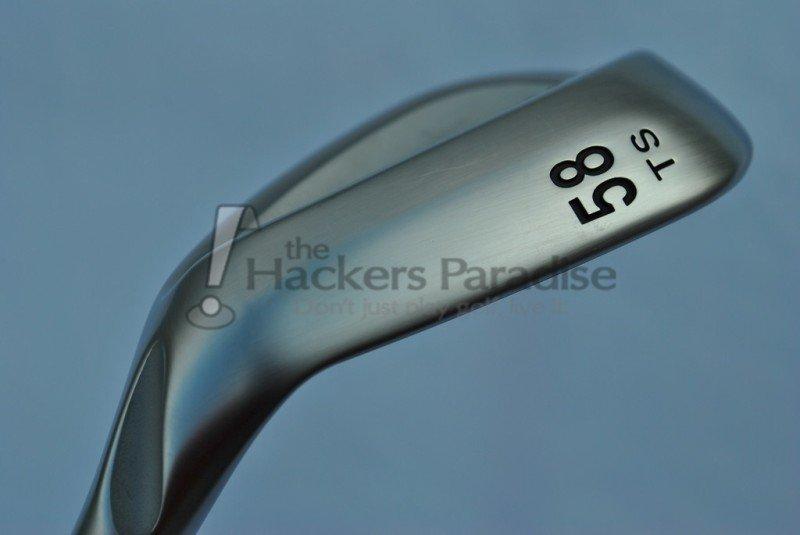 For all around performance and hitting the widest number of user needs from greenside all the way to full swings, the Standard Sole (SS) was the most straightforward of the three options. There is enough heel relief to open the face up a solid amount and the bounce still allows the leading edge to sit down nicely. From partial to full swings, the SS also showed just how well rounded it is by responding well to both steep and shallow swings and keeping solid turf interaction. Additionally, the SS proved more than capable of being a solid option from the bunkers and rough by having enough bounce to avert the chance to get too far under the ball. Overall, "standard" is a good name for the Glide SS, as it was capable of performing from lies all across the gamut without leaning too hard towards any one particular angle of attack.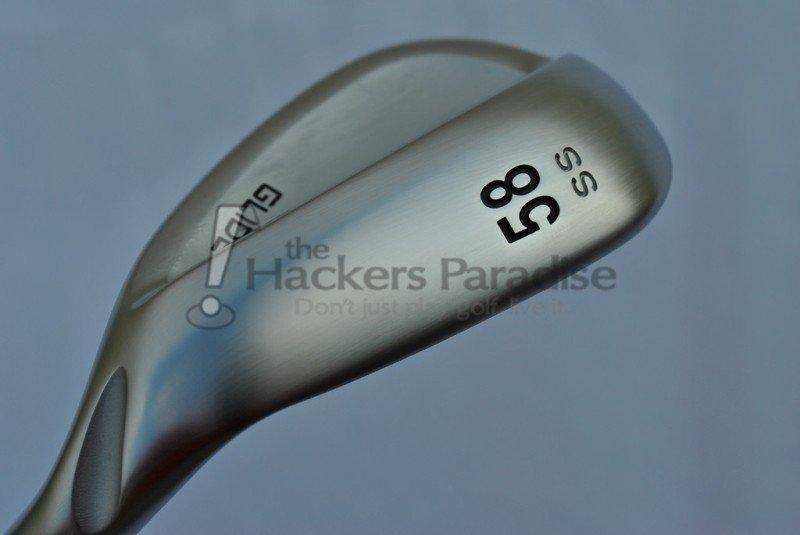 The Wide Sole (WS) at 58° was a really interesting club to review. PING describes the wider sole and higher bounce setup as benefitting those with a steeper angle of attack the most. For this reviewer that held true on partial and full swings, but with touch shots some might find it too limiting to what they want/need out of their 58°. At this particular loft the wider sole means less versatility as far as opening the face and keeping the leading edge low enough to be effective from tighter lies. Basically, greenside it is a straight forward setup, which while not being a bad thing at all, is limiting with some of the tight lies one can get greenside. However, on partial, full, and sand shots the WS performed the best out of the three wedges sent in for this reviewer (out of the bunker it was like stealing). What it definitely comes back to though, it that this particular sole could be incredibly effective for many as a gap-wedge or sand-wedge (48°-56°) rather than in the lob position, but this will all hinge on the conditions being played in and the type of demand the user has out of their wedges.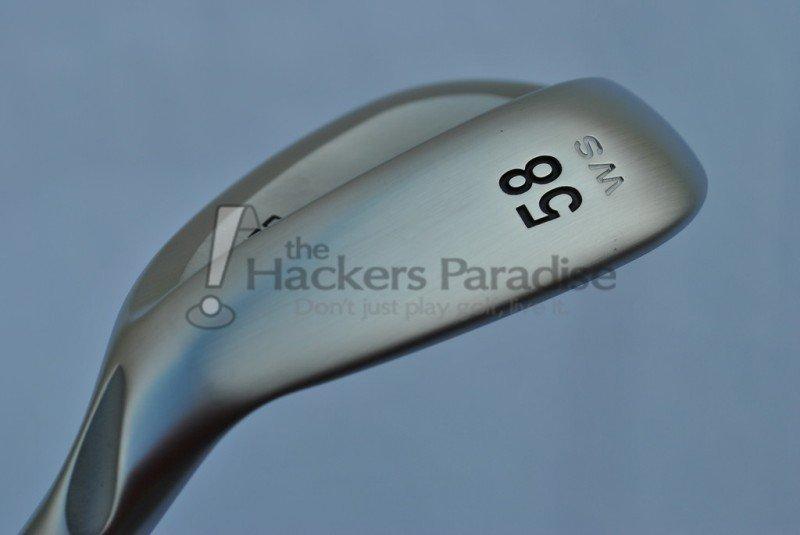 Parting Thoughts:
With the Glide wedges there are no doubts that PING has created a nicely rounded wedge that has enough loft and sole options to fit golfers across the spectrum. It is an aesthetically clean look that will draw in eye of those who previously felt PING's wedge releases to be too busy, while still looking like a PING design. Although being sent all three sole designs in the same loft was incredibly enlightening for hitting them side by side and seeing what each is capable of, it also definitely underlines the importance of knowing what works best for each person's individual needs in a wedge.
The Glide wedges have a price of $129.99 and more information can be found at www.PING.com.