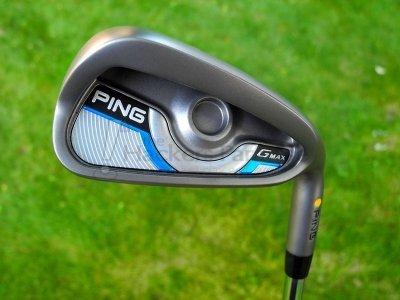 2015 saw PING take on a new face in many ways, with the consolidation of multiple lines under the popular G Series moniker. Rather than three different driver lines, the G30 instead featured three different models for different types of players. Though the i Series remains in their iron lineup, consumers now have two distinct iron options in the G Series to choose from based on their needs and abilities. The GMax iron set, a progression from last year's Karsten Hybrid Irons, is the maximum game improvement set that incorporates some new technologies in a familiar shape and finish.
Technology Information from PING
COR-Eye Technology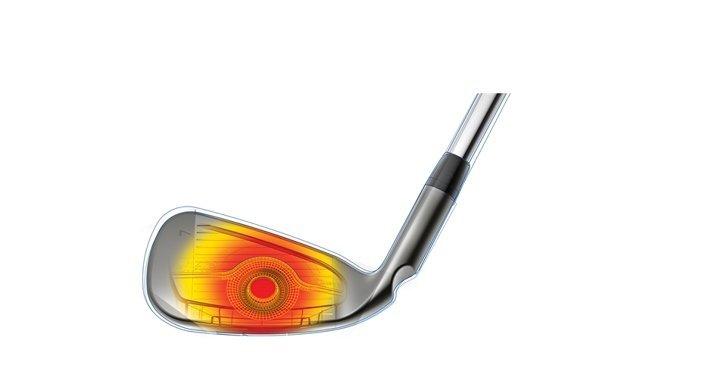 Distance is generated from greater ball speeds created by the simultaneous activation of the sole, face and top rail. This produces more face flexing to spring the ball off the face up to 3 mph faster than previous PING models. The 4 thru 8 iron faces are heat treated using a specialized process that strengthens the material by approximately 40%, creating a Hyper-17-4 alloy and allowing the face to be thinner for greater flexing and faster ball speeds.
High-MOI Design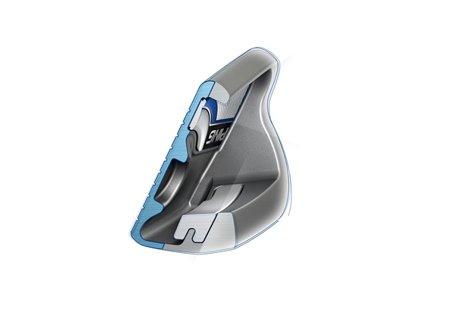 A new cavity structure houses a concealed Custom Tuning Port that connects to the sole. With this deeper position, each iron's center of gravity is moved lower and farther back to increase the moment of inertia for extreme forgiveness and higher-launching results.
Sole Geometry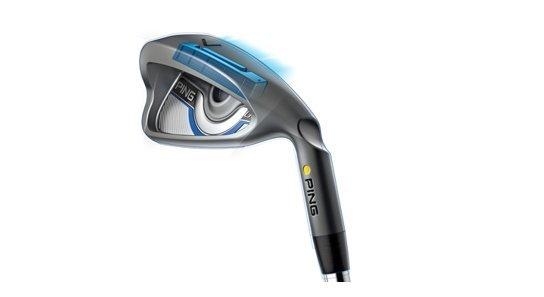 The wide sole design locates the center of gravity to maximize forgiveness, leading to more-accurate iron shots that launch higher and land softly to hold greens. The sole geometry reveals an enhanced leading edge, more trailing edge relief and refined bounce to optimize turf interaction.
Lighter Swingweights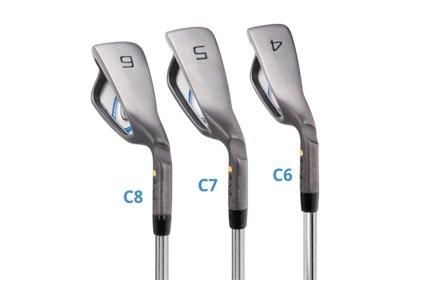 In the 4 thru 6 irons, lighter swingweights help square the face at impact, creating faster ball speeds for longer, straighter shots.
| | | | | | | | |
| --- | --- | --- | --- | --- | --- | --- | --- |
| CLUB | LOFT | LENGTH | OFFSET | LIE | BOUNCE WIDTH | SWING WEIGHT | DEXTERITY |
| 4-Iron | 21.00° | 38.88″ | 0.32″ | 60.56° | 0.54″ | C6 | RH/LH |
| 5-Iron | 24.00° | 38.25″ | 0.30″ | 61.50° | 0.65″ | C7 | RH/LH |
| 6-Iron | 27.00° | 37.63″ | 0.28″ | 62.44° | 0.68″ | C8 | RH/LH |
| 7-Iron | 30.50° | 37.00″ | 0.26″ | 63.38° | 0.72″ | C9 | RH/LH |
| 8-Iron | 35.00° | 36.50″ | 0.24″ | 64.31° | 0.74″ | C9 | RH/LH |
| 9-Iron | 40.00° | 36.00″ | 0.22″ | 65.25° | 0.76″ | C9 | RH/LH |
| Pitching Wedge | 45.00° | 35.50″ | 0.19″ | 65.50° | 0.79″ | D1 | RH/LH |
| Utility Wedge | 50.50° | 35.50″ | 0.17″ | 65.50° | 0.80″ | D1 | RH/LH |
| Sand Wedge | 56.00° | 35.25″ | 0.14″ | 65.75° | 0.81″ | D2 | RH/LH |
Lie angle based on Yellow Color Code at standard length

Standard swing weights for graphite-shafted clubs are 1 point lighter than shown

$112.50/club steel and $125/club graphite
Shaft-Fitting Options
With two PING shaft choices (CFS Distance and CFS Graphite) and four popular after-market stock options, matching a shaft to fit your ball flight and feel preferences is easy.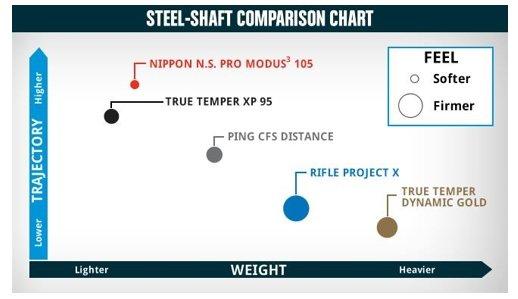 Aesthetics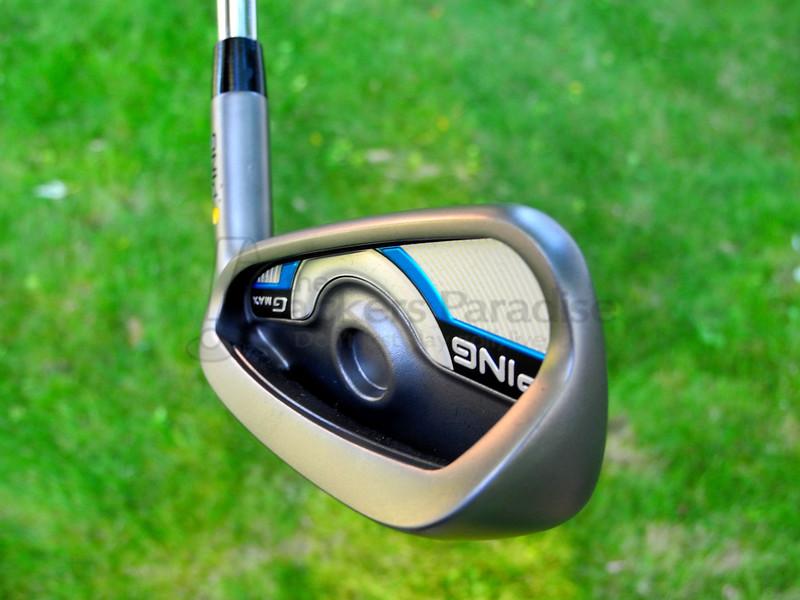 Modeled after the G30 iron set that has proven to be quite popular, the GMax irons are notably larger and feature the same smoky finish and blue color scheme for more visual continuity in the PING lineup. Some will appreciate the new colors and finish, though there was something nice about the super game improvement iron in PING's stable having its own identity, as it did in the Kartsen irons. Either way, what's done is done.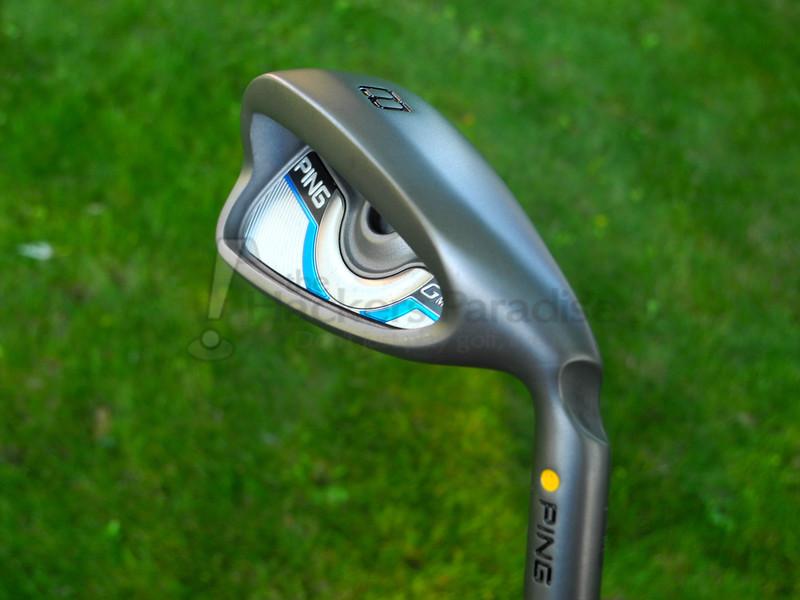 The large COR- Eye circle inside the cavity area is probably the most prominent visual component of the GMax irons. It's hard to describe it as anything other than homely looking unfortunately. Though some may find they enjoy it, it is a bit of an eyesore when you consider the lineage of PING irons. However, it does visually represent the technology that PING claims makes the GMax the longest iron they have ever produced.  The rest of the cavity is pleasant enough to look at and the new coloring and the smoky finish has found plenty of fans since it was introduced in the G25 series. Unfortunately, the finish does seem to wear quickly, which is likely a matter of markings contrasting more on the darker background than they would on a satin finish, but the fact is that it doesn't wear that nicely. This is a curious choice on a platform that caters to those that miss the center more often than not, as it's pretty easy to leave a permanent reminder of a big miss.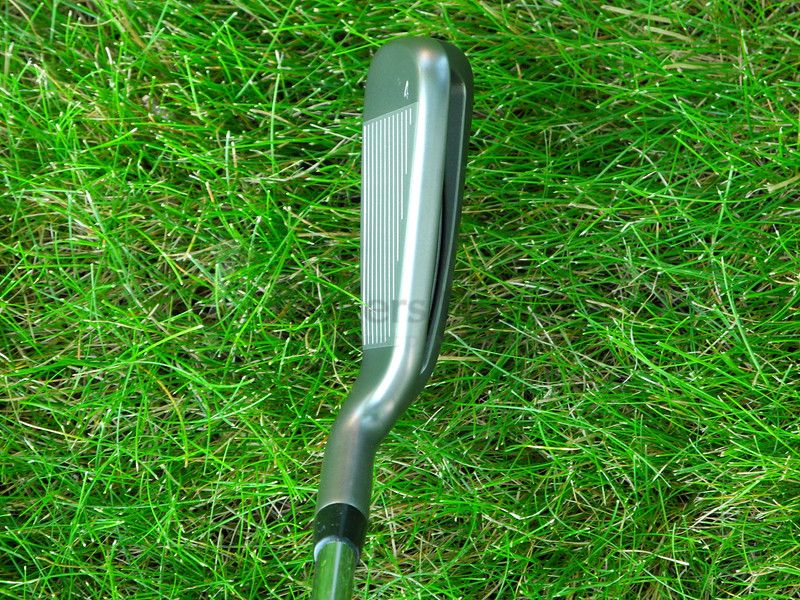 Obviously, the GMax irons are quite large – the largest of all the PING irons by a good margin. Some will find this off-putting, but these are irons built for a specific consumer and the size is very much a part of that. In other words, they are big because some people need big irons. If that's not you, then taking a look at the i Series is probably a better idea. Aside from the very long blade lengths (most noticeable in the long irons), the most prominent feature size-wise is the very wide sole. We talked quite a bit about the reasons for this sole design in the Karsten review linked above, but in short it's designed to help elevate the ball, prevent digging, and provide forgiveness on heavy shots. It seems to serve its purpose very well and the additional relief (beveling) on the trailing edge helps it perform as designed without being too clumsy.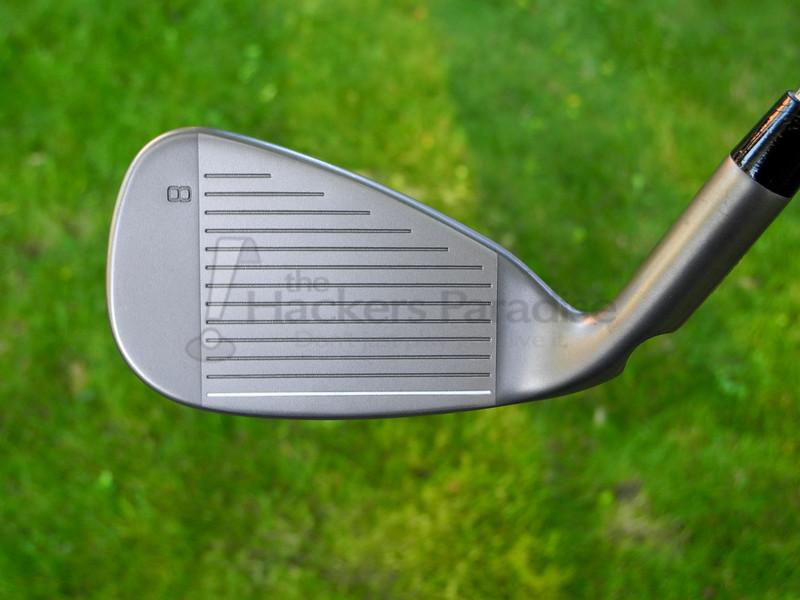 The most curious change to the GMax irons when compared to the Karstens isn't visual in nature at all. In fact, it's auditory, as the sound of these new irons is completely different, and frankly, somewhat offensive. One advantage PING's super game improvement sets always seemed to have over the competition's was that, regardless of size, they looked and sounded like irons. The GMax still look like irons, but they now produce a high-pitched, ringing sound at impact. Though it's difficult to convey via video camera, it's very noticeable in person and did leave a bit of a bad taste in our mouths at first. Extended time on the golf course did show that this aversion diminished over time (especially after seeing the positive performance attributes), but the question remains just why PING didn't try to keep a more conventional impact sound.
Performance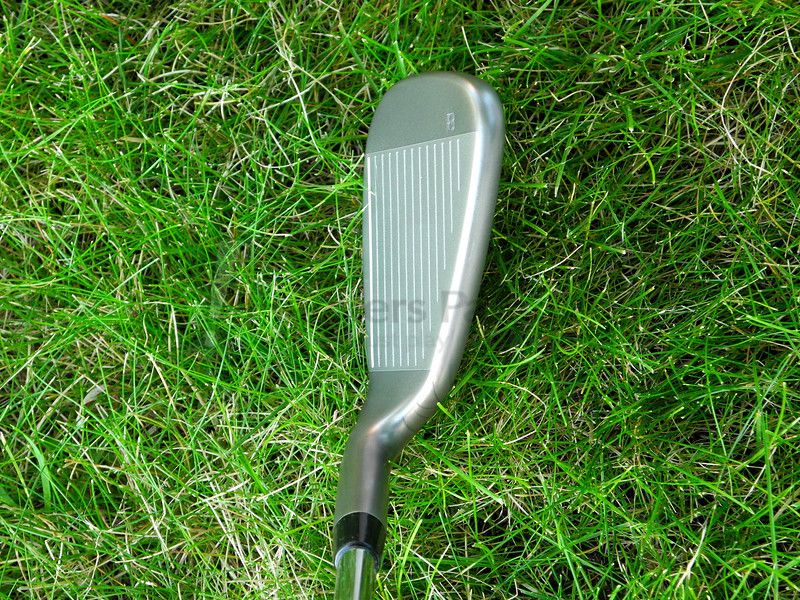 The GMax irons were tested with stiff flex CFS Distance shafts. As noted above, the company now offers a small selection of shaft upgrades at no charge. The CFS line has typically been well received by the bulk of consumers, but those that have specific needs in performance and feel will welcome this added perk. Also of note, rather than coming standard in the Black Dot configuration, the GMax irons come in Yellow Dot as a default. This was done because the company's data suggested the Yellow Dot setup was used more often than any other. Of course, PING's comprehensive fitting and demo day programs allow users to dial in their set, so buyers should take advantage of that whenever possible.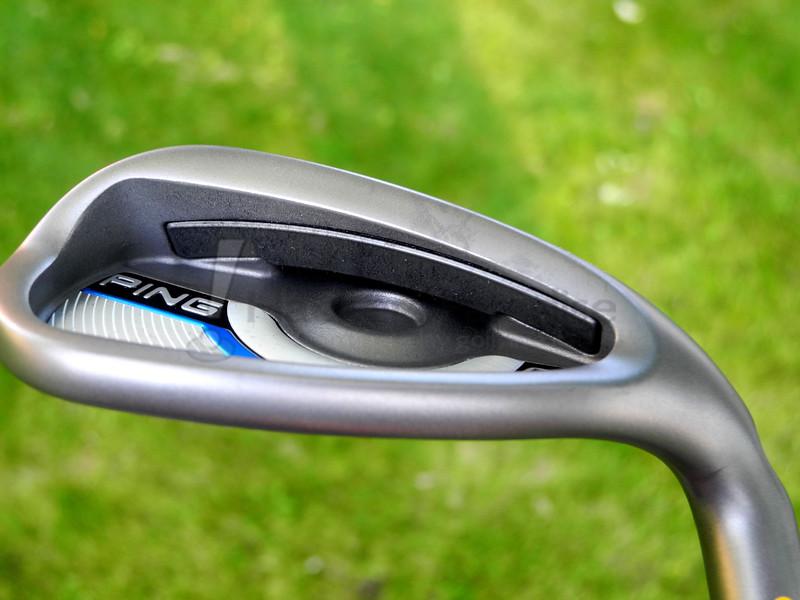 Without submitting to standard clichés, the GMax performed exactly how one would expect, given the technology they feature. They provided the opportunity to max out distance and ball height, especially for slower swing speeds. While it's not possible to completely counteract the effects of certain swings, it would be hard to imagine an iron that did much more to maximize these two sought-after items. It didn't appear that they were notably longer than any other modern super game improvement sets to our eyes, but they certainly held their own at every juncture. Towering ball flight (relatively speaking) was accessible, which led to quick-stopping shots on shots into the green.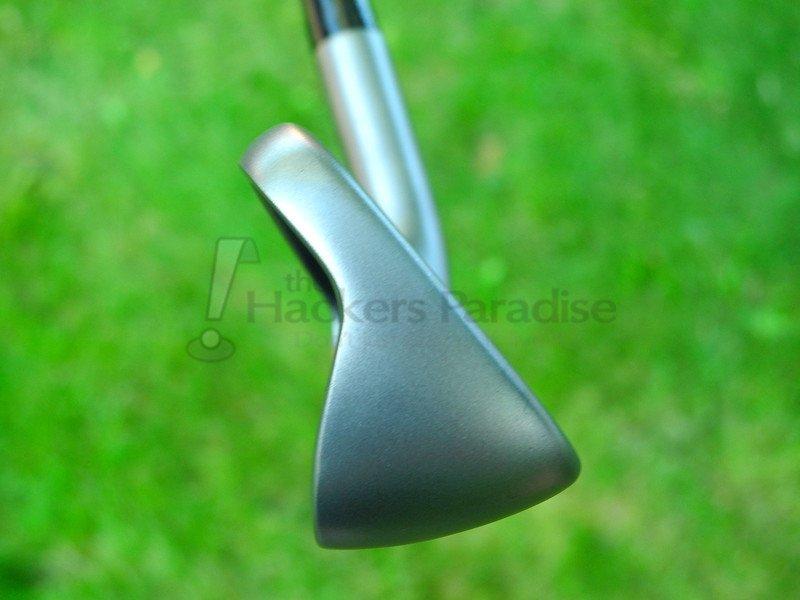 It was impressive to see just how well the GMax irons handled less than perfect shots, with all but the worst finding their way into a relatively small distance range. The wide sole seemed to really help with shots low on the face, which did come in handy on courses with numerous greenside hazards. The only point of criticism here was centered on the fact that it was very difficult to ascertain when misses happened and where exactly impact occurred. This was partially due to muted feeling in the hands, but also due to the unique sound. Our ears become accustomed to what a toed shot feels like, so when we introduce a new sound it can confuse the process a bit. Either way, many of us just don't care where we missed, but rather where the ball ends up, and in the case of the GMax, the ball ended up in a pretty good spot more often than not.
Final Thoughts
Though it's difficult to proclaim them a true step forward in design from the Karsten irons, the GMax proved to be enjoyable to play and did exactly what they sought out to do. They are massively forgiving and give the user every opportunity to maximize ball height and carry distance. They do incorporate some questionable aesthetic changes, but none of them are worth passing the irons by for – certainly a must-try for anybody fitting the target demographic.  More information on the GMax irons can be found on PING's website, www.ping.com.