What do you know about red light therapy? I'll be honest, the topic is rather new to me, so when the Joovv Go arrived, I had to do quite a bit of research, and yet I feel like I haven't even scratched the surface.
Hands down the top two questions that need to be answered are what is red light therapy, and what can it do for me? At an elementary level, red light therapy works by using wavelengths to stimulate the mitochondria in your cells, which in turn creates more energy within the cells and allows them to function more efficiently and repair damage. What it can do for you depends on what type of light or wavelength you are using. Joovv deals with two different types of light therapy, red light, which we have here on the Joovv Go, and infrared light, which is available in a separate unit. With the Go we received for review, it focus more on skin health and minor tissue relief. The stronger infrared light can be used to treater deeper tissue problems as the stronger wavelength makes it easier to penetrate the skin.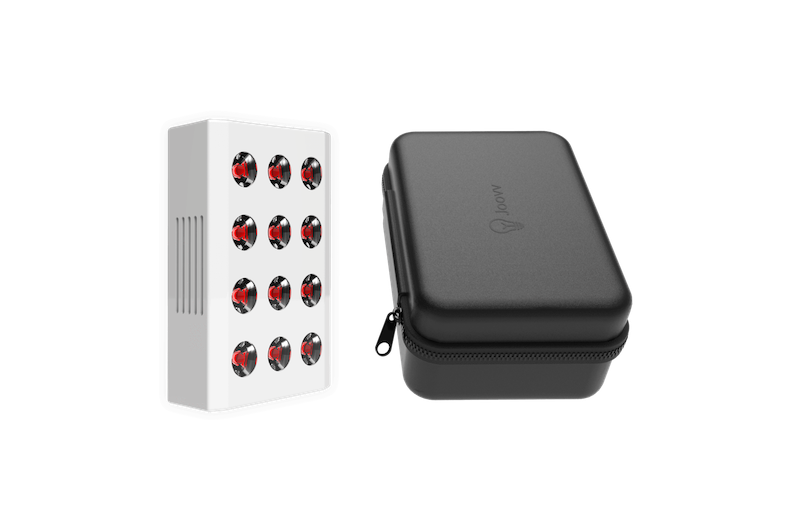 Using the Joovv Go is incredibly easy depending on which area of the body you are trying to treat. Most of my use has been focused on my upper body, allowing me to use it while sitting at my desk. For other areas, one might need to hold it in place for 10 minutes, which can become a bit of a bother as it isn't all that comfortable to hold. One thing that I certainly like is that even though there is not a visible timer on the device, it automatically shuts down after the 10-minute mark. After a full charge, one should expect to get roughly 6-7 uses out of the 6000mAh battery, which isn't too bad. One downside that I found is that there is quite a bit of fan noise when the unit is running. Having never been around any of the larger panels, I am not able to say how it directly compares in that area.
Joovv Go is a rather interesting product because of where it sits in their lineup. At $295, it is the cheapest option for those who want to introduce their bodies to some red light therapy. However, it seems like it is more targeted for current users who have already spent money on one of the home panel systems, but require a way to get treatment when they are away from home. The verdict is still out as to whether or not this device is working enough to justify the cost, but it will remain in use in several areas throughout the season. With a topic as complex as red light therapy and the benefits one might see from such a device, it is a good idea to spend time at www.joovv.com as there is a plethora of information available.