Those who like to travel understand that it can be both fun and tedious. As most airlines have adjusted their baggage policies, carry-on suitcases have become more utilized. For someone who likes to travel with certain electronics, that can sometimes create a bit of a hassle.  Ogio has been known for producing some high quality travel bags, be it backpacks, golf travel gear, or suitcases. As part of their release for the new Carbon Travel Collection, Ogio has sent in the Overhead Travel Bag for review.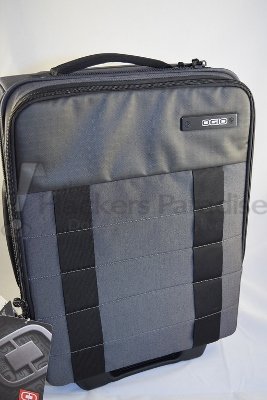 From Ogio
The Overhead Travel bag from OGIO features our signature focus on quality, space and organization. Its durability is showcased in the solid structure and attention to detail.
FEATURES:
International airline regulation carry on size
Front electronics compartment with padded laptop sleeve, tablet sleeve and organizer panel
Main compartment with clothing compression panels
Zippered valuables pocket
Zippered mesh shirt pocket
Rugged TPU wheelset
Burly extendable luggage handle
YKK zippers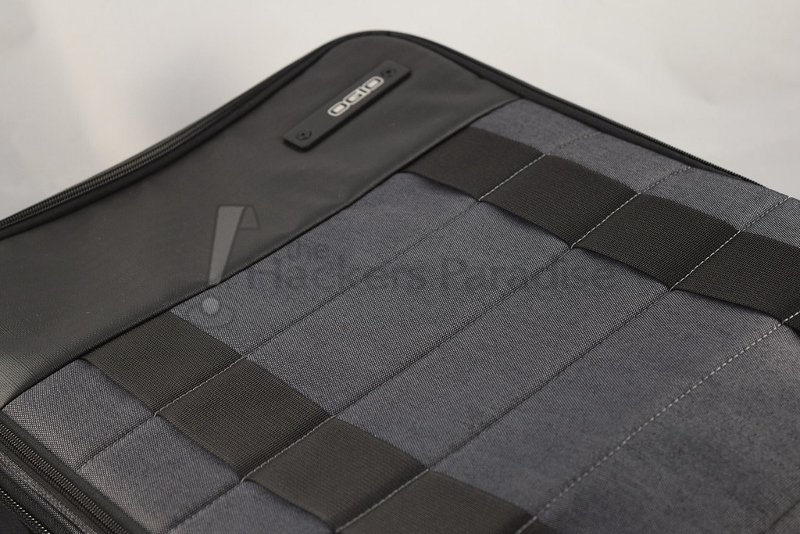 While small when it comes to physical dimensions (18″H x 13.5″W x 8.5″D), the Ogio Overhead bag proved to come up big on a recent week long trip across the country. By utilizing some packing cubes, along with the included compression strap, the daunting task of fitting a week's worth of clothes in to this bag was quickly put to rest.  It may not be designed for a full week long trip, but it certainly worked out that way on this one. Thankfully the Carbon Series does offer two larger bags, including another carry-on size.
Two areas in which many suitcases are judged is the material and the zippers. Since travel is tough on these bags, it's important to make sure the bag being used has a high amount of durability. To combat these issues, Ogio has used Cordura fabrics as part of the exterior for this collection. Codura is known as a very dependable and durable fabric that should be able to handle the rough and tumble life of a suitcase. The grey and black colors used on this bag make it a subtle standout. Along with the durable fabric, Ogio has also included YKK zippers to ensure that the bag will stay shut at all times.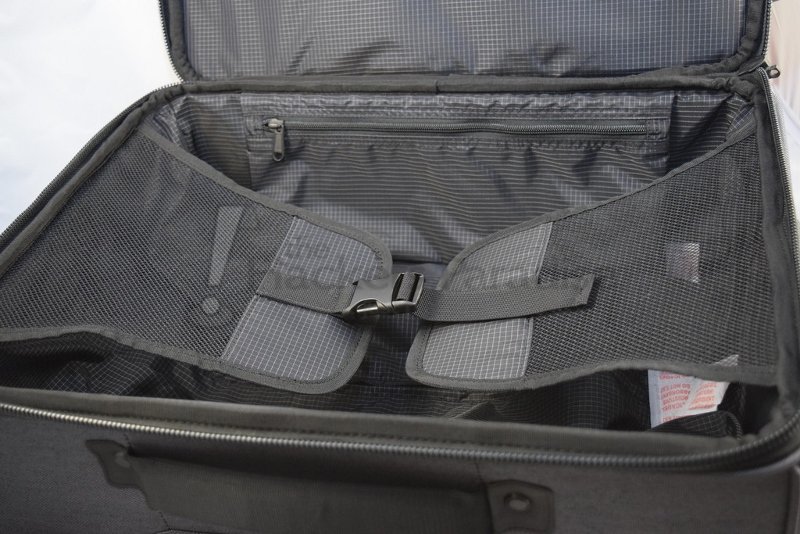 Without a doubt the standout feature of this suitcase lies not in the main compartment, but instead in the very front pocket. Upon opening this section of the bag one will notice that it is broken down with multiple sections to help organize electronics. There is a main sleeve that is meant for a laptop, a smaller sleeve that can fit certain tablets, and a large organizational panel that have become a standard feature in backpacks. The laptop sleeve is very generous and was easily able to accommodate both a small 14″ laptop, as well as one with a 15.6″ screen and thicker casing. No need to worry about the safety of that laptop as the sleeve is padded and the device can be locked in thanks to a velcro strap. Anyone who travels knows how annoying the TSA lines can be at the airport, well with the easy access to these devices, it can help keep the line moving just a bit faster.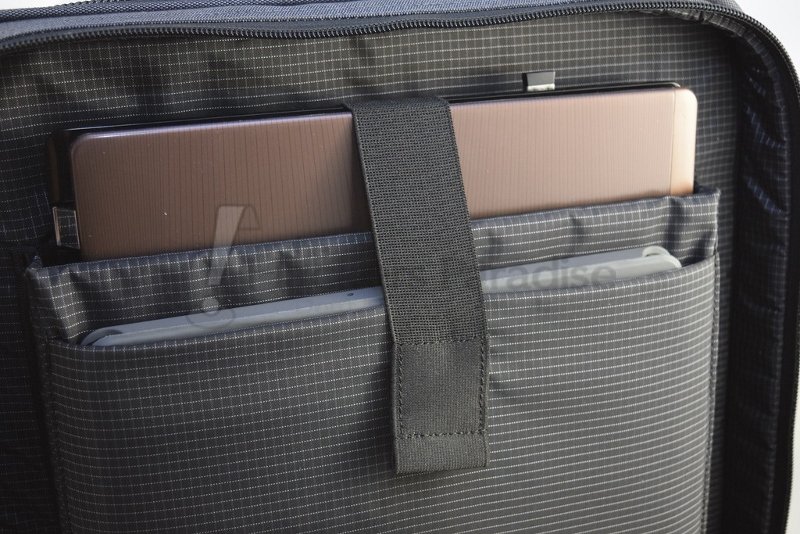 Once packed and ready to board a flight, there are other attributes that certainly stand out while using this bag. These aspects might get overlooked at times when thinking about buying a suitcase, but nonetheless they did make a solid impression. The wheels on this bag glide nicely across all surfaces. Having only two wheels means this bag should be pulled most of the time, although pushing works too. The only issue with pushing is where the lever for the adjustable arm comes up is on the top of the handle, so at times it can get accidentally hit while pushing, thus making the arm contract.
Another appreciated characteristic of this bag was the weight. Between the 7.5lbs design(unpacked), and the compact size, getting this bag in and out of the overhead compartment was a breeze. For those wondering, with the bag packed, and laptop in tow, the top of the bag never touched the ceiling of the overhead bin. Again no need to worry about those precious electronics.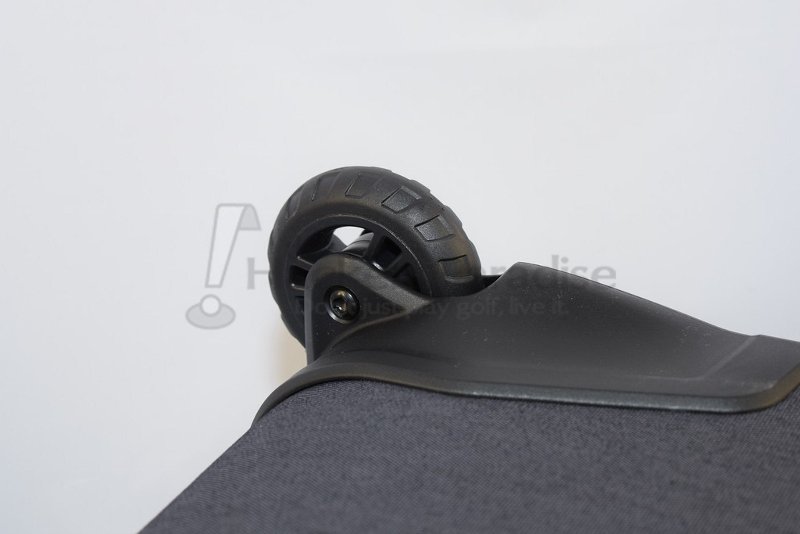 Having a quality piece of luggage is worth it's weight in gold. Well, maybe not that much, but the road warriors out there get the point. Whether it's going away for a business trip or a golf weekend with some friends, knowing that both electronics and clothes will be safely packed and sorted in such a suitcase helps ease some of the rigors of traveling. Thanks to it's size, laptop sleeve, and organizational features, it's hard to look past the Ogio Overhead Travel Bag. With a price tag of $199 this is the most budget friendly piece of the new Carbon Travel Collection. More information, including a look at the other two offerings within this lineup, can be found at www.ogio.com.