Let's be honest, most of you reading this will be wondering just who in the heck Shark Attack Golf is, and don't worry, we are going to get there. Before we do though, this is one worth keeping your mind open, because though you may not know the name, they are not without their successes in the world of long drive.
Shark Attack sent two of their marquee models into THP for a closer look, the Goldiloxxx and Tokyo Drift. As full-on driver builds of 46" and 48", there is a lot to take in for this review.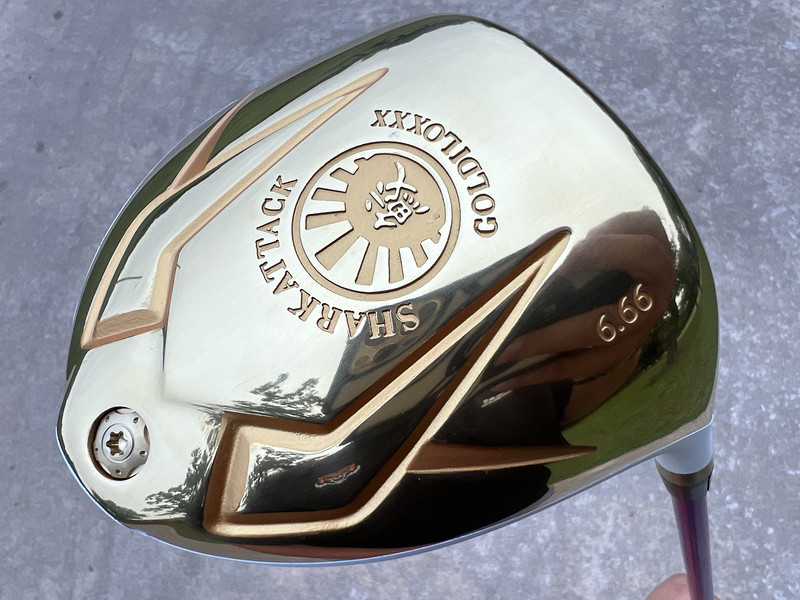 Quick Take
You want accessible low lofted, long-drive oriented driver heads or complete builds? Shark Attack Golf is making that possible with their Goldiloxxx and Tokyo Drift drivers. The looks are not for the feint of heart, as they take "in your face" to a new level. But, for those with the ability to swing a truly big stick, they present an option which previously may not have been accessible.
Who is Shark Attack Golf?
Shark Attack is built around that free expression is the way to "free" the game of golf. Everything about Shark Attack as a brand and concept is about bringing aggressive attitudes and looks into a world that is historically buttoned up. In fact, they go so far as to call themselves "anti-snob golf" with the focus that "the rich man's game has got to change".
Bold might be an understatement.
The company is adamant that it is not about the money, but rather keeping the "soul" of not just the game, but long drive, available and accessible to all walks and styles of life. It is with that in mind that Shark Attack sought to produce components that mirrored their attitude and beliefs, and along the way they managed over 150 regional and 24 world/national wins in long drive. How? By focusing on materials, design, and meticulous standards. The bottom line is, you may not have heard of the brand, but their success is plentiful.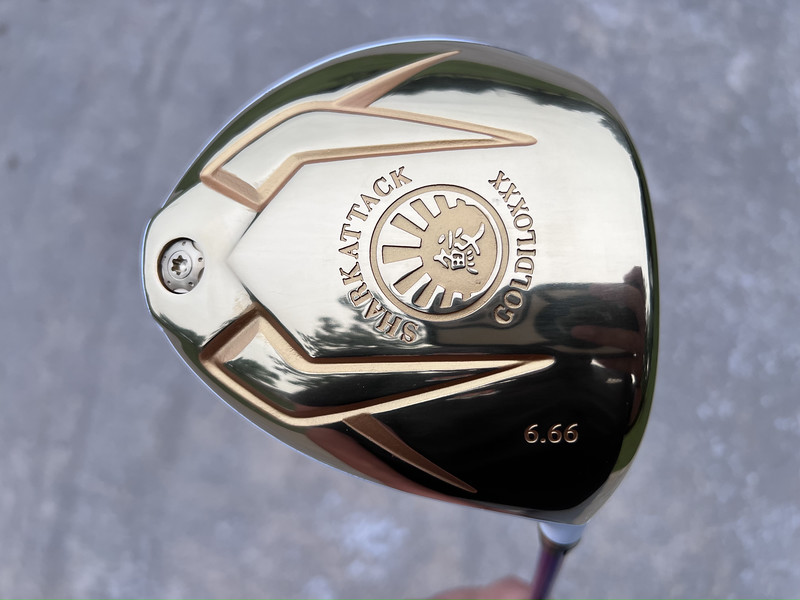 Shark Attack Golidiloxxx LD Driver
If ever a name told you much of what you could expect visually before ever actually seeing the product, the Goldiloxxx is just that. With a matte white finish to the crown that stands out as much now as it ever has when the big OEM's were on that trend, the look is absolutely dominated by the mirrored gold finish of the entire face and sole. Frankly, I don't possess the descriptors to fully capture how in-your-face this one is both in name and looks.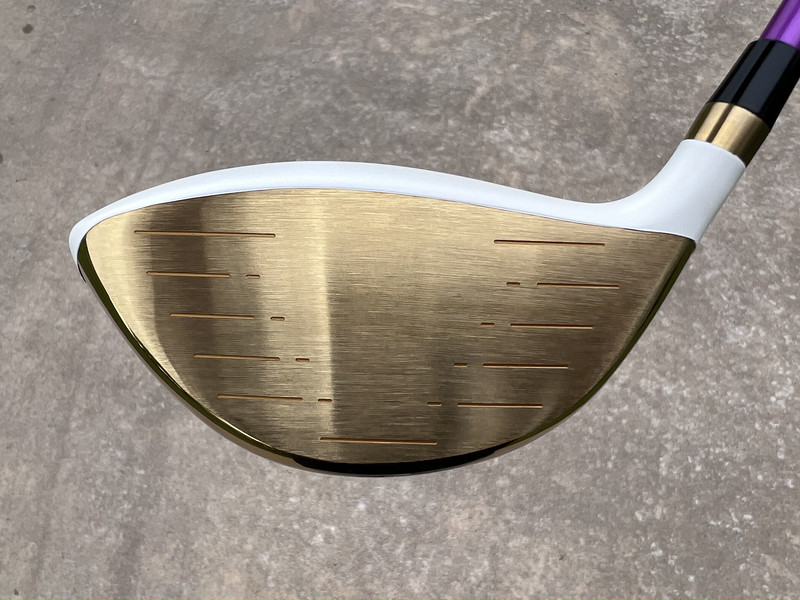 On the course, taking the Shark Attack Goldiloxxx out of the bag also got the exact reactions you might imagine, typically shock, followed by wanting to see it closer. In the end, the looks are what they are, and they are a perfect match for what Shark Attack wants to be as a brand. One thing I want to point out, throw out the paint, and this is one of the absolute most traditionally shaped drivers I have seen in a long time. Add in the deeper face and this is a well-balanced neutral-to-open head with substance underneath all that flash.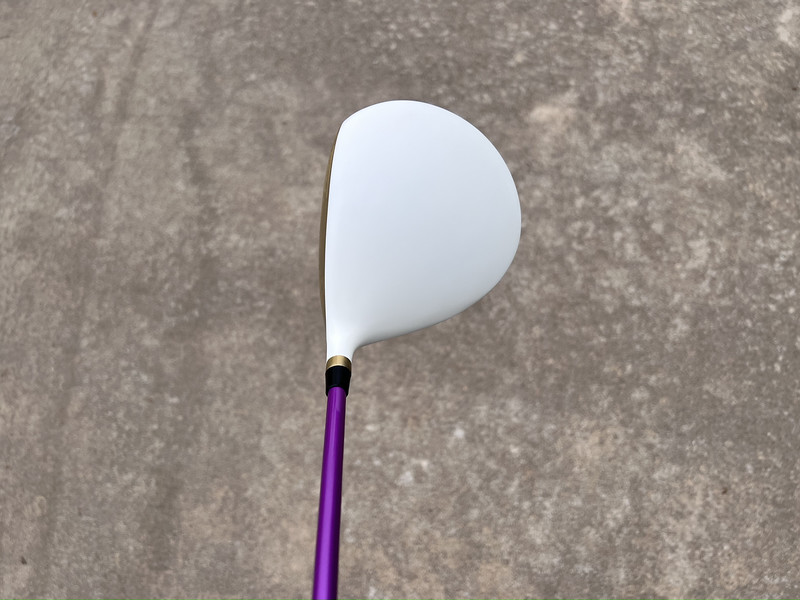 The Goldiloxxx comes as a 6.66-degree loft at standard, but the company acknowledges openly that tolerances are +/- 1-degree, and the head I received for review was actually digitally lofted at 7.5 degrees, which was just fine by me. The build was paired with the companies "TATTOO" golf shaft in "Viloent" (a play on Violet I believe) which the company describes as being a 62g shaft which CPM's at 235. The idea behind the setup is that lower CPM's to flex means more people can swing and activate the shaft.
I took the Goldiloxxx to the course and hit it on a Foresight launch monitor as on the course for many different sessions. This was an interesting experience with this being closer to standard (46" by my measurement) and I saw average ball speeds of 161 with my peak being 165. Spin here came in at 2200 RPM on average and I saw a peak height of around 87 feet. All this together was much of what I expected given the low loft, it was a piercing flight which took advantage of roll out with the lower launch angles for me personally. My flight tended to be more fade biased with the Goldiloxxx, and while it wasn't as demanding as I expected, the forgiveness factor is what I would call average on most misses.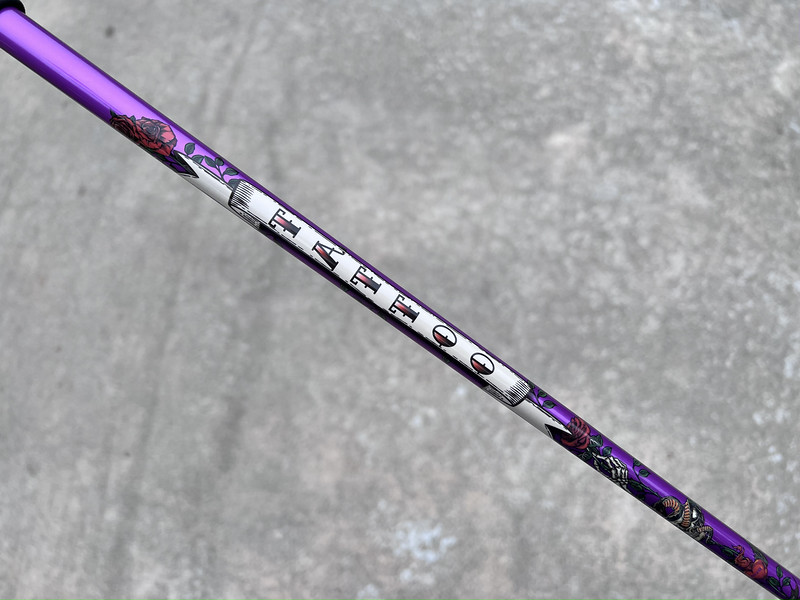 Also, this one will turn heads from its looks, and its sound. As much as the shape is a throwback, so too is the fully metallic acoustic feedback you get at impact. If its muted you are used to, this is a trip to the past when full metal builds ruled the world.
Tokyo Drift Adjustable LD Driver
You saw that correctly, when you get past the Tokyo Drift name, that "adjustable" word jumps out and smacks you in the face. This was created by Shark Attack to answer the request in the Long Drive world of a component driver with adjustability to tune it in even further. The company is using its adapter system which allows a 4-degree window of options. But, about those options, they are from 4 to 7-degrees with the standard loft of the Tokyo Drift being an eye popping 5-degrees.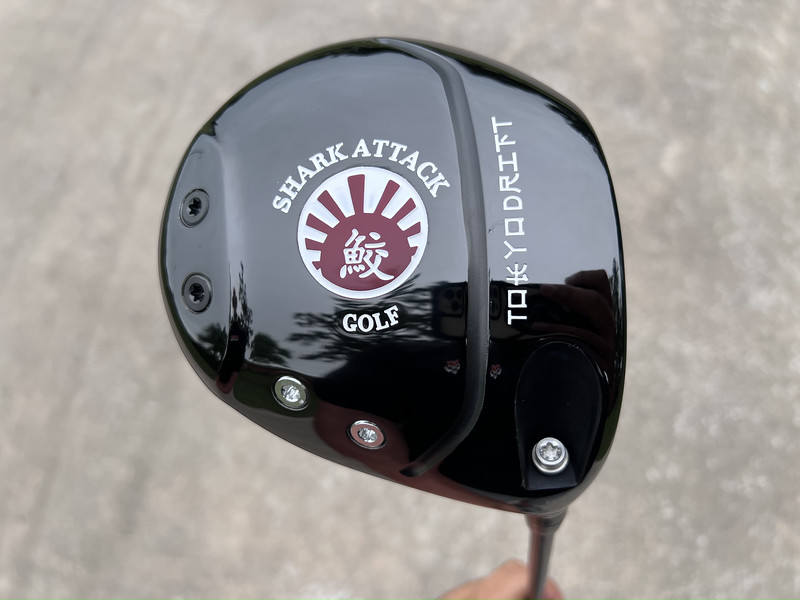 Putting that aside for the moment, the aesthetics of this one is a stark contrast to the Goldiloxxx. Though the shape isn't as traditional and the face is a little shallower (particularly towards the toe), this driver is visually pleasing. The crown is finished in a deep gloss black which showcases the simple alignment aid and the sole looks quite classy in its gloss finish as well. The shaping of the sole and the hex weights is reminiscent of PXG at times, though this to my eye looks better. Interestingly, the head also sits neutral to slightly closed as well, something I never expected.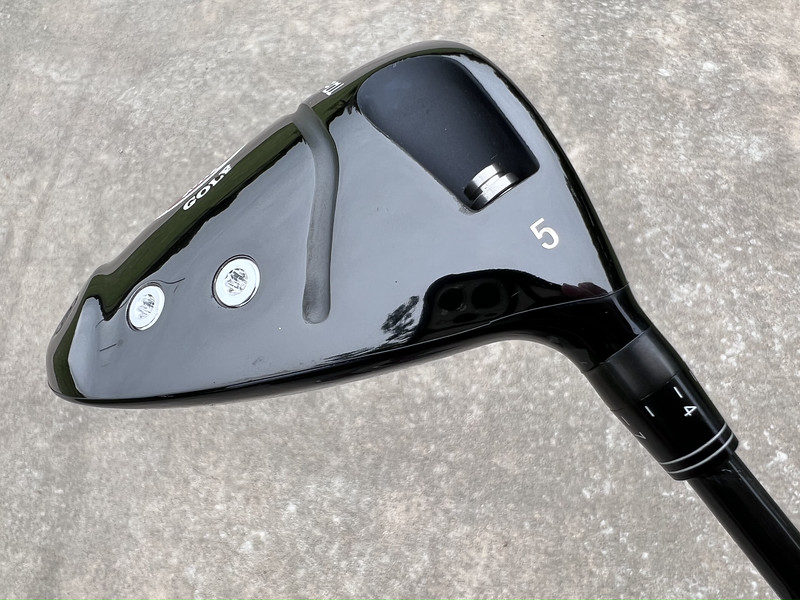 For the adjustability, this adapter seems on the heavier end, though I was not able to pull and weigh it for this review. When changing its orientation however, it does impact the visual face angle as you would expect, and when I set it to 7-degrees I ended up with a low loft setup that wanted to go right to left. The Tokyo Drift came paired with Shark Attacks 245 CPM "TATTOO" shaft named "Jet" for its black finish.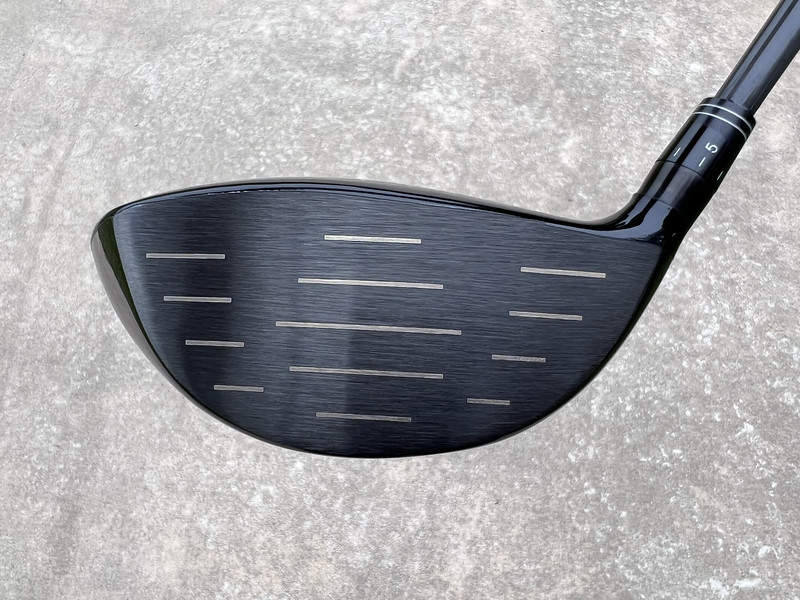 I also took the Tokyo Drift to the Foresight launch monitor as well as the course, and at 48" it took me a few outings to really figure out where in the stance I needed the ball. More than that, it took time for me to trust that I could SWING it. After I acclimated, I saw some pretty good numbers with my ball speed averaging out to 164 with a peak of 169, which is a personal best for me, and spin situated into the sub 2000 RPM range. As I expected, the lower loft kept my peak heights under 100 feet where I prefer to be, averaging out to right around 80 feet at standard loft.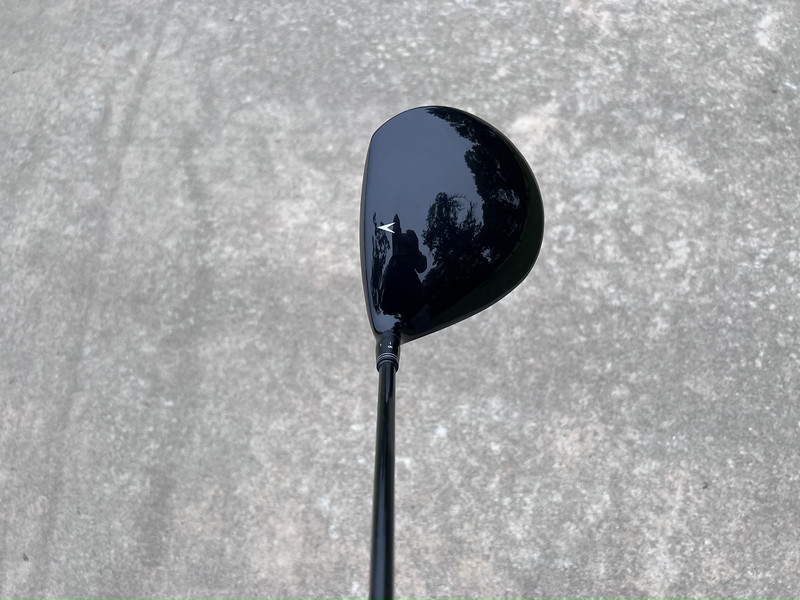 What does it mean? Well, that it does what it intends to. The longer build allows me to generate more speed, but with that came some directional issues from inevitably overswinging. Then again, this is a different type of driver and driver swing than I play in my usual game. The flight was indeed flat and piercing, though still not as low as I expected. Total distance was downright funny at times when the speed and roll out met each other on the dry Oklahoma fairways as well. Honestly, it was more fun than I ever expected. This one on the course is not a muted driver and the full metal build brings back some of that old school acoustic feedback but with more of a hollow tone than its sibling the Goldiloxxx.
The Details
All in all, there is a lot more to the Shark Attack driver designs than I expected. Right or wrong, I had some preconceptions entering things but the more I researched their role and successes in the world of long drive, the more I saw a correlation to solid performing drivers that offer something to those who desire low lofted clubheads. Will they fit everyone? Nothing fits everyone, and these are not for the faint of heart, but they are just like the company behind them, bold, brash, and not trying to be anything that they aren't.
Both drivers are available directly from Shark Attack Golf on their website sharkattackgolf.net. The Goldiloxxx comes in at $259.99 for head only, and $450 for a full build, and the Tokyo drift is currently available as a full build only at $475.00. All full builds are done using the companies self-designed shafts.
What do you think? Do Shark Attack and their components catch your eye? Let the world know what you think both in the comments below or on the THP Community with thousands of golfers, just like you!