Last month THP featured an exclusive interview with the man behind the brand new custom wedge company. In case you missed that article, you can catch up on it here. In it readers learned a lot about what to expect out of Hopkins new custom wedges and why the company is being started.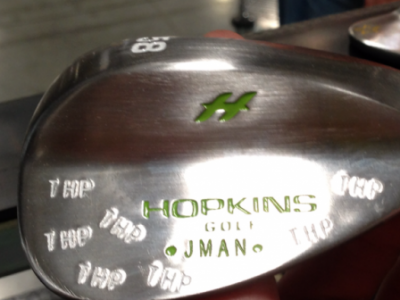 The company went live and wedges were getting ordered. THP readers were some of the first to begin the process and we started seeing wedges coming out with "THP" stamped on them. The staff here at The Hackers Paradise thought it was so cool, we got together with Hopkins Golf to add a little something to those that still want to get in on the action.
"We have definitely taken notice of the support we've received from the members of The Hackers Paradise. To show our appreciation we're making a special offer.", said Greg Hopkins founder of Hopkins Golf.
The Special Offer
Place an order at the Hopkins Golf website with THP or any form of The Hackers Paradise engraved on the club (previous orders are not eligible)
Take a screen shot of the club and send to Support@HopkinsGolf.com
Include your name and order number
They will issue a $30 per club credit
THP cannot wait to see the new creations.