Fresh off the heels of the metal woods and hybrids being announced for the EXS line from Tour Edge Exotics, the irons are here and will be hitting stores on November 1st. The Exotics EXS irons feature the same tagline that Tour Edge has put out for the entire lineup; Pound for Pound, Nothing Else Comes Close.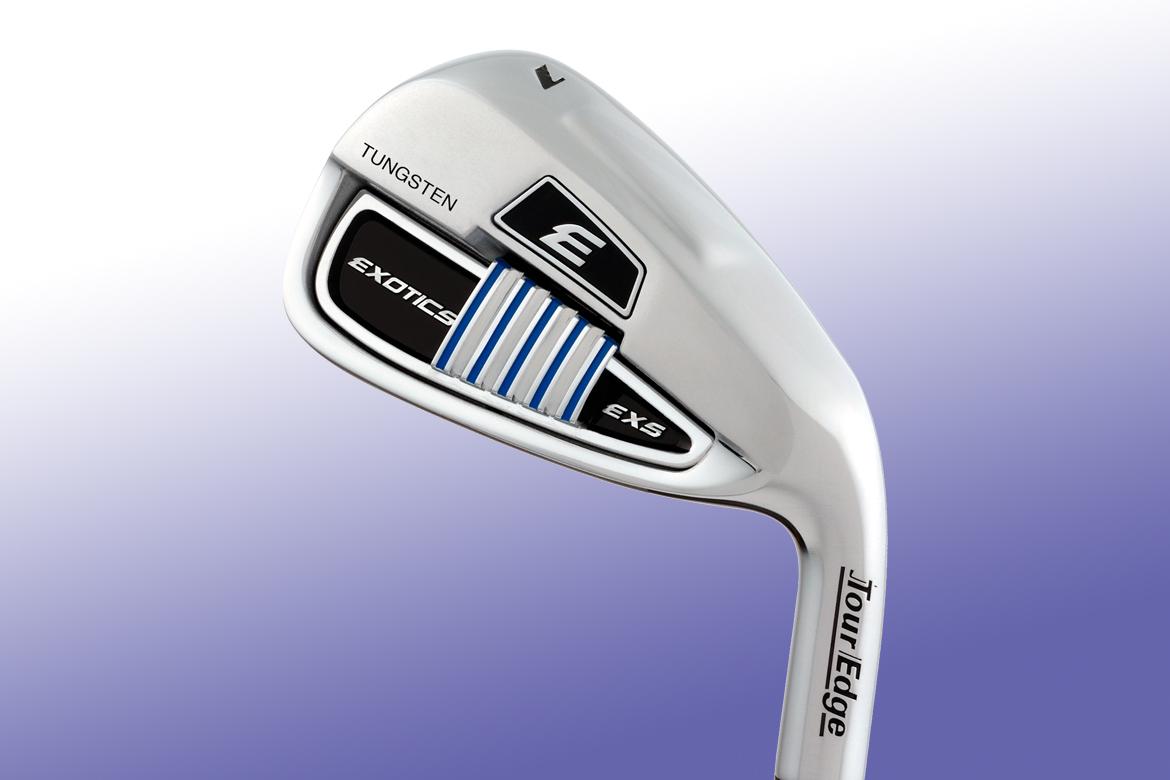 What does it mean? What Exotics is trying to do is create a fully loaded club head, packed with technology for a price point that nobody else seems to be at with the same features. The EXS irons features a forged Cup Face with what they call SpiderWeb VFT Technology (more on that below) to expand the sweet spots. A full hollow-body design on the longer irons and undercut design once you get to the scoring spot in the bag, incorporates LaunchPad to make sure that the lofts offer optimal launch. The tech doesn't stop here, as the company is using 19 grams of Tungsten in the toe and a Ramped Sole to create a perfect balance and faster club head speed through impact.
"Make no bones about it, this set was designed to be the longest distance iron in the game," said Master Club Designer David Glod. The lofts are unapologetically strong as we were able to get the proper launch behind them due to the LaunchPad Technology and the seamless hollow body to undercut construction. I think it's fair to say that you'll gain eight to ten yards per iron with the EXS iron on the long irons and five to eight on short irons."
The Tech
We mentioned SpiderWeb tech above, and wanted to dive in a bit deeper on it here. It's a variable face thickness located behind the impact area that is designed to create similar distance regardless of where the ball is hit on the club head. Missing it a little towards the toe or heel, should be less punishing by design in terms of ball speed. The addition of the forged cup face brings even more ball speed retention as you move towards the perimeter.
Something Tour Edge calls LaunchPad Technology is a TPE polymer that has been coated with a gel that helps absorb shock at impact and in theory could create more spring effect off the face. It also creates a softer sensation in the hands and helps with a more muted sound as the ball is struck. Moving more weight to the toe, the company has a 19 gram Tungsten weight that can help golfers that have a miss towards that area, as well as assisting in keeping the club head more balanced heel to toe in terms of weight.
The shaft choice follows the same trend of not skimping, as the company has paired these club heads with the KBS Max 80 steel shaft as well as the Mitsubishi Tensei CK Blue 2G graphite shafts.
The Details
In Stores: 11/1
Cost: $699 in steel and $799 in graphite
Warranty: Lifetime Warranty like all Tour Edge products