Making a tee time in today's market can be tricky with the different options out there to do so. You can choose to go directly to the course's website, call the course, or find discounts on other websites. That's just the beginning of the difficult decisions you face before you step out on the first tee box. The toughest decision most golfers face is what to wear to ensure they get some compliments from their playing partners. You can make this decision much easier by introducing yourself to Travis Mathew and their latest line of apparel. Unlike other golf apparel companies that release new lines two times a year, Travis Mathew makes a point to release a new line for each season. They obviously have some great designers that are continuously coming up with new bold looks for all golfers.  If you have a hard time pairing tops and bottoms then you can check out their style guide for some fashion.
The best part about Travis Mathew is that they have put a lot of time and money into their quality control, so you can order online with confidence. This is my second review of their products in two months and everything that arrived for this review was of the same quality and consistent fit. As an avid golfer who has an appreciation for golf apparel, I think this is something that can differentiate them from their competitors. I have the honor of being able to try out numerous golf apparel companies product with no risk. Throughout my time as a reviewer I have yet to find a company with the quality control offered by Travis Mathew. To me, this is a topic that should be discussed and not just touched upon. As the internet becomes larger and more important for people to get access to products, we as consumers should be able to order with confidence.
Not only can you trust in their product and have full confidence in your purchase, but the company is being run the way one should be. You can tell that they take pride in what they do and that they want their employees to be happy. If you are on their email chain then you get the Friday Nooners (which are videos of fun being had at their corporate offices). New employees are sent through an apparel run, they have numerous company events, and also celebrities stopping by for a game of basketball or ping pong. For some consumers this type of stuff means nothing, but for me, it builds respect.
Mommasulo- Light Grey
MSRP: $84.95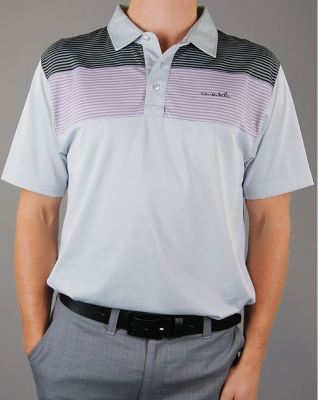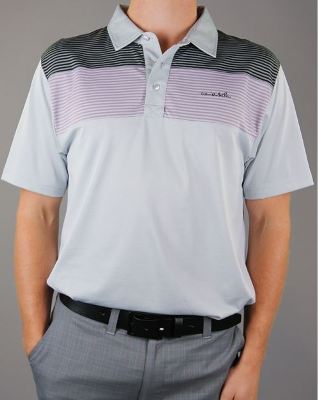 The lines on the chest of the Mommasulo to me are your typical classic Travis Mathew. This to me is a good design in any shirt due to the fact that broad shoulders are not something I was blessed with. The polo features the slim fit, which is seen throughout any Travis Mathew polo.  Although I am not the skinniest person I do still like my polo to fit more on the slim side around the waste. This will keep from bunching around your back and allows you to set up to your next shot looking well put together. The length of the polo is nice enough to stay tucked in, but also allows you to untuck after your round and still look clean. I have heard complaints about the sleeve lengths being too short, but this is actually an aspect of the shirt I like. For me, I feel the sleeve hang is just perfect. Too much sleeve and it just feels baggy and takes away from the look of the shirt. Not enough sleeve means you run the risk of getting them hung up on your shoulders or arms during your swing. I think all sleeves should stop just above your elbow as seen in the picture above. The shirt features a 3 button placket, which I feel should be a minimum in any polo shirt. One of my favorite less talked about features of the shirt is the collar. It isn't advertised as wrinkle resistant, but I have yet to have any issues with curling or wrinkling, even after a wash or a round of golf.
I have tested this shirt in some very extreme heat and found that it was moisture wicking as well as not too hot. I found myself playing in Arizona with 115* temperatures and although I was hot, it wasn't due to my shirt not breathing. That was an ultimate test for this apparel. I love how they went with a grey shirt and added a subtle hint of purple at the top. The black also gives you the ability to pair this with numerous options for bottoms. I also feel that the design of this shirt allows you to wear it off the golf course. It will keep you looking dressy, but also give off the younger, more hip vibe.
FABRIC: 60% Pima Cotton/40% Polyester
OG- Picasso Purple
MSRP: $74.95
The OG polo might be one of my favorite polo's. I love the simple and clean design behind it. It features a 4-button placket, which will keep your top looking stylish and clean throughout your round. When it's unbuttoned one time, it does not reveal too much chest and keeps the collar standing high. A feature I love is the front pocket on the left chest; this adds a little character to a polo that could be a bit boring without it. On the pocket is the TM icon embroidery. The fabric has a small bit of shine to it, which is another feature that takes it from your everyday polo to a nice Travis Mathew style. I have found that the collar remains in great shape throughout your round and sits nicely on your neck. You will not have to worry about curling or wrinkling with the collar. The sleeves have a nice piping towards the bottom, which add just a little bit of weight to them. The shirt is made from a pima cotton and polyester mix that will keep you nice and cool on a hot summer day. If you have not tried a polo with pima cotton, do yourself a favor and try it out.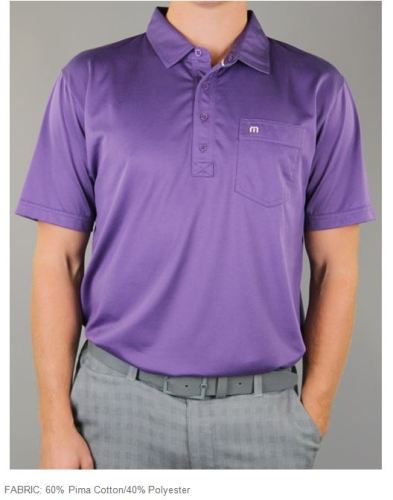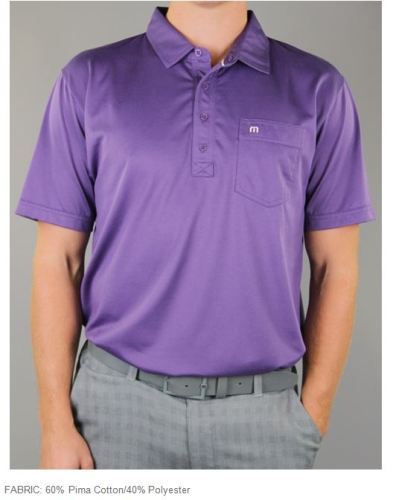 My Favorite Piece- White w/ Black Pinstripes
MSRP: $84.95
When I first received these shorts I loved the look of them. They look like a very nice dress short, so I instantly knew I would be able to pair with most tops. The first thing that caught my attention was the button down back pockets. At first glance I was not too excited about this feature as I thought it would be a pain for getting my golf glove in and out. I should have known that the designers at Travis Mathew knew what they were doing when they made these shorts. The button down pocket is just for looks. You cannot unbutton them and the nice thing is there is a pocket just above that. This is a genius design for looks and functionality. I do love a pair of white shorts, but like everyone else I fear them getting dirty. I think the black pin stripes will knock down on them getting dirty, or at least looking as if they are. They feature the music/cell pocket in the back, which is a feature in a golf short I have grown to love. I do not listen to music on the range but I do use that pocket all the time now to hold my cell phone. This keeps your pockets from getting too bulky and you can't even tell your cell phone is there. Don't worry about sitting on your phone as the pocket is high enough that it is not a factor. For those of you looking to get a rise out of your local beer cart girl, I have found that the "sorry for being awesome" tag appliqué on the inner fly is a good but awkward conversation starter.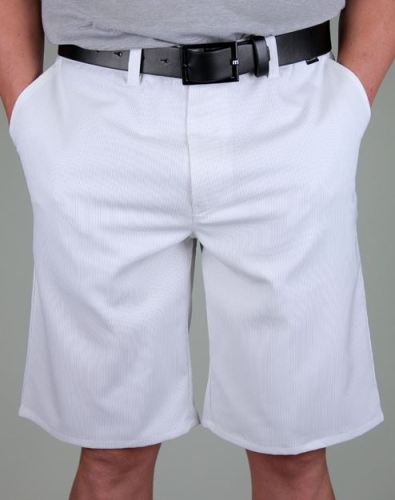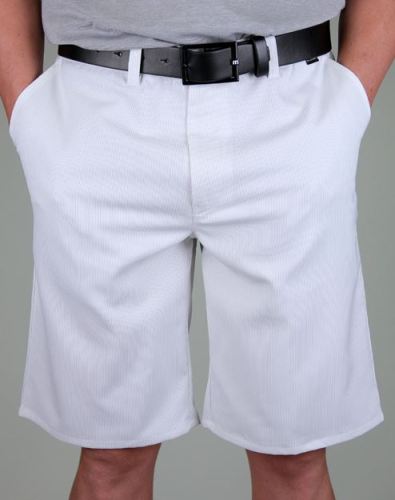 FABRIC: Poly/Rayon/Elastane Blend
Stanley-White
I am a huge fan of fitted hats, especially hats with flex fit. I personally do know my exact size in a fitted hat, but at one point I was in between sizes and the flex fit was a perfect marriage for me in sizing. The Stanley hat is made of a mesh-like material that will keep your head dry and cool on any summer day. It features the TM logo on the front and that is all the writing or text you will find on this hat. It is a structured fit and looks very clean on your head, but it is not too high like a trucker hat. I am not a huge fan of the trucker look because I don't like a hat that sits too high on my head. This hat does not do that. It mainly just adds structure and gives a classy look.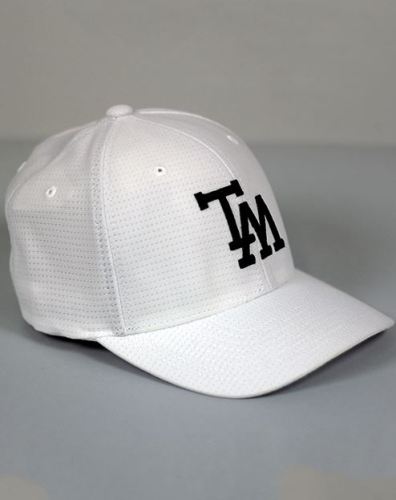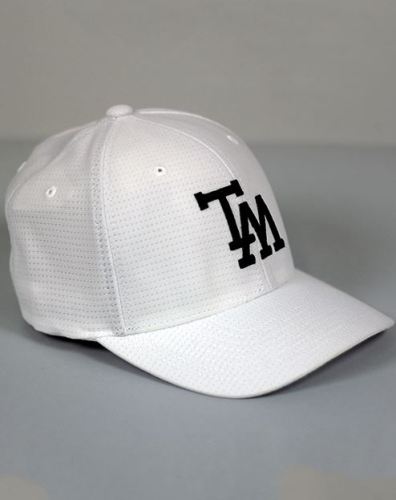 MSRP: $34.95
Conclusion
With Travis Mathew it is very apparent that you cannot go wrong with any selection you make. I understand that with this review I focused a lot on the quality control, but I do feel that is a very important aspect with any apparel company. It is very nice knowing that you can purchase online with confidence that your items that arrive will fit just like you would expect. I know Travis Mathew has done quite a bit of work making sure that each piece of apparel they release is made with the same quality you are used to, so it is important to talk about. I have really grown to love the TM brand because each line they release looks and feels just as good as the last. With this late spring line they chose to focus on the purple hues and I really enjoyed the broad range of purple they went with. The polo's are made from a pima cotton/poly blend that feels absolutely incredible on the skin. It also is a fabric that will hold up to any hot day you can throw at it. I received a large in the shirts and I would say that they all are true to size. They do have more of an athletic fit, but don't worry about that beer gut as there is still plenty of room around the waist. The shorts are as comfortable as they look. They hang just above the knee, which is ideal for any golf swing. I received a 34 waist, and just like any other pair of Travis Mathew shorts, they are true to size. Even if you feel the music/cell pocket is not a big deal, I can assure you that you will find yourself using it in more ways than one. The hat is very comfortable, whether you wear it forwards or backwards. Don't worry, even Jim Furyk has been known to throw his hat backwards for golf.
If you are in the market for golf apparel, do yourself a favor and check out the TM brand. If you just enjoy having fun, then make your way over to www.travismathew.com and do some searching. You may be surprised at what else they have to offer and how much time you can spend getting lost in AWESOME!!