Babe Ruth said it best, "Heroes get remembered, but legends live forever." You may be asking yourself what in the world this has to do with a golf shaft review, but when that golf shaft is named "V2", it makes perfect sense. The UST Mamiya Proforce V2 golf shaft has over the years achieved legend status, most who have played can recall the black and yellow bumble-bee looking shaft that was at one point everywhere on Tour. Fast forward to now and in 2018 UST has given the V2 a facelift and some new technology to bring an old favorite back to life.
THP received the 6F4 and 6F5 versions of the new Proforce V2 for closer review.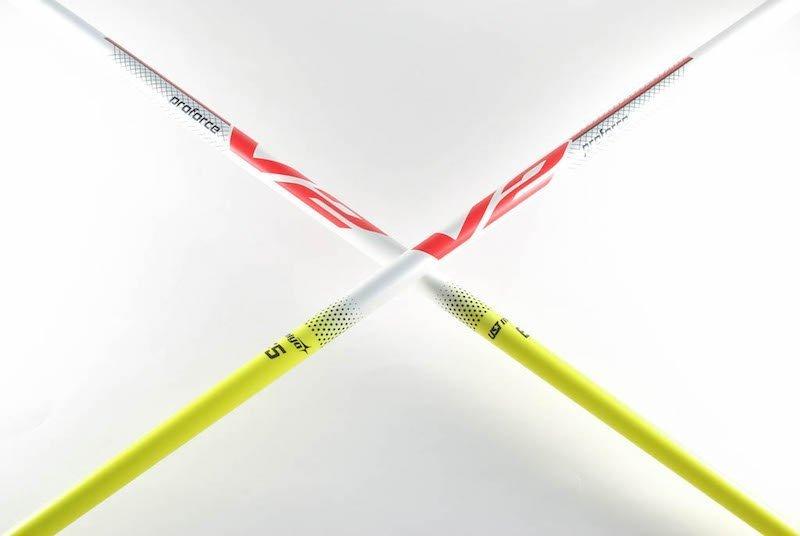 Information and Specifications from UST Mamiya on the 2018 Proforce V2:
FOR THE PLAYER SEEKING A MEDIUM BALL FLIGHT, INCREASED BALL SPEED AND SUPERIOR CONTROL.
LONG PARALLEL BUTT DESIGN – Provides greater control in the hands of the golfer for both aggressive and smooth tempo golfers.

STIFF TIP TECHNOLOGY – Stiffer tip provides golfers more spin control at impact.

RECOIL TECHNOLOGY – Provides optimal spring effect in the walls of the shaft and more efficient energy transfer to the ball for increased velocity and greater distance.
| | | | | | | | | |
| --- | --- | --- | --- | --- | --- | --- | --- | --- |
| Description | Flex | Weight | Torque | Launch | Butt | Tip | Tip Parallel | Length |
| PROFORCE V2 5F2 | A | 56g | 3.7° | Medium | 0.600″ | 0.335″ | 4.0″ | 46″ |
| PROFORCE V2 5F3 | R | 57g | 3.7° | Medium | 0.600″ | 0.335″ | 4.0″ | 46″ |
| PROFORCE V2 5F4 | S | 57g | 3.7° | Medium | 0.600″ | 0.335″ | 4.0″ | 46″ |
| PROFORCE V2 6F3 | R | 65g | 3.0° | Medium | 0.600″ | 0.335″ | 4.0″ | 46″ |
| PROFORCE V2 6F4 | S | 66g | 3.0° | Medium | 0.600″ | 0.335″ | 4.0″ | 46″ |
| PROFORCE V2 6F5 | X | 66g | 2.9° | Medium | 0.600″ | 0.335″ | 4.0″ | 46″ |
| PROFORCE V2 7F4 | S | 76g | 2.2° | Medium | 0.605″ | 0.335″ | 4.0″ | 46″ |
| PROFORCE V2 7F5 | X | 76g | 2.2° | Medium | 0.605″ | 0.335″ | 4.0″ | 46″ |
| PROFORCE V2 8F4 | S | 86g | 1.8° | Low-Mid | 0.605″ | 0.335″ | 4.0″ | 46″ |
| PROFORCE V2 8F5 | X | 86g | 1.8° | Low-Mid | 0.605″ | 0.335″ | 4.0″ | 46″ |
| PROFORCE V2 9F4 | S | 96g | 1.7° | Low-Mid | 0.610″ | 0.335″ | 4.0″ | 46″ |
| PROFORCE V2 9F5 | X | 96g | 1.6° | Low-Mid | 0.610″ | 0.335″ | 4.0″ | 46″ |
Aesthetics:
The original V2 featured what many called a "bumble-bee" paint job, black and yellow, which at the time was pretty in your face. Fast-forward to present day and the 2018 release has that in your face feeling as well, but the colors are even brighter. The standard V2 features a combo of white and bright (almost highlighter level) yellow that is rounded out by red and black graphic accents and text. UST has been on the forefront of the bold graphics trend, and the V2 falls right in line with that concept. The graphics are on two sides of the shaft, so logo down isn't an install option, but when put into an adjustable hosel it creates the feeling of similarity regardless of orientation. The V2 is bright, and it may not be for everyone, but installed into the new Cobra F8 these were tested in, it looks pretty fantastic.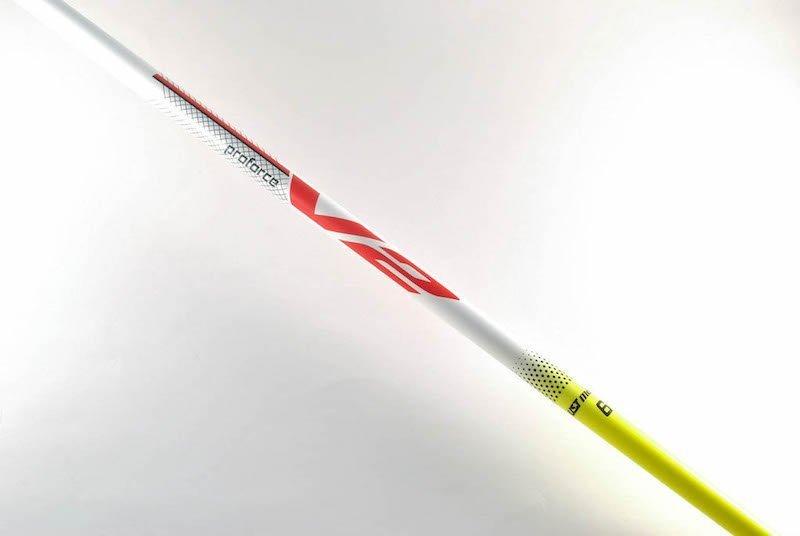 Shaft Profile:
As previously mentioned, the 6F4 (stiff) and 6F5 (x-flex) versions of the V2 were both received for review. The 6F4 weighed in uncut at 65g and the 6F5 at 68g, after trimming to playing length they slotted in at 61g and 64g respectively.  When installed into a 199g driver head, both shafts swing weighted well and little adjustment was necessary. One thing that is always consistent about UST Mamiya shafts is how well/easily they build. Though the 60's gram version of the new V2 was received, keep in mind that 50's, 70's, 80's, and even 90's are available as well making it a legitimate option for drivers and fairways.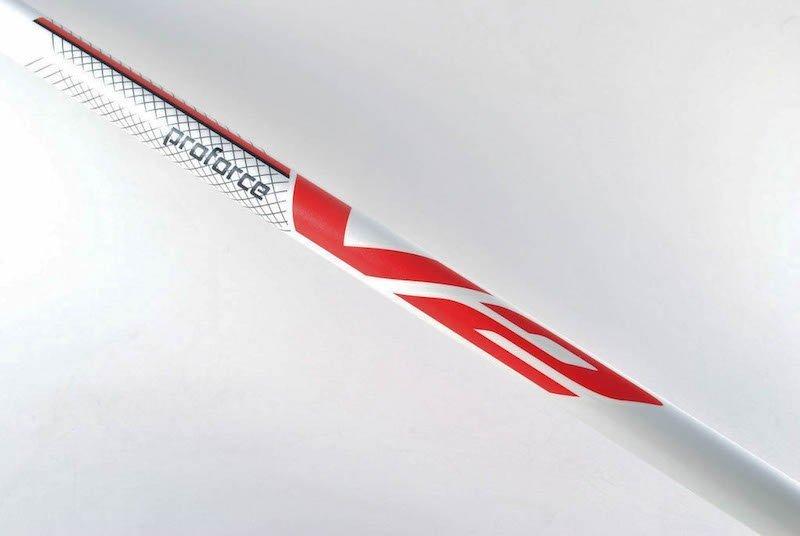 Where the physical profile is concerned, the Proforce V2 is classed as a low-mid spin shaft intended to produce a more mid ball flight overall. With the torque ranging from 3.7 in the lightest version to 1.6 degrees in the heaviest, the feel for most is going to be one of stability throughout the shaft. Torque is one of the biggest effectors of feel in a golf shaft, and the 2018 version of the V2 based on this metric looks to provide some familiar feel for those who have used the original, and in testing both versions we continued to get that "stable" label placed on them by those who swung them.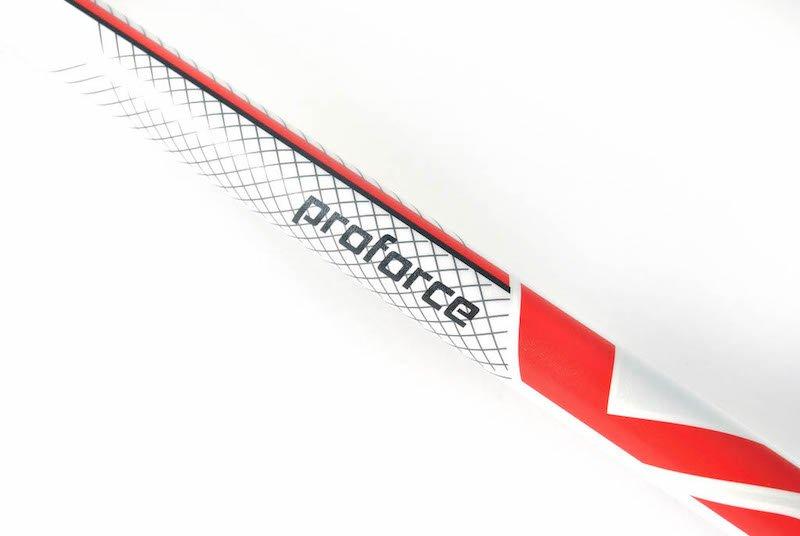 One stark difference however, is the implementation of modern materials to the V2 design and that being capped off with Recoil technology. Recoil tech is indeed the same that UST Mamiya's iron shafts are named after. The name of the game here is energy transfer and the ability of the shaft to maintain shape and spring in transitioning energy from the load of the golf swing and into the ball at impact. In using the V2's, this reviewer truly believes this is what allowed the V2 to walk the line of stable and not coming off as too stout/rigid in the swing.
Launch and Spin:
Shaft reviews can be a testy thing, reason being everyone wants to focus in on the launch and spin produced by a given shaft, but many forget that fit matters and not every swing will yield the same results. This is why fitting is critical and UST Mamiya has always pushed this through the use of their TSPX dealers to make sure people are getting the best setup for their needs. This is something to keep in mind as we discuss what was seen in the review, these are the results of one golfer, and hopefully if after reading you are intrigued, you seek out a facility to get some time in to see how the new Proforce V2 works with your game.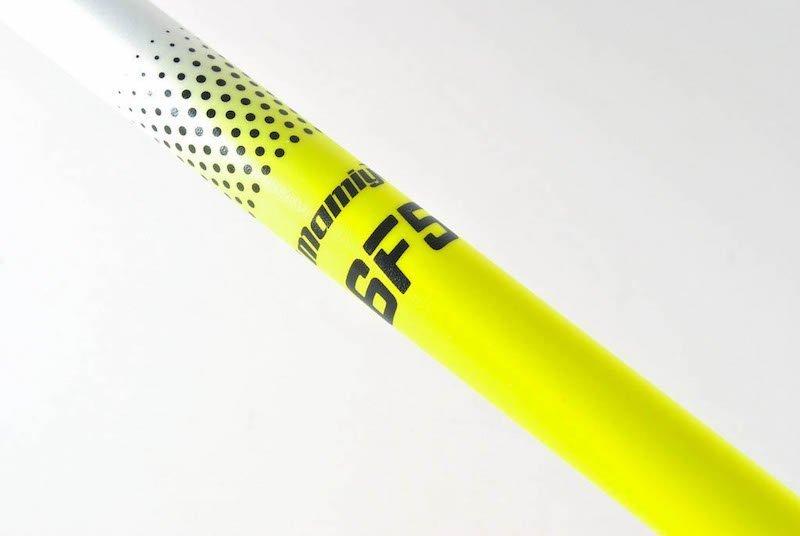 Both the 6F4 and 6F5 V2's were tested in a Cobra F8 driver in the same loft and swing weight setup for the whole of this review. Classified as a mid-launch shaft via UST's available information, this reviewer actually saw a higher ball flight than expected, one that could be placed into the mid-high range even for this low ball hitter. The 6F5 unsurprisingly launched lowest of the two weights tested, falling 0.7 degrees lower than the 6F4. Where spin goes, averages seen on the Foresight GC2 placed firmly into the low-mid spin realm ranging from 2600's with the 6F5 and 2800's with the 6F4. Both setups yielded positive results on the course and range as far as distance potential was concerned as well. Though it is the opinion of this reviewer that the 2018 Proforce V2 hits the marks pretty much as advertised by UST, all of this needs to be preempted with the understanding that different golfers need different things, the only way to know for sure is to get out and try it.
Parting Thoughts:
The 2018 Proforce V2 is sure to create a lot of nostalgia amongst many golfers, and though the name returning is fun, so too is the performance. While it may not feature the same materials as their top of the line shafts, UST Mamiya has created a shaft that does what they intend it to, and more than that they have done it at an eye-popping price point, $59.99 for the 50/60/70 and $79.99 for the 80/90. But wait, UST has taken it even further offering a V2 hybrid shaft for $29.99 and high launch (HL) V2 for $59.99. What they have essentially done is create an entire lineup of shafts that will allow golfers to look at affordable upgrades for their entire set.
More information on all of the 2018 Proforce V2 shafts can be found at www.USTMamiya.com.