The Masters is unlike any golf event of the year. From the opening theme music to the lush and beautiful course coverage, it is one of the few places that is more about the course and the tournament than it is about the players involved. It signifies the becoming of the golf season for many and yet all true golf fans will be glued to their television sets indoors as the first major of the year on the PGA Tour takes center stage. Of course it is a major and with that means predictions. THP asked each member of the staff for some predictions and went with 4 questions that should be fun to follow along with.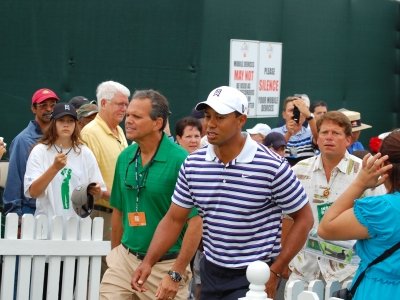 1. Who do you think will win The Masters?
2. Who will be a disappointment this year?
3. Who will be a surprise and finish stronger than expected?
4. Does Tiger Woods finish in the top 10?
Josh B.
1. This is a tough one for me this year. Rory looks to be playing his game right now at the highest level, Tiger is coming off his first win in what seemed like forever, Phil has looked good early and always seems to show up at this tournament and of course you have a full field that is ready to claim the green jacket. I also really think Keegan Bradley has the perfect game to win green jackets with his driving ability and putting. I was close with Charl last year and he delivered the goods, but this year I am going with some "chalk". I think Rory wins this and does so with a great leaderboard throughout.
2. Charl Schwartzel is the returning champion and has played some decent golf this year, although he has been hot and cold. I think that this year he struggles early on and while he will get some momentum, it will leave him outside looking in.
3. One guy keeps popping up in my head that I think is finally getting it all to click and that is Robert Garrigus. He certainly has the length and this year since switching to the belly putter from that tiny thing he was using, his putting has been much better. Ranked 70th in the world right now, I think Garrigus could surprise some folks and make a run at this thing.
4. I think he does. In fact I think he has a chance to win it. Most will say its mental, or its his driving or its his putting, but for me, I think its his short game overall. His wedge play around the greens has been average at best this year and when his iron striking is slightly off, he needs it to stay away from high numbers. I think he gets that dialed in this week and makes a run at this.
Lucas C.
1. I know this is probably the 3rd year in a row I've predicted this, but I have to stick with my heart and say that Lee Westwood will win his first Major Championship at the 2012 Masters. Why? Well, there are many reasons as to why. First of all, he's the best golfer on earth from tee to green. I know he can get streaky with the putter so I'm just hoping that it gets scorching hot in Augusta. Secondly, he's just plain due. A guy who's been through all that he has deserves a Major Championship. And lastly, I can't wait to see that beautiful smile when he puts that green jacket on.
2. As much as it pains me to say it, my main man, Phil Mickelson will be a disappointment this year. It would make me so happy if he proved me wrong, but so far this year Phil's either en fuego or ice cold. I suspect he plays ok at Augusta but I just don't think he delivers. Maybe a lot of that has to do with the current form of a lot of his peers.
3. You know, I'm not really going out on a limb here because this kid has tremendous game, but I wouldn't imagine he would be considered someone who finishes in the top 15, which I think he will. Patrick Cantlay will be a factor at Augusta. He's not afraid of the spotlight or the competition. You heard it here first folks!
4. Absolutely! His short game is finally starting to show signs of life. His iron shots look effortless and they're beautifully executed. I also don't think that the Masters is the most demanding course with a driver so Tiger can 3wood and stinger all over the course. I would be extremely surprised if he didn't finish 2nd behind Lee Westwood!
Jason K.
1. Tiger Woods. All we have to do is look at these numbers and it will tell us everything we need to know. Since December Tiger has finished 1st at the Target World Challenge. T3 at the Abu Dhabi HSBC, T15 at Pebble Beach only because of a final round 75 knocked him down the leaderboard, T2 at the Honda Classic where he fired a final round 62, WD at Doral (I'll save the injured vs. quitting debate) but was poised for another top 10 finish and then 1st at Bay Hill in the Arnold Palmer where he looked to be in control of everything he did and oh….finished 4th in putting that week. If his putter works at Augusta he wins…period. You want more numbers, ok. Tiger's last 5 finishes at the Masters are T4, T4, 6, 2, T2. It's simple here folks, he LOVES this golf course and this tournament.
OK enough with the numbers, we know he'll be lurking around all week and it'll come down to how he putts on Sunday. Tiger is playing with a chip on his shoulder right now, he finally got himself back into the winner's circle at Bay Hill and if you're not picking him to win at Augusta then you're insane because he is just that good on this course and right now he is showing some superb ball striking. He's leading in statistical categories such as driving and scrambling, that is a very bad sign for the rest of the field. Tiger Woods, your 2012 Masters Champion. Book it.
2. Luke Donald. A couple missed cuts, a couple top 5 finishes, but nothing great for Lukey D on the hallowed grounds of Augusta National. He comes in having recently won The Transitions to retake the #1 spot in the world but that isn't going to help him much this week. Luke doesn't hit the ball long or straight enough to win here. I don't think he misses the cut but he will not be a factor at all in the outcome of the event on the weekend.
3. Stewart Cink. Cink hasn't done too bad at the Masters but he hasn't really ever looked like he could win it either. I think he's starting to get his game back in shape after the world's longest hangover from winning the British Open in 09 (well unless your name is David Duval). I'm doing with a hunch here and saying we'll see Stewie's name on the leader board this weekend.
4. You want more stats? I can get them. Look it's past stats and numbers at this point. We've seen this movie before, Tiger Woods is the best player in the history of the game and guess what, he's back. I expect to see him get challenged but I also expect him to win because of everyone who will be up toward the top of the leader board on Sunday he's the one guy that can draw back on having been there and won it at this venue. It's Tiger time again ladies and gentlemen, get yourself some popcorn and sit back and enjoy the show. I know I will!
Ryan H.
1. I'll take the obvious answer and say Tiger Woods. I don't think he's going to run away with it, but I do think he wins. I think the ball striking and control he showed at Bay Hill will carry over to Augusta. In my opinion, there's a lot to be said for him beating GMac last weekend. Sure, Bay Hill is basically his home away from home, but Gmac is the guy that stole his mojo at his own tournament. For Tiger to come into Sunday with a slim lead and win convincingly shows me he's got his mind back in order to go along with the swing. I'm guessing his confidence is very high right now.
2. Dustin Johnson. I think his tendency to be wild off the tee and his putting will keep him from being a contender on the weekend. Honestly, he hasn't really shown me anything recently to make me think he's ever going to be a major winner. The ghosts of Pebble Beach and Whistling Straits are still haunting him.
3. This is always a tough one for me. I thought about perusing some stats to come up with a real smart darkhorse pick, but what fun is that? I'm going with my heart and saying Paddy Harrington. I've picked him a handful of times and he's never come through, but I can't help it. He plays the irons I play, and that's good enough for me. Go Paddy!
4. Since logical Ryan H picked him to win, he will be in the top ten.
Todd H.
1. Luke Donald. Since 2006, a first time winner has won at Augusta 4 times so why not Luke? He isn't the sexiest #1 player in the world but he sure was the most consistent player last year. Consistency. That's what it takes to win a major never mind the Masters and Luke has that. He finished T4 last year so it's not like he hasn't had some recent success there. He's picked up right where he's left off last year and while he's played just 4 events so far, he's got 2 top 10 finishes and a win without missing a cut. He's fresh and he's arguably one of the best in the world with his irons and the flat stick. Luke is ranked #1 strokes gained-putting with 1.186 and that bodes well for him dealing with the glass-like greens of Augusta. Bunkers? No sweat. Everyone knows how comfortable Luke is in bunkers around the greens so he shouldn't lose many strokes to misses like that. He knows how to scramble too (ranked 3rd at 68.83%) which can help keep big numbers off the scorecard. As long as Luke can stay straight off the tee, particularly with the driver, he should be able to position himself around the course nicely to take advantage of his iron and wedge play. You don't need to be long at the Masters. You need to be accurate and consistent. Luuuuuke!
2. Tiger Woods. I know he's 'back' in a lot of people's minds and he's the hot name now but I think he still has a ways to go. One win in over 2 years isn't a great track record and yes he's played well the last 2 tournaments he's actually finished in but that's not enough for me to think he can win at Augusta. And up until last week, have you seen his putting? Augusta is not the place to have any doubt about your putting stroke and I don't think one solid tournament is enough to wash away any bad feelings about flat stick issues that may arise from a rough day at the Masters. One thing that may not be talked about enough is his relationship with his new caddie, Joe LaCava. How will he help Tiger work his way around the course or help manage Tiger's game compared to years past with Stevie? I think a lot of people are expecting him to win but I don't think he's going to don the green jacket this time around.
3. Fred Couples. Freddy just won his 4th Champions Tour tournament and his back appears to be in good form. If his back can hold up he's got the game, the smarts, and the cool to deliver a surprising performance. The crowd always loves Freddy and is there a better story line than an older past champion in the hunt? Freddy has the chance to be like Jack when he made his run in 1986. A few solid rounds and some old Masters magic and who knows what Freddy can do? In 2010 he finished in 6th and in 2011 he finished T15 so he's got some recent success in finishing in the Top 20. Socks not required for success.
4. Yes. While I stated above that I think he'll be a disappointment this year, it'll be a disappointment that he doesn't win, not because he won't finish in the top 10. Tiger has the game and experience to compete and finish in the top 10, as he has done every year since 2005. It's hard not to bet against Tiger finishing in the top 10 at Augusta.
Marc G.
1. My pick this year is a shocker but I believe everyone's favorite Englishman and Nike's most popular ahtlete Paul Casey takes this. I've been watching his rounds closely and he is starting out hot, making lots of birdies. Sure he fades a little but I think a lot of the misses he has are in preparation for the Masters and the shots he needs to make. Or not. If I had to choose someone other than Paul Casey, it would be Lee Westwood. His tee to green is one of the best around and I think he finally will have a weekend where he putts lights out at Augusta.
2. Paul Casey. How can this possibly be the case after I choose him to win? While he is the overwhelming favorite in some circles (maybe just mine) he isn't the biggest storyline to some. Who will the broadcast team swoon over if Rory isn't swinging it his best (which he wont be)? I predict Casey to bust the storyline boards most will be talking too. From a performance standpoint, I think Rory lays an egg. Too much playing tennis and being smug to make a difference this year.
3. I'm going a different route for this one. Im torn between Paul Casey and Sergio Garcia. I'm gonna go with Sergio though because anyone who bets against Paul, well shouldnt! Sergio has the ability to go on a tear at any moment and I just have a hunch this is his year to make a strong statement. While he won't win, I think he comes in top 10 and really starts to make a statement that he is going to be a major force this year.
4. Yes. Fact, he made the field at the Arnold Palmer Invitational look underwhelming and lost. One of the things I hear most is that TIger has lost that mental edge. I don't know, everyone seemed to just be playing for second the last tournament and that red was brighter than ever. His swing is effortless and he is starting to find some good putting. That's scary to be honest. I hate sounding like a broken record and while I won't say he is back, he's getting very close. I don't think he wins this year but he puts up a valiant top 10 showing.
Morgan B.
1. I think the winner will be Graeme McDowell. After losing to Tiger at Bay Hill I think Graeme comes to Augusta to prove himself. I know last year wasn't so great for him but I think he is going to be a name we hear a lot in 2012 and more specifically at the Masters. He isn't new to winning a major, he knows what it takes, and if he can keep his putter hot then I think he goes home with the green jacket.
2. The disappointment is Lee Westwood. All I have heard for the past week now on TV is that Westwood is the greatest player to never win a major, and I think that streak continues this year as well. I have nothing against him personally and I would love to see him finally win a well deserved major. There is no denying Lee has the game, but I just don't think he can keep it together for four straight rounds and he once again goes home empty handed.
3. The surprise player will be Sergio Garcia. To be honest, I don't really know who the surprise player will be but if I had to pick someone I would say Sergio. I know I have picked him in the past, and I really thought he was going to have a break out year last year but I sincerely believe if he can keep his cool out there (you know by not beating up bunkers) and keep the putter hot I think he has a good chance to win or at least finish top 5.
4. Yes, I think Tiger will finish top 10. I hate that I even have to answer this question, I wish he would figure out where his place is in golf already. Get back to being the Tiger of old, or accept that he is just like every other guy on tour, but the constant 'he back', no he's not 'back' is getting on my nerves. With that said I don't think he is going to win, but I do think he finishes in the top 10. In fact, I think he does just like he has done the last two years and have one strong day, make everyone think he will run away with it and then finish top 10 but not 1st.
Mike M.
1. Let's give this one to Mickelson. He played well last week and finished fourth. Augusta sets up well for him and he seems poised to make a good run this week.
2. Woods. I don't think he's going to suck this week, but anything less that first place will be a disappointment since he won his last time out and is the odds-on favorite this week. If top 5 doesn't count as a disappointment, then I'll go with Luke Donald, who will finish outside the top 15.
3. I see Tom Watson making the cut and finishing top 30. I think simply making the cut would be a great surprise. With only 3 made cuts since 1995, most aren't expecting much from the old man, but he did make the cut in 2010 and finished T18.
4. Woods will finish top 5 this week, but won't edge closer to Nicklaus this week. He'll be a factor but will fall just short on Sunday. He won in his last start, but I don't think it's all there yet. It won't be a shocker if he wins, seeing how he is the favorite this week, but it's ot time yet.