You didn't really think that Cobra Golf was done with the release of the new AEROJET lineup this week, did you? Not a chance, after all, you cannot forget the KING.
In a release which should garner a lot of excitement, Cobra is expanding their KING lineup of irons, bringing some siblings for their highly touted KING Forged TEC and Forged TEC X irons. Yes, this is the year that Cobra is going deep on more compact players style irons, debuting the new KING TOUR, KING CB, and KING MB irons.
Anyone else excited?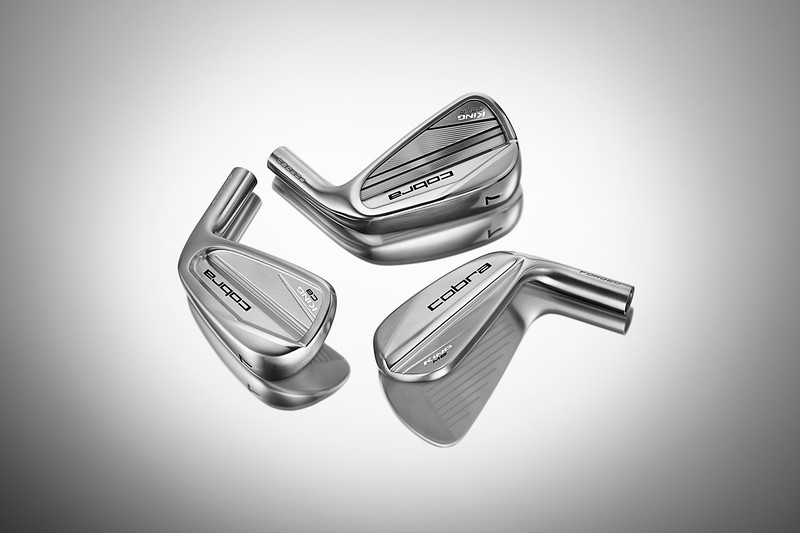 Cobra 5-Step Forging Process
When I found out that Cobra was finally going to not only release a new TOUR style technical cavity back iron this year, but also bring back the CB's and MB's, I will admit to letting my internet golfer excitement reach some pretty profound levels. Why exactly? Because historically, these are iron styles which Cobra has released some of the purest yet most technical irons in recent years, but there always seemed to be a sequence of alternating. Having three models hit in the same cycle is a golf nerd's dream.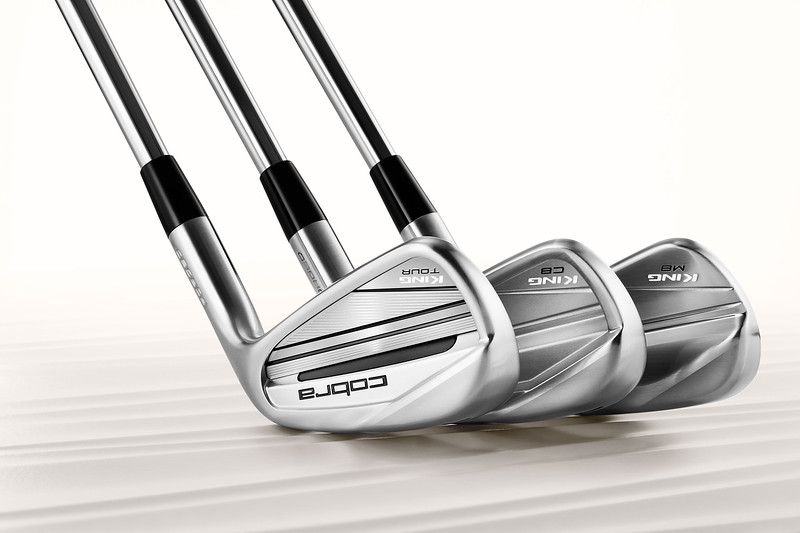 While I will dive into each of the irons individually, the material side of things needs to be discussed first. Foremost, no, we are not seeing the return of MIM (metal injection molding) as was used on the last KING TOUR irons. Why? Well, that is a question for Cobra, but I believe it is two-fold in that the material, though durable and excellent feeling, was also tough to adjust and bend, something pretty important to more compact irons. So, a shift was made to 1025 Carbon Steel and a new 5-Step Forging Process which Cobra is extremely excited about.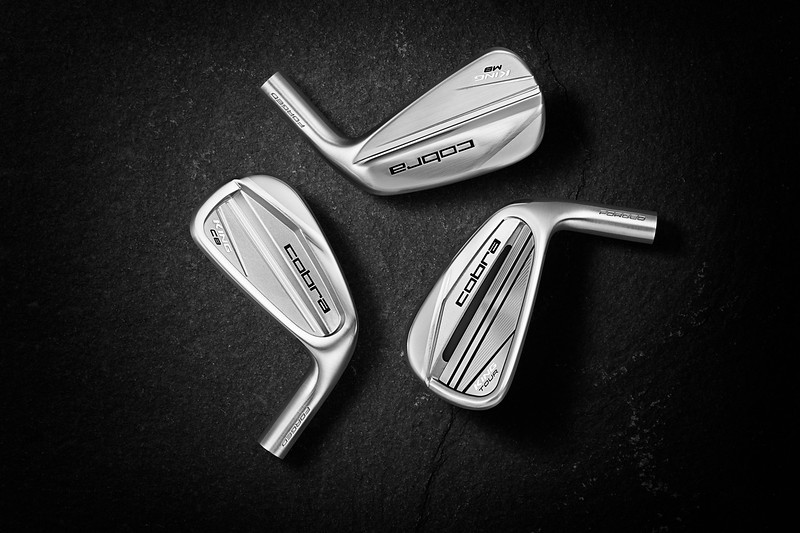 Consistency is at the root of this new process for Cobra Golf. You see, cast irons are actually one of the most precise and consistent ways to produce a golf club because of how controlled and uniform things in the process can be. With that, Cobra has designed a system to take their forging to that level of consistency while keeping all of the benefits of forging. How is it different from other companies? Well, most of them use four steps, but here Cobra is implementing a fifth forging strike.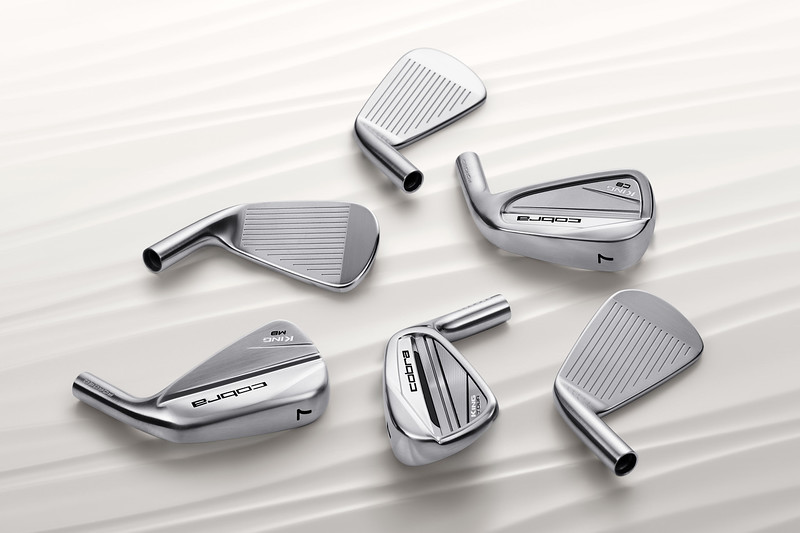 For those unfamiliar, the forging process of a material like 1025 Carbon Steel starts at 1,200 degrees Celsius (that is 2,192 degrees Fahrenheit) and from there three forgings take place to get the material into the initial shaping, those are steps one through three for Cobra. From there, 2000 pounds of pressure is exerted onto the Carbon Steel at 800 degrees Celsius (1,472 degrees Fahrenheit) to take the clubhead to a refined shape including details and logos.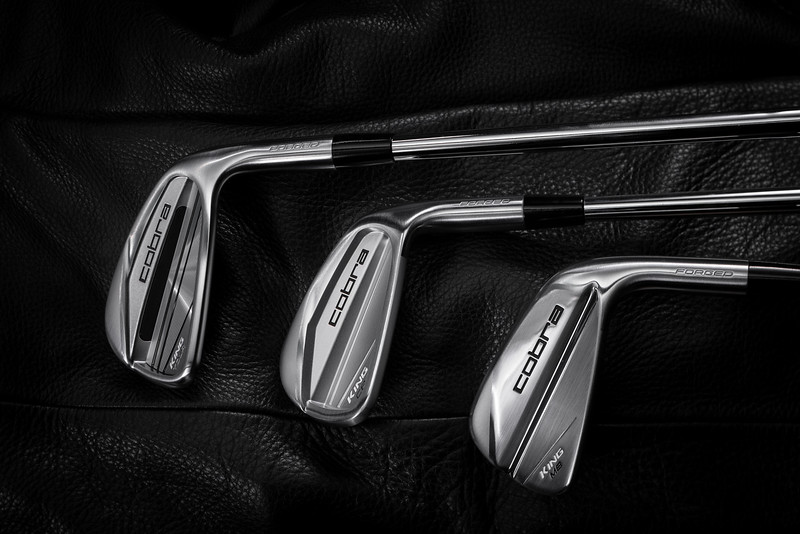 It is then that the fifth forging takes place under 2000 pounds of pressure at 700 degrees Celsius (1,292 degrees Fahrenheit) to not only lock in the shape, but to create the most uniform grain structure Cobra has ever had in a forged iron. At that point, polishing and CNC milling of the face and grooves takes place.
All of these steps culminate in a truly precision forged iron with painstaking focus on shaping, weight tolerances, and less variation in initial loft, lie, and bounce, as well flatness/thickness of the face. So, you see, you take all of the aforementioned steps times three for the new KING iron lineups, and Cobra is well beyond "all-in" on this segment of clubs.
2023 Cobra KING TOUR Irons
It makes the most sense to start with the most technical irons of the release, in fact, that is exactly what Cobra is calling the KING TOUR irons, a technical cavity back, and I admit that I love that description. While the forging process is being used with these irons, unlike their siblings, the TOUR's also use some badging in the cavity (aluminum and TPU). That is because the iron heads also have CNC milled undercuts in the cavities which are then filled with the TPU and capped with the aluminum badge.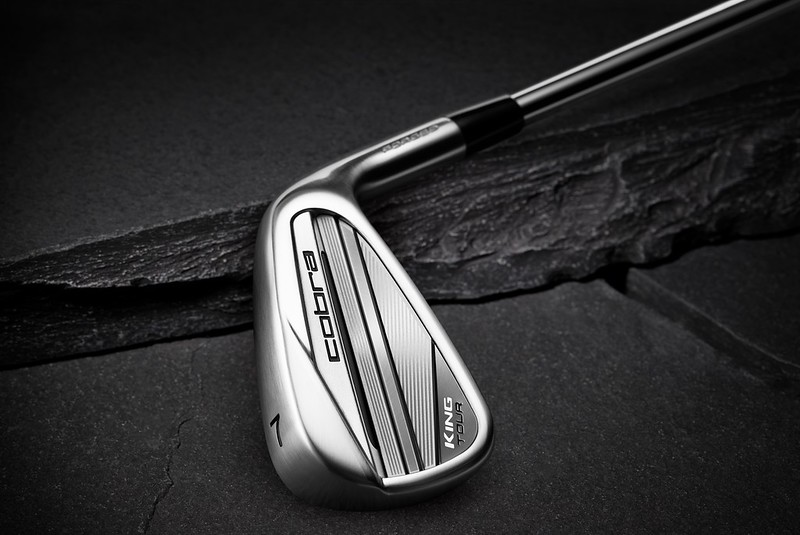 These undercuts are nothing new in club design, particularly irons of this profile, and they are highly effective at allowing the clubheads to be more efficient in how they launch and perform on misses. The weight which is removed via the undercut can then be repositioned to optimize the CG of the head to hit launch windows and parameters which Cobra wants to see. Taking it a step further, the depth at which they are milled varies on the club in the set with the undercut being deepest in the long irons and more shallow into the scoring clubs.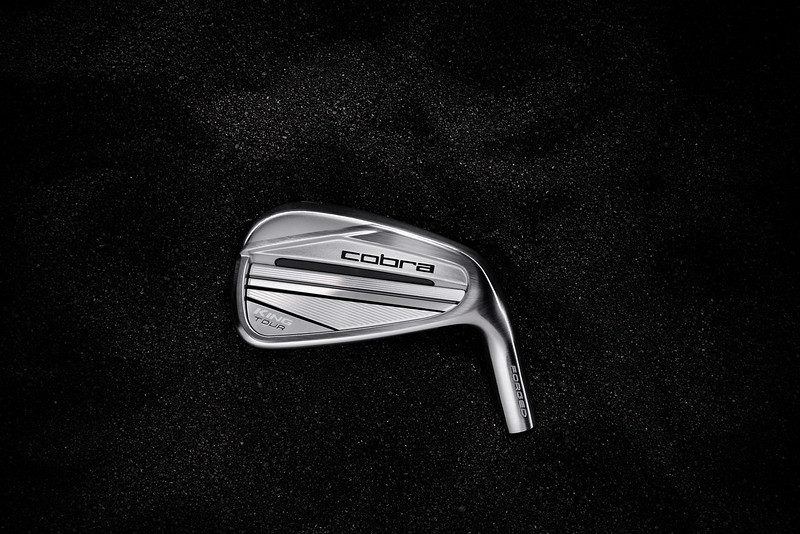 Size wise, Cobra touts that these are notably smaller than the KING Forged TEC irons. The topline and offset are significantly reduced and the heel-to-toe blade length is actually more compact than the KING TOUR MIM irons were, which was one constant bit of feedback given about those irons by players like myself. Rounding it out, the lofts on the new KING TOUR irons are 2-degrees stronger than the CB/MB's to provide more distance and take advantage of the launch provided by the design.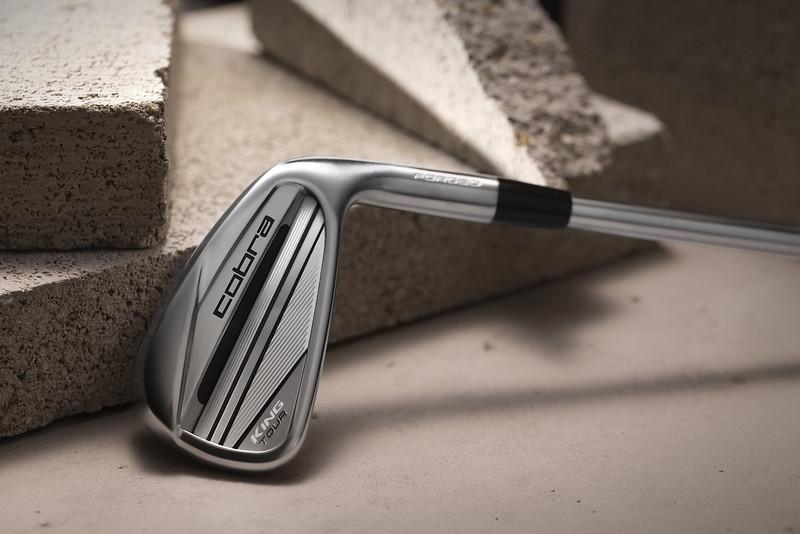 The KING TOUR irons will be available in 3-GW (RH/LH) with the standard stock setup being 4-PW (RH only, LH sets are custom order) and they will be paired with KBS $-Taper 120's with Lamkin Crossline Grips.
2023 Cobra KING MB and CB Irons
Pure. Forged. Irons.
The return of the KING MB and CB irons is entirely as it should be with both sets being true one-piece forgings with no undercut or pocket milling. Both sets have undergone the new 5-Step Forging Process and as such are true precision irons that fall squarely into the better ball-strikers wheelhouse. If you are a golfer who demands workability with forged feedback, it is hard to imagine seeking out something which looks to accomplish that more than these two irons.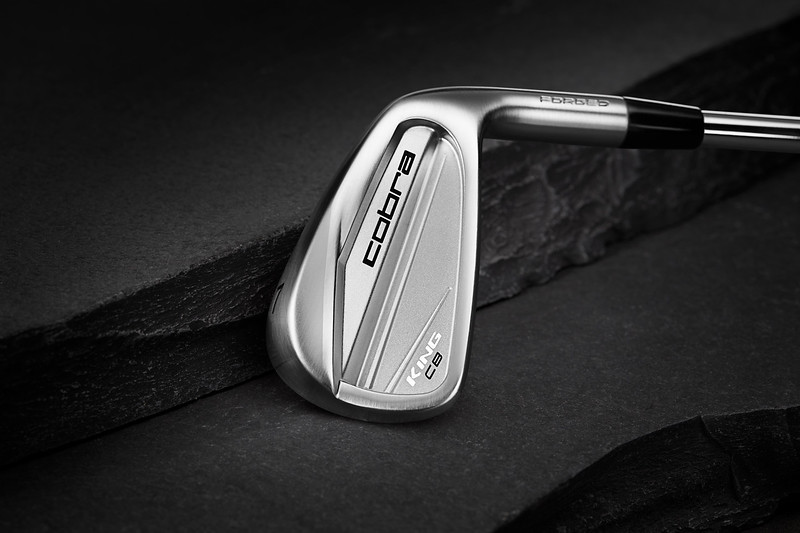 Both irons have a heavy focus on extremely thin toplines with minimal offset for precision shot making potential that put the onus on the person swinging the clubs. Unsurprisingly, the soles are much thinner than other models in Cobra's lineup and they possess the shortest heel-to-toe blade lengths as well. Add in that the new forging process has allowed Cobra to perfectly center the CG without having to use tungsten to manipulate it, and you see why the word "precision" keeps coming up.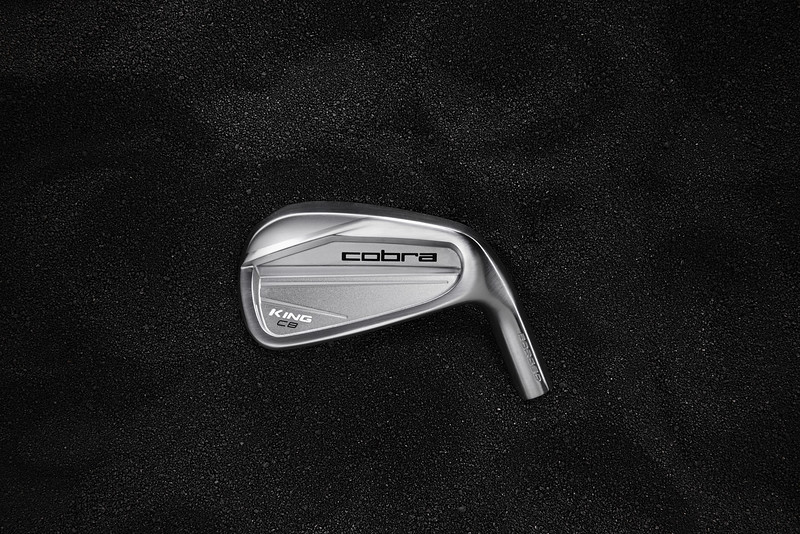 The MB is exactly what you would expect in a bladed iron from a demand standpoint, while the CB utilizes the forged cavity to add perimeter weighting and some playability. It is also worth noting that according to Cobra the CB does have a slight amount more offset, but it is minimal.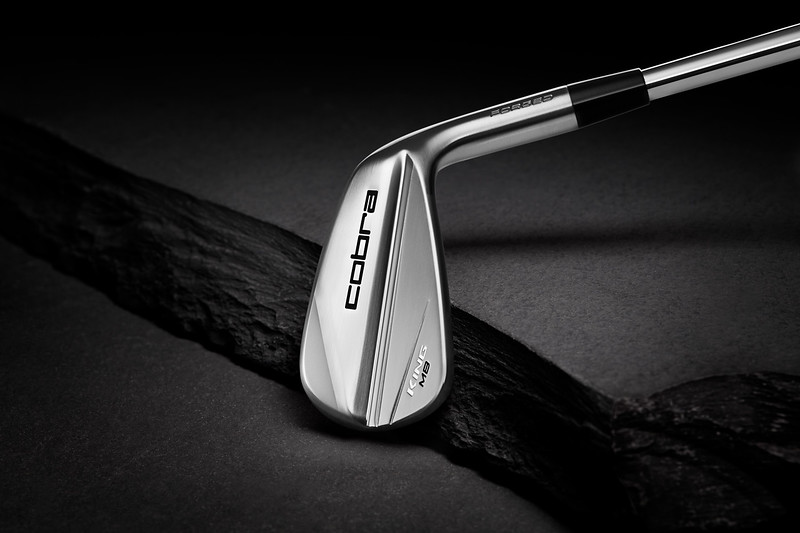 Both the MB and CB will be available in full 3-GW sets (CB in RH/LH, MB in RH and 7-PW LH) as well as a stock flow setup with CB's 4-6 and MB's 7-PW. Additionally, through Cobra's custom options you can create a one of a kind flow setup to fit your specific needs. The KING MB and CB irons will come paired with KBS $-Taper 120 shafts as standard and Lamkin Crossline grips.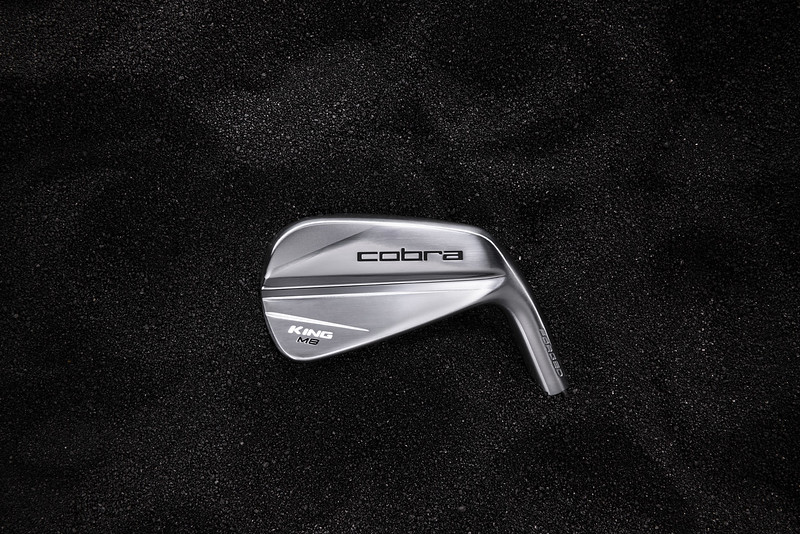 The Details
You have seen the pictures now, and I'm betting that most would agree that these are quite possibly the most picturesque KING irons that Cobra Golf has ever produced. The irons will hit retail on 2/3/23 with the KING Tour at $1,299 (7-Piece) and KING MB/CB at $1,199 (7-Piece).
We would love to know your thoughts and feedback on the direction Cobra has taken their KING Tour and MB/CB lineups, so jump into the comments below or the THP Community as well!