Although most golfers like to focus on their "good weather" golf apparel, solid and effective outer layers for different parts of the year are just as important. This year Adidas Golf is introducing their newest cold weather outerwear jacket, the Climawarm+. Designed to provide full range of motion and warmth in all sorts of adverse conditions, a great deal of technology has gone into this newest evolution of the line.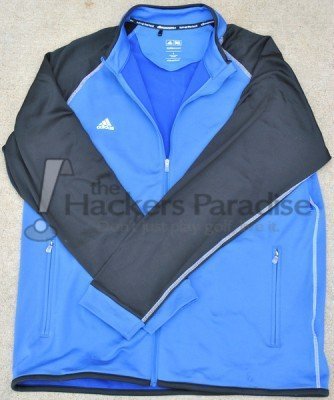 Adidas Golf on the new Climawarm+ Line:
Keep cold out with this climawarm+ jacket engineered with advanced hollow-fiber technology to deliver insulating warmth and lightweight comfort. Designed to keep you competing, it works to maintain core body temperature and deliver comfort to perform regardless of outside conditions.
Engineered with advanced hollow-fiber technology to deliver insulating warmth and lightweight comfort

Self-mock collar with zipper chin guard for enhanced comfort

Full-zip front and two zip-pockets

Contrast 3-Stripes design on back neck

Contrast adidas brandmark at right chest

95% Polyester / 5% Elastane with hydrophilic finish

Available in 3 color combinations: Vivid Blue/Black/White, Black/Lead/Solar Blue, Light Onix/Light Onix/Hi-Res Red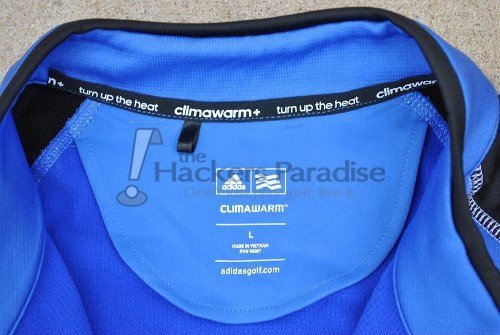 Appearance and Performance
The Climalite+ is at first glance a lightweight, full-zip jacket that serves as a layer to protect the user from the elements of nature while not interfering with their ability on the course, but there really is much more to it than that. The Climalite+ actually features a newly engineered hollow fiber technology, which is based off of the polar bear and its natural hair structure. Essentially, the hollow fiber technology works by capturing the body heat that the wearer is generating and trapping it within the air of the hollow fibers, thus it allows a thinner material to serve as an insulator and this prevents loss of range of motion.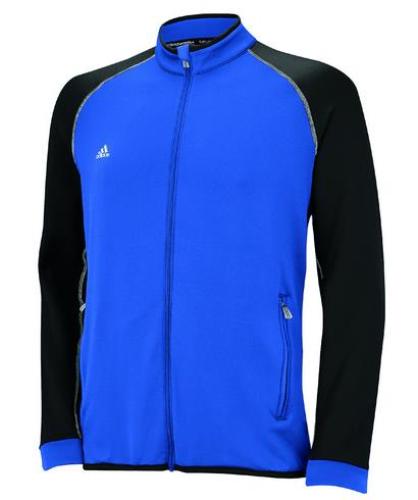 In hand, the weight is the first thing that jumps out. It really is tremendously lightweight and the material itself has a good amount of give to it with no sensation of stiffness at all. Add to that the contrasting stitching on the three different color combinations is quite heavy duty, just as all of the zippers on the jacket are. It certainly seems that no detail went unchecked on the Climawarm+ from an appearance standpoint, as even in the brighter color variations available everything works together very nicely.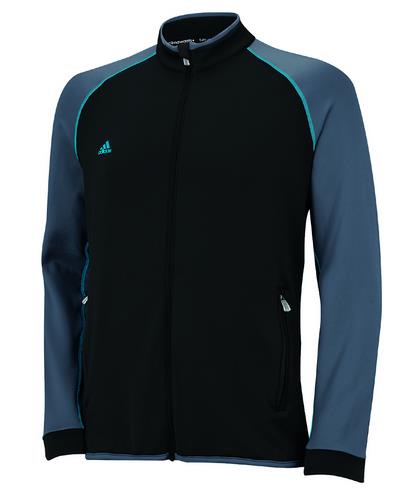 Where overall performance is concerned, the Climawarm+ claims full range of motion along with general warmth. As far as range of motion goes, the jacket delivers on the claims put forth by Adidas both on the golf course as well as off of it. The overall fit is loose enough to allow movement without sacrificing warmth. Based on this experience, the size large model that THP was able to get in hand fits true to size for this reviewer. When holding the Climawarm+ in hand the light nature of the jacket itself leaves doubts as to how well it will perform in colder temperatures, but the hollow fiber technology provided a surprising amount of insulation for a piece of outerwear this lightweight. Obviously it will not be best for extremely low temperatures, but in a wide range of 50 to 70 degree weather it did its job incredibly well and would undoubtedly work well as an initial outer layer under another jacket too.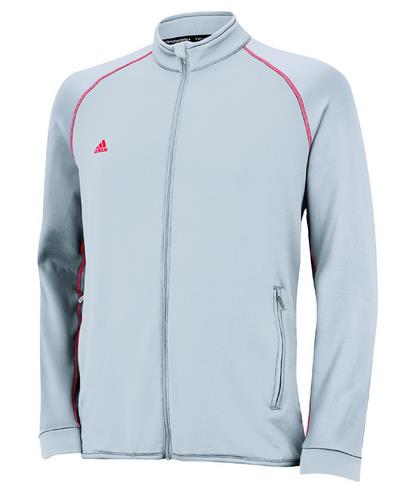 Parting Thoughts
Adidas Golf is known for producing stylish looking outerwear and the Climawarm+ is a clear continuation on that trend. In addition, they have done their research when it comes to materials and producing an article of outerwear that provides warmth without restricting the natural movements of the golf swing. For those looking for a lightweight outer layer that is well made, useable not just on the course but off of it, and achieves its claims of warmth, the Climawarm+ is certainly worth a look.
The Climawarm+ Jackets from Adidas Golf have an MSRP of $80.00 and more information on them can be found at their website.