In October 2008, Taylormade-adidas purchased Ashworth, an already well-established golf clothing brand. Since that time, Ashworth has grown quite a bit, both in stature and the number of products it offers. Last year, they introduced the Cardiff, a shoe that fit into the increasingly popular 'casual' golf shoe genre. Recently they introduced the next generation of this shoe, named the Cardiff Mesh, and asked THP to review it.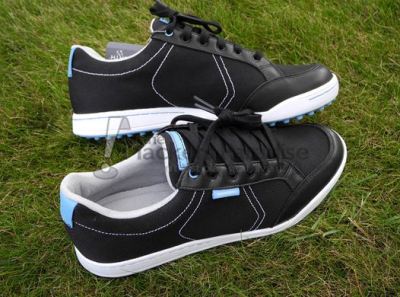 About the Cardiff Mesh
Cardiff delivers the functionality of a traditional golf shoe with the versatility and comfort of a casual town shoe. A breathable, woven-mesh upper and spikeless outsole combine to provide lightweight comfort and off-course versatility backed by a 2-year waterproof warranty.
Abrasion-resistant rubber outsole provides full-length spikeless traction

Dual-density EVA + foam footbed provides long-lasting comfort

Super-durable toe overlay for improved abrasion resistance

Canvas upper provides a sportier look

Iconic Ashworth upper design

2-Year Waterproof Warranty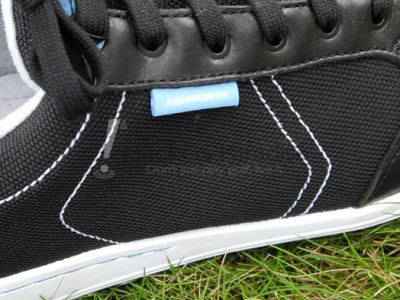 Looks and Description
I will admit to being a huge fan of casual-style golf shoes, so the Cardiff Mesh immediately appealed to me. I've come to prefer the looks, comfort, and convenience that shoes like this offer. The first thing I noticed when looking at the Cardiff Mesh was the material they are made of. The word 'mesh' had me expecting something a little different than what I actually received, but I think Ashworth is using that word for effect more than a literal description of the shoe. I'd describe it as a canvas-like material more than a true mesh. Regardless, it's not the typical leather upper that we see in most golf shoes. A couple things that brought me concern were whether the shoe would be waterproof and if the mesh would be difficult to keep clean, both of which I'll discuss later.
There are three color options available: White/White/Neo Iron Metallic, Black/Black/Pallantina, and Black/Black/Columbia Blue, which is the color of the pair I reviewed. I think I would have preferred the white pair since it matches more of my outfits, but the color option I reviewed was unique and stylish. One feature I loved was the very plush micro-suede type fabric that made up the area surrounding the heel. It added to the look of the shoe and was quite comfortable. The sole of the Cardiff Mesh is covered in a fairly aggressive set of rubber nubs, which were a very bright blue on the pair I reviewed. The only drawback I see from casual shoes is that I do slip in them occasionally, but the pattern on the Cardiff Mesh did provide above-average traction, even in wet conditions.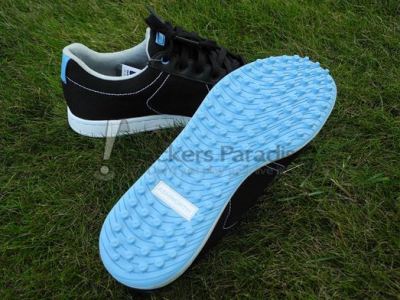 Comfort and Performance
Ashworth claims the Cardiff Mesh is both breathable and lightweight and I agree with that statement. They seemed lighter on my feet than another pair of casual shoes I own and I didn't have any issues with excessive heat or sweating while wearing them. As mentioned, I did have concerns about the Cardiff Mesh's ability to remain waterproof. Coincidently, the first day I wore them was for an early morning round on a dew-soaked course. I was happy to find that my feet stayed dry the entire time, even after a few trips walking through the deep, wet rough. It is also important to note that Ashworth does offer a two-year waterproof warranty on these shoes.
While they weren't the most comfortable shoe I've worn, the Cardiff Mesh were good enough to allow me to walk an 18-hole round without any discomfort. I found them to fit mostly true to size, though they were a little narrow in the toe area. This narrowness wasn't enough to cause any pain, but I didn't have much room to move my toes around compared to my normal shoes. I did think the plush padding around the heel was a very nice feature. As with any shoe, the best course of action would be to try them before you buy them.
Another concern I noted earlier was whether the 'mesh' material would be difficult to keep clean. Since the pair I reviewed was black, I expected that they wouldn't get dirty too quickly and that was mostly the case. However, dust and sand seemed to dirty them up quicker than what I am used to with a leather upper. A wipe with a wet rag seemed to bring them back to life though. I think that the white version might be a little more difficult to keep clean than the black pair I reviewed based on my experiences.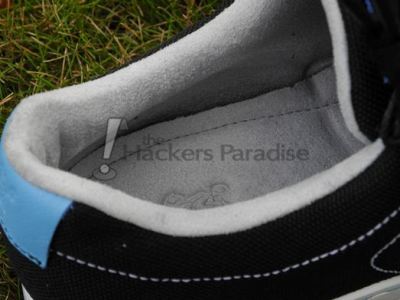 Final Thoughts
I already mentioned that I'm a fan of casual-style golf shoes, but they aren't all created equal. I felt the Ashworth Cardiff Mesh was above average when it came to traction and comfort for my needs. They were also fairly lightweight and nice to wear during the hot summer weather we've experienced in my area this year. I'm not sure if the style itself is going to appeal to everybody, but I liked the way they looked when I wore them. The only real negative I saw was that they seemed to take a little more effort to clean than a leather shoe. You can find more information, including photos of the other color options, at www.AshworthGolf.com. As always, thank you for reading and best of luck out on the golf course.
Ryan H.