Big Max is not a name that you immediately think of in the US when it comes to golf bags and push carts, yet they remain Europe's top selling push cart manufacturer going on 20 years. Global expansion is in their sites and with their latest products you get a sense that they are ready for that push.
The company launched in the US back in 2014, with their Blade push cart and the reviews were stellar across the board. Since that time, they have brought a number of new carts and bags out and continue to push the envelope for quality and innovation.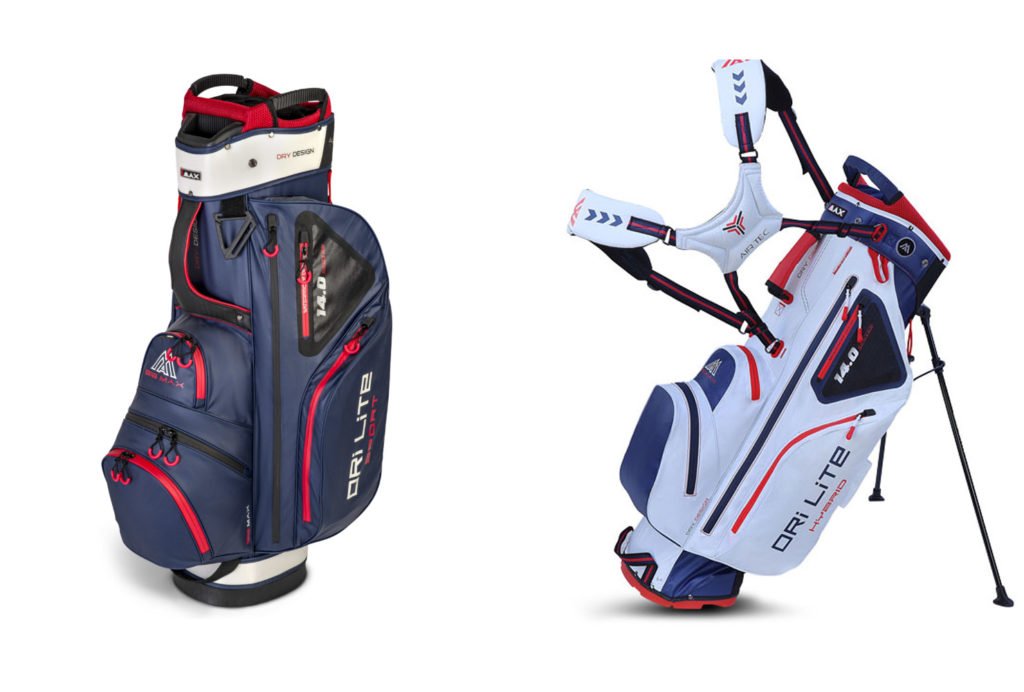 In this article we are focusing on two of their latest golf bags, the DRI LITE SPORT and the DRI LITE HYBRID.
The Dri Lite Sport is not just a few misspelled catchy words, but a cart bag designed from the ground up. Starting with their Dri Lite Technology, which is a water resistant material that deserves some attention here. Clean looks, good seams and in our spray water test, showed to hold up well to the elements. It cleans with a wet cloth and the dirt and grime wipes away fairly easily. The material being durable, yet light weight, allows the bag to come in at 4 lbs, despite being a full size cart bag.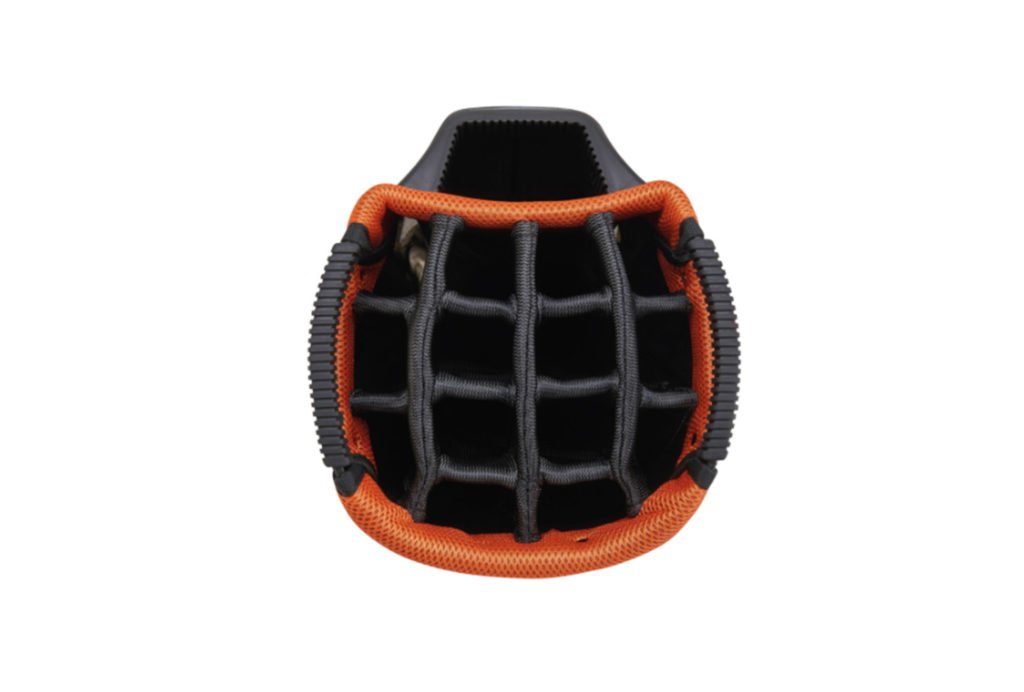 Up top is a 14 way divider and separate putter well. Clubs offered no rattle or "clang" while using it and had good protection for shafts as well. The area for the putter features an extremely wide opening that will hold even the most unique mallets out there and has a rugged top to prevent tearing from the rigors of pulling the club in and out throughout the round.
Time to talk storage, because there is a lot of it. We will start with the integrated cooler pocket which is up front and center. While it looks small from the outside, we fit three bottles of water inside tightly or two with no issue at all. The insulation is similar to what is found in most cooler pockets and does an adequate job on hot days. Big Max added a waterproof (not water resistant) pocket on the side for valuables. It has seam sealed zippers and a soft lining to keep things safe. There are actually two of these, one on each side, but only one has the soft interior. They are large enough to hold a phone, wallet and keys with room to spare. Up front there are two more pockets, one large for golf balls and other things and the other is perfect for tees, ball markers and the rest of the daily use items. On the sides, to go along with those valuable pouches, there are also two more oversize pockets. As you can imagine, storage is not an issue with the Big Max Dri Lite Sport.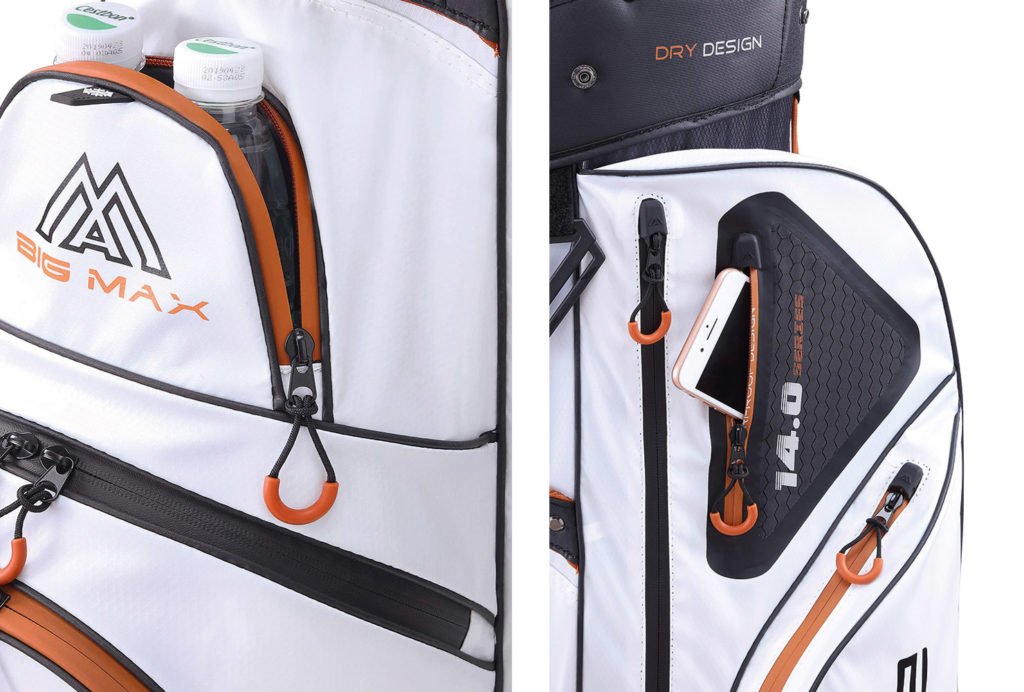 The attention to detail throughout is well done and noticed. For example, there is a towel ring that adds a velcro area for glove holding. It also includes the rainhood pouch in the back that is designed to hold a battery for charging, and an umbrella storage to make sure you are ready for the elements. With each turn of the bag, you find more examples of "well thought out" spaces.
The Dri Lite Sport comes in 3 color options shown below, and with a price of $249.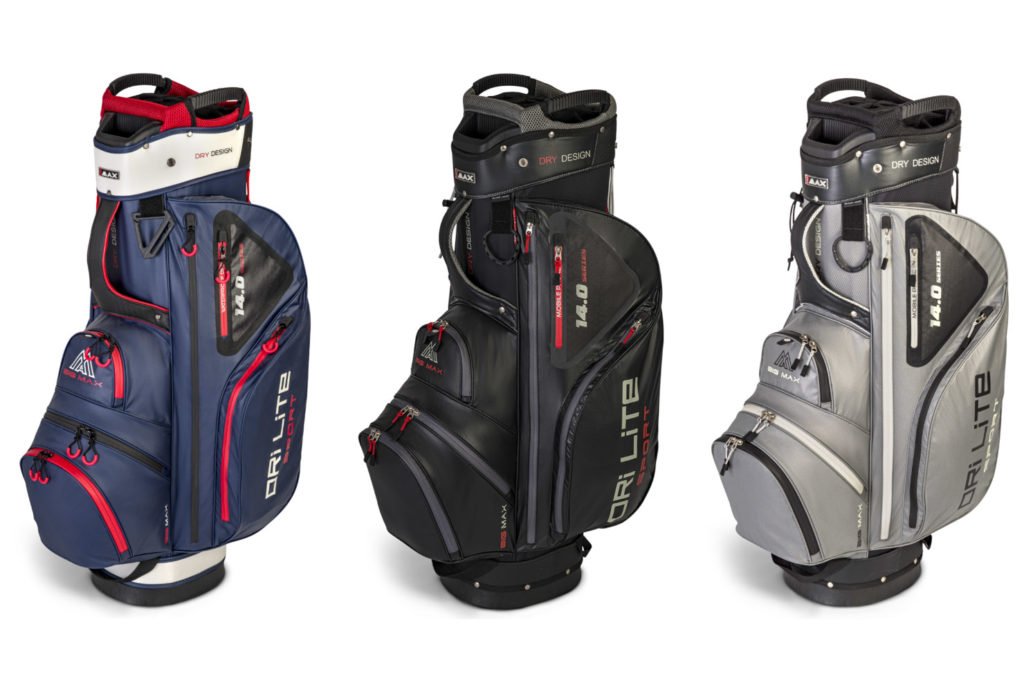 Switching gears to the Dri Lite Hybrid, you get much of the above in a slightly smaller package and the addition of stand legs. It is truly a hybrid of sorts, as this bag still features a large opening, yet comes in at 4.4 lbs.
Starting at the ground up, the Dri Lite Hybrid is 1″ longer and reinforced at the top to accommodate the mounting brackets of push carts. The hybrid stand system keeps everything internal and hidden so that the bottom handles both push carts and riding carts with stability.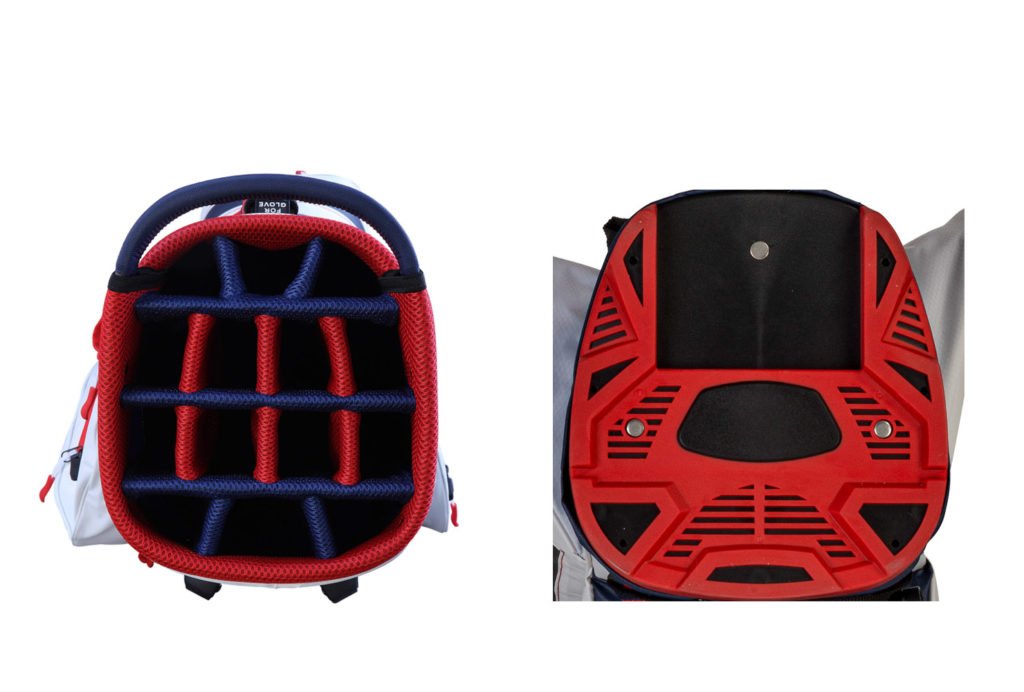 The side features an integrated cooler pocket, which is slightly smaller than the one in the Sport above, but easily big enough to hold two water bottles. Storage is much of the same as the previously discussed cart bag. Pockets are large and well thought out. Towel ring and glove holder are in place as well as a spot for the umbrella. Water Proof soft lined pocket that is seam sealed to keep the important stuff dry. Big Max crammed a ton into the smaller hybrid, and did so with very little sacrifice. An inch or two here and there, but largely the storage remains in tact.
Moving to the top of the bag, you get a full 14 way divider that handles the clubs well. No separate putter well in this one like the cart bag, but the flowing design is stellar at keeping your sticks from banging around. The handle at the top is rugged and well made and makes for easy grabbing to and from the car and that is where Big Max stands out with both of these options. Rugged where you need it most, light and aesthetically pleasing where you don't.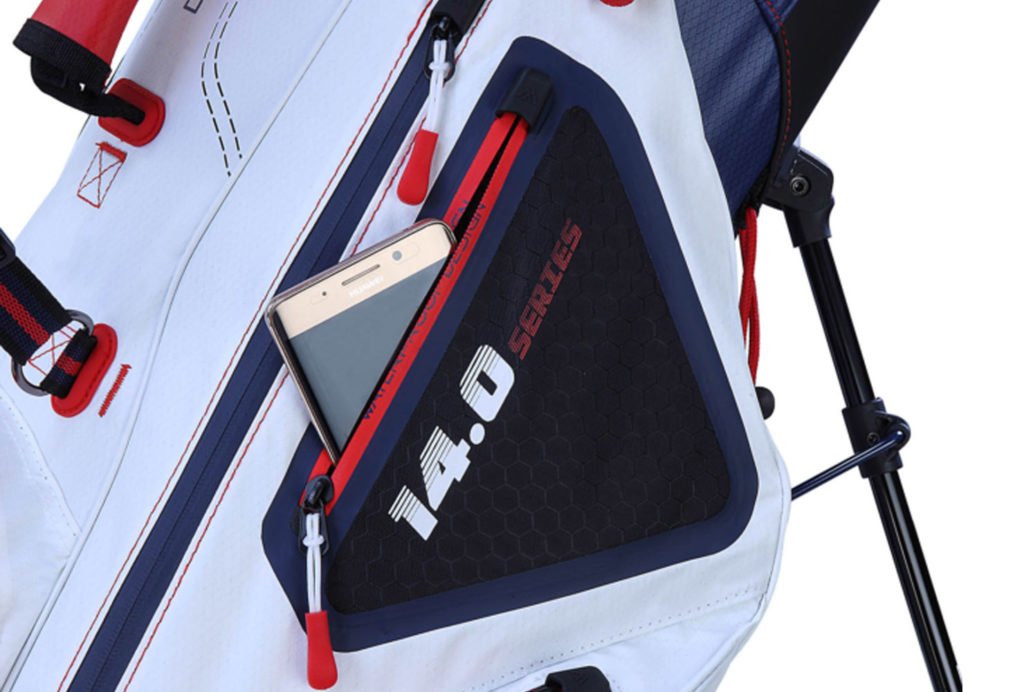 The legs feature a strap to keep in place when not in use. They pop out like all others do in fluid motion when set down and appear to be fairly sturdy. We packed the bag with 28 clubs (2 in each spot) to test the weight and filled the pockets with the normal items such as a dozen balls, etc. There was no signs of bowing or leg lean at all. The Big Max Dri Lite Hybrid handled the overbearing weight rather well.
The hybrid version is available in 5 different color ways and comes with a cost of $229.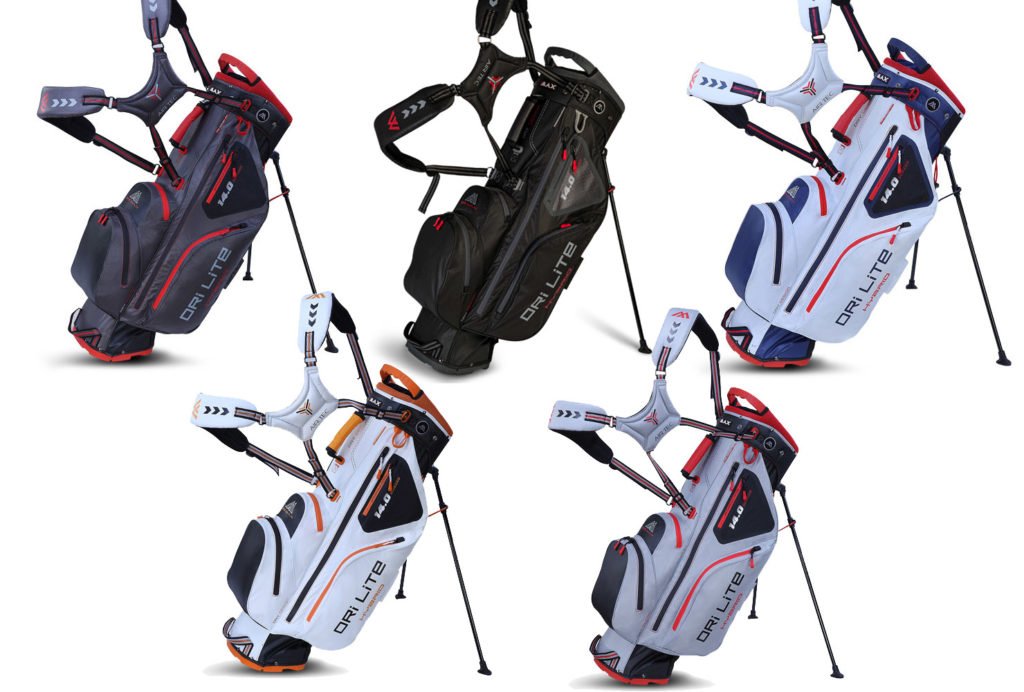 For more information on either of these, please check out their website at us.bigmaxgolf.com.