Just hearing the name Bobby Jones can bring chill bumps to a true golf fan. Jones showed true character on and off the golf course throughout his entire life. He is known as one of the greatest ambassadors for the game of golf. He remains the only golfer ever to win all four major championships in the same year; this term is referred to as the famous "Grand Slam of Golf." His achievements would be considered a myth if there wasn't data to prove the truth of his game. Eighteen of Jones' U.S. amateur records still stand today. He is the reason that the Masters tournament holds such a high honor globally in the game of golf. Bobby Jones golf apparel embodies the modern country club lifestyle with a new take on tradition. Let's face it; it doesn't appear that the shirt, tie, and knickers are going to become main stream anytime soon.
1/4 Zip Ripstop Pullover Jacket
Water/Wind Resistant Fabric

Elasticized Waistband and Sleeve

Front Zippered Pockets

100% Nylon

Imported

MSRP: $195.00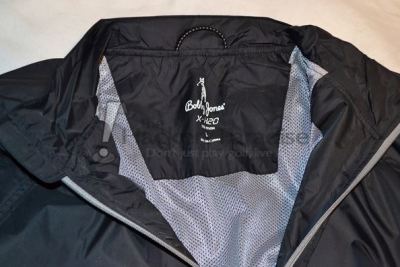 This jacket reminds me of a very classic pullover that is wind and water resistant. There is nothing overly flashy about it, but it is made to get the job done. It gives a person the appearance of a classic golfer while on. The fabric of the jacket is very soft and easy on the skin. There is a mesh insert that makes the jacket feel even softer and keeps the sleeves from getting hung up on your skin on a sweaty day. There is nothing worse than having a humid day or a light drizzle and the feeling that your jacket is hugging you. The soft fabric also keeps quiet during a golf swing. This will allow you to swing freely without concern for background noise.
I found the elasticized waistband and sleeves to be the right amount of elasticity. There is nothing I hate more than a jacket that rises with your swing and stays rested on your stomach due to too much elasticity. Then when you finish your swing, you have to quickly pull your shirt off your stomach. Not only is that annoying, but it can be a little embarrassing. This was not the case with this jacket. I had no hang ups when it came to the waist band. The sleeves are the right length for when you setup to the ball and take that backswing in that you do not get the cuff caught in between the club and your palm.
I received a large in this jacket and it fit very true to size. The comfort along with the technology is there for windy or rainy days. I also love the fact that this jacket is extremely light. You can pack it away in your golf bag and literally save it for those rainy days. This is a jacket I am very glad I will have in my golf bag no matter where I go. The jacket comes in quite a few different colors and can be found here on the Bobby Jones website.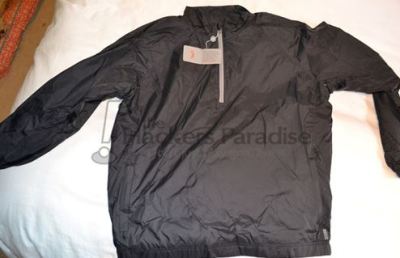 Clubhouse Textured Rib V-Neck Vest
V Neck Vest

12 GG Knit with Textured Rib Construction

Rib Knit at Collar, Sleeves and Hem

100% Pima Cotton

Imported

MSRP: $135.00
Nothing screams classic golf apparel than a sweater vest. The Clubhouse Textured Rib Vest is nothing short of a classic sweater vest with tons of comfort. If you haven't tried on any apparel with Pima cotton then you sure are missing out. It is some of the most comfortable and soft cotton you will wear. The V-neck is the perfect cut, meaning it doesn't sit too high or too low on the chest. Too high of a v-neck means you cover up too much of your under shirt and too low of a v-neck can allow for your outfit to get that relaxed look. The traditional golfer didn't have any want for a relaxed look, which is no surprise, as Jones was known for wearing a tie while golfing. With this sweater vest you get the very classic luxury golf look that will have all the heads in your country club turning.
I received a large in this vest and it fit just right. I found that it didn't bunch the sleeves around my shoulders and armpits. It also looked very sharp when partnered with different colored polo shirts. I wore this to play golf on a cool day and received many compliments after my round while eating dinner. The comfort is there with this sweater vest. A sweater vest isn't for everyone, but more for the one looking for the traditional classic golf attire.  I am very impressed with the cut and comfort behind this sweater vest. There can be had in numerous colors that you can find here.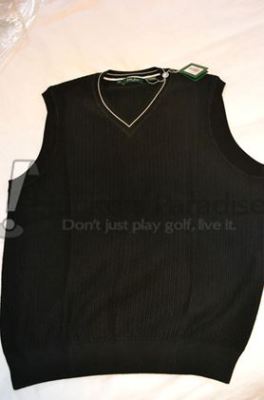 Nanotek Flat Front Tech Short
Flat Front Short

Made of Nanotex Polyester – a Spill Resistant, Moisture Wicking, Odor Neutralizing Fabric

Button Tab Closure

Expandable Comfort Waistband

100% Polyester

Imported

Machine Washable

MSRP: $89.50

Over the years I have become very accustomed to tech golf shorts. Shorts that I can wear in 100* weather and still feel as comfortable as one can feel in that heat. With some of these tech shorts you can sometimes get away from a classy style and its very apparent that the material is made for moisture wicking. That is not the case with these shorts. To me, they are a very good looking, classic, and dressy golf short. The best part is that they are still packed with the tech features we have grown to love in a golf short. These shorts are spill resistant, moisture wicking, and odor proof. This all held to be true – at least the first two. I didnt bother smelling them as I trusted the marketing. The new expandable comfort waistband is a great added feature. I would prefer that there was just a little more give in this waistband, but it definitely does the trick.
I ordered these in a 36 because a lot of times with a dressy flat front pant, they tend to run a little small. I was more than right in making this decision. I did find that these shorts run a half size small. In other words, I feel like this 36 would be a 35. The shorts fit perfectly for me in the legs. I love a golf short that hangs just above the knee and these do just that. I also like the cut of the shorts because they do not look baggy at all. Not having a baggy short is great for keeping your outfits looking classy and clean. The shorts themselves are very comfortable on the legs and I can see myself wearing them in any type of heat. You can find out more about them here.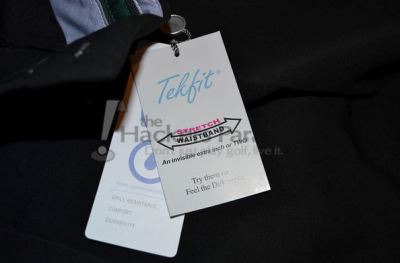 Final Thoughts
Bobby Jones apparel represents exactly what you would expect from a company with that name. You get nothing but the highest quality of products with great customer satisfaction.  Everything they offer is very crisp and clean looking. I found this to hold true with the products I was able to test. Every product has held up wonderfully. They have all kept their quality, even after numerous washes. When you think bobby Jones you think about the golfer and the legend, but after wearing these products you will be thinking comfort and style. Bobby Jones Apparel has done a great job in updating their style to suit golfers of any age and skill level.  They have products that will appeal to the person who wants nothing but a basic look and a person who is looking to add some nice color to their attire. I will be keeping my eyes open for more Bobby Jones apparel in the near future.