Today, Callaway Golf is announcing their latest addition to an already solid line of golf balls. It's called the HEX Chrome+ and early feedback has been outstanding.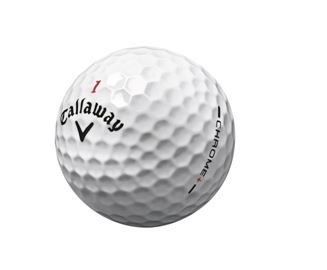 Product Information from Callaway
HEX Chrome+ is Callaway's fastest urethane covered golf ball.
Played by Pros such as Gary Woodland, HEX Chrome+ is a Tour performance golf ball that delivers high ball speeds for maximum distance at mid to high clubhead speeds, especially with the driver. This ball's dual mantle unlocks distance by increasing speed and minimizing spin off the tee, while the soft TPU cover promotes Tour-level control and feel in this powerful 4-piece performance ball.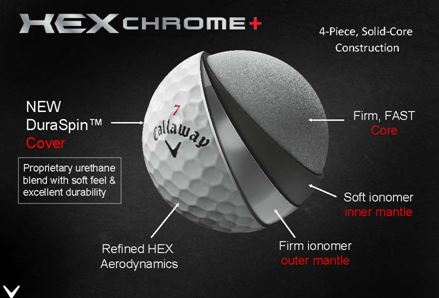 "HEX Chrome+ is hands down this is the fastest Tour Ball we've ever designed at Callaway and quite possibly our longest.  This new 4-piece construction has a single-piece core and dual-mantle system that were designed in unison to create more ball speed with the longer clubs without generating excessive spin, leading to longer distance. However, what makes the distance of this golf ball special is its soft DuraSpin cover, which can also be found in our premium 5-piece dual-core golf balls.  This urethane cover material not only has great durability, but provides exceptional 'Tour-level' control around the green that the best players in the world demand in a premium ball."
                – Dave Bartels, Senior Director, Golf Ball R&D, Callaway Golf Company
Features and Benefits
Fast Core
• This extremely fast core leads to more distance over a wide range of clubs and swing speeds
Dual Mantle
• The thin inner and outer mantles work together to produce more ball speed and reduce spin, especially off the tee
• The dual-mantle system allows golfers to unlock maximum distance with the driver
DuraSpin™ Cover
• The soft cover promotes Tour-level control on approach shots and shots around the green
• This proprietary cover formulation uses a thermoplastic urethane (TPU) blend with excellent durability characteristics. 
HEX Aerodynamics™
• Our refined pattern provides the best aerodynamic performance ever in a Callaway golf ball, reducing drag and promoting a stable, penetrating ball flight that holds its line in the wind.
As previously mentioned, early feedback on the HEX Chrome+ has been very positive. In fact, 40 THP forum members had the chance to try it out at the 2013 Texas Invitational last weekend and you can read their thoughts here.