Excited to get my sea legs, I patiently waited for my first review package to arrive so I could get to work. Knowing what I was receiving, a polo from a company with which I had no previous experience, I dove headfirst into to the brand – Chase54.  What I found sounded promising, but I was ready to test the apparel before I formed any conclusions.
An astute reader will readily recognize that THP has reviewed several Chase54 items in the past.  To change things up for the 2018 collection review, I wanted to provide something I hadn't seen in the past – a dive into the Chase54 clothing after several wears.  Happy to be the guinea pig, I set out to give a real test to what Chase54 calls the "Stream" and let's just say I wore it more than polite society might like to give you an accurate rundown of this year's offering.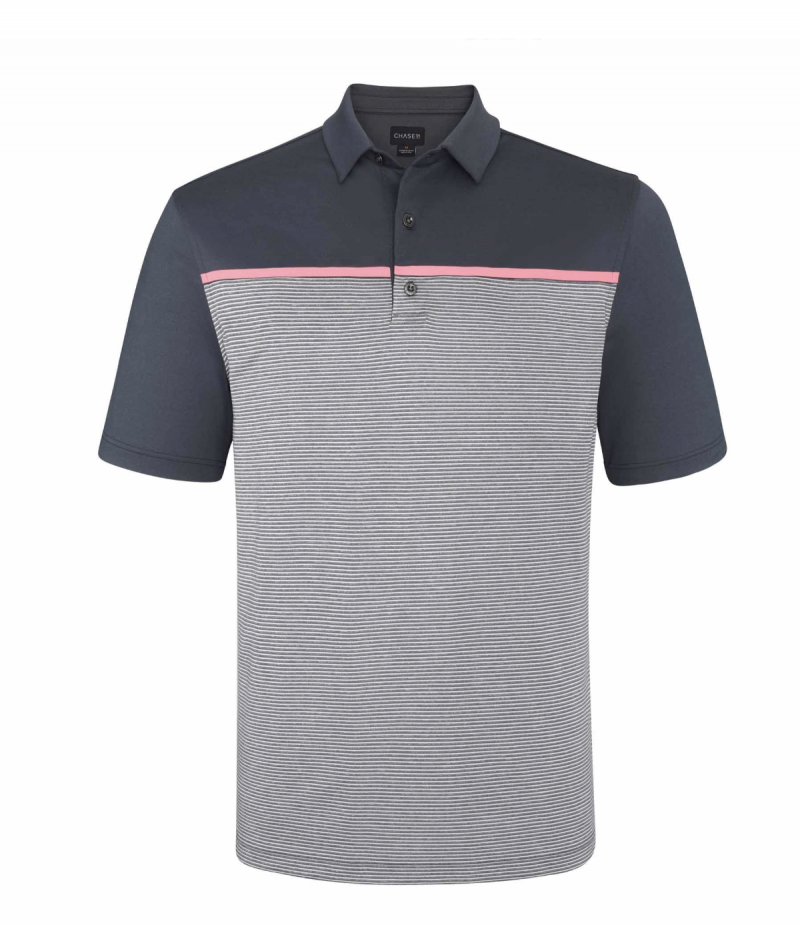 The first thing I noticed out of the package was that the online images do not perfectly capture the appearance of the Stream – the accent line is actually closer to orange and not nearly as pink as it appears on my computer screen.  Based on Chase54's website, the Stream is one of many offerings with similar features and their lineup is full of different styles and surely offers something that will catch your eye.  However, I'm not here to talk appearances, which is entirely personal and likely not why you are here.  Getting right into it a few things become plainly apparent when you feel the Chase54 materials.  First, the fabric is a bit more fulsome and robust than my typical polo shirts – not necessarily heavy, but certainly well constructed.  Second, the fabric feels great and has that high quality feel right out of the package. Third, and my favorite part, the little details got the attention they so desperately deserve.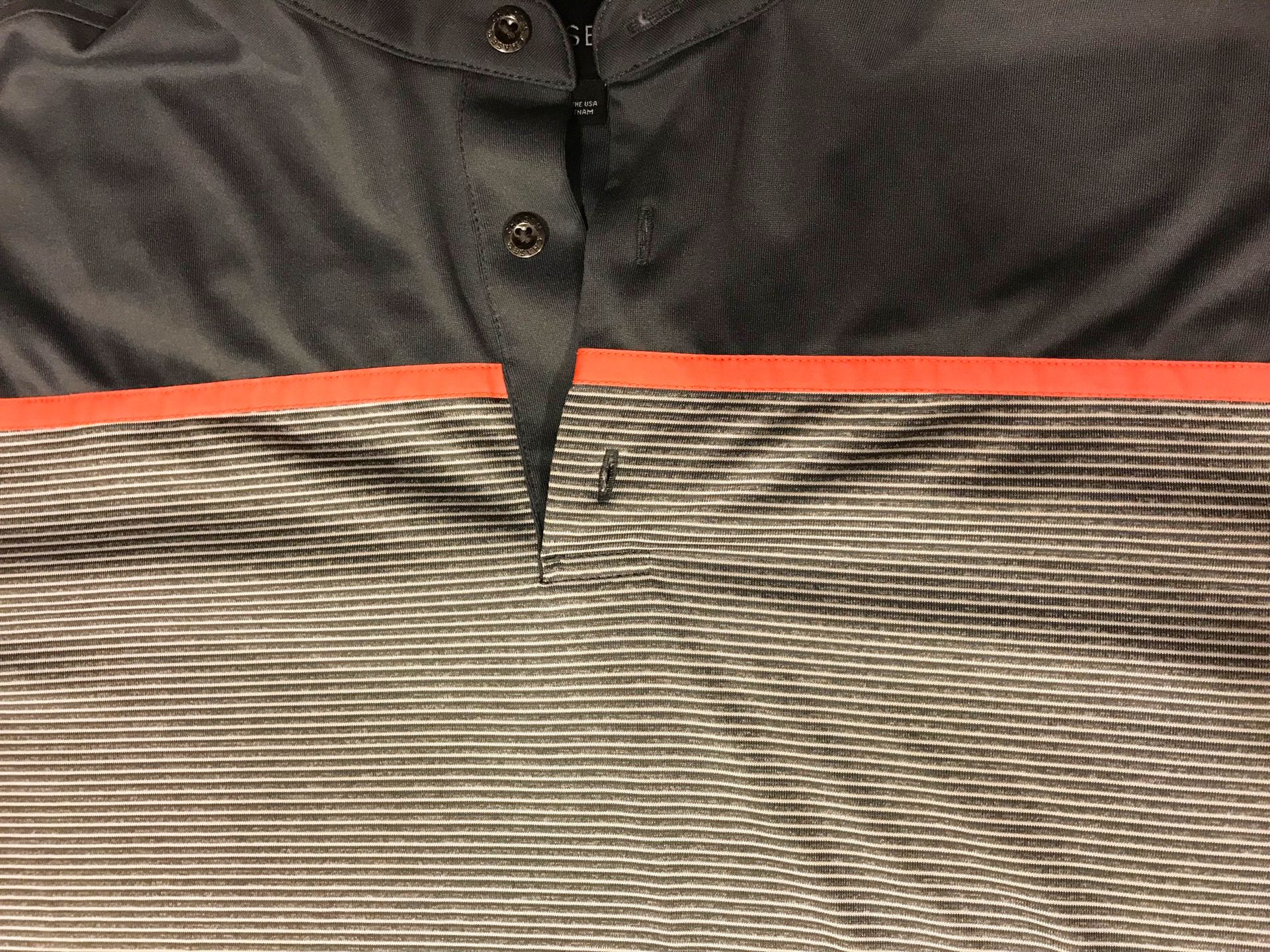 Chase54 Quality – DRYFUZE
As I said, the Chase54 fabric is surprisingly fulsome and robust – it is much better built than the offerings from other brands that I've worn in the last year.  It is hard to characterize because the fabric isn't overly heavy and it isn't paper-thin.  Not accustom to similar fabrics and assuming the worst, I had two thoughts when I first felt the fabric: (1) I'm going to really sweat when I play golf in this polo and (2) this is going to be great for everyday wear and around the office.  Thankfully only one of those turned out to be true.
The Stream is made of DRYFUZE, which the company claims is its premier fabric.    According to Chase54, DRYFUZE "transports moisture from your skin to the clothing's exterior so you can look just as cool as you feel."  Cutting through the marketing speak, DRYFUZE is a moisture-wicking fabric and, in my experience, it is up to the task and performs exactly as you would expect.
To prove this point, and really trying to push the limits of the DRYFUZE, I wore the Stream during the worst conditions I had all spring – 18 holes in 85-degree weather with humidity nearing 90%.  This is the kind of weather than can make a round miserable and I had my reservations about wearing the Chase54 for this round based on first impressions.  Thankfully, facing what was essentially golfing in a swamp, the DRYFUZE fabric exceeded my expectations.  The DRYFUZE performed just as advertised and kept me as comfortable as possible in the conditions.
The Little Things Matter
As alluded to above, the little details were given the appropriate attention in the Steam and it didn't go unnoticed.  The entire polo is well constructed, including the stitching and buttons, but the Stream really stands out for its inclusion of removable metal collar stays. The Chase54-branded stays are a great touch and functional for everyday wear.
As someone who wears a golf polo off the course as much as I do on the course, including in the office whenever possible, this is a game changer. Other brands that lack collar stays will inevitably form a wavy collar with flyaway points that look, well, worn-out.  This will lead to a premature retirement from my closet and Chase54 appears to have solved this problem.  The metal collar stays keep the collar looking good and professional (as professional as a golf polo can be).  Of course, the downside is that they add an additional step, perhaps an unwelcome step, to the washing and drying process.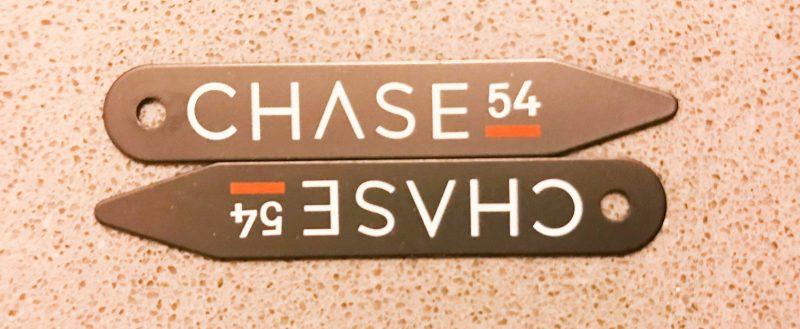 Wanting to fully test the possibilities of configurations with the Stream, and in the alleged name of science, I wore the collar stays during my first round and I can confidently suggest you remove them when you play.  They will keep you looking good off the course but they certainly can get in the way during play.  While they went unnoticed for a vast majority of shots, they did poke my neck on more than one shot, which was a very strange sensation.
While there is plenty to like about the Stream, I had one complaint.  The orange-colored stripe on the backside of the shirt felt constricting during normal wear.  From the moment I put it on, I was consciously aware of the strip of fabric and it felt very tight on my upper back.  Interestingly, I never noticed this issue on the course, but I was very aware of it each time I wore the polo casually.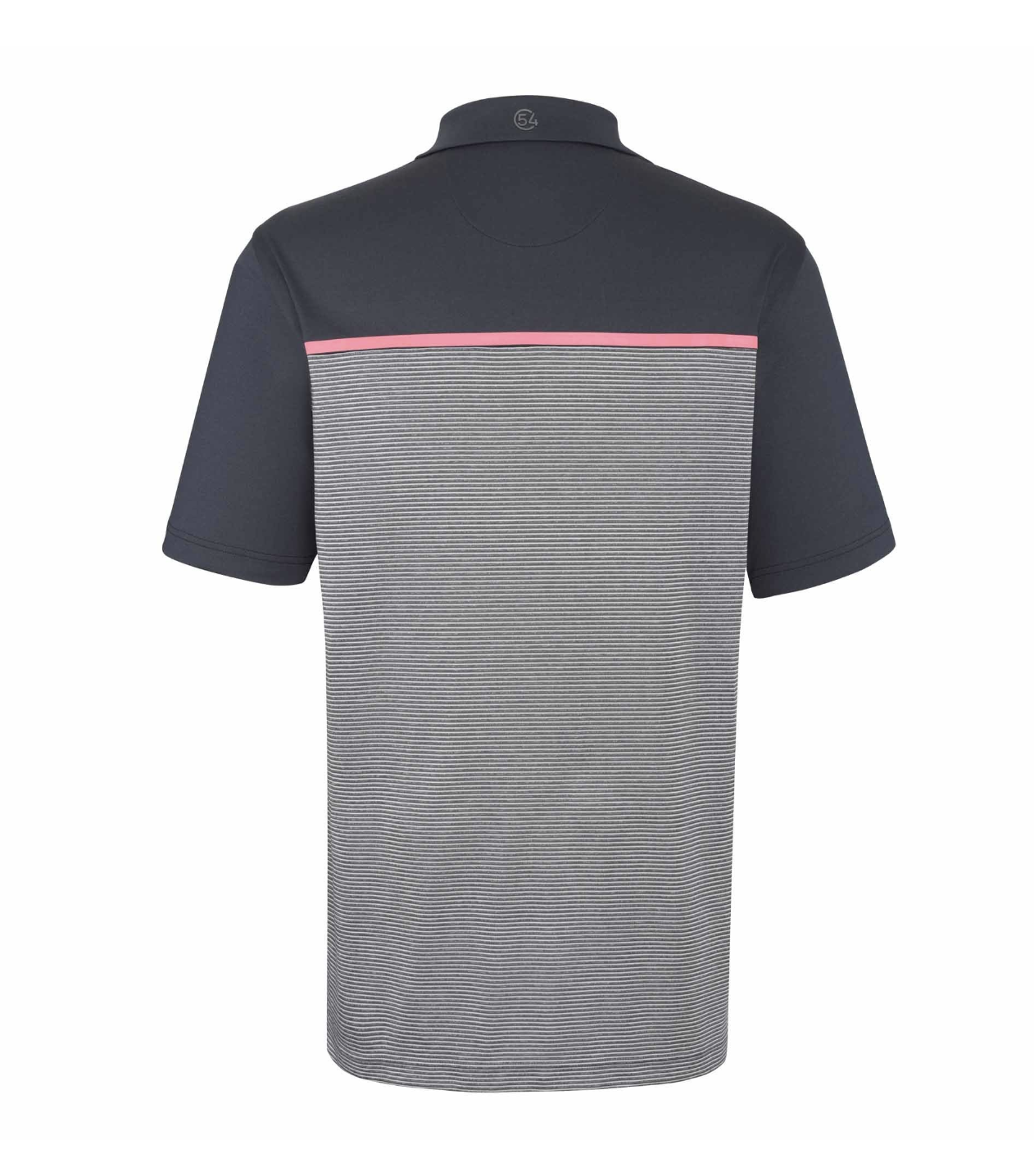 Finally, the Stream fits true to size.  It has a typical "American" fit that is forgiving where you would expect without being overly baggy anywhere.  And the DRYFUZE fabric showed no signs of distress or shrinkage after several washes and wears.  The fabric also showed no signs of unwanted stains that typically appear through normal wear.
Parting Thoughts
The quality of the Stream was exactly what I hoped it would be and it is versatile enough to wear to work and go straight to the course. I was pleasantly surprised at how much I enjoyed the Chase54 DRYFUZE fabric, look, and fit.  If you are someone who wears a polo casually and for golf, the price tag of $73 (according to their website) might well be justified.
Chase54 has an abundance of options and something will likely catch your eye and match your style.  I hope you will give them a chance – I know I will be placing an order for more shortly.  For more information, check out www.Chase54.com.