In today's golf market you can find golf bags in all shapes and sizes with more bells and whistles than one would ever think could exist. For years, consumers had to choose either a lightweight carry bag or a bulky riding bag with no true in-between.
Recently however, we have seen an influx of "hybrid" like golf bags that are designed to allow golfers to walk and ride. One such bag is the new Datrek Go-Lite 14.
FROM THE COMPANY:
The lightweight GO-LITE 14 is engineered for the walking or riding golfer.
This bag is equipped with:
14-way mesh padded top with full-length individual dividers

Ergonomic padded double shoulder straps for walking comfort

External tee holder

Insulated beverage sleeve

Ergonomic handle integrated into the bag top

Large fleece lined valuables pocket

Riding cart compatible base

5 total pockets including a large garment pocket and an oversize ball pocket

Durable nylon material

Towel ring and Velcro® glove holder

Rainhood and umbrella holder

Weather and Tear Resistant Diamond-Ribstop Nylon

Total Weight 5.5 lbs (2.26 kgs)

Available Colors:
White/Charcoal/Black

Red/Black/White

Royal/Black/White

Charcoal/Black/White
DESIGN/LOOKS:
For this review I received the White/Black/Charcoal version of the Datrek Go-Lite 14.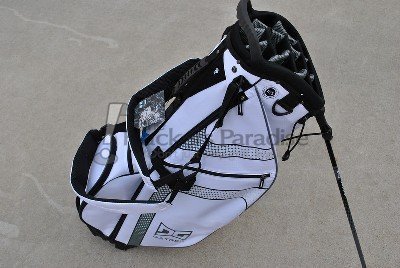 From a looks stand-point, I was a fan of this golf bag from the start. I know that white may be an immediate turnoff for some, but there is no denying just how good it can look. The material is actually what the company refers to as "Diamond-Ribstop" nylon and is both tear and weather resistant – obviously great features to have. The additional accents of black and charcoal on the bag provide enough contrast to look pleasing to the eye, but not as overly busy as seen in a lot of other bags. The external features also include tee holders, a Velcro glove holder, and nice insulated beverage pouch.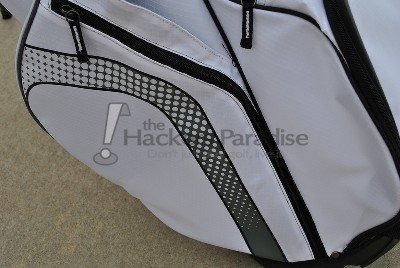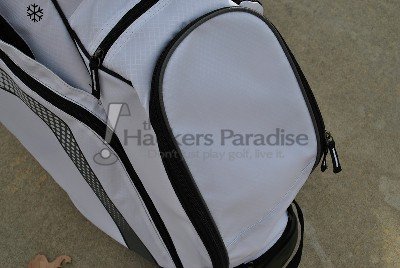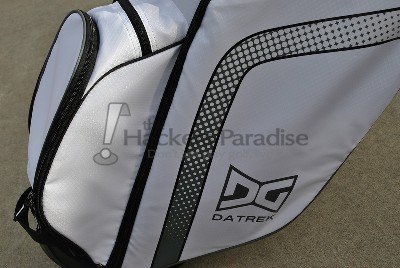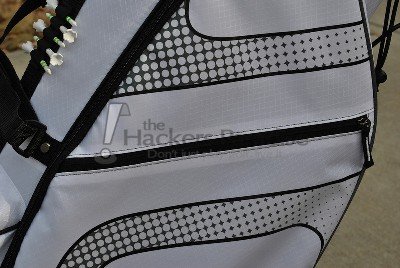 The Go-Lite may only weigh in at 5.5 lbs, but it is surprisingly packed with features. The bag possesses a full length 14-way divider, which is practically unheard of in a bag this light. In addition, the Go-Lite also boasts double carry straps and five pockets that include not only the necessary large ball pocket, but also a felt valuables pocket and larger pockets capable of fitting jackets and other such items. From a design and looks standpoint, this really surprised me and was not at all what I expected going into this review.
PERFORMANCE:
Obviously, claims and intentions are nice, but performance is what matters most in a piece of equipment like a golf bag. My goal with the Datrek Go-Lite 14 was to put it through its paces on all angles and claims by not only carrying the bag traditionally, but also utilizing push and riding carts. The Go-Lite did incredibly well. As a matter of fact, it really was a big surprise for me.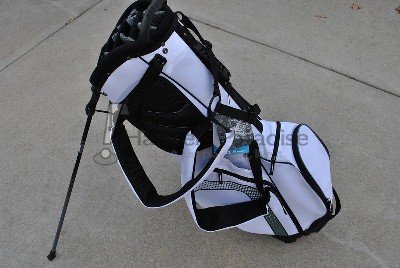 The 5.5lb weight is actually right in line with some of the most popular collegiate style carry bags out there. I have notoriously terrible knees and carrying the bag fully loaded was a breeze. The dual straps and back plate on the bag are well padded and kept the load of the clubs evenly distributed the entire round with no issues. Another nice carry feature is the "rail-like" handle around the mouth of the bag. This made it extremely easy to reach back, remove the bag and deploy the legs in one motion. Additionally, the actual leg mechanism for the bag is quite sturdy and requires a decent amount of force to deploy, rather than being as flimsy as many others I have used. It really was quite impressive to walk with.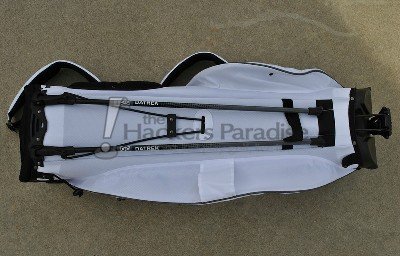 The additional purpose of wanting to take the bag out on a push cart and riding cart was simply to see how the base of the bag stood up to claims of compatibility.  My long standing complaint against stand bags is the amount of twisting and leaning they produce when not being carried.
There were zero issues on the push cart as the slightly deeper and square-like base rode easily, snugly, and securely. Likewise, on the riding cart I saw the exact same thing, with the base keeping the bag in place and secure the entire round using just a single cart strap. There was no twisting or leaning movement of the bag at all once it was strapped in. For a stand bag, this is nothing short of impressive. Additionally, all pockets and accessories were easily accessible throughout the round on both the push and riding carts.
To see full length 14-way dividers on a 5.5 lb carry bag is certainly an eye catcher to me. The problem with 14-way dividers is that club hang-ups can be an issue. I actually did experience that very thing a handful of times in the riding cart when the bag was sitting fully upright. Comparably, there were practically no issues when the bag was sitting at an angle. Mind you, the club "grabbing" was not as prevalent as I have seen in other bags by any stretch, but it did happen a bit.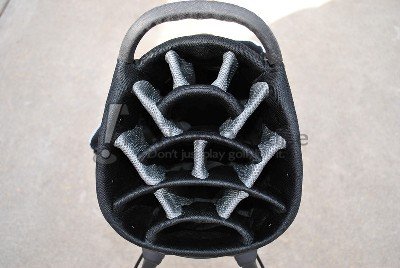 The last thing I kept an eye on was durability through use and cleaning. The benefit to the lighter color was easier visibility to see how the material, seams, zippers, and pockets would hold up. The material itself cleaned up very easily with just a small brush and some cleaning solution, leaving no fraying or stressing that I could see. Additionally, the seams and zippers showed no issues or wear upon close examination.
FINAL THOUGHTS:
All in all, Datrek has put out a rather impressive stand bag in the Go-Lite 14. Not only did it deliver on its claims and features, but it did so quite well. The fact that a 14-way divider stand bag can weigh only 5.5 lbs without cutting corners on everything else it provides is an impressive jump for golf bags. This truly lightweight bag may not be the flashiest out there in the looks department, but it certainly is a nice all-around performer where it matters most- on the course.
The Go-Lite 14 possesses a MSRP of 129.99 and much more information on additional colors and different styles of Datrek's line of golf bags can be found at www.datrek.com.