Devereux Golf is not a new brand to THP and its readers, we have been able to get closer looks at several of their releases to this point and that continues here with their "Americana Collection". This is the continuation of what appears to be a much focused effort to evolve the brands range of style as well as the materials in play.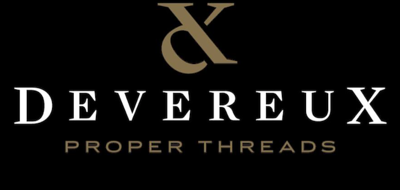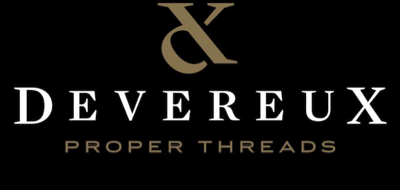 Devereux on their "Proper Threads":
It takes a unique blend of performance and style to craft the ultimate in Proper Threads. A combination of cut and comfort designed to move how you move and live how you live. From design and fabric to buttons, collars, seams and stitches, we put everything into our collection so you can get the most out of it.
Design and Material Evolution:
When Devereux came onto the scene, the company managed to blend fashion with athletic maneuverability as well as off and on course style.  From the beginning, their 65/35 Pima Cotton and Polyester blend, which the company calls "Lux-Tech", has offered a solid mix of form, function, and breathability. As time has gone on, Devereux has stayed true to that base ideology while expanding their material designs through different weaves and blends. Something worth looking into since all four pieces in for this review utilize different fabric techniques.
Lux-Tech Jersey – Quality Pima Cotton blended with high grade performance polyester. This jersey knit is engineered to naturally wick moisture to the surface without chemically altering the delicate knit
Player's Stretch Knit – Tri-blend stretch fabric engineered for performance. This knit is blended with polyester, pima cotton and spandex and allows for a great four-way stretch and is applied with moisture wicking to keep your body at a comfortable temperature no matter your activity level.
Air-Flow Knit – Delicately knitted designed to air condition the body on hot days. This jersey and pique knit is a specialty that consists of two popular knitting styles. Jersey knit is provided for comfort and movement and pique knit is provided for proper air-flow.
Active-Colour Knit – Performance at the highest levels. Electron charged polyester fibers are blended with secondary polyester and spandex to create a remarkable athletic fabrication. Inspired by movement this four-way stretch
Hybrid Stretch Knit – Innovating and promising, this hybrid stretch woven was engineered for elements on land and in water. Designed to multi-task with you every day, this polyester and spandex blend is treated with moisture wicking abilities.
Sateen Stretch – Luxurious and stretch. This soft hand feel sateen woven fabric is blended with the right amount of spandex to provide ease in movement and comfort. Performance meets luxury for a specialty fabric that is able to perform and look damn good.
Performance Sueded Interlock – Athletic inspired interlock stretch blend. An all performance stretch woven that provides a technical facing that is fit for cooler days.
Pieces in for Review:
Devereux sent four different pieces from the new "Americana Collection" for THP to get a closer look at. Though this reviewer has been able to get prior releases in hand for THP Spotlight articles, this go-round is a decent departure stylistically compared to those.
Beckham Polo
The Beckham features Devereux's "Stretch Knit" which is actually a tri-blend of 56/41/3 Pima, Poly, and Spandex, giving the polo a noticeably lighter and more breathable feeling than the companies traditional 65/35 blend. Additionally, this is a more "standard" fit, featuring slightly longer/wider sleeves and more room through the chest, which makes this very much in line with a "normal" cut golf polo which should prove comfortable for a broad range of preferences.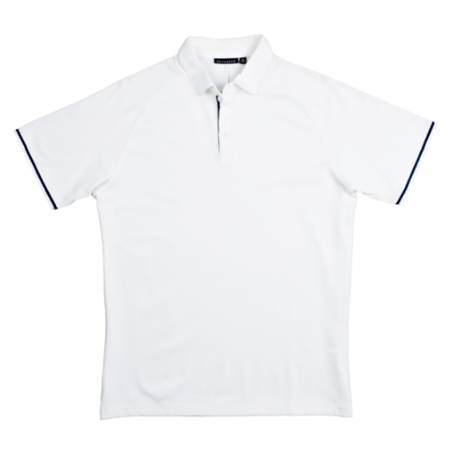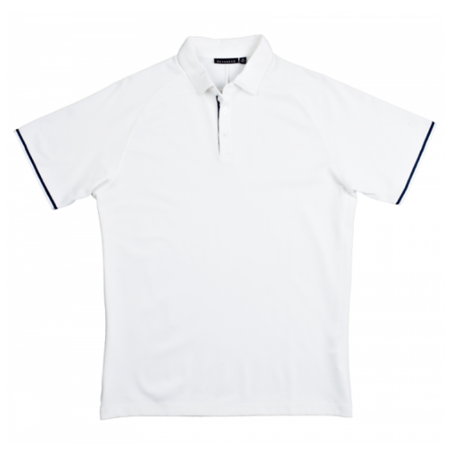 Moreover, the Beckham stylistically is very clean and straight forward. While it comes in three different colors (White, Café, and Pura Vida) the only accents on the shirts are stripes around the base of the sleeves as well as on the two-button placard of the shirt. The cut and flow of the polo is well done, and though there aren't a lot of bells and whistles here in terms of accents, it is a shirt that should go with a variety of looks. The suggested price on the Beckham is $80.00.
Duke Polo
The Duke is much more of what we have come to expect from Devereux based on prior experiences with the brand. The shirt utilizes the "Lux Tech" material which is the company's flagship 65/35 Pima Cotton and Polyester blend. This design fell firmly into the "true to size" cut for this reviewer with a more tapered fit than the Beckham as well as having slightly shorter sleeves. That said, it is still definitely not a euro-type cut as the flow of the design offers room for those of us who aren't genetically ordained to be super tall or skinny. Devereux calls this sizing their everyday wear polo and that is definitely what this reviewer saw as it worked both on the course and with a pair of chino's or jeans at work.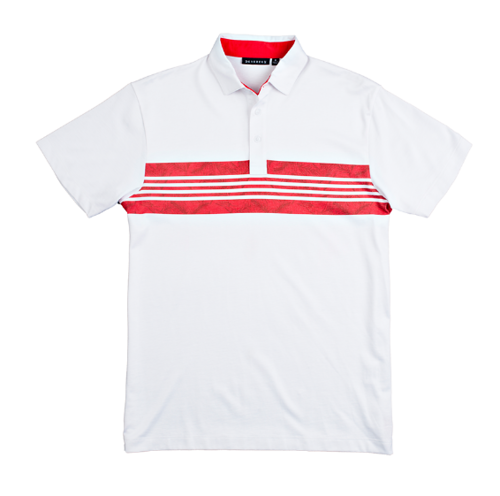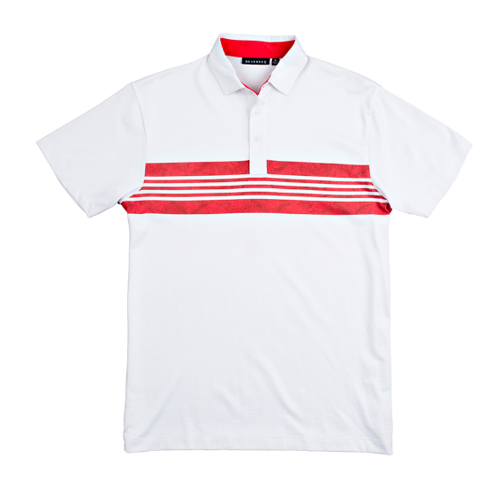 The Duke features a white base with a chest stripe print showing some palm leaf design accents that is offered in two different color options (blue and red). In the past we have seen Devereux use the angles, seams, and colors of the material to provide the bulk design elements of their polos. Here however, we see a departure from that with the use of a printed pattern providing the main focal point of the shirt. While the tropical style print itself may not appeal to everyone, this is a good direction to see the company expanding into as it only offers further options to round out their lines in the future. The suggested price on the Duke is $80.00.
Ricardo Shorts
As previously mentioned, Devereux is focused on being not just a golf apparel company, but rather a lifestyle company, and in doing such there is a necessity to ebb and flow with the fashion trends of the day on and off the course. No article that THP received better illustrates that than the Ricardo Shorts. These are a 100% fully woven cotton short that features an elastic and drawstring waistband design. The Ricardo shorts are most definitely aimed at the off the course fashion aspect and look to be a day to day casual short. The material of the shorts are extremely comfortable and this reviewer was actually able to wear a size down from usual (34 vs 36) thanks to the waistband design, however, these definitely take the "shorts" name to heart as they have a very short inseam length. Though this style of short length is definitely "in" with a lot of age groups right now, it will not be for everyone and may show off a little more thigh than some are used to. Regardless of style, these truly are of impressive quality when in hand and are built to last over time. The suggested price on the Ricardo Shorts is $72.00.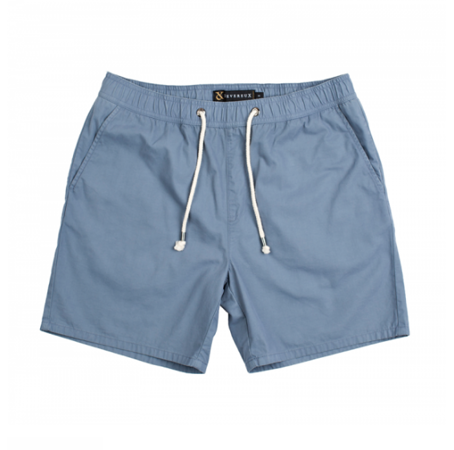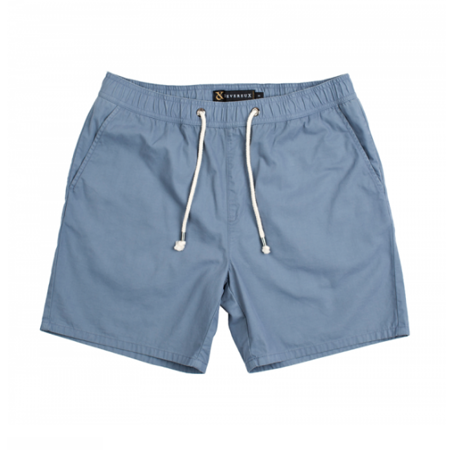 James Pullover
Outerwear has become a key part of any apparel brand and the argument can be made that no single piece in that range has become as popular or trendy as the quarter-zip pullover. Devereux has swung for the fences with their James Pullover, and they have hit a homerun in the opinion of this reviewer as it is one of the most comfortable and well-fitting quarter-zips he has worn. The James is a 95/5 Poly and Spandex blend which Devereux calls their "Performance Sueded Interlock", and it offers a well-balanced total weight while offering plenty of warmth in the cold mornings yet breathability as the day goes on and the temperature comes up a bit. The design features a heavy-duty metal zipper that will last and a splash of accent color on the placard that is subdued enough to intelligently not take away from the overall cleanliness of the design. The James has a fit falling into the "standard" category with good sleeve length and room through the chest with a taper that is present, but generous where it needs to be. This is truly a quarter-zip that can go to the course, work, or anywhere else. Offered in three colors (graphite, navy, and steel) the James has a suggested price of $100.00.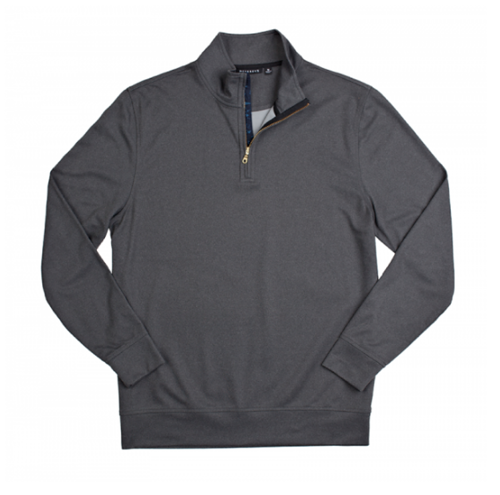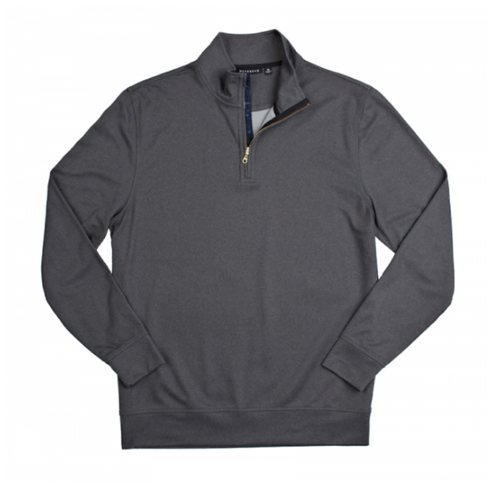 Parting Thoughts:
As a brand, Devereux continues to grow and evolve while not losing focus on why they came to the marketplace to begin with: Creating clothing that can be worn not just in golf or work, but in life. The "Americana Collection" is both an expansion and an evolution for the company and although not every single style within it will appeal to everyone, it is a pretty safe venture that there is something in it that will. Regardless of one's personal stance on the designs, the continued focus on quality and innovation is something nice to see, especially in a marketplace that has traditionally been flooded with monotony.
More information on Devereux and their "Proper Threads" can be found at their website, www.dvrxthreads.com.