Recently the newest fad in the golf shoe market has been the spike-less shoe. For the most part, companies have put this feature on the more athletic looking shoe that is designed more for the walker or the person that wants to walk off the course without changing shoes. In years past the spike-less shoe was worn by teaching professionals, so they could wear the shoe in the pro shop and walk right out to the range for lessons. It seemed that the design became very popular in more of the street shoe style and although ECCO may not have been the first to do it, the ECCO streets are the ones that come to mind first. I have grown very accustomed to wearing the spike-less shoe, as I find it to be a little easier on my feet when I am playing more than 18 holes. As an innovator in golf shoes, ECCO released a traditional looking wingtip that is spike-less and will turn heads and hug feet.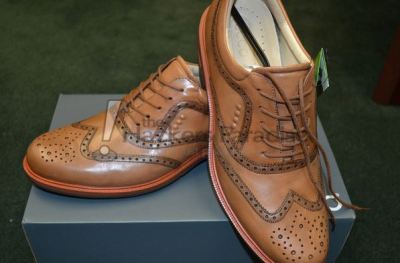 From The Company and Shoe Specs
In April of 1963, ECCO started out with 16 employees and one market in Bredebro, Denmark by Karl Toosbuy. Toosbuy in fact, became the first shoemaker to realize that shoes had to be made to fit the foot, thereby breaking with centuries of shoemaking tradition.  Today, ECCO is operating in 50 markets across the world and the ECCO family is comprised of 17,000 members.
PASSION FOR SHOES
"True passion is the key to making great shoes. From drawing the first lines of an ECCO shoe to presenting our shoes in ECCO stores around the world, we use the same care and attention to detail. Unlike most other global shoe brands, we choose to operate our own tanneries and shoe factories. We control everything ourselves. Throughout our history, our philosophy has been to make shoes that are shaped to fit the foot, not the other way around. This is essential to who we are. It drives us forward and compels us to innovate. It is simple. We want to be the best shoe company in the world. With this vision, nothing is left to chance."
"Over the past 48 years, we have persistently explored ways to make our shoes lighter, more flexible, and stronger. To accomplish this we combine traditional handcrafting methods with leading technologies. We have become the world's most consummate practitioner of an advanced shoemaking process called Direct Injection (DIP). This allows us to create shoes that fit closer and more accurately. It also helps us in enhancing a shoe's ability to match the natural movement of the foot. The essence of modern life is the capacity to move from one activity to another, from one place to the next with ease and confidence. We make shoes that make this possible."
The Ecco Tour Hybrid Wingtip Golf shoes combine a traditional wingtip look with Hybrid technology. These Spike=less golf shoes offer incredible comfort with outstanding underfoot traction by keeping you locked to the ground for great stability during your stroke.
Uppers made of rich leather
Hydromax treated leather
Second skin, full leather lining
TPU outsole with 800 traction angles for excellent grip
Durable and breathable materials create a rich and healthier feel
Hybrid technology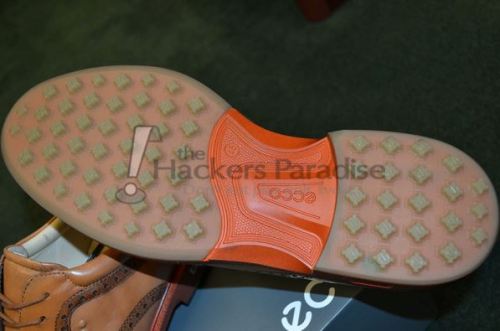 Looks
The motto or slogan at ECCO is, "We respect tradition. We love innovation." It is very apparent by looking at the shoe that it is a traditional looking golf shoe. It would take you flipping the shoe over to realize that ECCO has gone a step further and replaced the spikes with their spike-less technology. The leather is a very rich looking. Upon first glance of the shoe it just looks expensive. When a shoe looks expensive, it makes you feel expensive. This will give any golfer that extra little bit of confidence needed on the course. The full leather lining is of a lighter color and extremely soft. When you slip your foot in this shoe, you know you will be comfortable. One of the best parts about this shoe is that you will be able to easily wear these on and off the golf course. There is nothing worse than going to the office with some golf attire on and everyone asking if you're going out for a round. These shoes will help you hide the fact that 18 holes are on the afternoon schedule today.
My first pair of golf shoes was a wingtip shoe and I still to this day love the look. In years past, I was very comfortable wearing a wingtip shoe with shorts. The new design and sporty looking golf shoes has almost made it a fashion no-no to pair a wingtip shoe with shorts.  For testing I wanted to wear them exclusively with shorts, because there wasn't a doubt in my mind they wouldn't look good with pants. It sure didn't take me long to enjoy the dressed up look with my shorts on. I didn't once feel awkward paring them with shorts and will continue to do so. You can also buy these in all white, which I think would enable you to pair these with a multitude of outfits.
Testing
Ecco claims that the hybrid Wingtip is designed with durable and breathable materials that create a rich and healthier feel. This description of feel is so spot-on that you can tell they know what they are doing. I have worn these shoes in some very warm weather and have been as comfortable as it gets. I didn't once find my feet becoming too hot and didn't notice any excessive sweating. I have seen in previous leather shoes that when your foot sweats, it shows through and looks just like wet leather. I did not have this issue with these shoes. Saying the materials create a "rich and healthy feel" is exactly what you get. Not only do they feel rich, but they make you feel like a million bucks. I wear ankle socks for everything and the full leather lining felt great against my skin. My socks have a tendency to slide down exposing my ankles to wear from shoes. I had no noticeable blisters or marks from the inside of the shoes on my skin. This is a huge selling point for me, as I would go without socks if I could.
I received an equivalent of 11.5 in these shoes (45 euro) and they fit perfectly. I typically wear an 11.5 in other shoes, so if you're ordering online, order with confidence. I found that these shoes fit my longer and more slender foot perfectly. I had no slippage while walking or during my swing. Typically with a leather shoe you have to worry about the leather stretching a bit and I have not noticed this as of yet. The leather is easy to wipe down, so your shoes will look like the day you bought them if you take care of them.
I had a chance to play in them during an early morning round where there was still some dew on the ground. I did not notice any slipping with the spike-less technology. There were a few spots where water had collected from rain the day before and I also didn't slip there. So, wet or dry, I don't think you will have to worry about slippage during your swing. This will allow you to swing with confidence. In the dewy weather I did notice that as the leather got a little wet it was noticeable that it was wet. This isn't ideal for those who like to have that "clean" look at all times, but I can assure you that once it dried, you couldn't even tell it had been wet.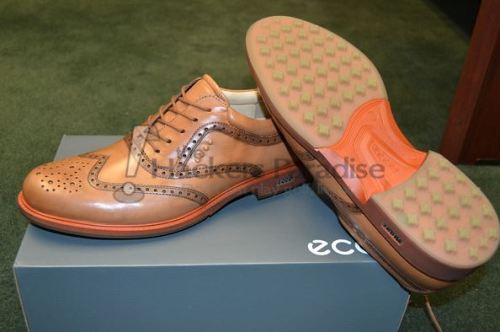 Conclusion
ECCO is a leader in the golf shoe industry. They never fail to offer a golf shoe that is very comfortable throughout your round and packed with the technology that will allow you to play without worrying about your feet. I have become a huge fan of the spike-less shoes because they are low maintenance. You don't have to change out the spikes and it seems to take quite a while to wear them down, assuming you're not dragging your feet on pavement as you ride in the cart. This shoe has proven to be great on and off the golf course. I wore them to work just to see if people would notice they are a golf shoe. The only comments I received were that they are a stylish shoe. People had no idea they were made for the golf course and when I told them so they were very surprised. They are some of the most comfortable shoes I have put on my feet and I will continue to use ECCOs in my future golf shoe purchases.
You can find out more at ECCO's website here.
MSRP: $190.00